I thought I would be the nervous one as we left Sunriver on the Sun Country Tours bus for the 30 minute drive up to Bend, Oregon for our adventure white water rafting on the Deschutes River. After all, I was the one scared of roller coasters and water. But surprisingly, I was calm and it was my 10 year old daughter who couldn't sit still with a combination of excitement and nervousness. But once we arrived at the river, we didn't have a lot of time to think about it before we were strapped into our life jackets, handed oars and assigned to boats in groups of 6-8.

The little one was disappointed that she wasn't tall enough to paddle but I was relieved that instead she was nestled safely into the middle of the boat. I was concerned enough about keeping myself in the boat without needing to worry about her being swept away in the rapids, so I happily took my place toward the back of the boat.
While the Deschutes River at the site of our launch was beautiful — calm and wide, framed with gorgeous green and golden grasses — I knew something else lay just around the corner so I was a little concerned when we shoved off from the bank without any further instruction.
Our guide Matt quickly put my mind at ease by first telling us how to brace ourselves by wedging our feet in the gutter on the inside edge of the boat. This is the most important factor in keeping you in the boat so I listened hard and followed his instructions explicitly. Of course there isn't anywhere to wedge your feet in the center of the boat but the other kids on our tour, aged seven and nine, decided to kneel up front where they would get the most spray and excitement. My daughter decided to sit or kneel in the middle on the boat and hang on to the strap to keep her inside.
After a brief tutorial on how to paddle as we slowly drifted down the Deschutes, we were ready for our first ride through some white water. That first bit was just a tease for the main event — the Big Eddy — around the bend. We were hoping to have more fun with the gentler rapids before entering in the Big Eddy's Class 3+ rapids but on this short trip, there was no easing into it. However, before getting into the big water, we pulled off to take a look at the rapids and talk strategy. As you can see from my face, I'm not sure getting a look at the Big Eddy eased my fears at all.
As nervous as I was going into it, everyone else on the boat was completely stoked to go through the Big Eddy. What makes the Big Eddy challenging is that it is a series of three Class 3 rapids, one right after the other. As a paddler, when you are going through these rapids you are so focused on following the directions of the guide to keep you on course and away from the rocks, and using your feet and core to stay in the boat, that you really don't have time to be nervous any longer.
It was absolutely exhilarating! As you go through the rapids it is like the boat folds in on itself as it bumps and flops through the rapids while our paddlers struggled to maintain control. Being at the back of the boat, I had no idea what it really looked like because I had my head down to keep the water out of my face and was totally focused on digging in with my oar. So it was nice that we were the first boat through the rapids and we were able to pull off to the side and watch the other boats come through.
Our nervousness was gone and we were eager for more. After the Big Eddy it was easy going from there. We went through one other small set of rapids before slowly drifting down the Deschutes River toward Bend. During this time, my daughter lost all fear and went up front for the smaller rapids and even climbed on the front of the boat with her legs dangling (known as bullriding). Once through the rapids we were invited to jump in and float along the river, something you see many people doing on tubes up in Bend. I stayed in the boat but my daughter jumped in for a while but the water was cold so it wasn't long before Matt grabbed her by the life jacket and hauled her back in like landing a fish.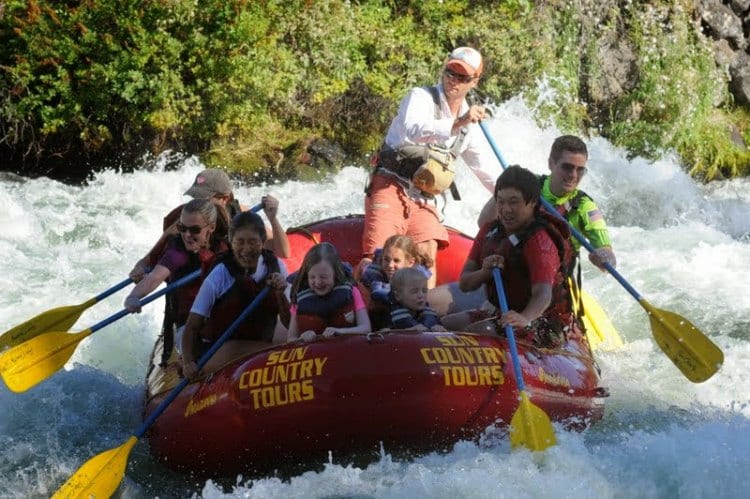 Our only disappointment with the trip was that it was short, just 2-2.5 hours including an hour of travel time. Gone was the fear, we were hooked. We are already thinking about where to go next to try a full day of white water rafting (West Virginia, Arizona, Idaho…??)
Sun Country Tours offers half and full day tours, in addition to the Big Eddy Thriller, with departures from Bend, Sisters, Sunriver and other resorts around Central Oregon. The Big Eddy Thriller is $53 for adults and $46 for youth ages 6-12. The Big Eddy Thriller is not recommended for children under six.
Tips for Rafting the Big Eddy
Book in advance, especially if you have a big group.
Wear water shoes or shoes that strap tightly to your feet and dry easily.
Wear quick drying clothes that are comfortable for rowing and wearing under a life jacket — like exercise clothes, board shorts, rash guard shirts or bathing suits. Wear light layers on cooler days. (See these tips on what to wear whitewater rafting!)
Go to the bathroom before you leave because there are not any facilities during the tour.
Apply sunscreen and bug spray. You may not think the mosquitoes are out during the day but I was attacked from the minute I stepped off the bus.
Don't wear a hat or sunglasses unless you are prepared to lose them. One man on our tour lost his sunglasses on our trip.
Bring a towel because you will be soaked through. Sun Country suggests that you can bring a change of clothes but logistically, unless you are changing on the bus, there isn't anywhere to do a quick change.
Bring water or snacks for the bus.
Don't bring a camera because you will not have an opportunity to use it. If you want pictures, you are going to have to purchase Sun Country Tours' photo package for $39 ($34 if you pre-order.)
If you want great pictures of your family, sit up front.
PIN THIS FOR LATER
Note: We were guests of Sun Country Tours and Central Oregon Visitor Association for our Big Eddy rafting adventure. As always, we appreciate their hospitality given without expectations and have provided our honest opinions.
Have you been white water rafting? Where should we try it next?