The holidays are a time when most family budgets are stretched thin. Lavish winter breaks are not an option for many. Yet for those that hate to let a school break pass by without at least a short getaway, finding cheap winter family vacations is a challenge.
Festive season also brings high rates and occupancy at many hotels. If you are really lucky, you may have the option of traveling the week before Christmas or after New Year's but for most, traveling during high season is hard to avoid.
No matter how you slice it, winter family vacations on a budget can be hard to find. So I did some research to find some inexpensive winter vacation destinations in the United States.
Cheap Family Vacations in the U.S.
I based my research on destinations that could host a family of four (2 adults and 2 children under 12) for at least five days between December and February for under $3,000.
This would include lodging and activities. Some options are much less than that, while others will use the whole budget for activities like skiing. Depending on where you live, some of these are possible road trips or not too far from an airport (which may mean stretching the budget, but not necessarily.)
Whether you prefer warm weather or cold, hopefully you will find an idea for this year's winter family vacation that works for your budget.
Cold Weather Family Winter Vacations
Note: This post contains affiliate links. If you click a link and make a purchase, I may receive a small commission.
If cold is your thing, but you are looking for a bargain, avoid the large ski mountains and look for something smaller yet family-friendly.
Silver Mountain, Idaho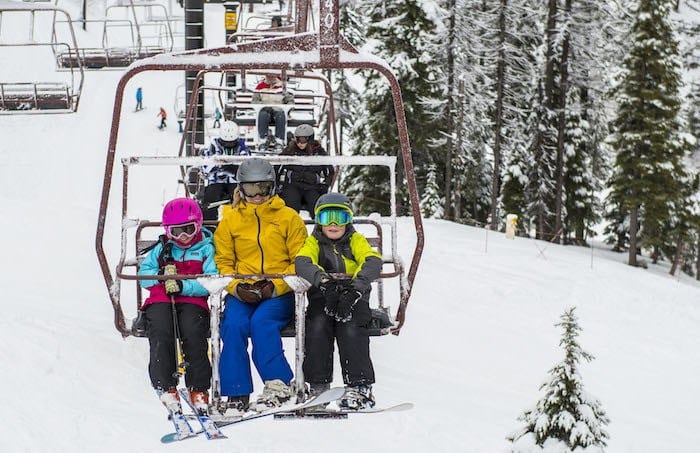 Silver Mountain is located just over an hour from Spokane, Washington near the historic mining community of Kellogg, Idaho. There is plenty to see and do for families, both on-mountain and off. With two mountains featuring 73 trails and 300 inches of snow annually, skiers and snowboarders will love the diverse terrain, extensive graded areas, and plenty of fresh powder.
There are also scenic gondola rides, snow tubing, and Idaho's largest indoor waterpark. In Kellogg, families can explore old gold and silver mines, snowshoe, or cross-country ski.
Families can stay in a one-bedroom unit with a fireplace, full kitchen, and pull-out sleeper sofa for only $270 per night, with access to the waterpark included.
Ski lift tickets and rental packages run from $234-350 per day, but there are also multi-day discounts and the Ski Idaho PassPort Program allows kids in 5th or 6th grade to ski for two or three days for only $18. This gives you plenty of time to ski and relax, with wiggle room in the budget for food and extra activities.
For even cheaper skiing, head over to the family-run Lookout Pass ski resort.
Lake Geneva, Wisconsin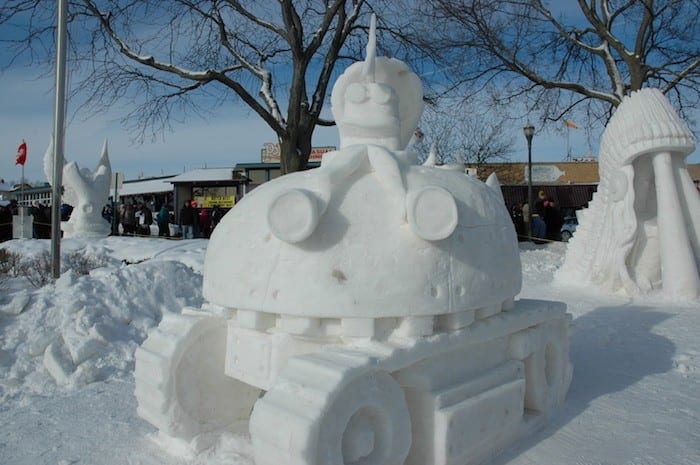 An hour from Milwaukee on the shores of Geneva Lake, the four-season resort area of Lake Geneva is a great spot for a family winter vacation. Here you will find small-town charm with no big-city prices.
Winterfest, which takes place in late January-early February, features the United States Snow Sculpting Championship along with helicopter rides, magic shows, a chili cook off, and a human dog sled race.
Ice Castles are also coming to Lake Geneva. These man-made castles include slides, thrones, archways, tunnels, and lights that twinkle to music. Perfect for all Frozen fans!
In February, families can enjoy Sky Circus on Ice at the Lake Lawn Resort. Lake Geneva also offers cross-country skiing, ziplining, snowshoeing, snowmobiling, and ice-skating, with plenty of indoor entertainment and shopping also available.
Families can stay in a two-bedroom suite at the Timber Ridge Lodge & Waterpark for $336 per night (including 6 waterpark passes.) Or, The Cove in downtown Lake Geneva offers two-bedroom suites for only $197 per night, including access to an indoor pool and 24-hour arcade.
Colorado Springs, Colorado
Located in the middle of the country and accessible using budget airlines such as Frontier, Colorado Springs, CO is the perfect, budget-friendly choice for a family winter vacation. With a backdrop of the rugged Rocky Mountains and nearby places like the stunning Garden of the Gods National Natural Landmark, Colorado Springs is perfect for outdoor-loving families.
Colorado Springs is home to more than 60 attractions, including the U.S. Air Force Academy and Olympic Training Center, and over 30 of them are totally free. Families will also enjoy unique experiences like hand-feeding giraffes and elephants at Cheyenne Mountain Zoo, visiting Santa at The North Pole Christmas-themed amusement park, and an array of hands-on museums like the Colorado Springs Pioneers Museum and Money Museum.
Lodging properties range from charming B&B's, to full-service indoor waterpark hotels, some of which are under $150 per night in the off season. Check the Visitors' Bureau website for special deals and discounts!
North Lake Tahoe, California/Nevada
North Lake Tahoe spans two states and is within driving distance from Northern California. Situated on beautiful Lake Tahoe, you will find two dozen beaches, twelve ski resorts, and hundreds of miles of biking trails.
In the winter, families can enjoy a day of ice skating at Northstar California Resort, and warm up at the fire pits and couches that surround the rink while sipping hot cocoa and eating s'mores. They can also take a magical sleigh ride in the snow at Sand Harbor, try dog sledding at the Resort at Squaw Creek, or visit the SnoVentures Family Fun Zone at Squaw Valley/Alpine Meadows for mini-snowmobiling and snow tubing.
The waterfront Franciscan Lodge offers affordable accommodations starting at $109 per night, including a fully-equipped kitchen.
Waterville Valley, New Hampshire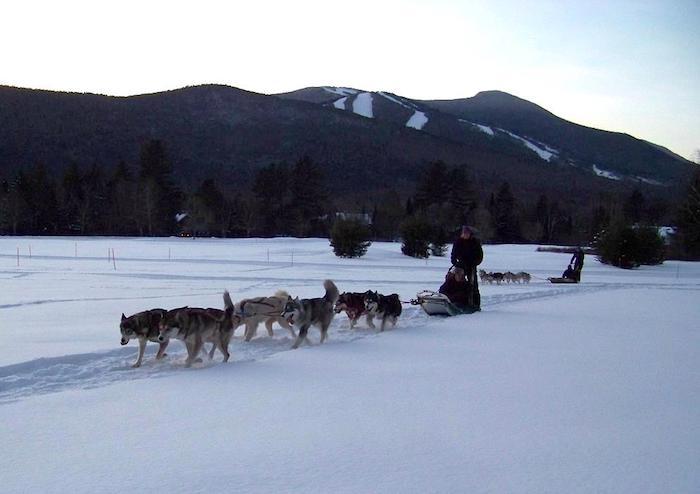 Waterville Valley is an affordable winter vacation destination offering skiing and winter sports in the White Mountains – and plenty more for families to enjoy. Young skiers can enjoy Kids Venture Kamps with specially designed Venture Zones for learners. Waterville offers 52 trails and 12 ski lifts and the Nordic Center features 75 km of groomed trails for cross-country skiing.
When not on the trails, families can enjoy the White Mountain Athletic Club for swimming or the Waterville Valley Ice Arena for skating. At the nearby Curious George Cottage, once home to Margret and H.A. Rey, creator's of the world's most beloved monkey, the Curious Kids program takes children and families into the White Mountain National Forest to explore and learn.
Families can save on food and attractions around the Waterville Valley with the Freedom Pass. Lodging options for families range from $125 for a room at a local inn to $411 per night for a three-bedroom condo on the mountain.
Finger Lakes Region, New York
The Finger Lakes region of New York may be most known for its wineries and lakes, but it is also a great destination for adventurous families in the winter time. Greek Peak Mountain Resort offer 30+ ski trails and an adventure center with a mountain coaster, ziplining, snow tubing, and ropes course.
And unlike some of the larger ski resorts in New York, this one is affordable for families with rooms at the Hope Lake Lodge starting at $165 per night. Designed with families in mind, the hotel features 106 condominium-style suites sleeping up to 10 guests at a time and equipped with full kitchens. .
Canaan Valley, West Virginia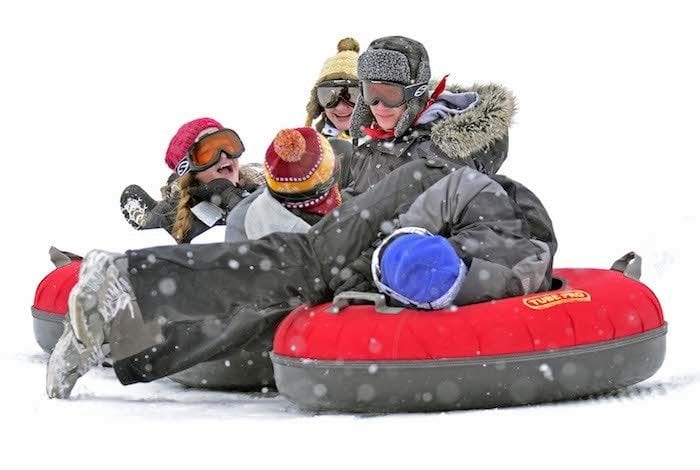 Located under three hours from Washington DC and Pittsburgh, PA, Canaan Valley Resort Ski Area is an affordable winter destination for families. Canaan Valley has won numerous awards from Liftopia in recent years, including top-rankings in family-friendly and best-value categories. In addition to skiing, Canaan Valley offers a 1,200 foot tubing park (the longest in the Mid-Atlantic region) and covered outdoor ice skating.
Kids stay free in one of the 160-lodge rooms and suites, and the resort also offers 23 cabins and cottages. A six-night stay in early January, including two days of skiing, lessons, tubing, skating, accommodations, dining, and access to the fitness center with swimming pool is under $2500 for a family of four, leaving room in the budget for plenty of hot chocolate by the fire.
Ellijay, Georgia
The mountain town of Ellijay, Georgia is located about an hour and a half north of Atlanta, and perfect for those that want a chilly, mountain destination, but not too chilly. There are plenty of affordable rental cabins with cozy fireplaces for under $200 per night. You can also be a little more adventurous and sleep in a vintage Airstream or geodesic dome at Elatse' Yi.
Ellijay is great for families that want to be outside and then warm up at some of the area's charming restaurants and locally-owned shops like the In the Woods, where you can take pottery lessons.
Gilmer County and its surroundings are home to 11 mountain hiking trails, 59 mountain bike trails, and several impressive waterfalls. The best views are in the winter when the leaves are off the trees and you can take in the scenery on the Bear Creek Trail or climb the path to Amicalola Falls.
Clarksville, Tennessee
Clarksville is less than an hour from Nashville, but way more affordable! You can still venture into Nashville for a night at the Grand Ole Opry or to take in ICE at the Opryland Hotel, but with an average age of 30, Clarksville knows how to entertain families. The average cost of a hotel room is $119/night and there are plenty of locally-owned and reasonably-priced restaurants downtown.
Clarksville features multiple indoor recreation venues, including The City Forum, which is one of the largest indoor entertainment complexes in the country. It features climbing, blacklight golf, two escape game venues, a trampoline park, and more.
Plus, in December the downtown and RiverWalk transforms into a sparkling, magical place with 1 million lights along a ½ mile RiverWalk and into the Public Square downtown. There are special performances such as Charlotte's Web, Miracle on 34th Street, and other Christmas exhibits. See more affordable things to do in Tennessee.
Warm Weather Family Winter Vacations
Orlando, Florida
If you are lucky enough to get out of school the week before Christmas, this is an ideal time to head to Orlando. The Hilton Orlando is offering low room rates during that week. You don't even need to spend money on the theme parks with the Hilton Orlando's 892-foot long lazy river, a winding water slide, and zero-entry swimming pool. There is also a new splash pad, spray ground, and an expanded pool deck.
This is also a perfect opportunity to see everything that Orlando has to offer beyond the theme parks, including these free things to do in Orlando. We have also found great rates at the Margaritaville Resort Orlando.
St. Petersburg, Florida
St. Pete Beach on the West Coast of Florida is a great home base for so many area attractions from the Clearwater Aquarium (home to Winter the Dolphin), Busch Gardens, and Tampa's amazing food scene. Plus, staying on the beach gives easy access to water sports such as jet skiing and paddle boarding.
Located right on their own private beach, Sirata Beach Resort recently went through a hugh renovation with even more family-friendly amenities. Guests can enjoy three pools, a Kid's Splash Zone, hanging chair garden, and a beachfront oasis. With budget-friendly seasonal packages going as low as $200 per night, St. Pete Beach can be a great cold-weather escape.
Panama City Beach, Florida
The Florida gulf coast has so much to offer for families looking for a low-cost winter getaway. Even if it isn't swimming weather, Panama City Beach offers 27-miles of coastline with sugar-white sand beaches to enjoy.
In addition to the beaches, there are also two state parks, hiking trails, fishing piers, and family attractions such as Ripley's Believe it or Not Odditorium and Gulf World Marine Park. There is even plenty to see off-the-beach in nearby Panama City including a family-friendly Mardi Gras.
Families on a budget can find affordable beach rentals from Royal American Beach Getaways, with one to four-bedroom units averaging $100-150 per night. Guests can also enjoy free perks like drinks at the Spinnaker Beach Club, a gift card to Rock'It Lanes, and discounts on area attractions.
Gulf Shores, Alabama
Gulf Shores and Orange Beach, Alabama are some of my favorite beaches in the U.S. Even if it isn't beach weather, you can enjoy dolphin cruises, kayaking, and biking, as well as ziplining at The Wharf and visits to Historic Fort Morgan and the Alabama Gulf Coast Zoo. Of course, one of my favorite activities is eating at some of the amazing Gulf Shores/Orange Beach restaurants!
These two beach towns offer plenty of affordable and family-friendly vacation rentals, from the indoor/outdoor pools and lazy river of the Caribe, to the simpler, beachfront Crystal Tower. Fall and winter are the perfect time to look for a lodging deal and try out a property that may be out of budget in the summer.
Biloxi, Mississippi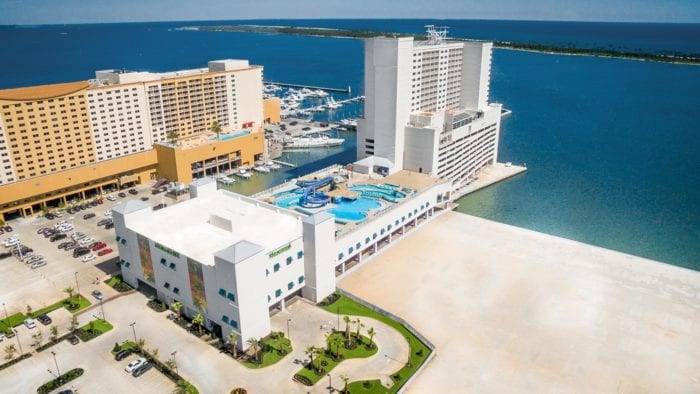 Margaritaville Resort & Family Entertainment Center in Biloxi, Mississippi on the Mississippi gulf coast offers families a fun escape without the flight to the islands. With 371 coastal rooms and suites, many priced just under $100 mid-week and $125 on the weekends in the winter months, it is also an affordable option for families. Those prices leave plenty of room for margaritas!
Margaritaville Resort in Biloxi features a 55,000 square foot arcade, with 200 games and attractions such as the 48′ rock wall, indoor sky coaster, and sky trail ropes course. (Just note that the pool is closed in the winter.) Of course, Biloxi and nearby towns are also chock full of activities for families, such as the Infinity Science Center or Lynn Meadows Discovery Center.
Scottsdale & Mesa, Arizona
I really enjoyed our visit to Scottsdale this past summer, so I can only imagine how lovely it would be when it wasn't 110 degrees. With surprisingly affordable rates, the Fairmont Scottsdale Princess offers "Christmas at the Princess" events in December. Festivities include an outdoor ice-skating rink, Christmas Carousel, Frosty's Ferris Wheel, and visits to Santa.
There are also plenty of affordable options in nearby Mesa, Arizona, such as the Sheraton Mesa at Wrigleyville, Mesa's newest hotel located next to the Chicago Cub's spring training stadium, and Delta by Marriott downtown.
Located between Scottsdale and Phoenix in the "Valley of the Sun", families can enjoy the Sonoran Desert without the heat. Adventurous families can hike, cycle, and even horseback ride at the Superstition Mountain Wilderness or state parks. Kids also love a day trip to The Apache Trail, a scenic byway with multiple stops including an old west stagecoach stop, an authentic gold mining ghost town, and the Superstition Mountain Museum.
Santa Maria Valley, California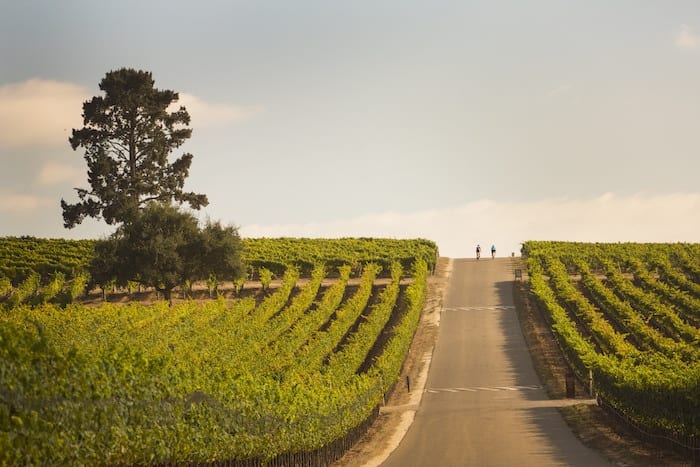 Located midway between Los Angeles and San Francisco, Santa Maria Valley is an ideal home base for exploring California's Central Coast. Nature-loving families will love exploring the great outdoors on the 13 beaches and 24 hikes within a 30-minute drive.
Families can also ride dune buggies, take bike rides, and explore the Guadalupe-Nipomo Dunes, before sipping a glass of local wine at one of the 34 nearby tasting rooms.
Plus, from October through February, thousands of Monarch butterflies flock to the nearby eucalyptus groves! In the slower winter season, families can find hotel rooms for just over $100 per night, making Santa Maria Valley a great budget destination.
Oceanside, California
Located near San Diego, Oceanside is not your over-polished Southern California resort beach town. Instead, it has a quirky vibe and its budget-friendly accommodations make it a laid-back destinations that is great for families.
The SpringHill Suites Oceanside offers suite-like rooms, ocean views, and is walking distance to the pier and downtown for under $250 per night. And with temperatures that average in the 70s year-round, it is a great warm-weather winter getaway.
Nearby, families can enjoy fishing from the longest wooden pier on the west coast, whale watching cruises, kayaking, surf lessons, helicopter tours, biking, and attractions such as the California Surf Museum and Buena Vista Nature Lagoon. With budget and family-friendly restaurants and craft breweries, there should be budget to spare for a visit to nearby Legoland.
[plan-trip]
Looking for other cheap vacation destinations? Check out these related posts:
[/plan-trip]
PIN THIS FOR LATER