Long before Home Alone 2 hit the screens, families have been enjoying Christmas in NYC. When we lived on the Upper East Side, it was a time to avoid Fifth Avenue and resort to subways because it was impossible to find a cab.
Now we enjoy going back and playing tourists to hit all the typical sites — the "tree" at Rockefeller Center, taking in the department store holiday windows, Radio City Music Hall, enjoying all the holiday decorations along 6th, skating in the park and so much more.
It has been a few years since we have stopped in NYC on our way to celebrate Christmas with family in NJ, we usually either don't have time or the weather is terrible. This year was different. We had the time off and the weather was predicted to be 60 degrees and sunny on December 23rd. Sounded perfect.
A quick look on Priceline.com made the trip a reality. When you are traveling to NYC to enjoy the holiday festivities, you'll want to stay in midtown since that is where you will be spending most of your time. We were able to score a four-star hotel in midtown using Express pricing for only $124 per night. I was pleased after booking when our hotel was revealed to be the Roosevelt Hotel on Madison and 45th Street, just a block up from Grand Central and a 5-minute walk to Rockefeller Center.

In addition to a great location, the lobby and public areas of the Roosevelt Hotel are beautiful. With the rate we got, I guess I couldn't be too surprised that we didn't get the best room in the house. We were booked on the 6th floor and upon stepping out of the elevator we were greeted with a sign stating that the floor was under renovation.
Our room was one of those still to be renovated, featuring numerous mold markings on the wallpaper in the bathroom, stains on the carpet, cold air rushing through the AC unit, and a radiator that made ungodly noises when turned on. But, on the bright side, it was spacious enough for a Manhattan hotel room and we received free WiFi from a Foursquare check in special.
Unfortunately, the weather didn't end up as predicted. It wasn't cold but it was raining, but we sported our umbrellas and made the most of it. We started our trek through the rain with a quick lunch across the street at Cosi and then headed up 5th Avenue to Rockefeller Center.
We made the obligatory (for parents with girls of a certain age) stop at American Girl Place across the street first. The Plaza at Rockefeller Center wasn't as crowded as it can sometimes be, but avoiding the umbrellas made it tough to get a great shot with the famous Christmas Tree.
The Lego Store at Rock Center was a bit of a disappointment, super crowded and not that many displays, but they did have a very cool version of Radio City Music Hall and Rockefeller Center made out of Legos.
After our visit to Rockefeller Center, we strolled (and splashed) up 5th, checking out St. Patrick's Cathedral and all the lovely store windows on our way up to FAO Schwartz.
After drying off in FAO Schwartz and enjoying all the stuffed animals and toys, we headed across Central Park South, past the Plaza Hotel, and started down Sixth Avenue for a less-crowded view of some beautiful holiday lights and bigger-than-life decorations.
After dinner with friends at Hillstone and a cupcake pitstop at Crumbs, we walked down to Grand Central to take in the holiday light show. Unfortunately the light show was a disappointment, but at least we were close to our hotel.
The next morning, we hopped the subway downtown to Union Square to meet family at The Coffee Shop for brunch. After brunch, we wandered through the Union Square Christmas market, looking for last minute gifts and getting tempted with tasty treats. Our favorite may have been the creative panhandler who has trained his cat to sit on his head.
Our last stop on this trip before heading down to spend Christmas Eve in NJ with family, we took the subway back uptown and headed over to Bryant Park to visit the New York Public Library.
My daughter rightly remarked that it was more like a museum than a library and couldn't imagine how you could find a book in this massive building. After a quick look into some of the main rooms and exhibits, it was time to say goodbye to NYC until another time.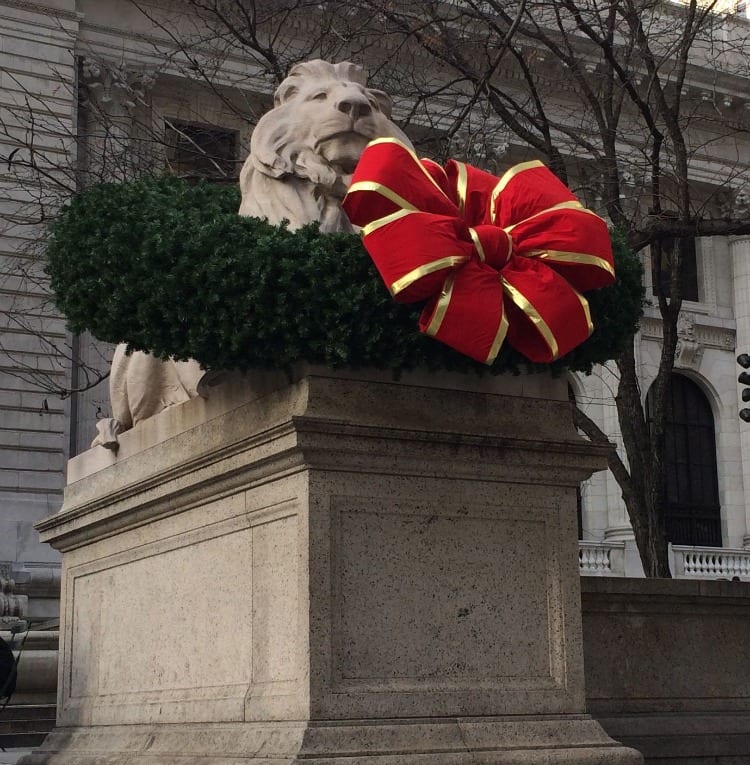 If you are flying into NYC, learn the best way to get from JFK to Manhattan.
Note: This post includes affiliate links to Priceline, a service that we use often to find hotels for short stays, but the opinions and recommendations are my own.