According to a 2023 study from the Family Travel Association, families spent around $6,750 a year on family travel in 2022, with 18 percent spending over $20,000. Thirty-one percent of those surveyed expect to spend even more on family travel in the next year. If you have done any travel research recently, you have probably found that it is hard to find destinations where the average family vacation cost is under $6,000 for seven nights.
I've done a lot of research and put together a list of cheap spring break trips for families, many of which we have visited over the years. These destinations are generally away from the fray of the college spring breakers and party vibes. These cheap spring break destinations are family-friendly and you can typically spend five to seven nights with a family of four (sharing one room or vacation rental) for under $5000-6000.
Of course, prices can vary depending on where you live and when you want to have your spring break. But one of my first steps in finding cheap spring break destinations is looking at budget airlines and where they fly that could make a good spring break vacation. There are many budget airlines that have routes between secondary cities, which can often be good budget family travel destinations. These include Breeze Airways, Allegiant, Spirit, and Frontier.
If these ideas don't add up for your home base in the same way, looking at where budget airlines fly from your home city is another way to start brainstorming. Also, if you have been collecting airline miles or credit card points, it is a good first step to figure out where you can use those miles and where those airlines fly from your home city. Of course, airlines tend to know when local schools have spring break and raise rates to typical destinations like Florida or Southern California. If this is the case, it is time to consider a family road trip.
Cheap Spring Break Trips for Families
This post contains affiliate links. If you click a link and make a purchase, I may receive a small commission.
Washington DC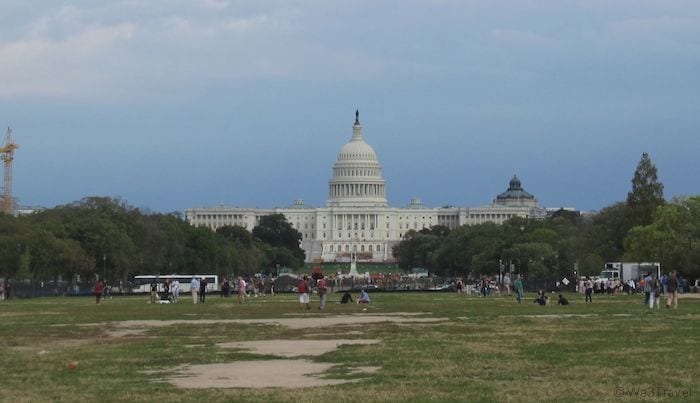 Washington DC pops up on a lot of spring break lists and that is with good reason. First of all — cherry blossom season! It had been my dream to visit Washington DC during cherry blossom season and we finally made it happen over Easter weekend. We were able to book The Darcy Washington, a Curio Collection Hotel, with a king bed premiere studio suite with a pull out sofa for $182 per night for a Hilton Honors advance prepaid rate. But it normally goes for around $300, so you may need to shop around.
While Washington DC is possibly driveable and accessible by Amtrak, to save time for a shorter trip we decided to fly. If you can't find cheap flights into Washington Reagan you can also fly into Baltimore-Washington International, which is a Southwest hub and often have cheaper fare sales.
Luckily, in Washington DC, so many of the museums are free, which makes it a great cheap spring break destination. You can also spend time walking through the Mall and around the Washington Monument. If you don't want to spend a week in Washington DC, you can combine it into a northeast roadtrip.
Related:
Where to Stay:
---
Williamsburg, Virginia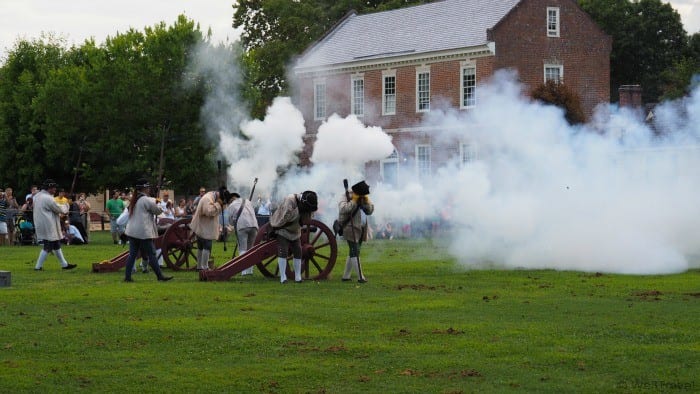 Williamsburg, Virginia makes a great spring break road trip from anywhere on the east coast. You can also find cheap flights on Breeze Airways into nearby Virginia Beach. It is a great destination for families that enjoy early American History, amusement parks, and outdoor activities.
You can find many affordable accommodation options from hotels to campgrounds. To save on attractions you can purchase the Historic Triangle Ticket that includes seven days of unlimited admission to Colonial Williamsburg, Jamestown Settlement, American Revolution Museum at Yorktown, and Historic Jamestown and Yorktown Battlefield.
When you are tired of history, you can have fun at Busch Gardens Williamsburg, visit the Virginia Living Museum, tour the Virginia Air and Space Museum, or explore the Fort Monroe National Monument. My daughter was about 10 when we visited this region, which I think is a great age for visiting Williamsburg and the surrounding area.
Related:
Where to Stay:
---
Adventures on the Gorge, West Virginia
Enjoy spring break in one of the newest National Parks, New River Gorge in Lansing, West Virginia. Stay in a cozy family cabin or deluxe lodging at the Adventures on the Gorge resort. In the spring you can go white water rafting on the Lower New River, take a biplane canopy tour, or enjoy a guided hike in the park.
While you are there, you should also explore the national park and take a Bridgewalk across the New River Gorge Bridge, one of the longest steel arch bridges in the world, on the catwalk under the bridge (don't worry, you will be harnessed in for this thrilling adventure!)
---
Jekyll Island, Georgia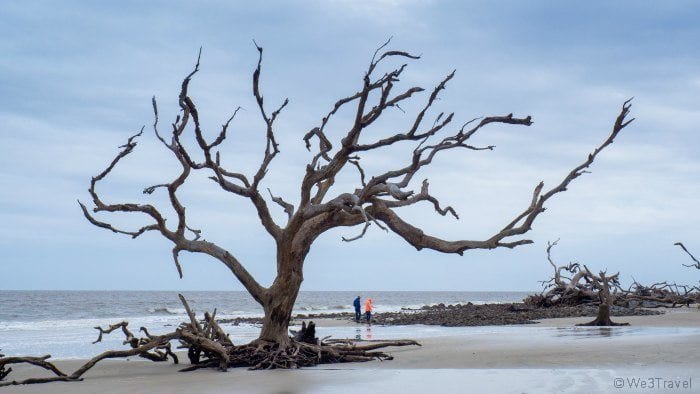 Jekyll Island is one of the many islands just off the coast of Southern Georgia. This quiet island offers miles of wide, flat sand beaches, including the famous Driftwood Beach, home to giant branches that have washed ashore. In addition to the seven public beaches, Jekyll Island is also home to the Georgia Sea Turtle Center, which is a popular stop for families.
Older kids will also enjoy biking around the island and staying up to do some star gazing at night. For a day trip, take the ferry from St. Mary's over to Cumberland Island (reservations recommended) where you can explore wilderness areas, undeveloped beaches, historic sites, cultural ruins, and hopefully spy some wild horses. Jekyll Island is also not a far drive to Savannah, Georgia or Okefenokee Swamp Park, which is a National Wildlife Refuge. Take a boat tour and look for alligators or enjoy some of the hiking trails in the park.
I actually visited Jekyll Island in early December and it was nice to enjoy this beach community in the off season, but the weather would certainly be nicer during spring break!
Related:
Where to Stay:
---
Cocoa Beach, Florida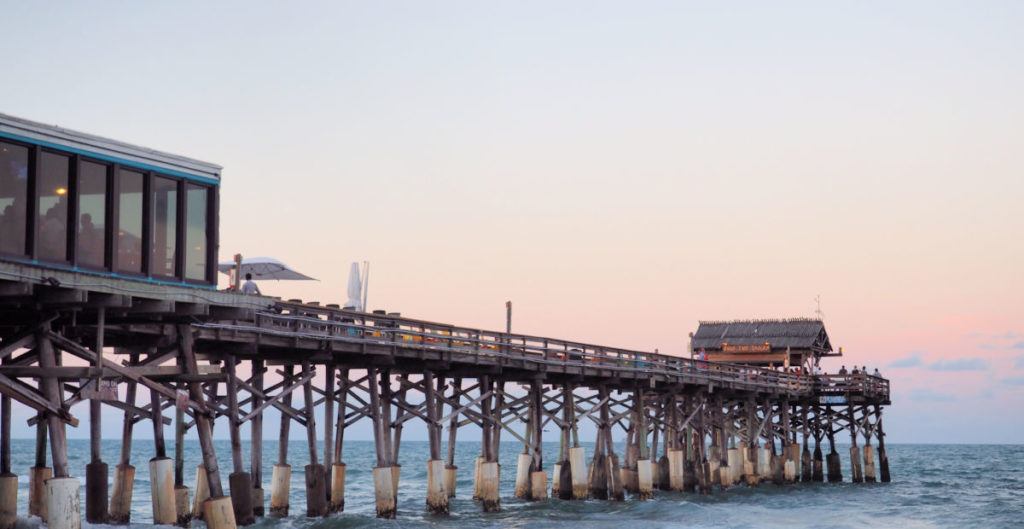 Cocoa Beach is one of the highlights of Florida's Space Coast, a 72-mile stretch of beach and family-friendly attractions. The marquis attraction is the Kennedy Space Center, which is a great place to spend a day with kids. The gorgeous Cocoa Beach, famous for its surfing culture, has a pier with family-friendly restaurants and attractions.
Nearby, you can also visit Brevard Zoo, where you can kayak and zip line through animal exhibits. Families also love kayaking with manatees or taking a thrilling alligator-seeking airboat ride. Maybe you will even be there for a rocket launch! At the very least, there are plenty of affordable family attractions like mini golf or the Andretti thrill park. While the beach area can have kitschy vibes, I still find this region a great, affordable, family spring break destination.
Related:
Where to Stay:
---
Kissimmee, Florida
If you are visiting the theme parks, a trip to Kissimmee can be extremely expensive, but there are plenty of things to do in the Orlando area that are much more budget friendly. Did you know you can kayak just a few miles from Disney? Get your thrills on an adventure ropes course? Take an airboat ride?
Of course with so many amazing vacation rental properties in this area, you don't even need to leave your home? A few years ago we took a multigenerational trip to Kissimmee and rented a house in Encore Resorts that had a pool, hot tub, sauna, steam room, game room, pool table, media room, and so much more.
Related:
Where to Stay:
---
Gulf Shores, Alabama
Gulf Shores Orange Beach Alabama is a very family-friendly beach destination for spring break and they work hard to keep the partying spring breakers out. I've been there at the end of March/beginning of April and the weather was beautiful. As with all beach destinations, once you get there and pay for the hotel, it doesn't cost much to enjoy some beach time!
Of course, one of the things that I love about Gulf Shores and Orange Beach is some of the fun things to do like sunset catamaran sails, dolphin cruises, kayaking and more. Plus, they have some of the best food around with fun venues like The Gulf, The Hangout, or Lulu's. There are plenty of vacation rental options!
Related:
Where to Stay:
---
Clearwater Beach, Florida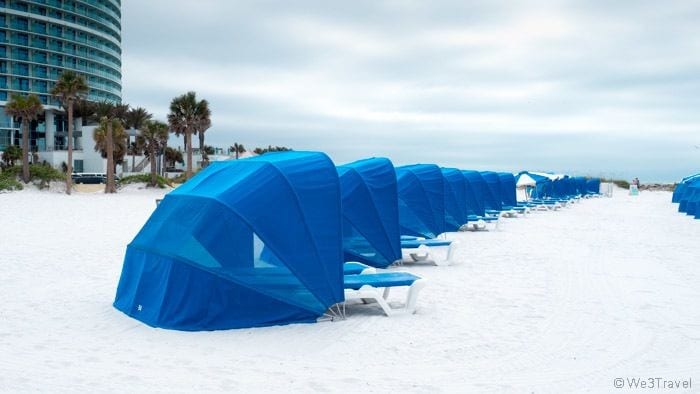 Clearwater Beach is one of my favorite beaches on the Gulf Coast with sugar soft white sand and calm, warm water. There are many family-friendly activity options like pirate cruises, dolphin tours, sunset festivals with free movies, and the Clearwater Marine Aquarium.
In April, the Pier 60 Sugar Sand Festival brings in professional sand sculptors to construct crazy cool sand creations. The 17-day festival includes free live music, fireworks, and sand sculpting classes, along with paid attractions on Pier 60.
Related:
Where to Stay:
---
Tempe, Arizona
Tempe makes a great spring break destination for families on a budget. You can usually find affordable flights into Phoenix Sky Harbor and while hotel prices might be a bit higher during the Cactus League baseball spring training, there are still deals to be found, some of which include kitchenettes and family suites.
In addition to taking in some baseball games at a fraction of the price of in-season games, you can kayak or rent paddle boats on Tempe Town Lake, e-bike around town, visit the Desert Botanical Gardens, and hike A mountain at sunrise or sunset. There are many great family-friendly restaurants in town and plenty of entertainment options at Tempe Marketplace. There are also day trips to hiking trails or stops on the Mesa Fresh Foodie Trail, like the Queen Creek Olive Mill.
While Tempe is a suburb of Phoenix, it really is its own city and, as the home of ASU, it feels very young and energetic. Visiting Tempe on a budget is much easier than some of the other destinations in this area, like Scottsdale.
Related:
Where to Stay:
---
Albuquerque, New Mexico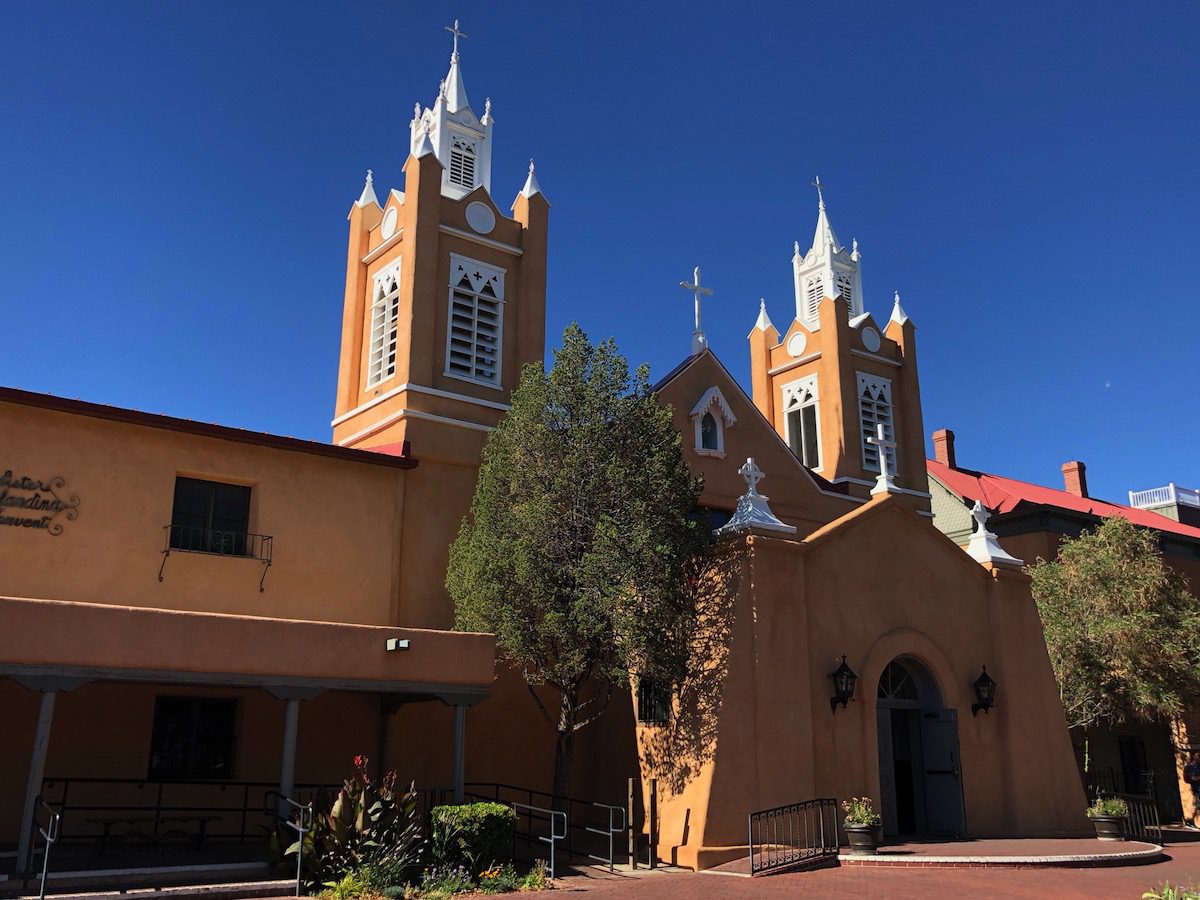 Albuquerque is a very affordable large city with plenty of family-friendly attractions. When we visited, we combined ABQ with visits to the Very Large Array, Spaceport, and White Sands National Park. You can also use Albuquerque as a jumping-off point to visit Santa Fe or Taos. In Albuquerque, you can visit Petroglyph National Monument Visitor Center, where you can see hundreds of petroglyphs carved by Native American and Spanish settlers 400 to 700 years ago.
To learn more about the local indigenous communities at the Indian Pueblo Cultural Center. Also explore the 100 specialty shops and restaurants in Old Town Albuquerque, including the San Felipe de Neri Church, which was built in 1793. Then get a view of sprawling Albuquerque from above on the Sandia Peak Aerial Tramway.
Related:
Where to Stay:
---
Las Vegas, Nevada
Las Vegas may not hit you as a family spring break destination, but beyond the flight deals to Vegas, there are a surprising number of family-friendly attractions in Vegas. You can take in some of the kid-friendly shows at Treasure Island, the Excalibur, or Cirque de Soleil. Then there are thrills like the FlyOver Las Vegas, High Roller Observation Wheel, the Sky Jump, X-Scream, BigShot at The Strat, and the AdventureDome at Circus Circus.
Plus you have attractions like Hershey's Chocolate World, M&M's World, and the Shark Reef Aquarium. There is always free entertainment like the Bellagio fountains, Mirage Volcano, and the Conservatory & Botanical Gardens at the Bellagio. There are also great day trips from Las Vegas including Red Rock Canyon, Valley of Fire, and the Hoover Dam.
Where to Stay: (with family-friendly pools)
---
Visalia, California
If you are looking to get more off-the-beaten-path and experience some of the National Parks without fighting the crowds at some of the busier parks, try Visalia, California. This town serves as the gateway to Sequoia and Kings Canyon National Parks and is a great home base as you explore the nearby Sequoia National Forest, Sequoia National Monument, and public lands.
Nestled in the foothills below the Sierra Nevada, Visalia has a cute downtown Main Street where you can enjoy world-class restaurants and cafes that utilize local ingredients from the fertile agricultural region surrounding the area. Families can also enjoy hiking, biking, and rafting. There are also many family-friendly attractions such as the Visalia Adventure Park, Sequoia Springs Water Park (open seasonally), and the Imagine U Children's Museum.
See other spring break destinations in California.
Where to Stay:
---
Puerto Rico
If you are craving a Caribbean vacation but don't have a passport, you can still visit Puerto Rico (for US citizens.) Stroll the cobblestone streets of Old San Juan, check out the Castillo San Felipe del Marco, hike through El Yunque, the only tropical rainforest in the US National Forest System, snorkel or kayak in bioluminescent bays, and enjoy some relaxing beach time.
You will get a perfect mix of culture, history, and island life. You can find affordable hotels just off the beach, or try a vacation rental for even better cost savings. My husband grew up going to Puerto Rico for family vacations every year and his family loved it.
Where to Stay:
---
Punta Cana, Dominican Republic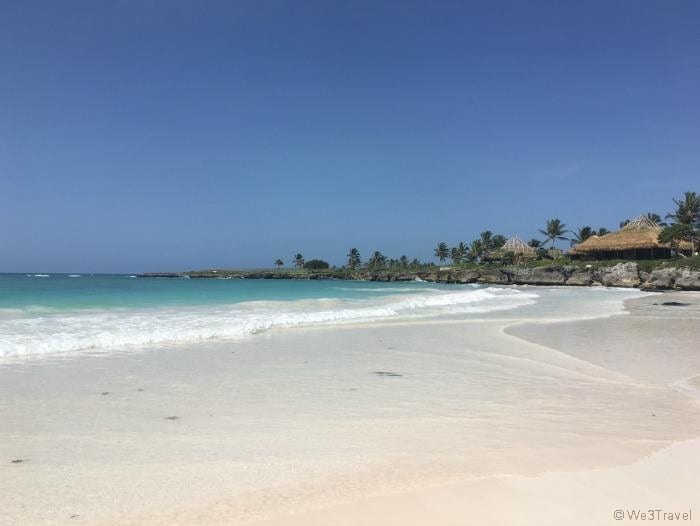 There is a reason why Punta Cana is such a popular destination. Its wide inventory of all-inclusive resorts makes it a great budget destination for families. Plus, there are a number of direct flights from many major cities. There are so many all-inclusives that it can get a bit overwhelming as some are really not great quality and others are not family friendly.
The Dreams resorts are fairly reliable for families looking in this budget range, you just may need to only stay five nights instead of a full week. There are plenty of activities on-site, or you can take excursions to waterfalls, snorkeling, kayaking, zip-lining, off-roading, and other adventures. If you do want to go a bit more upscale, my husband and I loved the Eden Roc at Cap Cana and found it to be great for families with young children.
Where to Stay:
---
Martinique
You can often find cheap airfare to Martinique, a French island in the Caribbean. This island is less-visited by American tourists so you won't find the same high-priced all-inclusive resorts that you find in other spots in the Caribbean.
This is a good spot to relax and enjoy the beach and water activities. In addition, you can explore small towns, hike volcanos, and try local rum. We visited for spring break a few years ago and the weather was perfect. It was nice to be basking in the warm (but not too hot) sun while there was a blizzard going on back at home.
Related:
Where to Stay:
---
Looking for more Ideas?
If you are interested in jumping over to Europe for spring break, make sure to check out these 15 European spring break ideas for families.
PIN THIS FOR LATER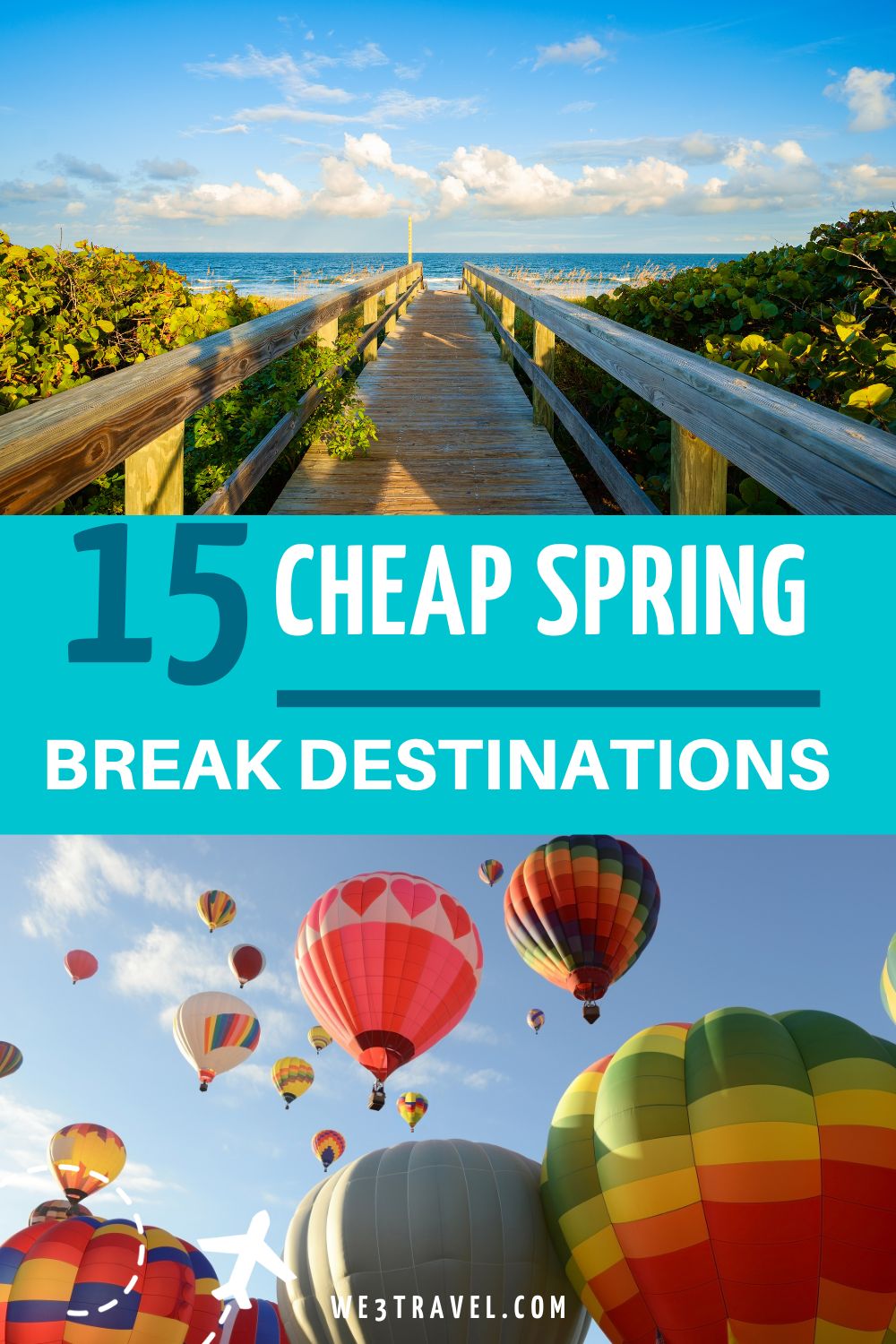 SaveSaveSaveSaveSaveSaveSaveSaveSaveSaveSaveSave
SaveSave
SaveSaveSaveSave
SaveSave
SaveSave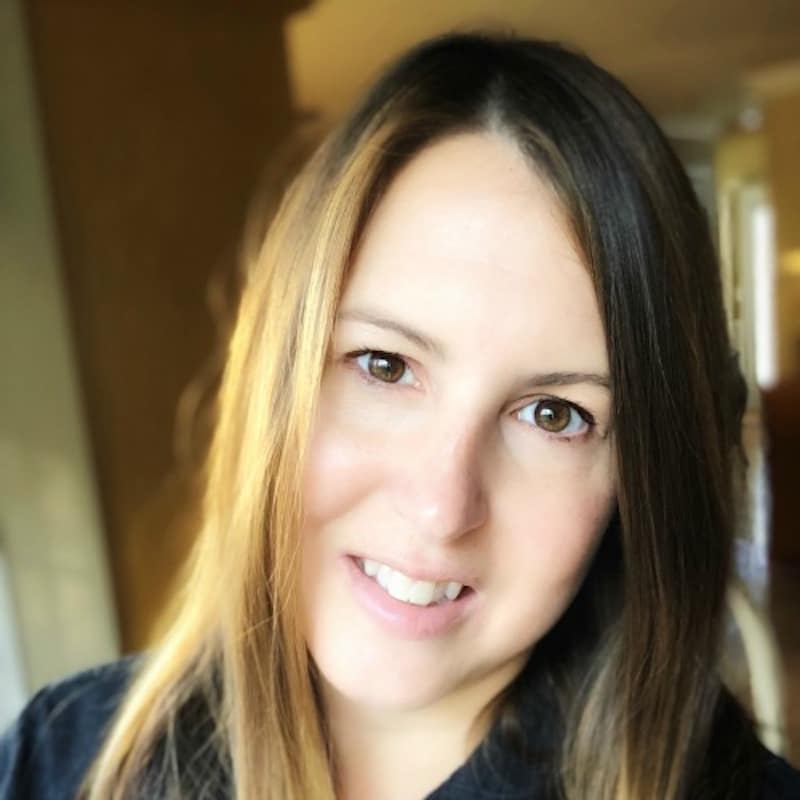 Tamara Gruber is the Founder and Publisher of We3Travel. A former marketing executive and travel advisor, Tamara is an award-winning travel writer and recognized expert in family travel. She is also the publisher of YourTimetoFly and the co-host of the Vacation Mavens travel podcast.