Lobsters and lighthouses. Charming towns and rocky coasts. The best way to discover the beauty and uniqueness of Vacationland is with a Boston to Bar Harbor road trip along the Maine Coast. I've driven this way many times and each time I discover something new. After so many trips to Maine, I put together this one to two-week Maine coast road trip itinerary from Beantown all the way up to Acadia.
If you are traveling from Boston to Bar Harbor, you will want to take at least a week to explore the Maine coast. Of course, you can drive straight through in under five hours, but there is so much to see on the Maine coast. Start off with a couple of days in the Maine beaches region, which stretches from the New Hampshire border up to Portland.
Portland is such a fun city, so you will probably want to take a couple of days to enjoy Old Port and Casco Bay. Next, give yourself a few days to enjoy Maine's midcoast region, as there is so much coastline and so many towns to visit, including Boothbay Harbor, Rockland, and Camden.
Finish up your Maine coast road trip in Bar Harbor or Acadia National Park. After spending a few days, you can then take a fast way back home or continue Downeast off the beaten path to the New Brunswick border.
Where to Stop on Coastal Maine Road Trip
Note: This post may contain affiliate links. If you click a link and make a purchase, I may receive a small commission. All opinions are my own.
The first region you will encounter on your Maine coast road trip will be the Maine Beaches. Of course, if you have even more time, you can always add in stops in Salem, Gloucester, Portsmouth, or Newburyport on your way up to Maine.
With a one-week itinerary, plan on spending at least two nights exploring this region. You can always break up two to three nights between two destinations to really get a sense of the differences between the various towns.
Maine Beaches
Kittery
Your first stop in Maine is just across the border in Kittery. Kittery is known for its extensive shopping outlets, some of which you may not find in every outlet mall. But I don't come to Maine to shop, at least not at brand-name outlets.
My first stop is usually at Bob's Clam Hut, just north of the Kittery outlets on Route 1. While Bob's is a popular tourist stop, they actually have some of the best lobster rolls and fried clams around. The lines are long for a reason. And yes, the lines are loonnngg. Don't be surprised to find the parking lot full and the wait for food an hour long in high season.
On my recent trip, I decided to skip Bob's and try something new so I went where the locals hang out and tried the quieter Chauncey Creek Lobster Pier. You can watch the lobster boats coming in while eating fresh seafood right on Chauncey Creek. But I'll be honest with you, I still prefer Bob's.
For a scenic stop, you can also check out Fort McClary, a historic fort in Kittery Point where you can walk along the battlements and get a view of two lighthouses in the distance. There are picnic grounds here for a scenic lunch. Fort Foster is another great spot for spending a day outdoors, with excellent views of the entrance to Portsmouth Harbor and Whaleback Light, Portsmouth Harbor Light, and Fort Constitution. But you do need to a pay $20 per car parking fee.
York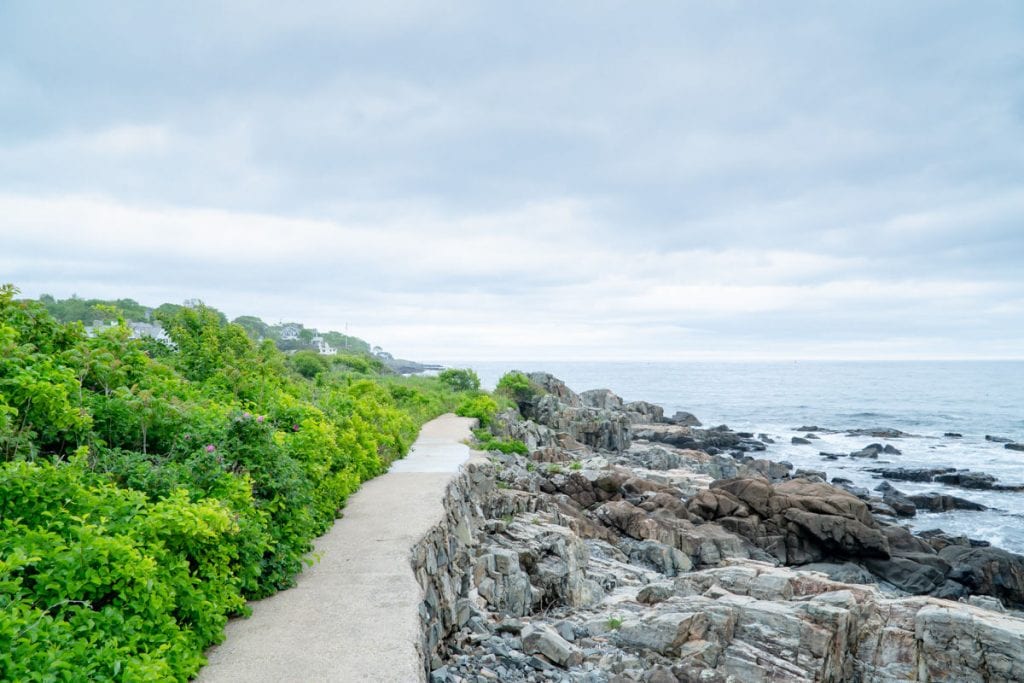 Your next stop in the Maine Beaches, about 15 minutes up the coast, should be York Harbor and the York Beaches. Foodies will want to make a pitstop at the Stonewall Kitchen factory store on Route 1 in York. Here you will find all the delicious Stonewall Kitchen sauces, dressings, and other food products, as well as cooking classes and the culinary school, and a cafe.
York Harbor is a quaint oceanfront area with a few rocky beaches that are connected by the York Cliff Walk. If you are looking to stay overnight in this area, the York Harbor Inn is perfectly located right across from the town park and the entrance to the Cliff Walk. The Stage Neck Inn is another great choice.
The York Beaches, both Long Sands and Short Sands Beach are great for surfing, but the accommodations around the beaches are primarily seaside motels. This is also where you will find a majority of the gift shops, restaurants, and souvenir shops. Nearby you have family attractions like York's Wild Kingdom, mini golf, and more. If you are looking for a quaint downtown and nice sand beaches, head a little further north to Ogunquit.
Cape Neddick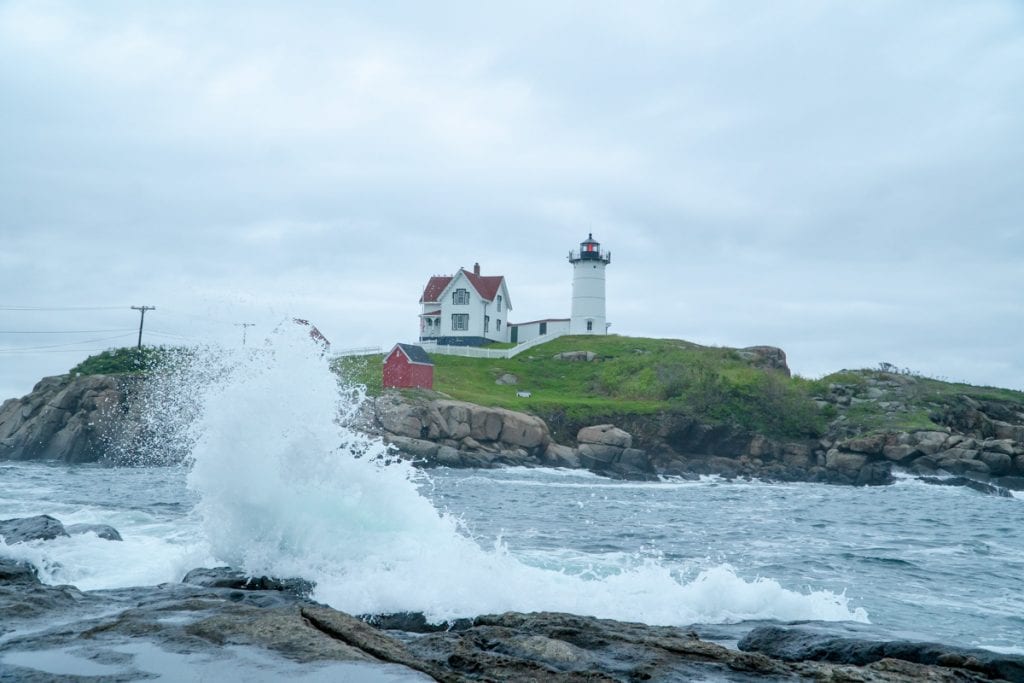 Before you get to Ogunquit, be sure to stop in Cape Neddick, just five minutes further, at the Nubble Lighthouse. Located on an island just off the coast, this is one of the most photographed lighthouses in Maine. If you are hungry, you can get some fresh lobster at Fox's Lobster House right next door (bring cash!) or Dunne's Ice Cream down the street.
From here, follow Shore Road 15 minutes north into Ogunquit. If you are looking to stay in this area and are ready for a splurge, overnight at the luxurious Cliff House Maine.
Ogunquit
Ogunquit is very popular with travelers and many of the hotels and motels are not located right on the beach. So if the beach is your priority and you want to stay overnight, be sure to check and see if your accommodations are truly beachfront. The town itself is quaint and upscale, but also touristy. You will find a mix of fine dining options along with your typical tourist clam shacks and seafood restaurants. Ogunquit makes a nice place for a day trip.
We like to stop into Perkins Cove, the small shopping and dining area on the harbor. I've eaten at Barnacle Billy's in Perkins Cove and it was fine, but there are probably better options in the area. In Perkins Cove, you can take in the view of the incoming fishing boats from the Footbridge, or take a 1.25-mile stroll along Marginal Way, past stately inns and rocky beaches.
Kennebunkport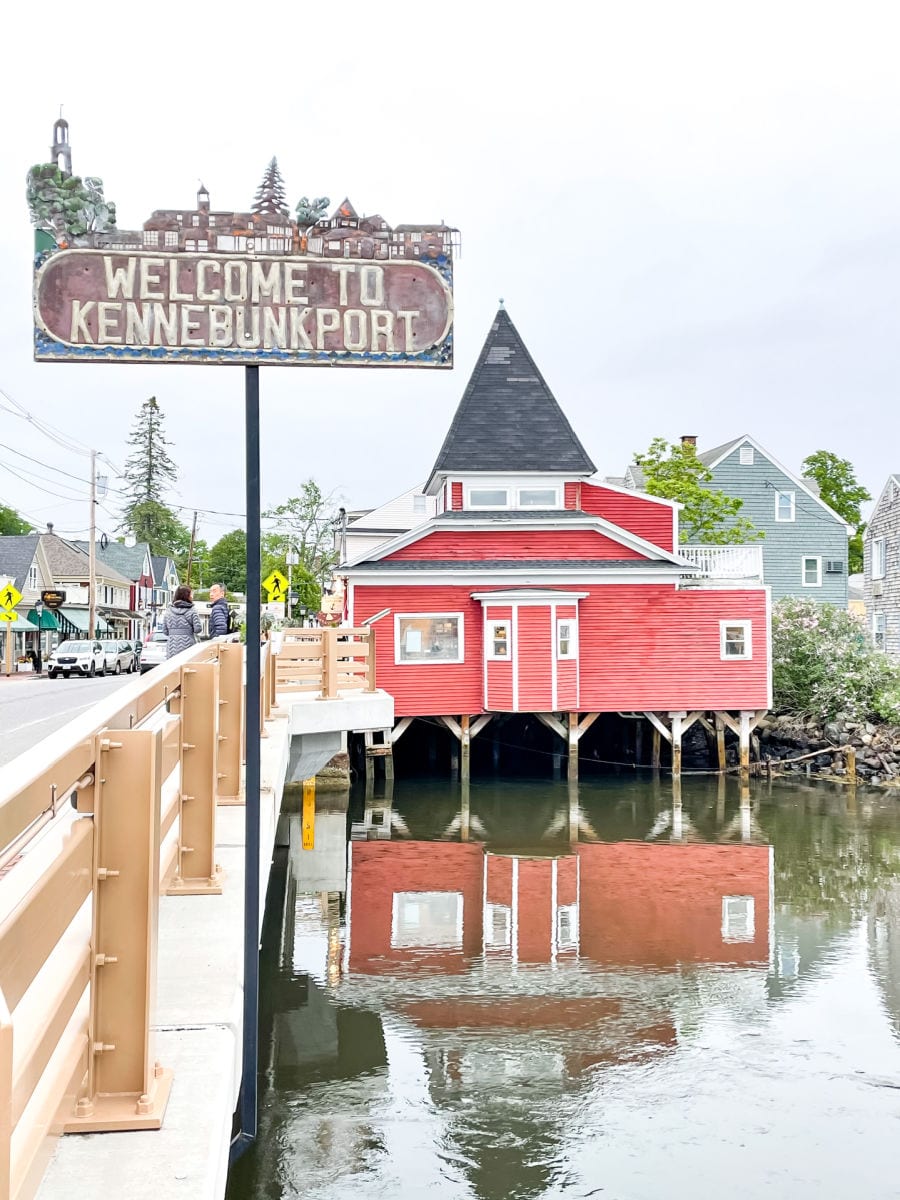 If you haven't stopped yet, you will want to bed down for your first night in the popular town of Kennebunkport, just another 25 minutes further north. There are many options near downtown Dock Square, but I would recommend a stay at The Inn at English Meadows. This lovely mid-18000's Greek Revival-style inn is located in Kennebunk's Lower Village, just a half-mile walk to downtown Dock Square. Perfect for romantic getaways, this bed and breakfast has been tastefully renovated to offer historic charm with modern luxuries such as Frette fine linens, toiletries by Malin+Goetz, and comfortable Vera Wang beds.
Each morning starts with a three-course breakfast and downtime can be spent relaxing in the two stylishly-decorated common rooms with gas fireplaces, a lovely outdoor patio, and an expansive lawn with an English-style garden. There are even special touches such as electric vehicle chargers, WiFi access, and Nespresso machines. There are some accommodations that can fit a family, but families may prefer a resort such as Nonantum Resort, just south of town and on the water, even if not on the beach.
In town, you can enjoy shopping and dining at the many restaurants such as Federal Jack's, Allison's, Mabel's, or the famous Clam Shack. Pedro's a good spot for Mexican and Arundel Wharf offers a great view. We also like to head out of town to Cape Porpoise Chowder House, which is popular with locals and tourists alike. Just be warned that parking is hard to find so you may need to walk a bit. I'd highly recommend a scenic drive around Cape Arundel, although it will cause some serious house envy!
If you are looking for beach time, Gooch's Beach is wide and long and great for families, but street parking is limited so get there early. You can also try nearby Goose Rocks Beach or Colony Beach.
Old Orchard Beach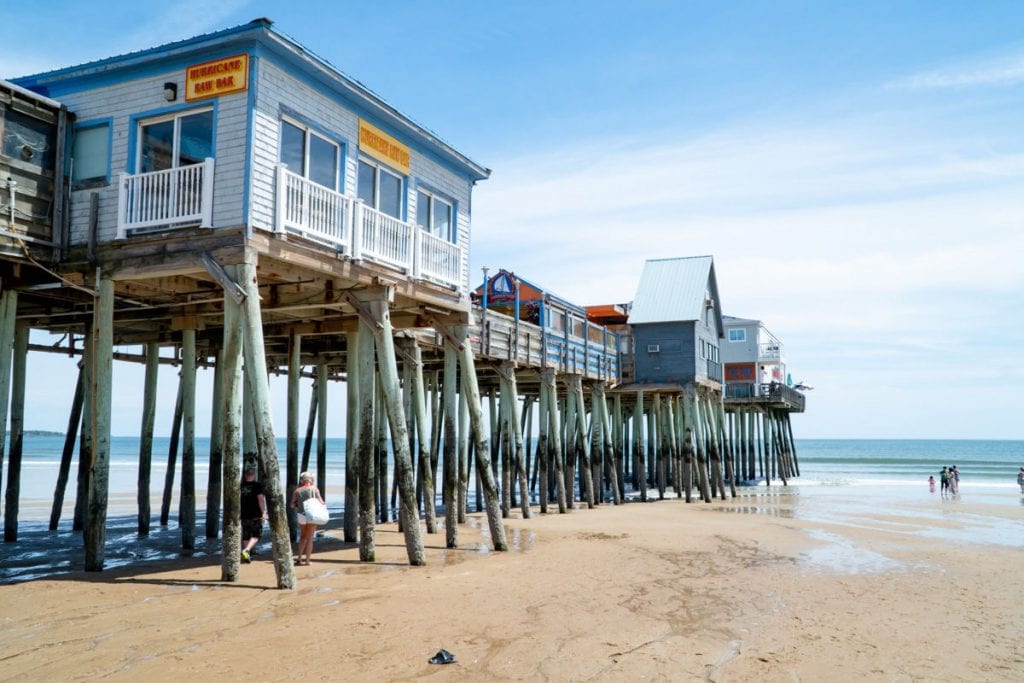 Thirty minutes north of Kennebunkport is another popular beach town. Families love Old Orchard Beach not only because it has a gorgeous, flat, wide beach, but kids also love the rides at Palace Playland and the arcade games at the pier. This section of the Maine beaches feels almost out of place given the rest of the Maine coast, almost as if someone plucked it off the Jersey shore and plopped it in Maine.
My daughter also loves going to Funtown Splashtown, an amusement park/water park, nearby. But if the boardwalk vibe isn't your jam, you might want to skip over Old Orchard Beach and try Scarborough Beach State Park instead.
Portland
I would recommend spending one to two nights in the Portland and Casco Bay region, 25 minutes north of Old Orchard Beach. On your way into town, be sure to stop at Portlandhead Light in Cape Elizabeth. It is a great place to scramble on the rocks, walk along the coast, and enjoy those lighthouse views.
We love staying in the Old Port area at the Press Hotel, Courtyard Marriott, Hilton Garden Inn, or ACE Hotel. Downtown Portland is a foodie city, with many great restaurants to try. You can also take a tour on the Beer Bus or stop at one of the many breweries nearby. My favorite one to tour and visit is Allagash Brewing Company. For some great lobster with a view, go to Luke's Lobster on the wharf.
You can hop on a ferry boat and explore some of the islands in Casco Bay, or sign up for a lobster boat tour, where you can learn all about lobstering and help pull up the traps. Best of all, you can eat what you catch! If you don't want to stay in town, you can also enjoy a car-free couple of nights at the Inn at Diamond Cove on Great Diamond Island.
Freeport (day trip from Portland)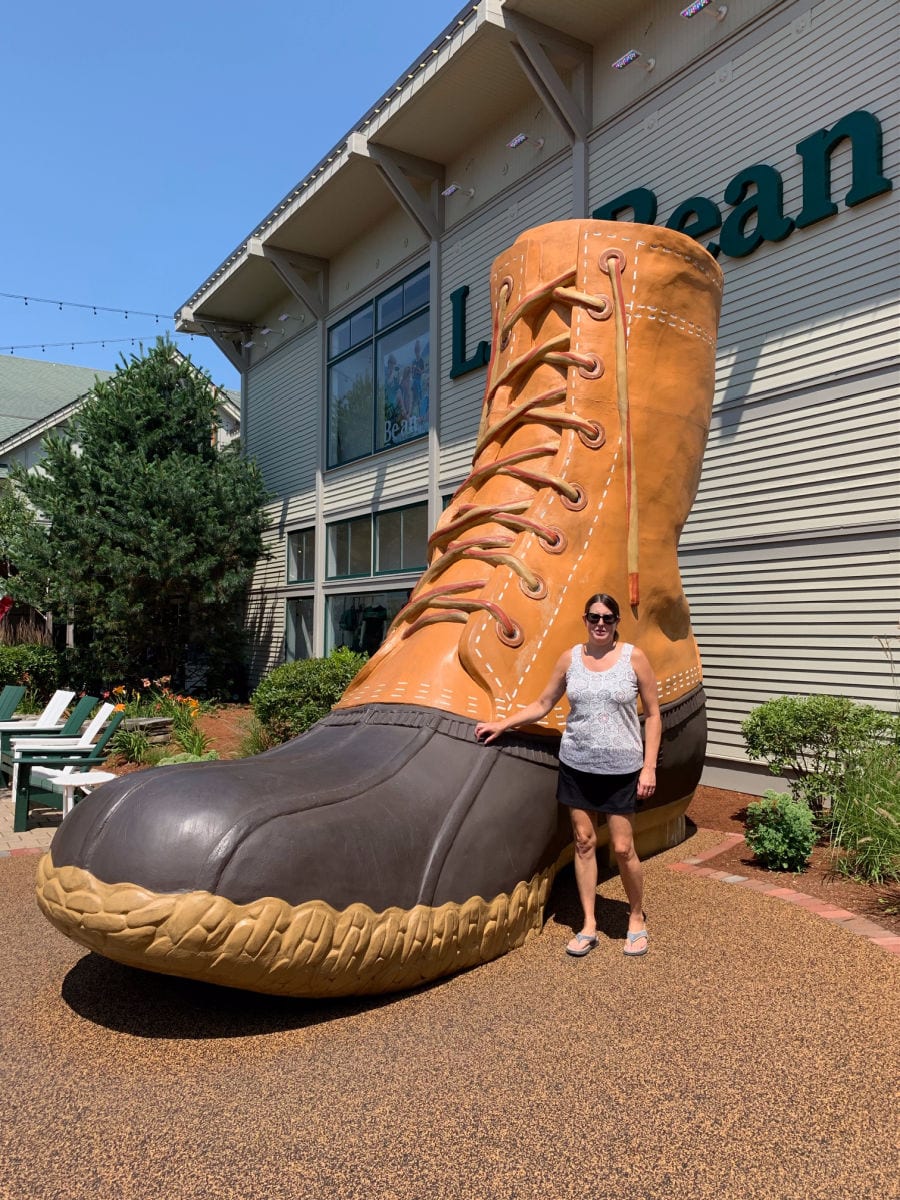 From Portland, you can also take a day trip to Freeport, about 20 minutes north of Portland. Famous for being the headquarters of L.L. Bean, it has become a shopping mecca. In addition to the large company store and L.L. Bean outlet, many other designer outlets and outdoor outfitters have set up shop in town.
You can also stop in for a tasting at Maine Beer Company and sample some of their IPAs. If you are looking for a great lobster roll nearby, head down to the water at Harraseeket Lunch and Lobster Company.
Maine's Mid Coast
After your time in Portland, it is time to move on to Maine's midcoast. This area has miles of coastline, hundreds of islands, and countless charming coves to explore. Picture an open hand pointed down with outstretched fingers and you can imagine the many peninsulas that jut out into Casco Bay and the Atlantic Ocean.
It is good to base yourself in this region for at least two to three nights, broken up between two or more destinations. Although many vacationers might decide to spend a week on Orrs Island and be quite content.
Brunswick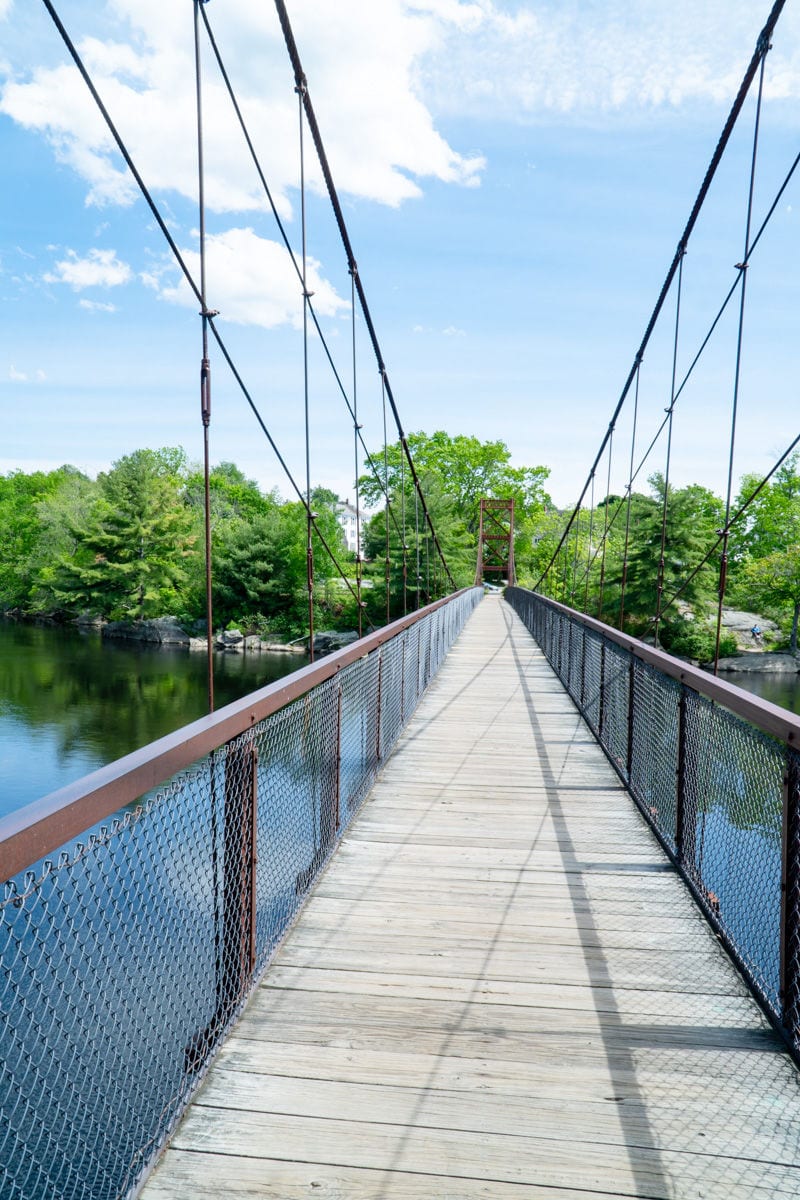 Your mid-coast exploration can start off in the town of Brunswick, a 30-minute drive from Portland, with a walk across the Androscoggin Swinging Bridge. This pedestrian bridge connects Topsham and Brunswick, offering beautiful views of the Androscoggin River. After, take a stroll through downtown Brunswick, home to Bowdoin College.
Harriet Beecher Stowe, the author of Uncle Tom's Cabin and member of the Underground Railroad, lived and worked in town and her house is now a designated National Historic Landmark. If you need a good lobster roll in this area, head to Cameron's Lobster House.
Harpswell
From Brunswick, head south on Route 123 to the tip of the peninsula for lunch at Erica's Seafood. This little hidden gem offers seafood fresh off the boat that you can enjoy at picnic tables overlooking the harbor. From there, turn towards Route 24, which leads down through Sebascodegan Island to the town of Harpswell, Orr's Island, and Bailey's Island.
You will get to the end of the line when the road reaches the ocean at Land's End gift shop. Backtrack a little to the Giant's Stairs Trail. You can park at the All Saints by-the-Sea Episcopal Chapel and walk along the path that runs parallel to the rocks that make up the Giant's Stairs. When I went, I was hoping for something more like Giant's Causeway in Northern Ireland. The rock formations aren't that unique but it is still a cool view and fun place to explore.
If you have more time in the area, you can spend a day at Reid State Park or Popham Beach, or visit the Maine Maritime Museum in Bath. You may also want to line up for a lobster roll at Red's Eats in Wiscassett, just don't make my mistake, be sure to get there before they close! Give yourself about an hour to get from Giant's Stairs to Boothbay Harbor.
Boothbay Harbor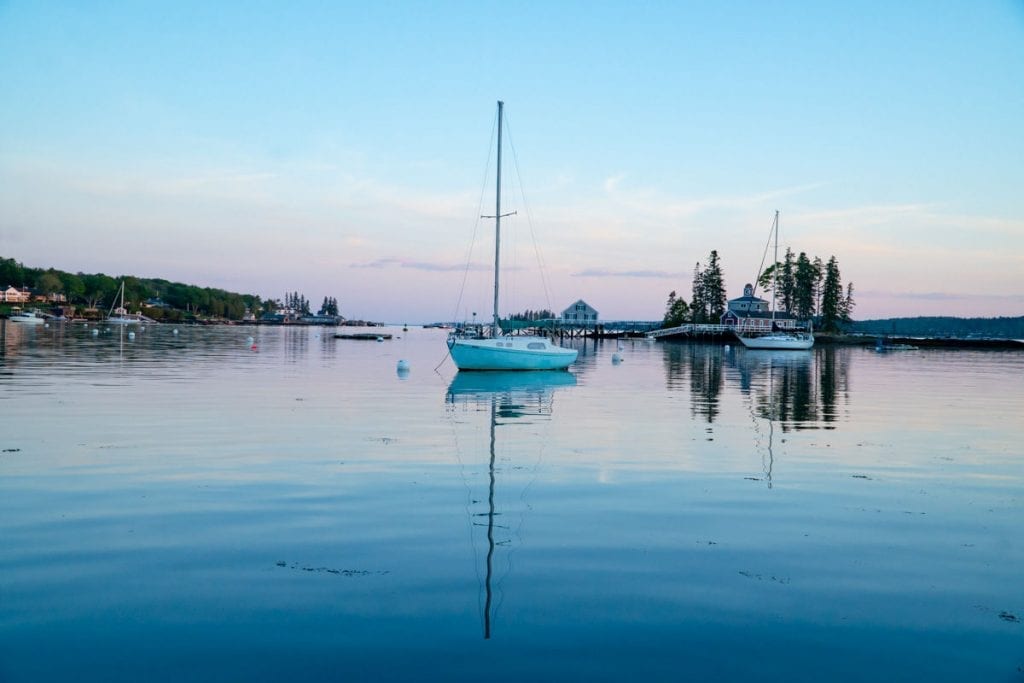 Boothbay Harbor was one of the first places I visited in Maine, over twenty years ago! I was happy to see that it has only gotten better since my last visit, although the good old Tugboat Inn is still there! This time I stayed at the lovely Harborage Inn, which was located right on the water and just a short walk into the center of town.
In town, there are so many cute shops, from Maine Sea Bags to Sherman's Books, along with other gift shops, galleries, and boutiques. You will also have your choice of restaurants including Mine Oyster, Kaler's Lobster, Boathouse Bistro, Ports of Italy, and Shannon's Unshelled.
For lunch, I would recommend eating fresh seafood outside at Boothbay Lobster Wharf. It is across the bay from town but you can easily walk across the pedestrian bridge connecting the two sides of town.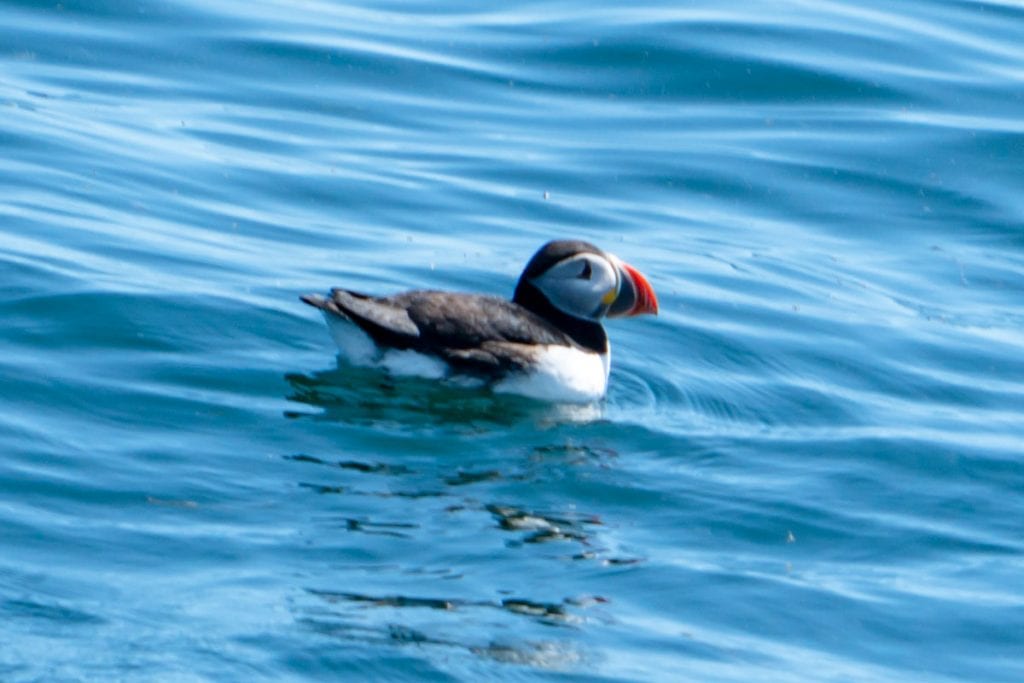 A very popular thing to do in Boothbay Harbor is to take a whale-watching tour. However, since I've been whale watching many times, on this trip I opted for a puffin cruise with Cap'n Fish out to a wildlife preserve on Eastern Egg Rock instead. This 2.5-hour cruise passes by lighthouses on the way, with opportunities to see dolphins or even whales.
The boat is large so it can only get so close to the island, however, the puffins often raft up in the water along the shore so you are bound to see plenty of puffins. Just bring along some good binoculars or a super zoom lens because puffins are small and you won't get to see their cute, colorful beaks without a little assistance.
Damariscotta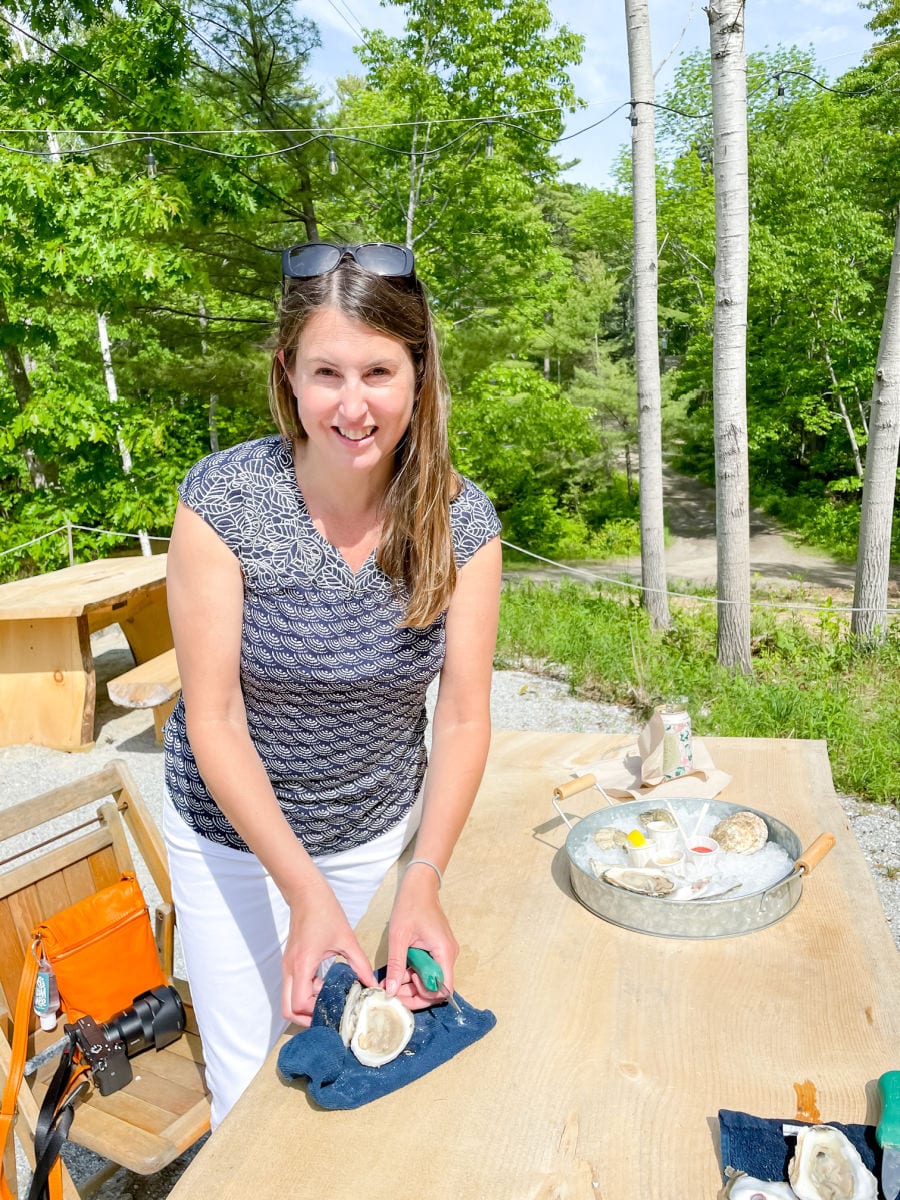 From Boothbay Harbor, it is only 15 minutes over to Glidden Point Oyster Farm on the Damariscotta River. I was hoping to take a oysters and wine-tasting cruise with Damariscotta River Cruises, but unfortunately, they weren't running on the day I was in town. So an oyster farm tour seemed like the next best thing!
Eighty percent of Maine's oysters are farmed in the Damariscotta River! My tour at Glidden Point Oyster Farm explained why the river was the perfect spot for oysters and its history that goes back thousands of years to pre-Colonial times. After learning about the farming process, I stepped up to the window to order some oysters to taste on their outdoor patio. I even learned to shuck an oyster! And I was thrilled to learn that Glidden Point ships nationwide.
If you have more time to stay in the area or prefer a quieter town versus Boothbay Harbor, Damariscotta has a very cute but small downtown. Stop into the Maine Coast Book Shop and Sheepscot River Pottery. You can also visit the Whaleback Shell Midden State Historic Site.
You can stay at the Newcastle Inn and have dinner at King Eider's Pub or Newcastle Publick House. Locals love Shuck Station Raw Bar and if you want to head a little out of town for some beer tasting, stop into Oxbow Brewing Company at their rural farmhouse brewery.
Pemaquid Point Lighthouse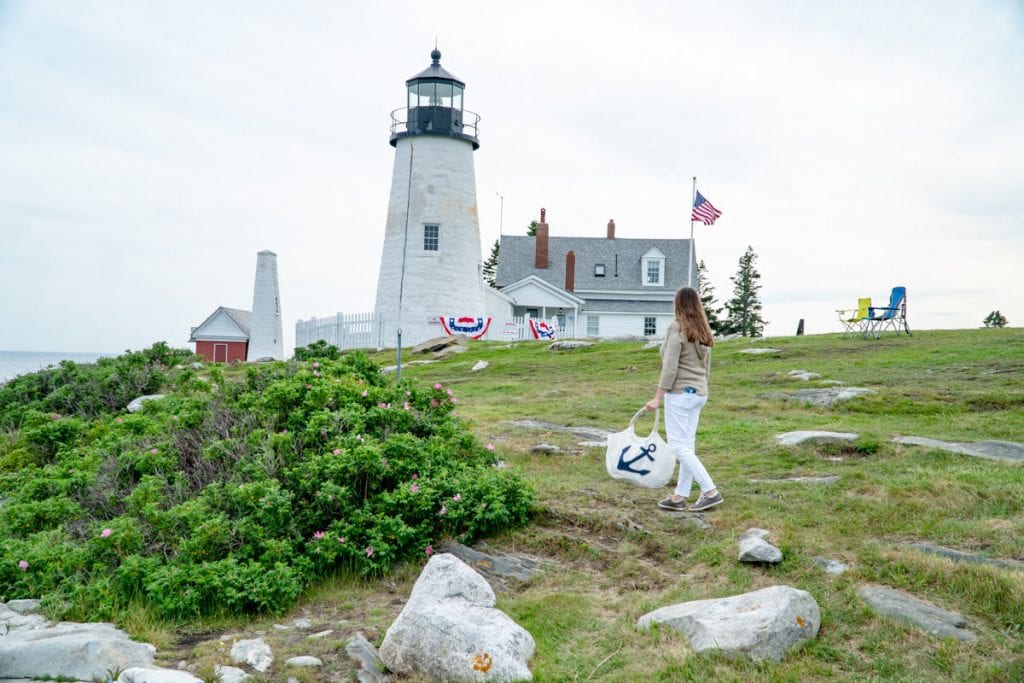 From Damariscotta, it is a 20-minute drive down to the Pemaquid Point Lighthouse, which can be a great spot for sunset. Of course, when I went it clouded up so I didn't stick around that long, but that's ok because I was able to get to my next stop in Rockland a little early.
From Bristol, it is an hour's drive to Rockland. I took Route 32 through Bremen and it worked out perfectly when I came across a park with fields of beautiful purple and pink lupines stretching down to the water. If you have time, also stop at the Marshall Point Lighthouse (you may have seen this in Forest Gump.)
Rockland
Rockland is the Art Capital of Maine, a bustling town with art museums, galleries, shops, and restaurants on a working waterfront. It is also a port for Maine Windjammer ships and even small-ship cruises, so it attracts its share of day trippers as well. It is certainly a larger and more touristy town than many of the others along the Maine coast, but I loved it and returned recently to spend some time before my Maine Windjammer Cruise on the Schooner Heritage.
See more things to do in Rockland, Maine.
Make time to visit either the Farnsworth Art Museum, which celebrates Maine's role in American art, or the Contemporary Arts Museum downtown. If it is open, you can also stop into the Project Puffin Visitor Center to learn about all things puffin. It is a fun town to explore, check out the many murals and public art, and shop at the many boutiques (my favorite was Barefoot in Denim!)
There are so many great spots to eat in town. I had an amazing dinner at Primo, a farm-to-table Italian restaurant just a short drive from downtown. Locals also recommend Rock City Coffee and Rock Harbor Brewing.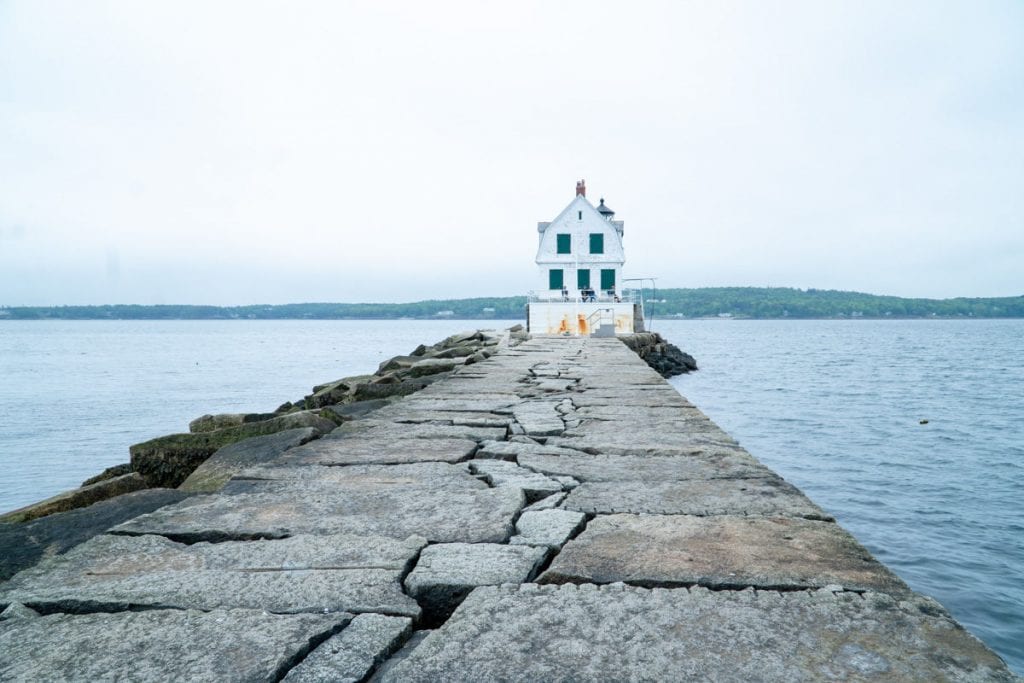 If you have time, just south of town follow signs for the breakwater. It is about a mile walk out along the breakwater to the lighthouse at the end, but it is a fun outing on a nice day. Another day trip option is to take a ferry to Vinalhaven, which is known for its beautiful scenery, rocky coast, and granite quarries.
The best place to stay in Rockland is 250 Main Hotel. This modern, art-forward hotel has a rooftop deck overlooking the waterfront and spacious rooms.
Camden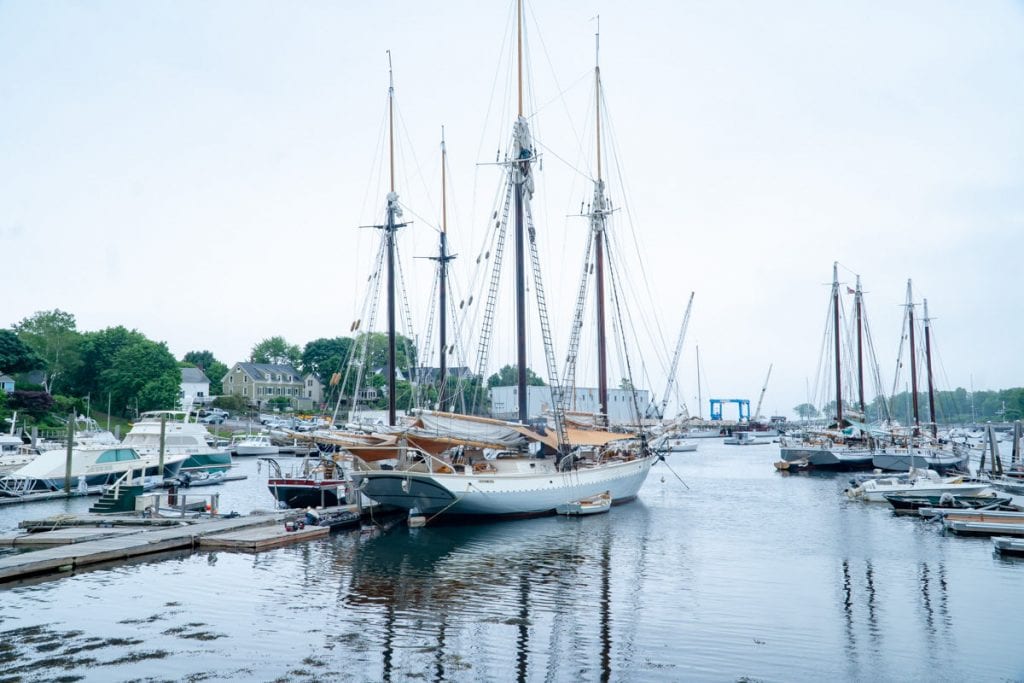 A 15-minute drive from Rockland, Camden is another popular town on Maine's midcoast. There are excellent views of the Camden harbor front from the Camden Public Library, and the lawn is a great spot to enjoy a picnic or relax and soak up the view.
Downtown there are many shops and restaurants, such as The Waterfront Restaurant, Peter Otts, and Fresh and Go. If you would rather stay in Camden instead of Rockland, the Lord Camden Inn is right in the center of everything, while the Camden Maine Stay Inn will be a bit quieter and laid back.
Outside of downtown, you can enjoy scenic views from the top of Mt. Battie in Camden Hills State Park. Also, try hiking along Maiden's Cliff or the Megunticook Ocean Lookout Trail. Unfortunately, during my visit the fog rolled in and I could barely see to drive through that area, let alone take in a scenic view.
Before you get to Bar Harbor on Mount Desert Island, you may also want to stop at the Penobscot Narrows Bridge & Observatory or visit Fort Knox State Park. That was my plan too but with the fog, it wasn't worth it.
Bar Harbor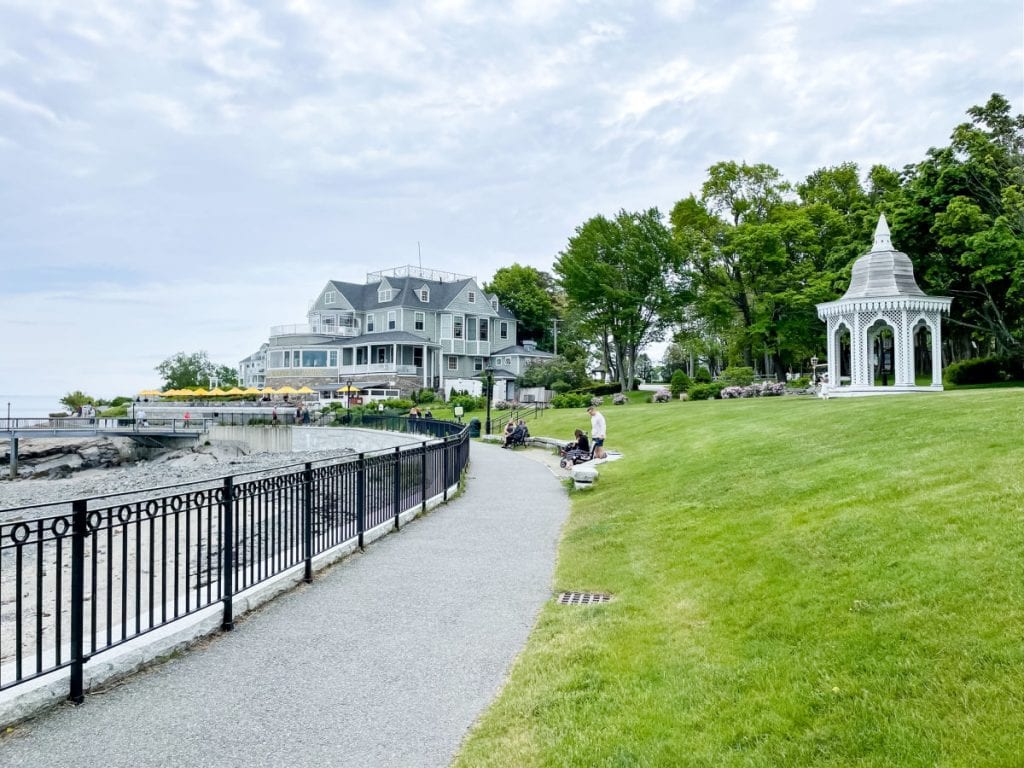 Camden to Bar Harbor is about an hour and forty-minute drive, although you may want to stop in Ellsworth before arriving on Mount Desert Island, for a beer tasting at Fogtown Brewing Company. Instead of staying in the town of Bar Harbor, I chose to stay at Terramor Outdoor Resort about 15 minutes from Acadia National Park and Bar Harbor.
If glamping isn't your thing, you may want to opt for the luxurious Claremont Hotel in Southwest Harbor or the charming Salt Cottages overlooking Hulls Cove. Of course if you are going all the way to Bar Harbor, you will want to spend some time downtown and walking along the Shore Path along Frenchman's Bay. From town you can also take a whale watching cruise. Bar Harbor is also a fun town for shopping and restaurants.
If you are visiting Acadia National Park in the summer, be prepared for crowds and make reservations if you want to drive to the top of Cadillac Mountain for sunrise. (You could try this Acadia National Park sunrise hike instead!) To avoid crowds, also check out these things to do near Acadia.
A Maine coast road trip should be on everyone's bucket list. It is hard to get tired of seeing fishing boats bobbing in a harbor, lighthouses standing tall over rocky coasts, and eating endless amounts of lobster and seafood. Hopefully, this itinerary makes it easier to plan your trip!
Read More Maine Articles
Save this to Pinterest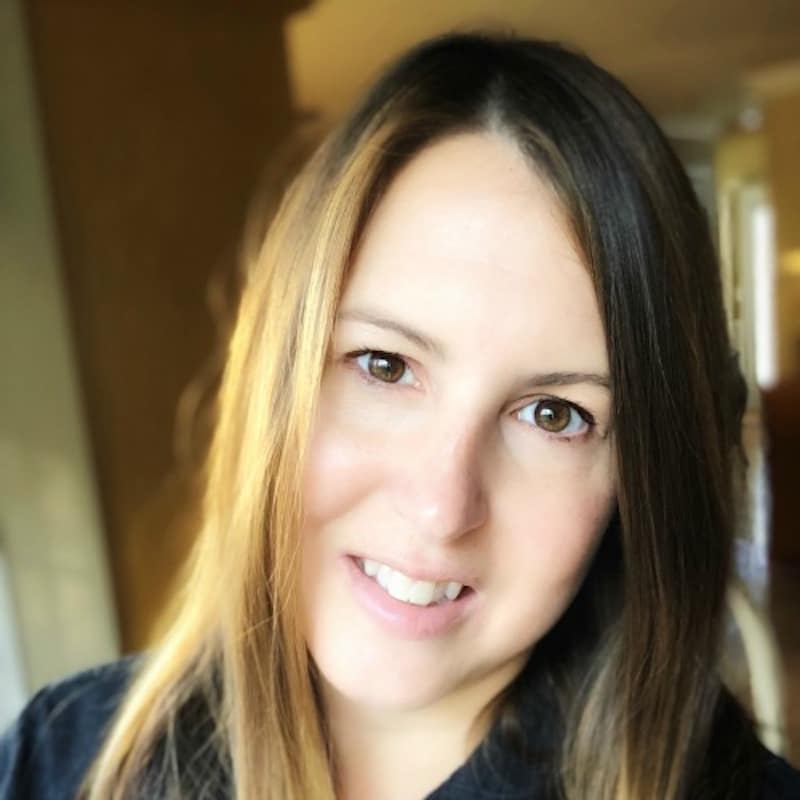 Tamara Gruber is the Founder and Publisher of We3Travel. A former marketing executive and travel advisor, Tamara is an award-winning travel writer and recognized expert in family travel. She is also the publisher of YourTimetoFly and the co-host of the Vacation Mavens travel podcast.