Whether you are going for the beaches and the lobster rolls, or trying to hit peak fall foliage and everything pumpkin and apples, May through October is the perfect time to plan a New York to Maine road trip. While it is tempting to rush through Southern New England on your way from New York to Maine, take some time to stop and see the sights along the way. This New York to Maine road trip itinerary was designed for a one-week trip, but can easily be extended to include more time at each destination or you can continue up the Maine Coast to see more of Vacationland.
This road trip is designed to go from New York City to Portland, Maine. However, if you want to include more stops between New York and Boston, you will also want to look at my New York to Boston itinerary for additional ideas. Or, if you want to see more of Maine, you can continue north on a Coastal Maine road trip or a road trip through the Maine Highlands. This itinerary will take you from New York City to Maine, with stops in Mystic, Connecticut; Newport, Rhode Island; Boston, Massachusetts; and finishing in Portland, Maine.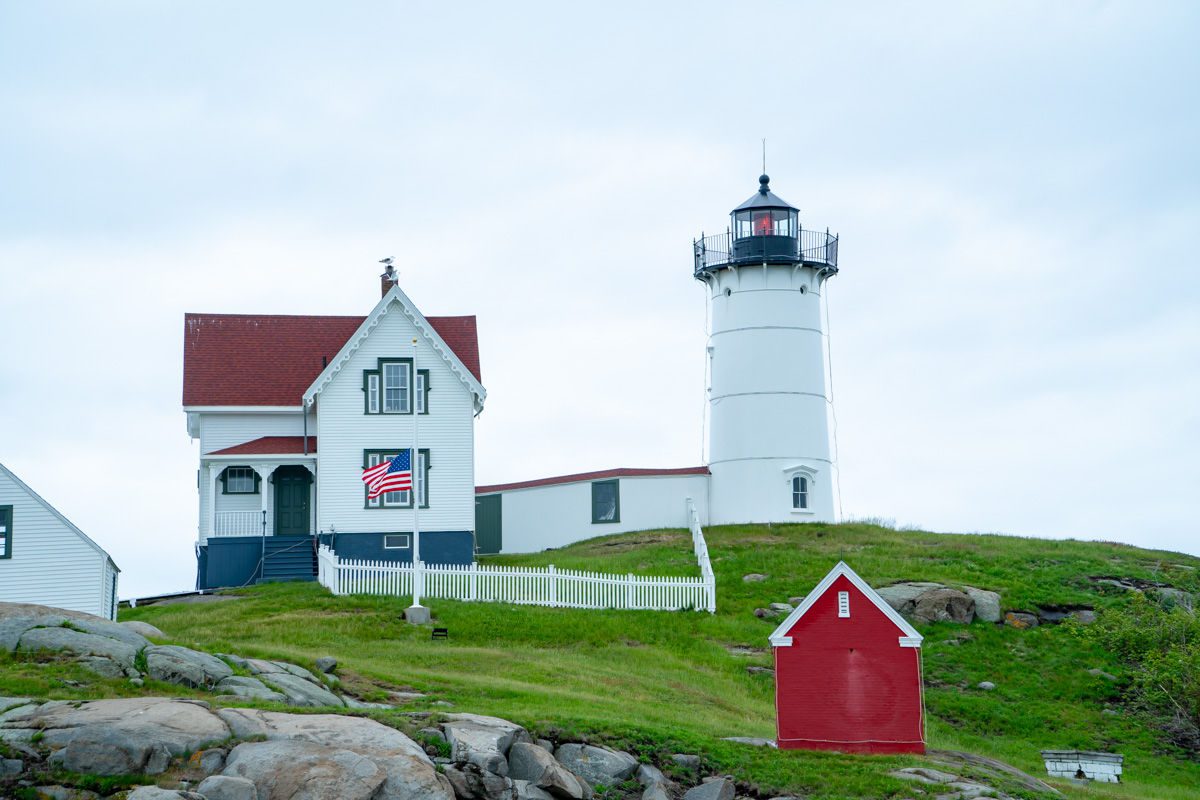 New York to Maine Road Trip
If you are taking a New York to Maine road trip, the quickest route will be under six hours through Hartford, Connecticut. This makes the best return trip from Maine, but on your way, I'd recommend taking a slightly longer and a smidge more of a scenic route on your way to Maine.
From New York City, take Interstate 95 approximately 3.5 hours (traffic can vary) to the historic seaport town of Mystic, Connecticut. If you need a pitstop along the way, downtown Stamford and New Haven both offer great dining options, or grab some lobster rolls at Ford's Lobster in Noank, Connecticut.
Stop #1: Mystic, Connecticut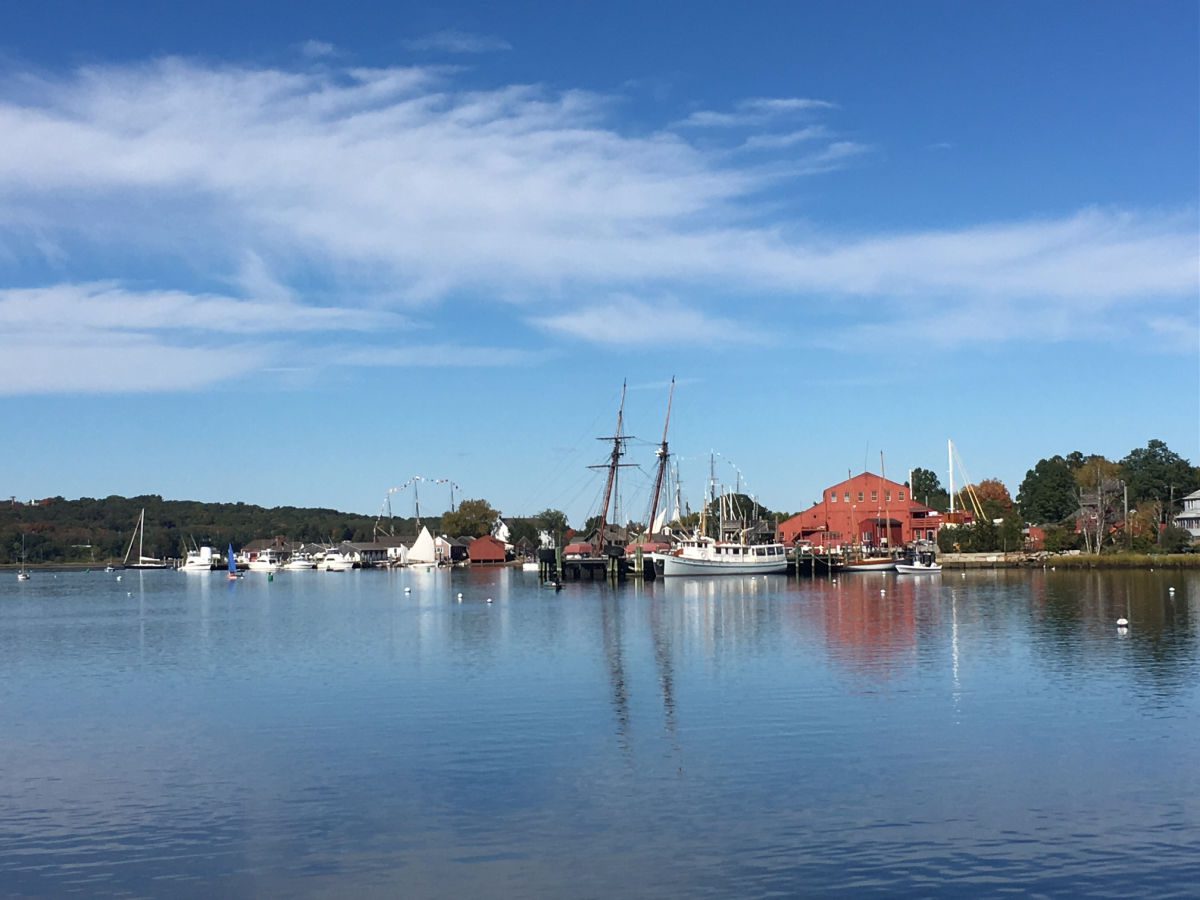 Your first overnight stop should be in the charming seaside town of Mystic. I'm not sure if it is more famous for Mystic Pizza, the 1988 film starring Julia Roberts, or the historic Mystic Seaport, a must-see family attraction. You will probably want to stay here for two nights, as there is plenty to do in town and nearby.
Mystic Seaport is a recreated 19th Century seafaring village, complete with ships, shops, and workplaces staffed with costumed interpreters ready to tell you about their craft and day-to-day life in a 19th Century town. The cooperage, print shop, and general store are all popular stops with kids. Visitors can also step on board the Charles W. Morgan, the last wooden whaling ship in the world, or get out on the water on a Mystic River boat ride.
Downtown you can grab an ice cream and watch the drawbridge go up and down as ships pass by, browse the shops, or get something to eat at one of the many seafood restaurants. In addition to Mystic Pizza, I'm a huge fan of the Engine Room for lunch or dinner, or Kitchen Little for breakfast.
Kids will also love watching the beluga whales at the Mystic Aquarium or exploring the trails at the Denison Pequotsepos Nature Center. If you are visiting in the fall, it is worth waiting in line at B.F. Clyde's Cider Mill for some hot, fresh apple cider donuts. See more ideas on things to do in Mystic with kids.
If you have time to spend a couple of days, nearby you can enjoy a ride on the Essex Steam Train, a visit to the Pequot Museum on the land of the Mashantucket Pequot Nation, a lighthouse tour from New London, a day at the beach in Misquamicut State Beach in Westerly, Rhode Island, or some wine tasting at Jonathan Edwards Winery near Stonington, CT.
Where to stay:
Stop #2: Newport, Rhode Island
From Mystic, it is about one hour drive to your next stop in Newport, Rhode Island. You can potentially just visit for the day and continue on to Providence or Boston, but staying overnight will give you more time on the Classic Coast.
Whether you are visiting in the spring, summer, fall, or winter, there is always something to do in the historic town of Newport, Rhode Island. Once a summer getaway for the wealthy New York industrialists, Newport still attracts the yachting crowd as the "sailing capital" and the classic coast. You can do Newport in a day, as it is only an hour from Mystic, but if you want to enjoy nearby beaches, farms, or take a day trip to Providence, Rhode Island, plan on staying one to two nights.
Two must-do things when you are in Newport are paying a visit to at least one of the famous Newport Mansions and getting out on the water for a sailing tour. The Newport Mansions are former homes of the business titans like the Vanderbilts, which were once used as "summer cottages" but more closely resemble palaces than a beach house. The largest and most famous is The Breakers, but I also enjoy visiting Marble House.
If you don't want to tour the homes, take a drive down Bellevue Avenue to see them from the front and then walk along the three-mile Cliff Walk to get a glimpse of some of the backyards, along with gorgeous ocean views.
There are many sailing options in Newport, from sunset schooner sails to seal-watching eco-tours (in the winter). Leave time to enjoy shopping and strolling along Thames Street and Broadway in downtown Newport. You can also pop into the International Tennis Hall of Fame or one of two car museums around town. There are plenty of options for a great meal, including Bowen's Wharf, the Black Pearl, Diego's, and Midtown Oyster Bar.
In the evening, be sure to take a drive along Ocean Drive and try to catch a sunset from either Brenton Point, the Lawn at Castle Hill Inn, or Newport Island Harbor Resort on Goat Island. On your second day, either hit the beach (my favorites in Newport are Gooseberry Beach and Second Beach) or take a drive over to the neighboring island of Jamestown to visit my favorite spot in Rhode Island, Beavertail State Park. If you prefer an urban outing (or if you are visiting on a Waterfire night), head up to Providence for the day or afternoon/evening.
Where to stay:
Stop #3: Boston, Massachusetts
When it is time to bid adieu to Rhode Island, drive two hours north to Boston. Now if you have extra time, you will want to spend three days in Boston, especially if you want to take some day trips to Gloucester, Rockport, or Salem, or stop at Plymouth along the way.
Boston is rich in history and charm, and like any large city, it has its fair share of great museums too. If you are interested in history, taking a walk along the Freedom Trail is a must-do. Of course, you may get more out of it if you sign up for a tour with a costumed guide.
To better understand Boston's pivotal role in the Revolutionary War and founding of the country, pay a visit to the Boston Tea Party Ships & Museum. Kids will especially love tossing the tea into the Boston Harbor or a snack at the tea shop.
Within a short walk of the Boston Tea Party Museum, you can also visit either the Boston Children's Museum or the New England Aquarium. If you are visiting in the summer, I'd recommend booking a whale-watching cruise in advance for an afternoon on the water and a glimpse of some magnificent creatures. If you don't have time for a whale watch, you can still enjoy some time on the water with a harbor cruise or a ferry around the Boston Harbor Islands.
Afterward, take a walk along the Rose Kennedy Greenway and either enjoy some of the food trucks congregated there, or walk over to the North End, Boston's "Little Italy" and pick up some cannoli at Mike's Pastry. And while it is touristy, the street performers around Fanueil Hall are always entertaining and there are plenty of places to grab a quick bite. For a more upscale food hall, drop into the Boston Public Market or head across town to Eataly Boston.
Sports fans should try to book a tour of the "Green Monster" and Fenway Park or try to catch a Boston Red Sox game in this classic stadium. If you appreciate art, visit the Museum of Fine Arts, or the intriguing Isabella Stewart Gardner Museum nearby (and learn about the famous heist that took place there.)
While you are in town, take a stroll through the Boston Common and Public Gardens, and take a ride on a Swan Boat before you visit the famous "Make Way for Ducklings" sculpture. You can also pop into Cheers on Beacon Hill and see if anyone knows your name. Movie and television fans would also enjoy a tour with On Location Tours of popular Boston filming sites from Good Will Hunting, Ted, The Departed, and others.
Where to stay: Boston is notoriously pricey, so for a family, you may want to consider one of the following options:
Stop #4: Kennebunkport, Maine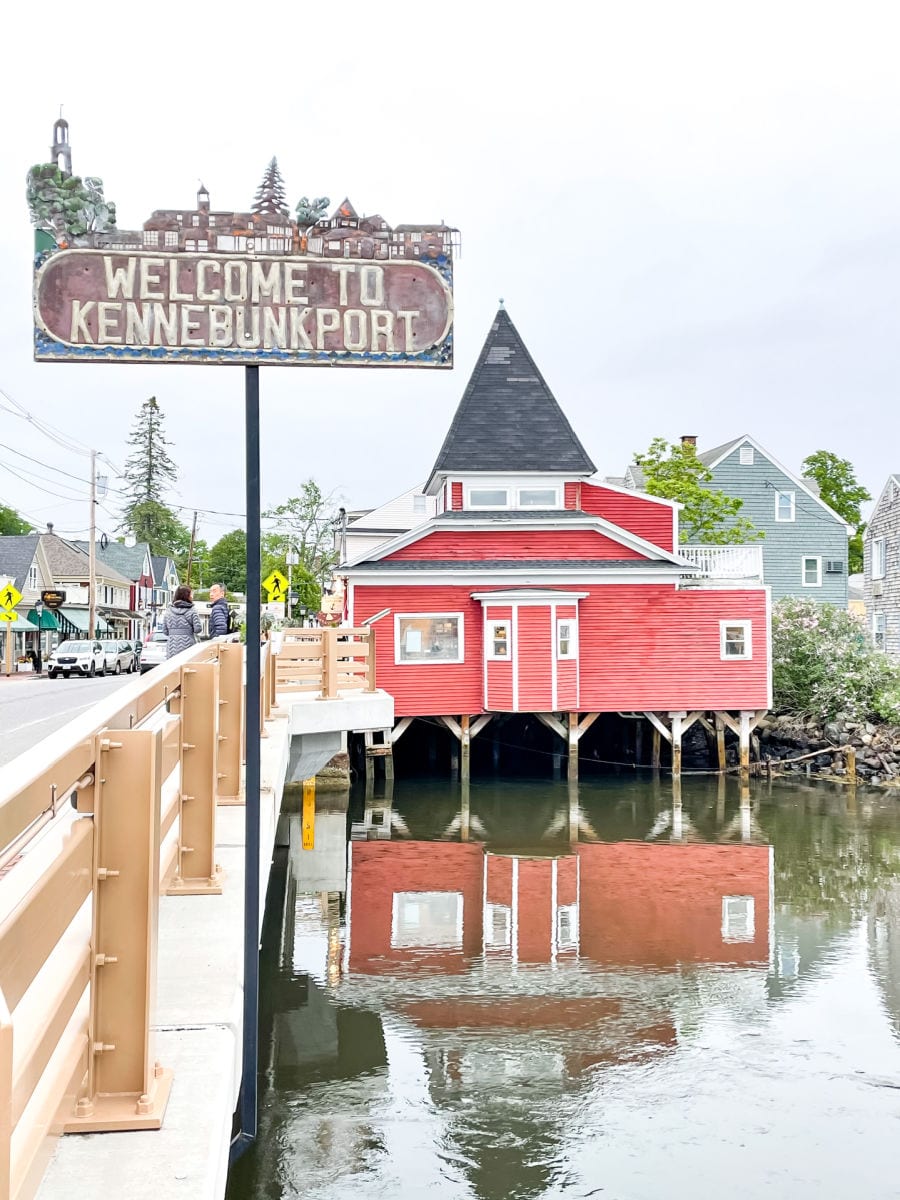 On your way to Portland, head two hours north of Boston to the charming coastal town of Kennebunkport, Maine. As soon as you pass into Maine, get off the highway and hightail it to Bob's Clam Hut for some of the best lobster rolls and fried clams in New England. Then meander up the coast, taking your time to stop into a few of the best towns in the Maine Beaches region.
If you need to stretch your legs, stop in York for a walk along the 1.5 mile Cliff Walk or stock up your kitchen pantry at the Stonewall Kitchen company store. Another must-stop destination on your road trip to Maine has to be in Cape Neddick at the Nubble Lighthouse. Located on an island just off the coast, this is one of the most photographed lighthouses in Maine. If you are hungry, you can get some fresh lobster at Fox's Lobster House right next door or Dunne's Ice Cream down the street.
Just a little further along you will arrive in Kennebunkport (you might want to drive past the Bush Family compound along the way.) In town, you can enjoy shopping and dining at the many restaurants such as Federal Jack's, Allison's, Mabel's, or the famous Clam Shack. Pedro's a good spot for Mexican and Arundel Wharf offers a great view.
We also like to head out of town to Cape Porpoise Chowder House, which is popular with locals and tourists alike. Just be warned that parking is hard to find so you may need to walk a bit. You can stay in Kennebunkport or drive another 40 minutes to Portland, Maine. Your final destination on this New York to Maine road trip.
Where to stay:
Stop #5: Portland, Maine
Portland, Maine is one of the best small cities on the East Coast. Plan to spend at least a couple of days exploring Portland and the surrounding area. The park and area around Portland Head Light in Cape Elizabeth is a perfect spot for a picnic and to clamber over the rocks and watch the boats go by. When you are there, be sure to pick up a lobster roll from the Bite into Maine food truck.
Back in Old Port, take an afternoon to explore the boutiques along the harbor and wharves. There are so many amazing restaurants in Portland to try including Luke's Lobster, Duckfat, Eventide, and Fore Street. There are also many craft breweries in the Portland area and you can board the Brew Bus for a tour if you don't want to risk driving.
On your second day, you can take a ferry around the Harbor Islands or try a lobster cruise where you learn all about lobster fishing and even get to keep and cook what you catch. Or, spend a day shopping up in Freeport, home of the flagship L.L. Bean store.
Where to stay:
While this New York to Maine road trip itinerary only takes you into Southern Maine, it is easy to extend this to head up to the coast with a stop at either Boothbay Harbor or Rockland before reaching Bar Harbor and Acadia National Park.
This road trip gives you a great introduction to Southern New England and includes some of the region's highlights. If you are looking for more road trip ideas and want to dig a little deeper into New England, I'd recommend:
Save this to Pinterest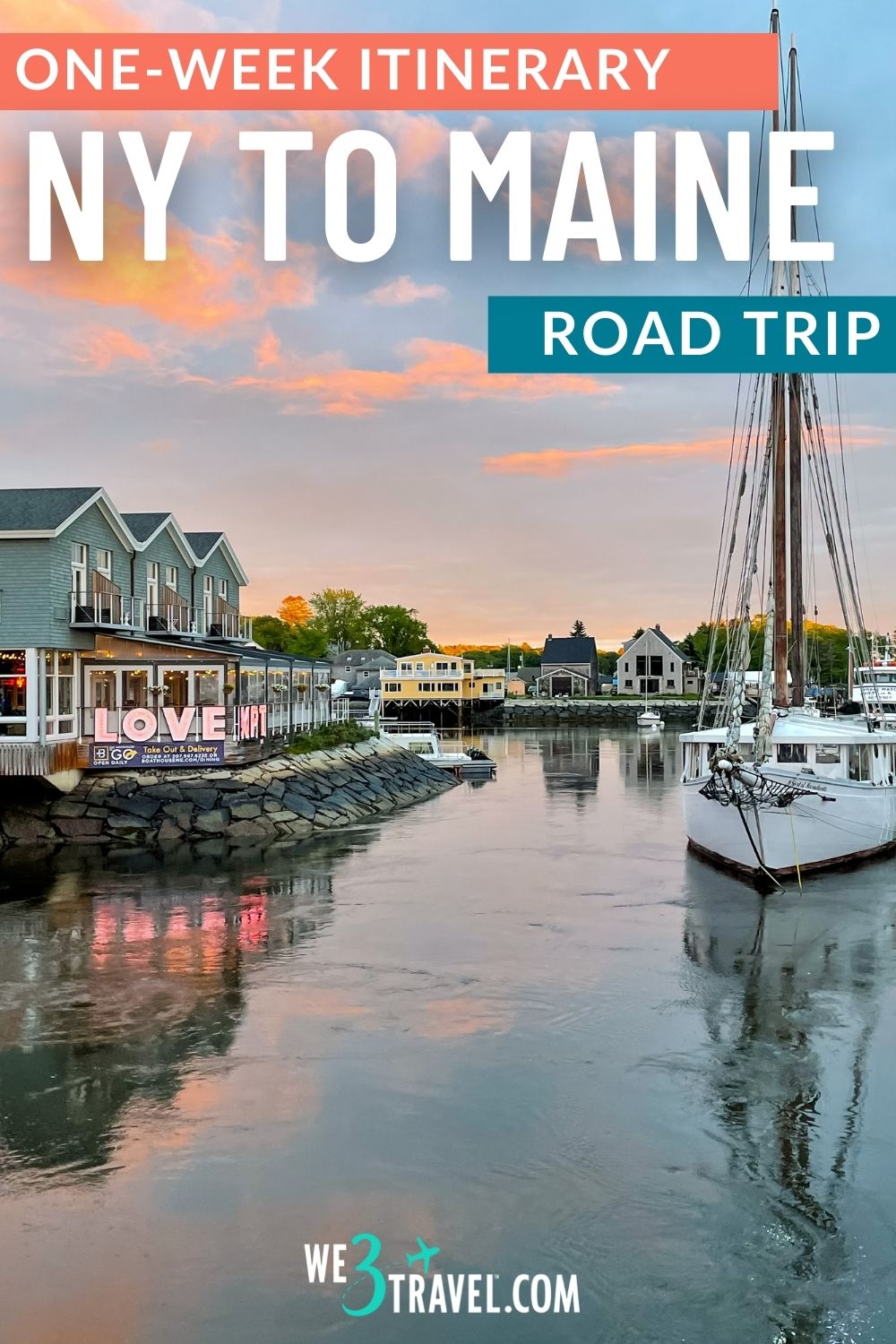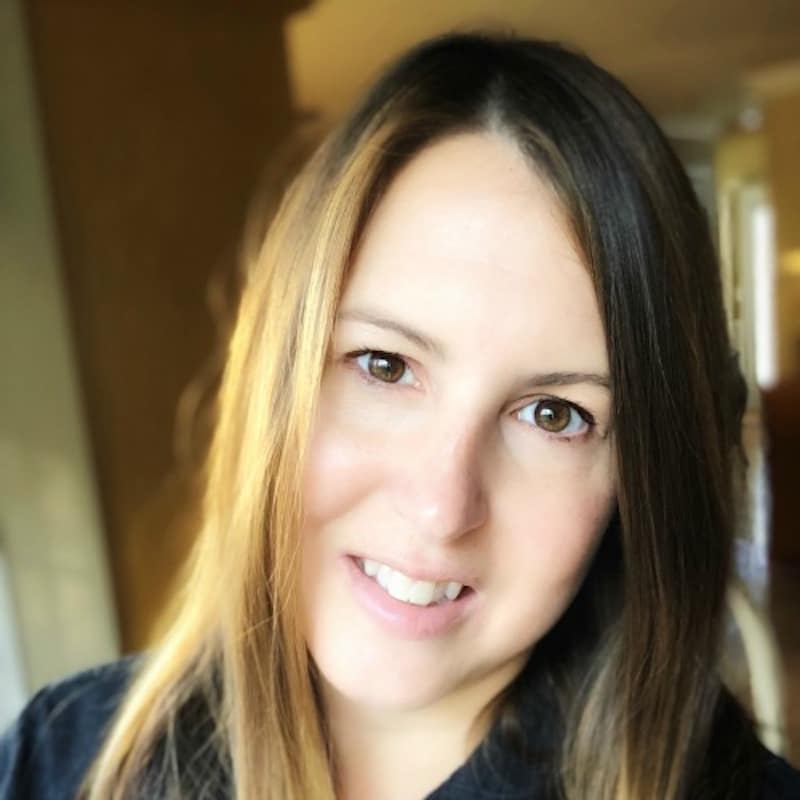 Tamara Gruber is the Founder and Publisher of We3Travel. A former marketing executive and travel advisor, Tamara is an award-winning travel writer and recognized expert in family travel. She is also the publisher of YourTimetoFly and the co-host of the Vacation Mavens travel podcast.