Of all the countries that I have visited, Iceland is one that I keep returning to again and again. There is something about the open, rugged landscape that speaks to my soul. I've visited Iceland in the winter and the summer and each have their own advantages, but an Iceland winter trip will give you an opportunity for truly once-in-a-lifetime experiences.
Sure it will be colder, and darker, but if you follow these winter packing suggestions and travel tips, you will be prepared. Given the unpredictability of the weather and road conditions, I highly recommend booking tours if you are visiting Iceland in the winter, versus planning to self-drive.
My recommended tour partner is Hidden Iceland. I've traveled with them personally and have also gotten great feedback from readers who have booked through them. If you book one of their scheduled group tours (not private tours) through Hidden Iceland, use my partner promo code WE3TRAVEL to receive 10 percent off your tour. They offer a flexible cancellation policy to enable you to change your dates if needed prior to leaving on your trip.
10 Reasons to Book an Iceland Winter Trip
Note: This post was written in collaboration with Ryan Connolly from Hidden Iceland, my preferred Iceland tour partner. If you book a tour using my promo code, I will receive a small commission at no cost to you.
If you are reading this during a time of social distancing, we want you to stay home now. However, keep in mind that you should plan your Iceland winter trip a few months in advance for the best availability, especially if you are planning to visit around the holidays. Iceland is doing a great job of flattening their curve and has done a tremendous amount of testing of their citizens. You can read more updates from the State Department here.
1. Discovering Blue Ice Caves
Glacier hikes are possible all year round and always safe, if you are with the right guide. But in summer the glaciers are moving and melting so quickly that it's not safe to go 'into' the glacier so to speak. It's only when the average temperature drops enough in November (to March) that any structures that were formed from all the melting, erosion and movement of the glacier in summer will temporarily freeze in place.
These structures change every year and are found in lots of different locations so each year is different, and it's very rare that one ice cave will survive from one year to the next. Therefore, every year is unique, genuinely.
You could join Hidden Iceland's 2 day Jokulsarlon Glacier Lagoon & Ice Cave Discovery tour year after year and never repeat the same cave tour. The same can be said for northern lights spotting.
2. Hunting for Northern Lights
As you can imagine, the Northern Lights are only visible when it's fully dark. This means the 24 hours of daylight experienced in summer automatically stops you from having any chance of spotting them. you have a chance of a sighting from early September to early April, but winter is really your best bet.
On any given night you have the chance to see anything from a dull grayish-white streak, all the way up to a shimmering green or purple dancing curtain across the sky. The latter is far less common, but truly breathtaking when they do occur.
My recommendation is to not waste your time joining stand-alone northern lights tours that pick up from Reykjavik and drive around near the city for a few hours and then return. I would recommend matching your day time exploration with northern lights hunting.
For example, join a multi-day tour that spends the night in a secluded guest house or hotel so that you can 'hunt' right from your window. Or stay at a hotel like Hotel Ranga on the south coast, which offers Northern Lights wake up calls and even has its own observatory!
If you plan to go it alone and self-drive then the south east of Iceland or the Snaefellsnes area boast lots of scenic walks, daytime activities and seclusion. And you're never more than 6 hours away from Reykjavik if you're worried about getting back for flights etc.
One word of warning in regard to the northern lights is that they are not guaranteed. Not even expected. There's a reason they call it 'hunting for the northern lights' after all. If you get to see them, fantastic! But don't make it the sole purpose of your visit to Iceland. Consider it a bonus on top of an already great trip.
3. Glacier Hiking on Blue Ice
If you also want to do a glacier hike and get the blood pumping then the glacier ice transforms into a beautiful blue glass when not engulfed by snow. This is very different from the crunchy and often dirty summer crust of the glacier. This phenomenon occurs in winter because the sun is not strong enough to melt and refreeze the surface of the ice allowing it to remain in its solid blue form at surface level.
It's a little slippier than the summer version, but with the correct spikes for your feet (crampons) and passionate guide to keep you safe, it's a spectacular experience. (Don't worry, the guide provides the crampons and other necessary equipment. Just make sure you wear warm, waterproof boots.)
4. Winter Wonderland
Snow is not guaranteed these days in Iceland, but from 2019-2020, Iceland saw a big influx of snow all the way from November to April. Snow capped mountains and lava fields caked in ice and snow transforms the environment.
The elusive reindeer and Arctic fox sometimes make appearances at this time of year. With colder temperatures you can access places that are not normally accessible either, sliding across frozen lakes to cut a city walk short is efficient and exciting for the little ones. Plus watching the few swans that chose to remain in Iceland for winter waddling over the ice is beyond cute.
If you are visiting during Christmas, you can also take part in some Icelandic holiday traditions or enjoy fireworks in Reykjavik on New Year's Eve.
5. Less Crowded
Winter is much quieter than summer, with the exception of the Christmas week. The only draw back here is that despite there being less tourists, there's also less time in the day to spread out the activities so some spots may seem artificially 'busy' due to time restrictions.
But generally everywhere you go, if you do it properly, will be quieter. Availability becomes less of a problem at this time of year too. If you had your heart set on a particular restaurant or hotel with a view then your chances are much higher you'll get them, even last minute. Though it is of course prudent to book far in advance just in case.
6. Winter Darkness
The nights are long, which makes it great for Northern Lights, but there's still a surprisingly high amount of time to enjoy daytime activities too. Even the darkest day of the year, December 21st, still boasts almost 4 hours of direct sunlight. So if the clouds aren't too heavy that day then you could have usable daylight for 6 hours. Each side of that day loses or gains around 5 minutes of extra daylight each day so as quickly as mid -March the daylight extends to 13-14 hours.
This can be great for people that don't typically want to get up the crack of dawn. In Iceland during the winter, you can get up, have a leisurely breakfast, and STILL catch the sunrise. Imagine seeing every sunrise and every sunset of your trip while still having long nights for celebrating and sleeping.
7. Midday Golden Hour
Photographers know the magic of the "golden hour" right after sunrise or right before sunset. But few destinations can offer a midday golden hour. In the darkest days of winter, if the sky is clear, the sun barely rises above 'pre-sunset' phase in the sky. This is a photographers' dream with basically the entire day being filled with perfect light for getting the ideal shot.
8. Winter Warmth (Seriously)
it's not nearly as cold as people think. Sure, it's cold compared to summer and it is certainly going to feel cold if you come from a warm climate. But would you believe me if I told you that the average winter temperature is actually warmer than New York City?
This is because the Gulf Stream sends up warm water all year round that spirals around the coast of Iceland. The average temperature in January hovers around 32-34 Farenheit. Some days you can experience a balmy 45 with the odd day fluctuating as high as 50.
Be warned though, the cold wind and the sporadic drops in temperature can also give you a "real feel" temperature close to 0 Farenheit on the odd day, so be prepared for all eventualities. Wearing layers with a fully waterproof outer shell is key to happiness levels in winter.
9. Winter "Bargains"
Iceland can be expensive. But the USD to ISK exchange rate is actually quite good at the moment. And, if you really want to see savings then going to Iceland outside of peak season is key. Some hotel prices drop by half and many restaurants will flirt with promotional offers to entice the fewer tourists through their doors.
Tours tend to be the same price, but if you are opting to join a few select tours then you would save money by not hiring a car for the duration of your trip. On the inbetween days, Reykjavik has plenty to see and do. It is actually a good idea to leave more free time in your schedule during the winter in case weather makes you shift your plans around on the fly.
10. Natural Hot Pools
Admittedly the volcanically-heated hot pools are a delight at any time of year. But the delights of being toasty warm in a natural hot pool as the snow fall gently around you is quite a unique experience.
On the really cold days your hair can even freeze. Dunking your head under the warm water every few minutes becomes a bit of a game when creating new hairstyles from the ice.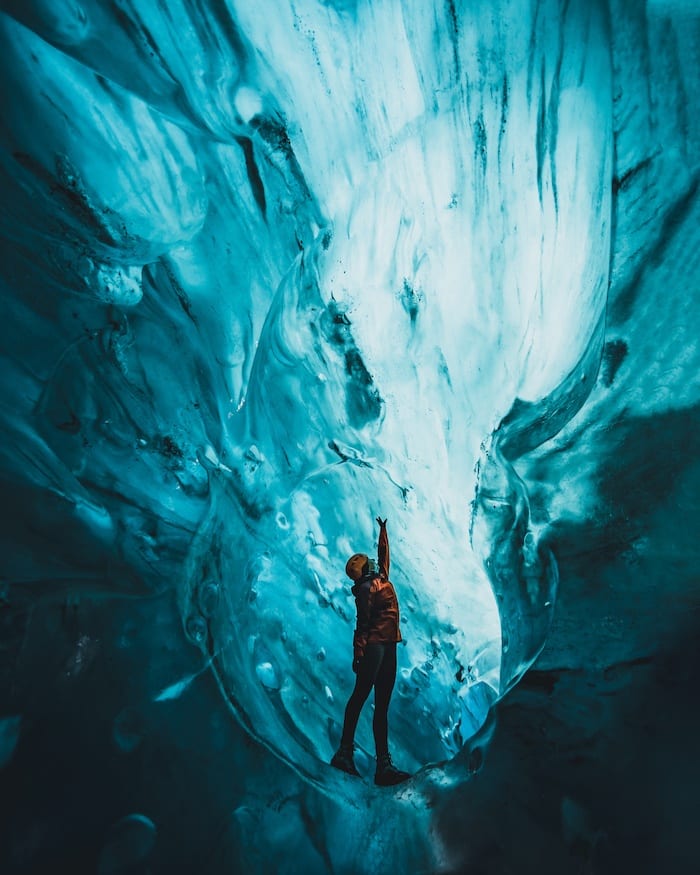 Book Now and Save
Many of my readers joined Hidden Iceland for their 2019/20 ice cave winter season and had great things to say about their experience. Some even got to see the northern lights while sleeping overnight in the secluded guest house in the south east of Iceland.
Although Hidden Iceland run lots of different types of trips in winter, if you are short for time and want a snapshot of Iceland then the 2 day Jokulsarlon Glacier Lagoon & Ice Cave Discovery tour is the one to prioritize.
If you have more time, then add on the scenic Golden Circle: Platinum tour the following day which includes a dip in the Secret Lagoon hot pool and a delicious lunch at a geothermal tomato greenhouse.
Luckily, my trusted partners, Hidden Iceland have provided my We3Travel supporters with a small discount to help. When booking a scheduled tour you can put in the discount code: WE3TRAVEL for 10% off. Please note, this only applies to scheduled tours. Not private.
If you are looking for a private tour option with Hidden Iceland the first thing you should do when contacting them is tell them that WE3TRAVEL sent you! Having worked through many personalised itineraries together over the last 2 years they have a unique understanding of what my followers are looking for. So for a really personalised service tell them I sent you.
Planning a trip to Iceland soon? Be sure to join our Iceland Trip Planning group on Facebook!
Save this on Pinterest