When I first started traveling, I was DIY all the way. Why pay extra for tours when I can plan it and explore on my own? Even our first trip to Iceland only included tours for things we couldn't do on our own, like glacier hiking and dog sledding. Then I returned to Iceland on a winter trip, on a windy, snowy day and my opinion took a 180 degree turn.
Watching our driver navigate the snow-blown roads and listening to our tour guide proactively researching road closures and changing our plans on the fly, it made me realize how glad we were to have taken a tour. Living in New England, we have plenty of experience driving in snow, but a storm in Iceland was no joke. Plus, we would have had no idea where to turn to learn about road closures and changing weather conditions in our different destinations.
Then came my third trip to Iceland, where my friends and I used Hidden Iceland for a multi-day tour to Snaefellsnes and the West Fjords. We had such a great time with our guide Ryan. Planning was easy because he took care of the details and arranged activities and he managed the driving, which was a huge relief and made the trip 100 percent more fun. Plus, all along the way he shared tons of information and expertise that helped us have a deeper understanding of the culture and geology.
After these experiences, I became convinced that exploring Iceland on a private tour is the way to go if you can afford it. Otherwise taking a small-group tour with a boutique tour operator like Hidden Iceland is a great way to explore the Land of Ice and Fire.
Even if you prefer to wander and explore on your own, there are some reasons why you really, really should consider a tour versus self-driving in Iceland, especially in the winter.
Taking a Tour versus Self-driving in Iceland in Winter
Note: This post was written in conjunction with Ryan Connelly from Hidden Iceland. If you book a tour with Hidden Iceland, I will receive a small commission.
Winter in Iceland is such a magical place. With its ice caves, northern lights, winter wonderland aesthetic, and blue glacier ice, there are many reasons to plan an Iceland winter trip. Iceland tends to be less crowded in winter too, and with all the additional snow decorating the landscape you will get the feeling of remote arctic tundra without the isolation and the constant sub-zero temperatures.
But sadly there is a catch. Iceland in winter comes with some challenges that are best correctly managed by locals. If you are with the right guide, then these challenges become opportunities. If you are on your own, they could become nightmares. So, as fun as self-driving and exploring on your own can be, perhaps this is one of the few occasions that it's best to trust the professionals to show you the best of Iceland.
Keep in mind that the weather is constantly changing in Iceland, so you may arrive in winter to wonderful weather conditions, but you need to plan for the worst-case scenario. Iceland is safe and worth the travel, there are just a few more things to consider in winter.
1. A passionate guide transforms a trip from great to unforgettable.
Iceland is one of the few countries in the world where being a guide is regarded in such high esteem. Rightly so, when you consider that this isolated island hosts active volcanoes, moving glaciers and turbulent coast lines. In effect, being a guide in Iceland is a life long profession for many.
This career requires copious qualifications, years of experience, and a passion and knowledge for the environment that often rivals an academic in the field. In fact, many of the guides fall into that criteria anyway. For example, Hidden Iceland's guiding team currently include; volcanologists, geologists and glaciologists to name but a few. They treat their guests the same way they would treat their friends and family.
2. The roads can be tricky.
The narrow, winding roads that skirt the coast of Iceland add so much to the experience. The drive is an integral part of your time in Iceland. In summer these weaving roads with single lane bridges are an exciting challenge. In winter, when you add in strong winds, ice on the roads and regular dumps of snow they can be very difficult to navigate indeed.
Using a local company to guide you around Iceland with tried and tested vehicles in these conditions, matched with the skill and prowess of the driver-guide, means you can just sit back and relax. The drive around the base of the active volcano, Eyjafjallajökull, becomes an exciting addition to the trip instead of one of trepidation for the drive beyond it.
3. The weather changes in an instant.
Googling local weather for Iceland is simply not enough. Forecasts can only be trusted 24 hours in advance most of the time. Changes in wind speed, precipitation and temperature can come together in a crescendo of turbulence depending on the topography and direction of the wind. What might appear as a fairly moderate day on the forecast may result in a 'storm in a teacup' effect on one side of a mountain. On the other side it could be calm and clear.
With Iceland's volcanic, mountainous landscape this actually happens far more than you think. Professional guides have local contacts that help them make an informed decision every time. A local guide will know what spots to avoid, but also what you can go and enjoy as an alternative. Dodging, diving, jumping and weaving are often words that are used when planning around bad weather in winter. But with a great guiding company you'll feel like you're in the right place at the right time more often than not.
4. Timing is everything.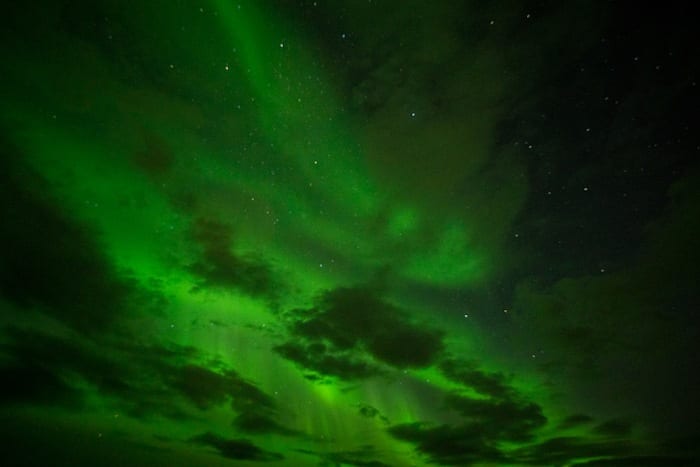 Iceland has so much to offer and with such limited time in the country, matched with short daylight hours in the winter, it's almost impossible to plan everything perfectly. Joining along on a scheduled itinerary will guarantee that you'll spend the right amount of time at each place and maximise your time while in Iceland.
Even the northern lights can be a big issue for planning day activities. If you speak directly to the guiding company they will always have suggestions of how to juggle the day time adventure with the night time hunt. But make sure to avoid the big bus travel companies, even if it's a northern lights excursion, as you'll spend more time picking up other guests and getting on and off the bus. Small groups, or even making it a private trip, will allow you to maximise your time at each location.
One pro tip here, if any company tries to suggest that you can 'experience' the Jokulsarlon Glacier Lagoon in one day from Reykjavik avoid them like the plague. It's around 11 hours of driving so you'd end up with virtually no time to see anything and spend the majority of your time staring out the window. Two days is optimal, if not three.
Hidden Iceland, one of my favourite Icelandic tour companies run this tour for 2 days and include an ice cave exploration with northern lights chasing overnight. If you use code WE3TRAVEL when booking a scheduled, group tour with Hidden Iceland you will receive a 10 percent discount.
5. Cost
So arguably driving yourself is probably going to be cheaper. But bare in mind that your vehicle and fuel are only one part of the equation. Each day you will hopefully be excited to take part in activities too. A glacier hike on the Sólheimajökull glacier, discovering an ice cave in Vatnajökull National Park or learning about Iceland's volcanic past at the LAVA Exhibition Centre all cost extra money.
Then putting a pin on the map to find somewhere to eat, sleep and drink could end up an expensive mistake. If you create a private tour or opt to join a small group travel company then all of this is taken care of. I'm not trying to say joining a tour is going to be necessarily cheaper than self-driving, but with all the costs worked out up front and with the added value of an experienced guide, ultimately whatever extra cost it will be will be worth it. Plus, I have a discount code that will help reduce the costs a little if you are joining a group tour.
6. Flexibility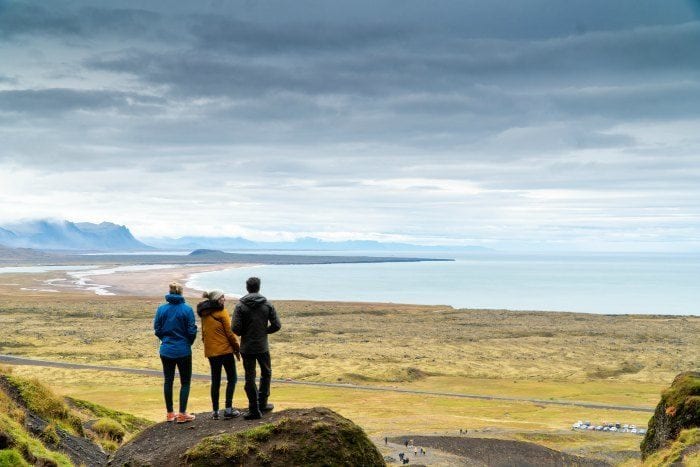 Sadly the weather and conditions can get in the way of the perfect trip. If you have incorrectly made your way to one part of the country when a storm is brewing and get stuck from road closures you are not going to be happy. If you join along on a small group tour they will first of all have a better understanding of the conditions and cancel/ move the trip to another date before it becomes a problem.
And secondly, and perhaps more importantly, many of the small family run tour companies will bend over backwards to give you a great experience, even if one part of the trip has to be cancelled for whatever reason. The ice cave on the south coast is flooded? Let's do a scenic tour of Snaefellsnes instead? Snaefellsnes is too windy? Then let's go to a hot pool in Husafell. The roads around Husafell are too snowy? Let's explore a lava cave on the Reykjanes peninsula. Reykjanes is too icy? Ok, let's change the dates to another day once the weather improves. Still not possible? Ok, full refund is on its way.
In short, Iceland in winter is truly incredible. But with so many things to consider to make sure your trip is a good as you hope it would be, why not leave it up to the professionals and join along for the ride.
Many We3Travel followers joined Hidden Iceland for their 2019/20 ice cave winter season to great success. Many of the customers even got to see the northern lights while sleeping overnight in the secluded guest house in the south east of Iceland. Although Hidden Iceland run lots of different types of trips in winter, if you are short for time and really want a snapshot of Iceland then the 2 day Jokulsarlon Glacier Lagoon & Ice Cave Discovery tour is the one to prioritize.
Then perhaps match it with the more scenic Golden Circle: Platinum tour the following day, which includes a dip in the Secret Lagoon hot pool and a delicious lunch at a geothermal tomato greenhouse. Hidden Iceland has provided my readers with a small discount. When booking a scheduled tour you can put in the discount code: WE3TRAVEL for 10% off. Please note, this only applies to scheduled tours. Not private.
PLUS — if you book BEFORE June 30, 2020 for a trip through December 2022, you can receive 30% off Hidden Iceland scheduled tours with promo code WE3TRAVELLATER!! You can change the dates without fees or a price change as long as the tour is physically possible on your new dates.
Note: we still recommend travel insurance to cover flight cancellations, natural disasters and bankruptcy on all future trips.
If you are looking for a private tour option with Hidden Iceland the first thing you should do when contacting them is tell them that I sent you! Having worked through many personalized itineraries together over the last two years, they have a unique understanding of what my followers are looking for. So for a really personalised service tell them I sent you.
Save this on Pinterest