Our first family trip to Orlando was when our daughter was only three, but we have actually spent more time in Orlando with teenagers. On that first trip, everything was magical and exciting and all she needed was a princess wand to make her happy. Teens are a bit harder to impress and you may need to think beyond the theme parks, but luckily there are plenty of fun things to do in Orlando with teens.
On our recent trips, we have brought another teen friend along and let them choose what Orlando activities they want to do each time. On every trip, we tackle another theme park experience, but we also try to get a little more off the beaten path and away from the theme park bubble.
While your teens are having fun, also check out these things to do in Orlando for adults too if you can sneak off for an Orlando date night!
Fun Things to do in Orlando with Teens
Note: This post may contain affiliate links. If you click a link and make a purchase, I may receive a small commission. All opinions are my own.
These are some of our top picks for things to do in Orlando for teens.
Wizarding World of Harry Potter
As much as we love to do things beyond the theme parks, let's face it, the theme parks are the reason why Orlando is what it is today. And it was a love of all things Harry Potter that drew us back to Orlando after declaring that Disney Princesses were for little kids. The Wizarding World of Harry Potter is part of Universal Orlando. As you may know, Universal Orlando is split between two theme parks (three if you count the water park and another on the way), Islands of Adventure, and Universal Studios Florida. Each theme park has its own Harry Potter "land" so to speak.
In Islands of Adventure, you will find The Wizarding World of Harry Potter featuring Hogwarts and Hogsmeade. Then in Universal Studios Florida, you can explore The Wizarding World of Harry Potter – Diagon Alley. Both parks feature Harry Potter-themed rides and immersive experiences that make you feel like you are on the set of a Harry Potter movie. You can even ride back and forth between the two on the Hogwarts Express — that is assuming you have a Park-to-Park ticket which provides entrance to both parks in one day.
Be sure to read our full tips for visiting Universal Orlando and my insider's guide to The Wizarding World of Harry Potter. But quick tips for teens — get to the parks early and head straight to Hogwarts in Islands of Adventure to ride Harry Potter and the Forbidden Journey (but only if you aren't prone to motion sickness!) Then line up to choose your wand at Ollivander's wand shop. Take your time exploring Hogsmeade and try casting some spells before you take the train over to Diagon Alley.
Don't worry about moving back and forth between parks because you will want to ride the Hogwarts Express in both directions and be sure to explore Diagon Alley and Knockturn Alley in Universal Studios after dark. Of course, the Wizarding World of Harry Potter is just one part of the parks and there is so much more fun to be had, especially for teens that love thrill rides.
Save on Universal Orlando tickets using Undercovertourist.com!
Disney's After Hours Events
If you have teens that love to stay up late and want to ride all the big rides at a particular park without the customary long waits or limited access to Lightning Lane passes, investing in a Disney After Hours Event at Walt Disney World can be a great special treat. After Hours are special ticketed events that give ticket holders access to a specific park after it has closed for the night for regularly ticketed visitors.
These special ticketed events usually open at 5 pm and typically run until midnight. Once the regular guests leave the park, only special event ticket holders remain and you have pretty much the run of the park. If you eat before you go and time your visit to hit the biggest attractions right when the other guests leave, you can fit in quite a few rides on both before the park closes.
These events are especially great to do with teens who enjoy staying up late and riding thrill rides. Plus if you have more than one, it is easy to let them go explore on their own without worrying about finding them again in huge crowds. And the park is so fun to explore at night!
We attended Animal Kingdom After Hours, which isn't currently available. After Hours events are offered at different parks so check availability (currently offered for Hollywood Studios and Magic Kingdom.) See my teen's picks for the best Disney rides for teens.
Galaxy's Edge at Hollywood Studios
Since our Star Wars fandom is equal to our Harry Potter love, of course, we were thrilled when Disney announced the opening of Galaxy's Edge in Hollywood Studios. Even before this new "land" opened, we were giddy with joy at the existing Star Wars attractions (I got to hug Chewie!!) My friend Rob from 2TravelDads has a great guide to the best things to do in Galaxy's Edge.
Teens will love a chance to ride Millennium Falcon: Smuggler's Run and experience Star Wars: Rise of the Resistance. And maybe for a special souvenir, you can build a lightsaber in Savi's Workshop and drink some funky drinks (or blue milk) in Oga's Cantina.
Save on tickets to Walt Disney World using Undercovertourist.com or Getaway Today!
Volcano Bay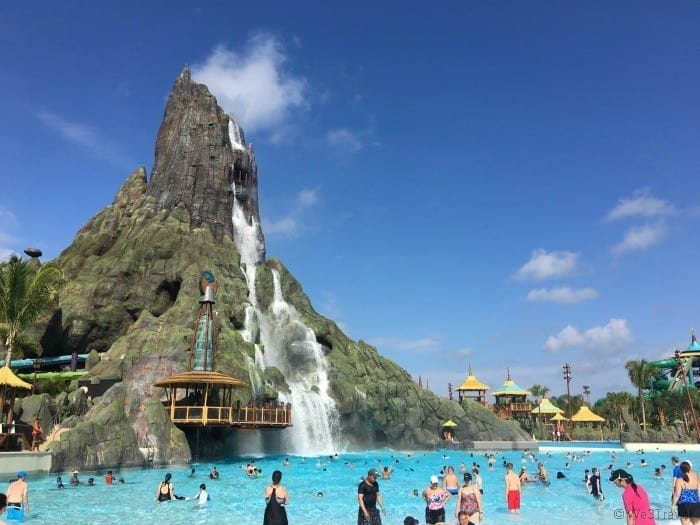 Moving beyond the theme parks to Orlando water parks, there really isn't another that can rival Universal Orlando's Volcano Bay. From the attention to detail given to the theming to the mix of thrills and chills — Volcano Bay is a place to escape the chaos that surrounds it. The idea behind Volcano Bay is the story of the Waturi people — a fictional Polynesian-type culture that "Water is Life and Life is Joy."
The teens loved the Krakatau Aqua Coaster and using the Tapu Tapu wristbands to "check-in" at a ride and then get alerted when it was their time to get in line — versus just standing in endless queues all day. I loved hanging out on Waturi Beach in front of the massive wave pool and namesake Krakatau Volcano and pretending I was in Hawaii instead of Orlando. Before you go, just make sure you read my Volcano Bay tips for your visit.
Island H2O Waterpark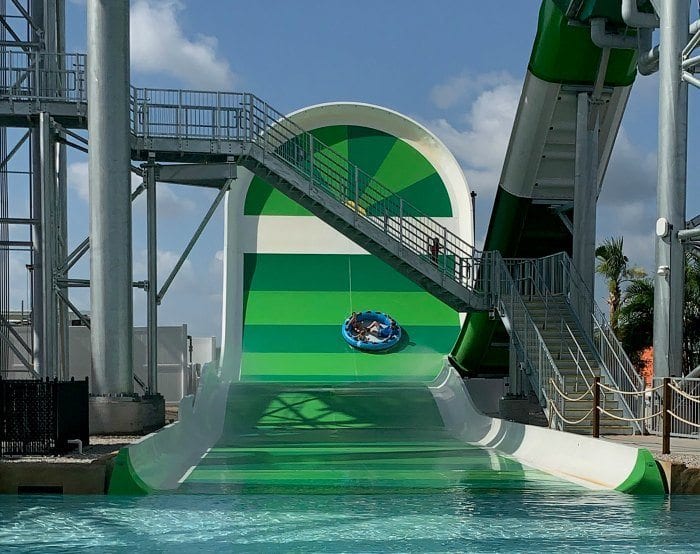 Teens love waterparks and the more thrilling and adventurous, the better. There are plenty of waterparks in Orlando to choose from, and Volcano Bay is definitely the best when it comes to theming, but the Island H2O Waterpark at Margaritaville Orlando comes in second (open March through November.) Read my Island H20 full review for all the details, but H20 Live! offers big thrills and fun technology.
Guests are given a Smart Band when they arrive that links to the H20 app, which tracks your location throughout the park (great for parents to be able to find teens that are able to wander on their own.) Using the app, you can also personalize the experience by letting you choose your music on some rides, and then you use the Smart Band to "check-in" to the ride for personalization.
The Smart Band is also used to capture photos and videos both on rides and at many photo spots around the park that you can then purchase and download through the app. We went thinking we were going to only spend a few hours and ended up staying all day!
Andretti Indoor Karting and Games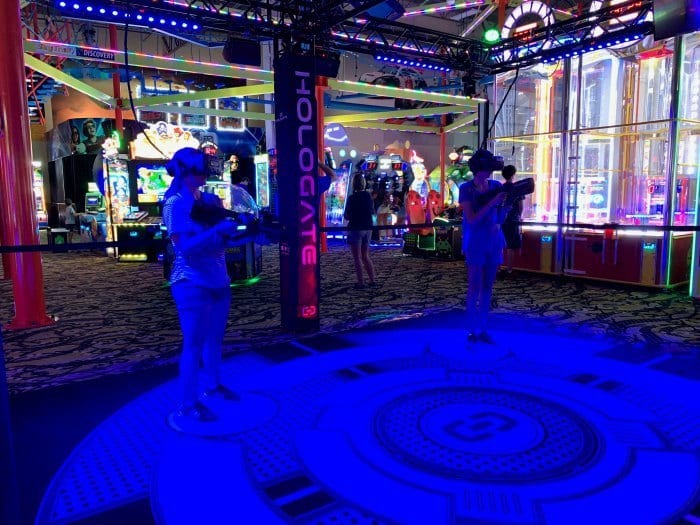 If you need a break from the heat or want to avoid Orlando's frequent afternoon thunderstorms, head inside for a full day of fun at Andretti Indoor Karting and Games. This is a gaming utopia for teens. You will find go-karting (of course), bowling, virtual reality games, arcade games, a 4D ride, and even an indoor ropes course.
Plan to spend a while, but not to worry, there is also a full restaurant and two bars on-site if you need a break. For the go-karting, you will want to reserve a time slot early. The course is split into multiple tracks and the adult track is limited to those 15 and over with at least a driver's permit. There are also junior and intermediate options, and for all tracks, the field is limited to no more than 12 drivers at a time.
Top Golf Orlando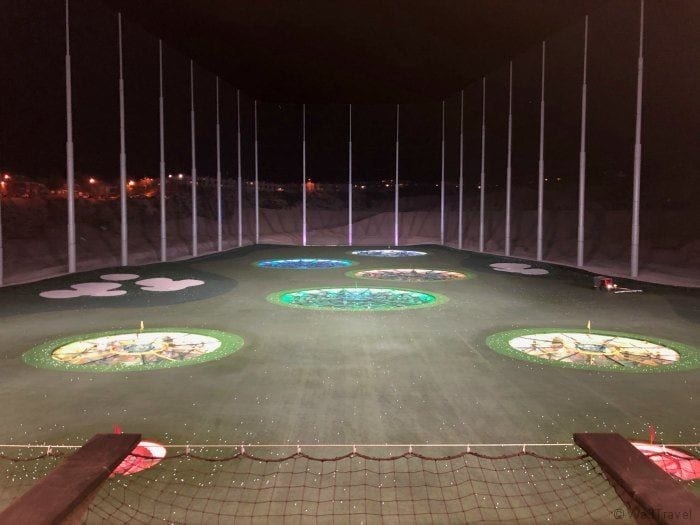 Just a three-minute walk away from Andretti Karting is Top Golf Orlando. If you haven't tried Top Golf yet, you are in for a treat. It takes the competitive fun of mini-golf and combines it with a driving range to make a unique entertainment destination.
Each group gets its own stall, where you can order food and drinks, and then let the games begin. The objective is not to hit the ball as far as you can, but rather to hit different targets within the range. Win or lose it is a lot of fun for competitive teens!
Studio Movie Grill for Dinner in a Movie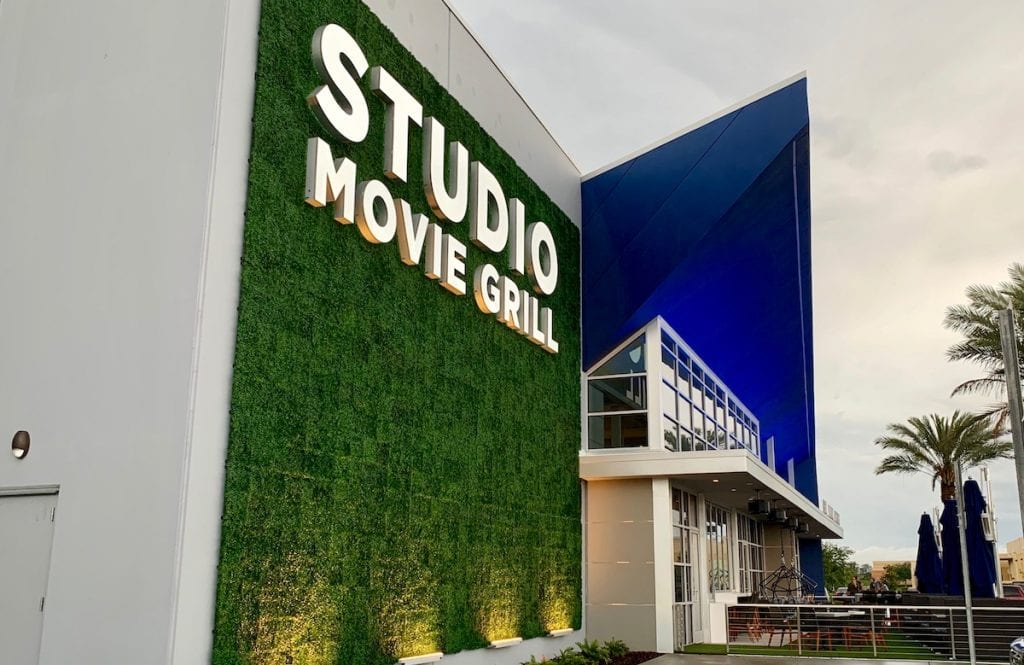 The Promenade at Sunset Walk is the dining and entertainment district adjacent to the Margaritaville Orlando resort. This is a great area to let your teens explore, with plenty of shopping and snack options including It'sugar and Cold Stone Creamery. However, for something different (especially if you can't get this at home), try Studio Movie Grill.
You can watch a movie on the big screen in comfy armchair seating and have your food and drinks delivered to your seat tray table. The American grill menu surpasses what you will find at standard movie theater snack bars.
The Wheel at Icon Park
Icon Park, formerly called I-Drive 360, is the entertainment and dining district located right on International Drive. You can see The Wheel at Icon Park (formerly the Orlando Eye — like the London Eye), which anchors this area, from all around. There are other attractions there, such as the Sea Life Aquarium and Madame Tussaud's wax museum, but teens will enjoy the birds-eye view from the top of The Wheel.
After a full rotation, they will likely spy the Shake Shack down below so plan on a stop there for lunch for the SmokeShack burger — it is the best! You can use Undercovertourist.com to get a discount on a combo ticket for The Wheel and the Orlando StarFlyer!
Orlando StarFlyer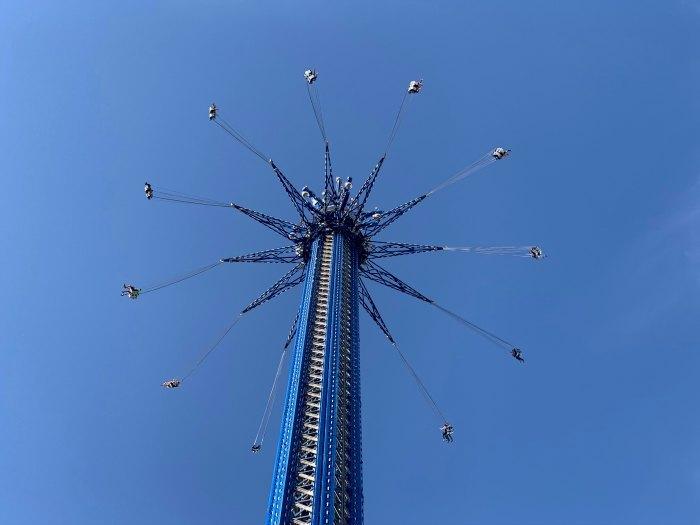 If your teens want a little more of a thrill, the Orlando StarFlyer should do the trick. For anyone that loves the swings ride at amusement parks, the Orlando StarFlyer is similar, just taller. 450 feet high to be exact. Each swing is a double seat so you can go with a friend and hold their hand when you get scared. The swings move at speeds up to 45 mph, but it really isn't as scary as it looks (at least according to my teen!)
Escape Game Orlando
I know there are escape rooms everywhere these days, but not all are created equal. And sometimes you just need a fun family or friend challenge to balance long, tiring days in theme parks. The Escape Game Orlando was one of the best escape rooms we have tried. The theming was great, it was challenging but we still managed to escape, and they have plenty of difficulty levels to choose from. Plus, it is just a short walk from ICON Park.
Players should reserve their preferred time slot and game option in advance, as each game varies depending on how many people are involved and how difficult it is to escape. Three of us took on the Gold Rush and escaped with almost two minutes to spare. We can't give away any secrets but our host did give us props for finishing as the room is typically designed for up to eight people and the three of us conquered the puzzles to earn our release. The game was so much fun that we were tempted to book another game on the spot (and they offer discounts if you do!)
SeaWorld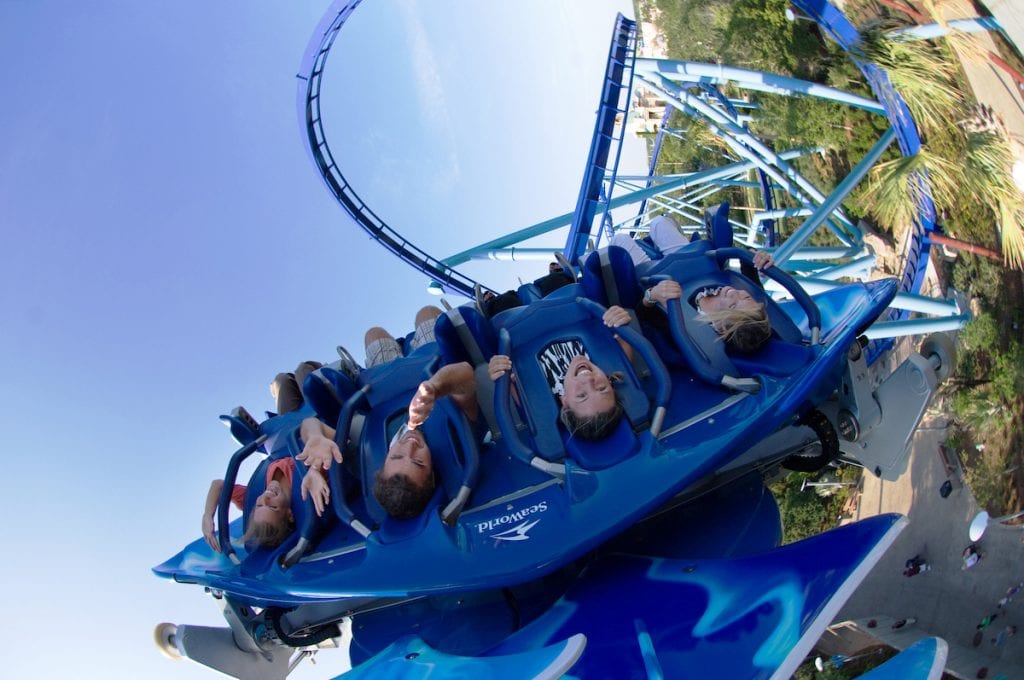 If your teens really, really love big thrills, then SeaWorld is the theme park for you. Beyond the animal exhibits, SeaWorld consistently has some of the tallest and fastest coasters in town like Mako, Kraken, and Manta, and The Icebreaker. The IceBreaker features four airtime-filled launches, both backward and forwards, culminating in a reverse launch into the steepest beyond vertical drop in Florida – a 93 feet tall spike with a 100-degree angle. Yikes!
Of course, if coasters aren't your thing, there are plenty of tamer attractions or you can book a unique one-of-a-kind opportunity to swim with dolphins, snorkel with rays and tropical fish, and hand-feed exotic birds at Discovery Cove. Get discounts on SeaWorld or Discovery Cove tickets on Undercovertourist.com.
Disney Springs
Don't underestimate the fun that can be had at Disney Springs (formerly Downtown Disney.) In addition to the great shopping and restaurants (may I recommend tapas at Jaleo?), there are so many entertainment options. I'm sad to see that The Void closed because that was the best virtual reality game we have ever experienced. But you can also take a drive (float?) in an amphicar / amphibious vehicle, fly high in a tethered Aerophile balloon, or have an upscale bowling experience at Splitsville.
Of course, Disney Springs is also a good place to give your teens a little freedom to explore together. Give them some spending money and let them wander through all the fun shops or grab snacks at Everglazed Donuts, Ghirardelli Chocolate Shop, Sunshine Churros, or one of the many food trucks and carts.
Kayaking at Shingle Creek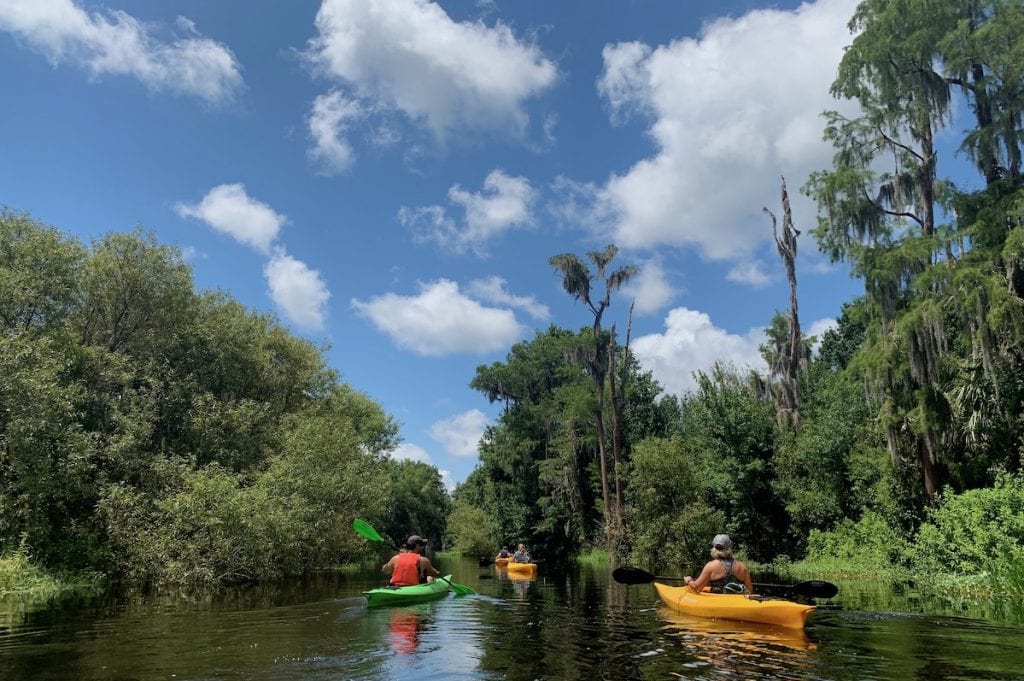 Just outside of Orlando in nearby Kissimmee, you can enjoy the outdoors at the Shingle Creek Recreation Center, at the headwaters of the Florida Everglades. It is a great spot for bird-watching, biking, fishing, and picnicking. But your teens will most enjoy an eco-kayaking tour with The Paddling Center at Shingle Creek.
Spend a couple of hours paddling through the dense cypress forest looking for wildlife including alligators, herons, and turtles. You can also rent kayaks, canoes, or paddleboards and explore on your own (but I would highly recommend a guided tour.)
Theme Dining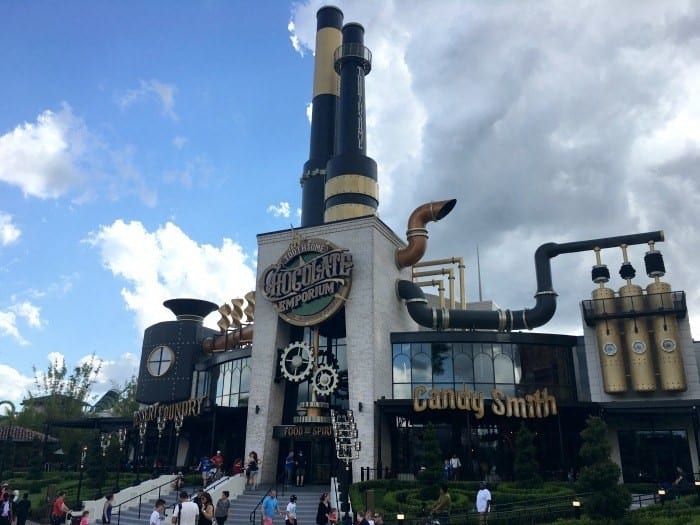 There are a ton of great dining options in Universal's CityWalk, but our favorite with teens is the Toothsome Chocolate Emporium. Decked out in steampunk fashion, the restaurant features creative comfort food and truly decadent milkshakes and chocolate delights. We have also had a bit of a wild time at the energetic Taverna Opa, which is the place to go if you want to end up dancing on the tables.
Hot Air Balloon Ride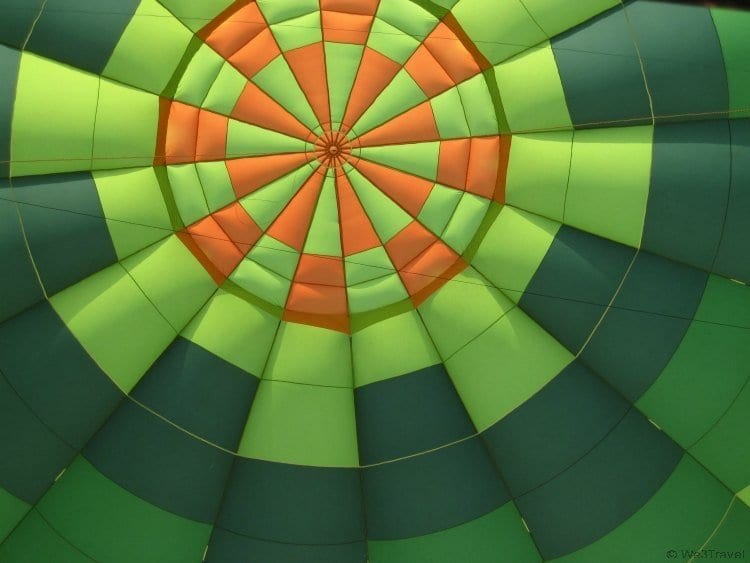 We all know that Orlando is a place where wishes come true. But did you know you could check off a bucket list item like hot air ballooning? You can book a private balloon ride over scenic Central Florida. The only downside with teens might be the early morning wake-up call, but maybe you can convince them that this once-in-a-lifetime experience is worth it.
Tree Trek Adventure Park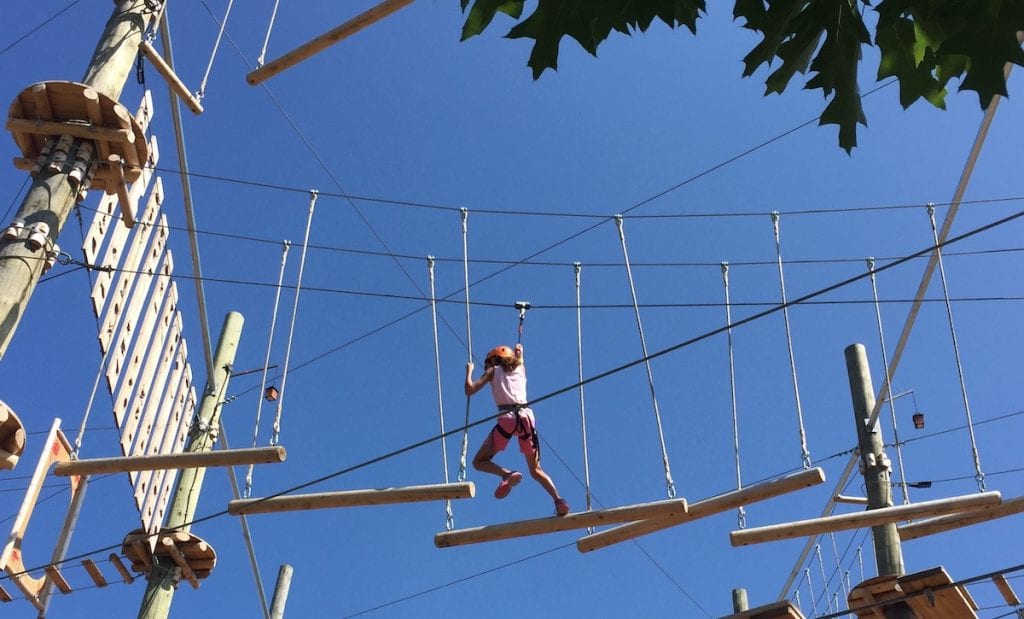 My teen and her friends absolutely love zip-lining and tree-top adventure courses. On our last trip to Orlando, we tried to fit this into our schedule but the weather didn't cooperate. However, my friend Harmony took her kids to Tree Trek Adventure Park in Orlando and had a great time.
The Tree Trek Adventure Park offers four levels of challenges from beginner to advanced, with 97 aerial challenges and a 425-foot zip line. There are also two kids courses if you are taking younger kids as well.
Wild Florida Airboat Ride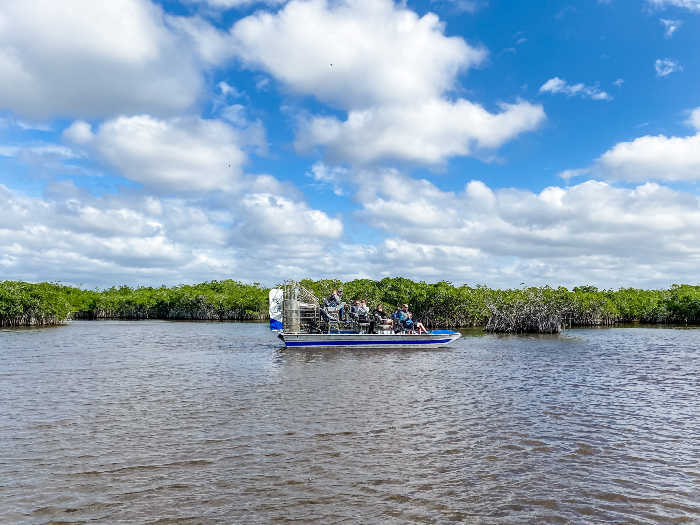 You usually think about taking an airboat ride in South Florida, so you may find it surprising to find a number of airboat tours available just outside of Orlando. There is Spirit of the Swamp airboat tours, Marsh Landing adventures, Wild Willy's airboat tours, and Kissimmee Swamp Tours.
If you want a little bit of everything, Wild Florida offers airboat tours, a drive-thru safari with more than 100 native and exotic animals spread over 85 acres, and an alligator park. I know my teen would love to book a sloth encounter with one of their two-toed sloths.
Safari Wilderness Ranch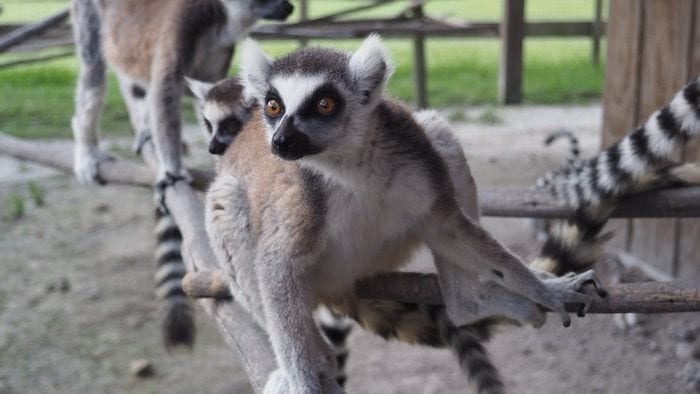 Speaking of drive-through safaris and animal encounters, the Safari Wilderness Ranch has hundreds of animals, primarily hoof stock, including scimitar-horned oryx, Defassa waterbuck, eland, Red Lechwe, zebras, fainting goats, ostriches, llamas, camels and more.
To see the animals, you can take a covered open-air safari, or view them from horseback or camelback. I think your teen might go a little crazy for some of the special animal encounters, like feeding grapes to lemurs. This is definitely one of the better safari experiences I've seen, with so much open space that you can imagine you are on the plains of Africa.
Westgate River Ranch Rodeo
I bet you didn't know that there was a dude ranch not far from Orlando where you can book a glamping stay, go horseback riding, and even attend a Saturday night rodeo? Sure, Orlando may be the theme park capital of the world and home to every chain restaurant and family attraction you can dream up. But Central Florida also has its share of cattle ranches.
The Saturday night rodeo is all about good times and cowboy fun. You'll see athletes compete in trick riding, barrel racing, and bull riding. You can even try riding a mechanical bull and see how long you can stay on!
Amateur and Professional Sports
For sports fans, Orlando attracts so many tournaments and sporting events at the ESPN Wide World of Sports. You can also take the kids to see an Orlando Magic basketball game. For a more hands-on experience, there are plenty of fishing and golfing opportunities in the Orlando area.
Where to Stay in Orlando with Teens
There are plenty of accommodation choices in Orlando, from luxury villas to rental condos to family resorts and luxury hotels. These have been some of our favorites and you can also check out the best Orlando resorts for families:
Encore by Reunion Resort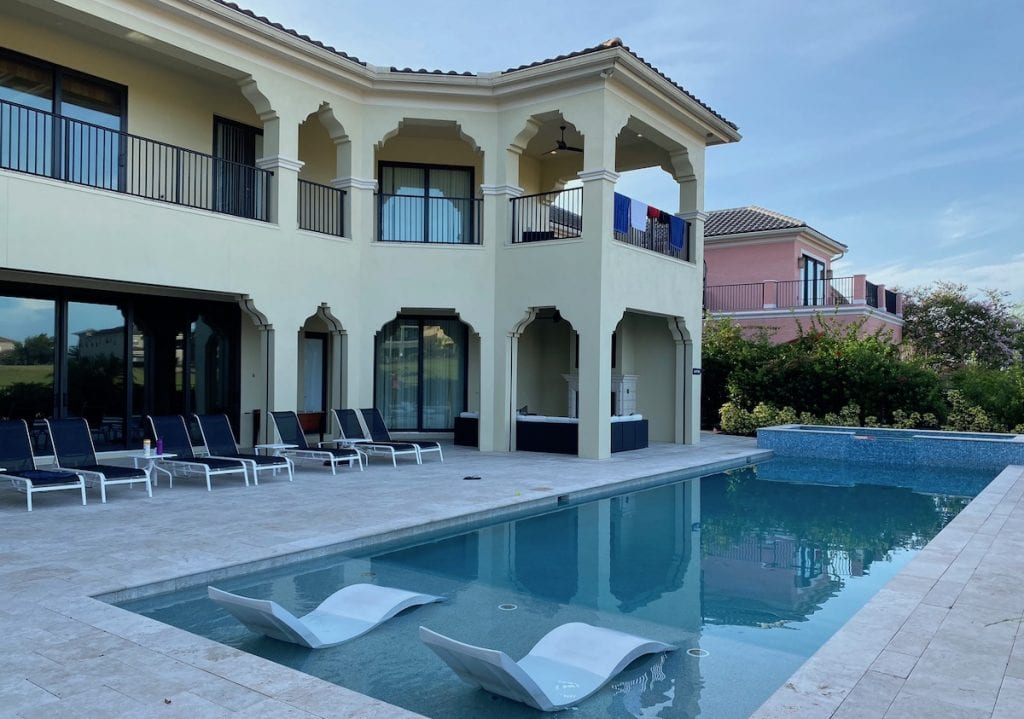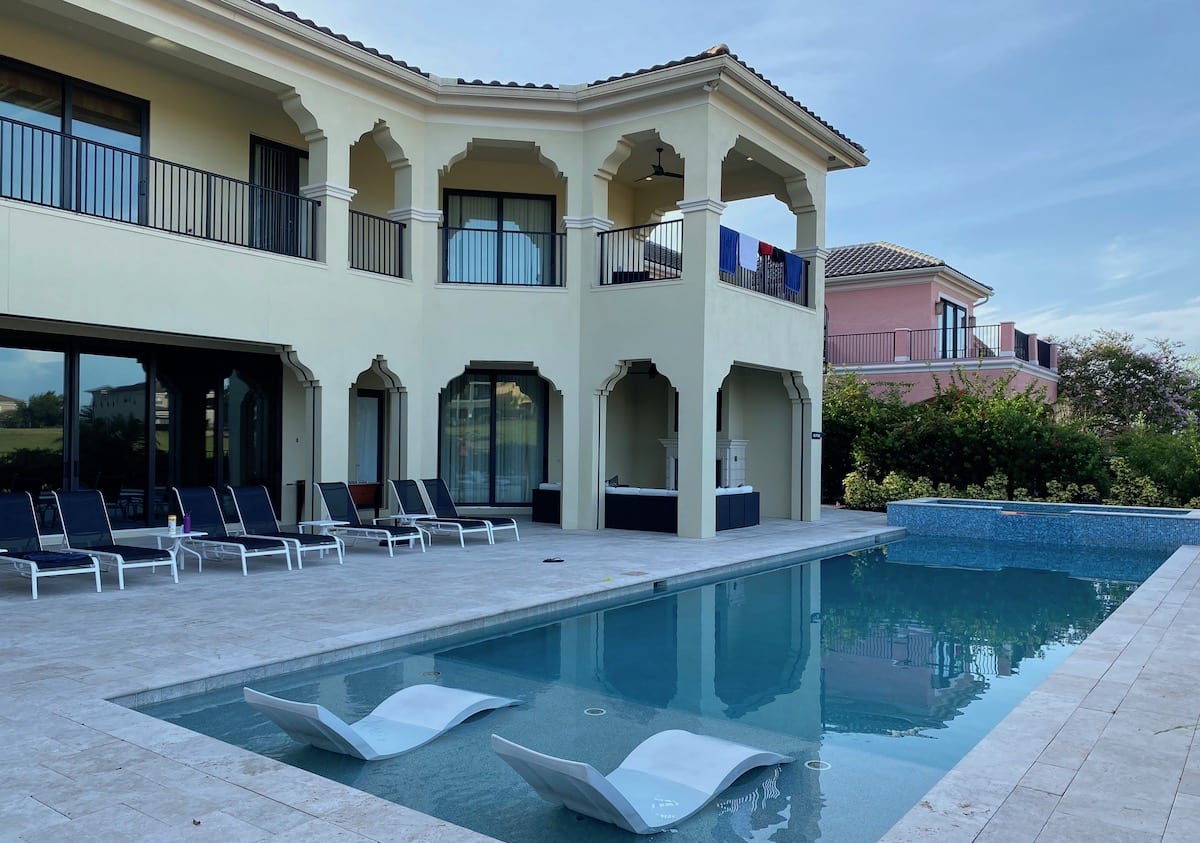 Last summer we spent a multi-generational family vacation at a luxury 12-bedroom home in Encore by Reunion Resort. This vacation rental community offers luxury homes ranging from four to thirteen bedrooms. Our rental included a movie theater, a game room with full-size arcade games and a bowling lane, a media room with a pool table, an indoor sauna, a steam room, and a hot tub, a fitness room, and a gorgeous pool and outdoor kitchen. The teens loved all the room to spread out and everyone could find something to do to make them happy.
Find a vacation rental in Orlando on vrbo
Margaritaville Resort Orlando
One of our favorite stays has been at the Margaritaville Resort in Orlando. Despite its convenient location near Disney in Kissimmee, the Margaritaville Resort has such strong island vibes you feel like there must be a beach somewhere, and not just another lagoon crawling with alligators. The resort is fresh, with island beach decor and all those subtle (and not so subtle) tributes to Jimmy Buffett.
My teen loved hanging out in the pool (especially night swimming when no one else was around). The zero-entry sand entrance to the pool and poolside bar really make it seem like you are in the Caribbean, or at least the Florida Keys.
Waldorf-Astoria Orlando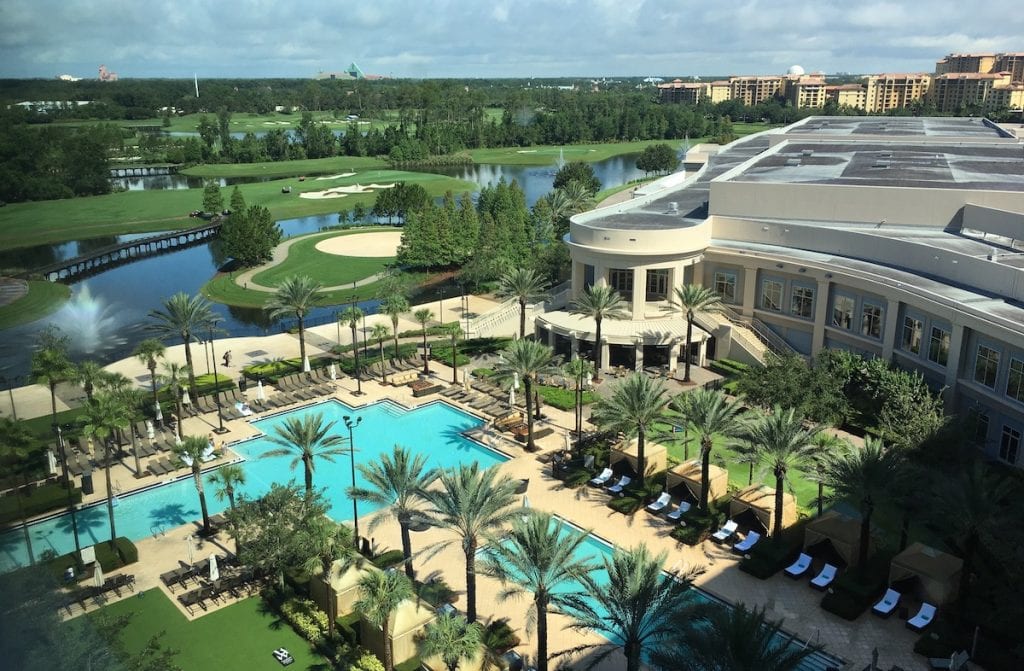 If you are looking for a more luxurious option, but don't want to splurge on the Four Seasons Orlando, the Waldorf-Astoria Orlando in the Bonnet Creek neighborhood is a good option. They offer free shuttles to Disney, making it convenient to get to the parks. The rooms are large and what you would expect from a luxury hotel, with some even offering views of the Disney fireworks from a distance.
My teen loved hanging out at the pool, especially because we were given a cabana to use for the day, which was perfect for ducking into to avoid those typical afternoon showers. The nice thing about the Waldorf Astoria Orlando is that you can also utilize the pool at the Hilton Bonnet Creek next door, which has a lazy river and a couple of small waterslides.
Cabana Bay Beach Resort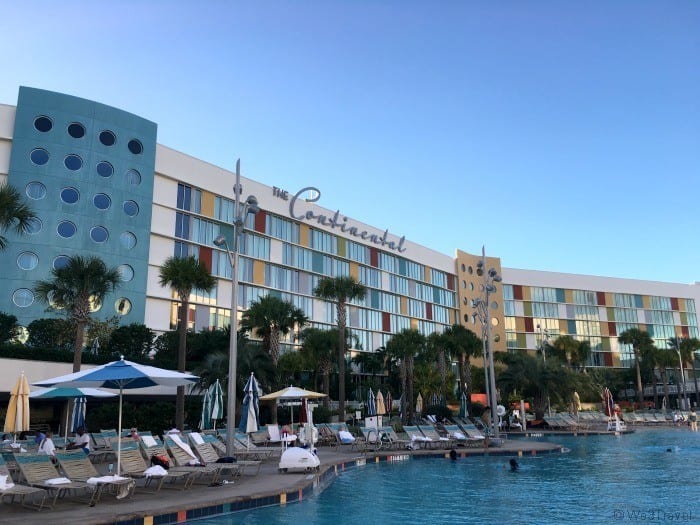 For a budget option on Universal Orlando property, which gives you early access to the Wizarding World of Harry Potter, we found the Cabana Bay Beach Resort convenient and comfortable. They offer a free shuttle to CityWalk, and you can walk over to Volcano Bay. This retro-style resort also has a great pool complex, with a sand beach and a lazy river. And the family-size suites give your teen a little privacy compared to your typical two-queen guest room. Read my full review of the Cabana Bay Beach Resort.
VIsiting Florida?
If you have more time, you may want to continue extending your trip to include:
Save this on Pinterest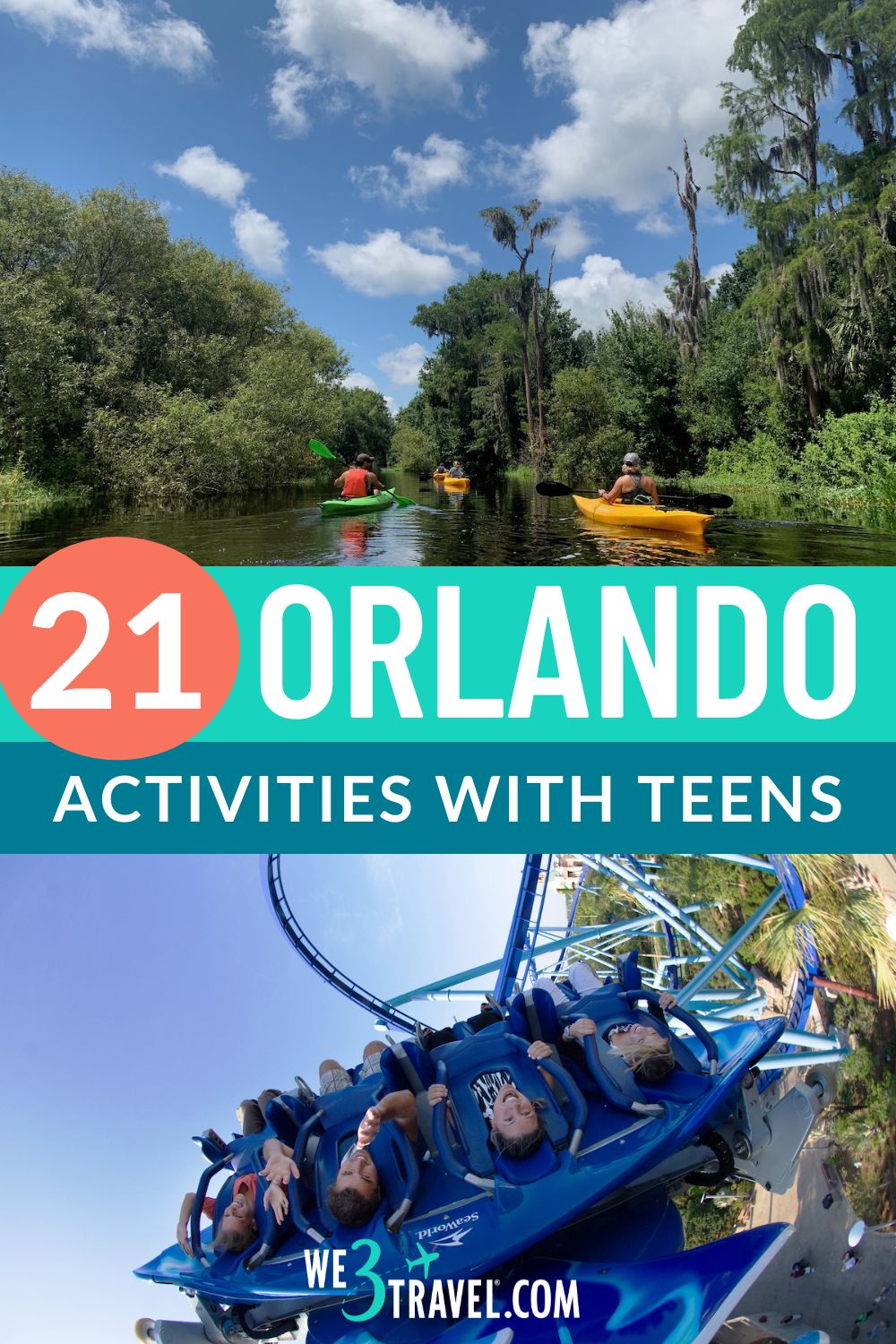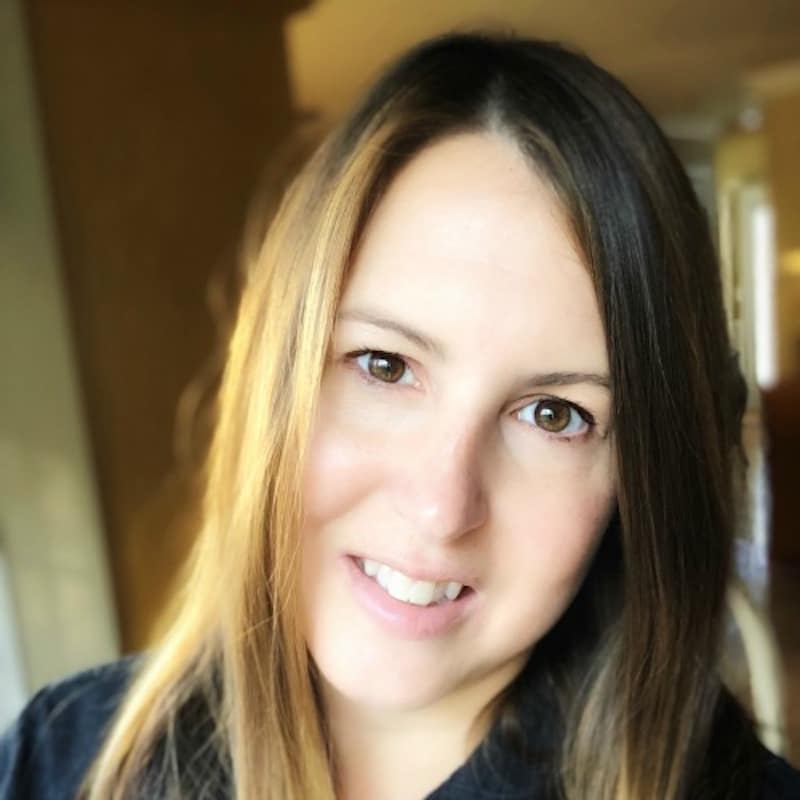 Tamara Gruber is the Founder and Publisher of We3Travel. A former marketing executive and travel advisor, Tamara is an award-winning travel writer and recognized expert in family travel. She is also the publisher of YourTimetoFly and the co-host of the Vacation Mavens travel podcast.