You've visited the Colosseum, the Vatican, the Pantheon, the Trevi Fountain, Piazza Navona, maybe even the Borghese Gallery or Capitoline Museum, so what else should you see in Rome? That is the question we asked when we recently spent 5 days in Rome. We knew there was more to see than what was in the city center, but I wasn't too keen on attempting to drive around Rome, so the idea of a driving tour of Rome with Walks of Italy sounded perfect.
The tour kicks off in Piazza Venezia at the Victor Emmanuel II monument, the most reviled attraction in Rome because of its ostentatious size and design. Officially known as the Altar to the Fatherland, it is also called the "typewriter" or "wedding cake." The monument was inaugurated in 1911 and completed in 1925 to honor the first King of unified Italy. At the foot of this monstrosity is where we met Marta, our tour guide from Walks of Italy, and our fellow tour participants. To start things off, Marta told us about the monument and explained the history of the area — how Mussolini gave his speeches from the balcony in Piazza Venezia and designed Fiori de Imperiali to create a sense of a unified Italy. After walking over to Capitoline Hill and checking out the 2000 year old apartment building tucked in between, we boarded our air conditioned (yay!) luxury coach that would be our transportation for the morning.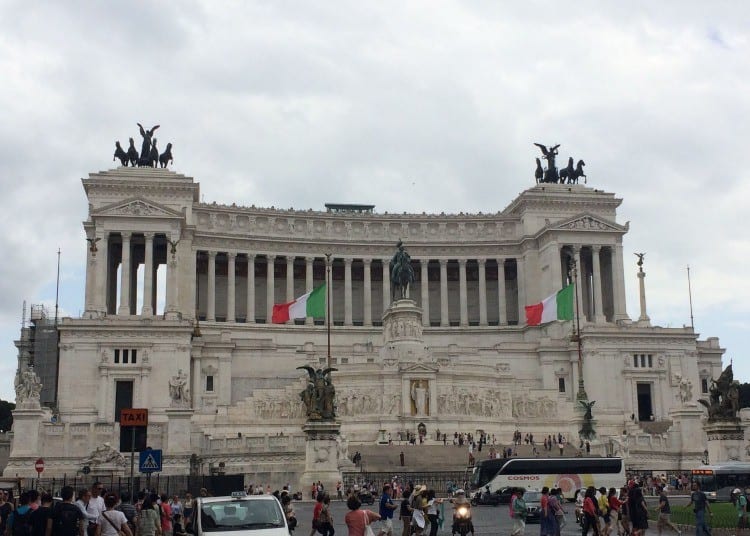 The first stop on our tour was one of Rome's secret surprises. Something I had read about but didn't think we would get to see since it is all the way up Aventine Hill — The Order of the Knights of Malta. If you peek through the keyhole you will find the most spectacularly framed view of St. Peter's dome. When we arrived there was an event in full swing and the door was open so we got an even better view than just through the keyhole.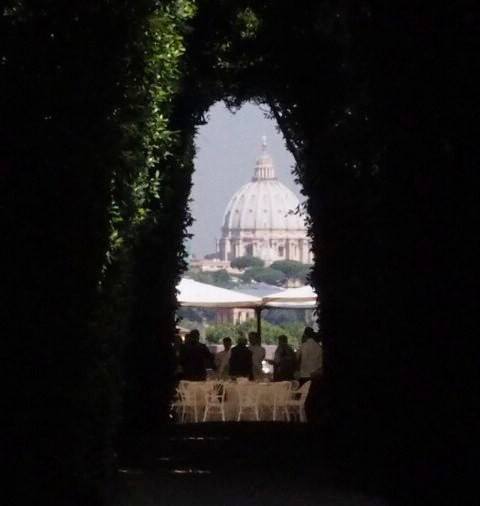 After driving back down Aventine Hill we took a quick look at Circus Maximus, where workers were still busy cleaning up from the Rolling Stones concert there two nights before. Circus Maximus used to hold 150,000 people to watch seven chariots race seven laps around this giant stadium. From this vantage point, you can also look out across Palantine Hill, which housed the palaces of emperors.
Our driver then battled the traffic to take us out to Appia Antica (Appian Way), the ancient thoroughfare that was built in 300 BC , leading south for 500 km across marshland. Along the drive there are many mausoleums and catacombs that you can visit, as the Romans wouldn't allow people to be buried inside the city. Since officially cars aren't supposed to drive on Appia Antica, we stopped to get out to walk along the ancient cobblestones. Here the road is narrow, just wide enough for two chariots to pass each other, and grooved by ancient chariot wheels.
Walking in the footsteps of Ancient Romans, seeing the worn and grooved cobblestones, and imagining how they used the reflection of the stars on "moonstones" to guide their way at night was like stepping into history. For those of us that have seen the movie Spartacus, it was intriguing to recognize that we were standing where 6,000 slaves were once hung to squash slave desertions.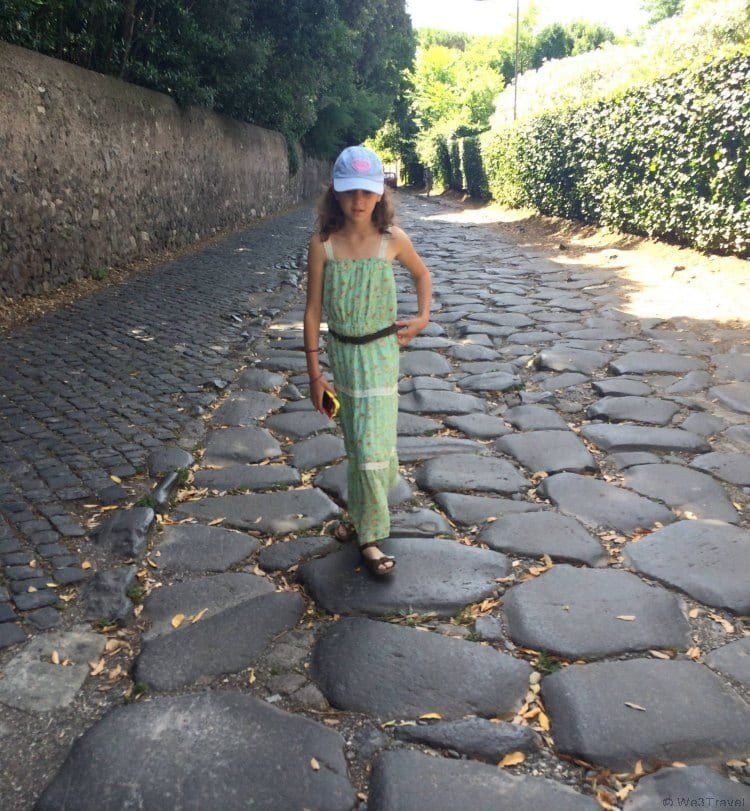 We were able to take a quick break at a nearby cafe before boarding the coach bus to travel to our next stop — Aqueduct Park. One of the coolest public parks I've seen, Aqueduct Park showcases the importance that water played in the success of Rome. Without the water the aqueducts carried from 20 km away, Rome would not have been able to thrive. Built in 200 BC, these aqueducts brought water to the first floor of buildings throughout Palatine Hill.
The park is a beautiful place to explore on your own too. With fields of wildflowers framing the ancient structures, it would be an ideal place for a picnic in the park.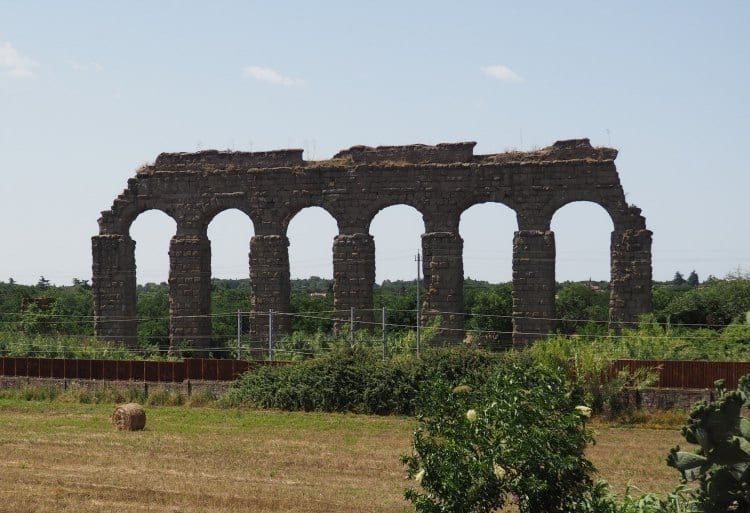 On the way back to Rome we stopped to take a look at the Baths of Caracalla. Built around 212 AD, these ancient baths are huge! Open to everyone in Rome (a reward for paying taxes), the baths were free and served like an ancient shopping mall with baths, gymnasiums, shops and restaurants. It is hard to get a handle on the size but imagine taking 2,000 tons of material every day for six years to build these massive baths. Today, it is a backdrop for concerts and opera performances so check the schedule when you are there because it seems like a very dramatic place to see a performance.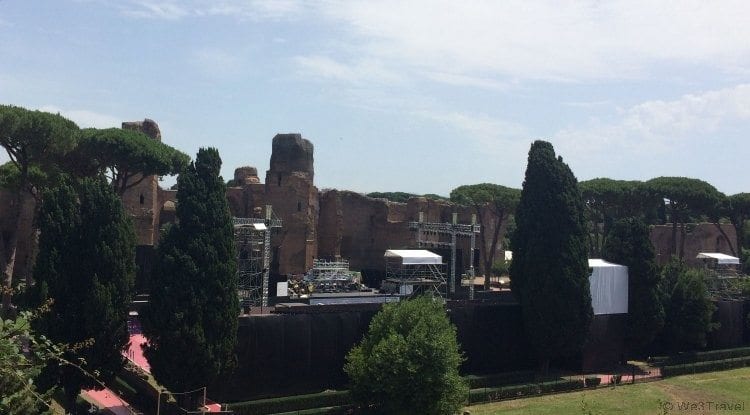 The last stop on the tour was at the top of Janiculum Hill, at the overlook by the Garibaldi Monument. From here you can look out over all of Rome. Only from this high vantage point can you see how the Vittoriano actually towers over the city.
Overall it was a good tour and we really enjoyed getting a chance to see many sites that your typical tourist wouldn't usually get to visit. We took in a lot of history and some very special views, but I think the tour is probably best suited for adults and teens as there isn't that much that is "exciting" for younger kids and you spend a fair amount of time in the tour bus with not many opportunities to run around and stretch your legs. My daughter loves history so she was perfectly happy hanging out near Marta and soaking it all up. If you have an extra day in Rome and you want to get out of the city center, the driving tour of Rome with Walks of Italy is something you might enjoy — otherwise you can use this itinerary to get some ideas for exploring these lesser known sights on your own.
The Driving Tour from Walks of Italy is offered on Tuesday and Saturday mornings from 9:20 am – 12:20 pm for 64 euro per adult and 44 euro per child.
Note: Our tour was hosted by Walks of Italy but the above represents our honest opinion.