There is nowhere in the world quite like Orlando. The place that used to be quiet citrus groves is now the theme park capital of the world, attracting over 66 million visitors per year — more than anywhere else in the United States. From theme restaurants to amusements parks to quirky attractions, there are enough Orlando activities to keep you busy for a month or more.
Of course families come to Central Florida for the theme parks and water parks — of which there is no shortage. And these theme parks are constantly adding new rides and attractions to keep families coming back again and again and again — from the new Flight of Passage at Walt Disney World Resort's Animal Kingdom; to SeaWorld's Mako, Orlando's tallest, fastest, and longest roller coaster; and Universal Studio's latest Harry Potter ride.
But still, the more families come back to Orlando, the more they want to go beyond the theme parks and find off the beaten path Orlando activities and attractions.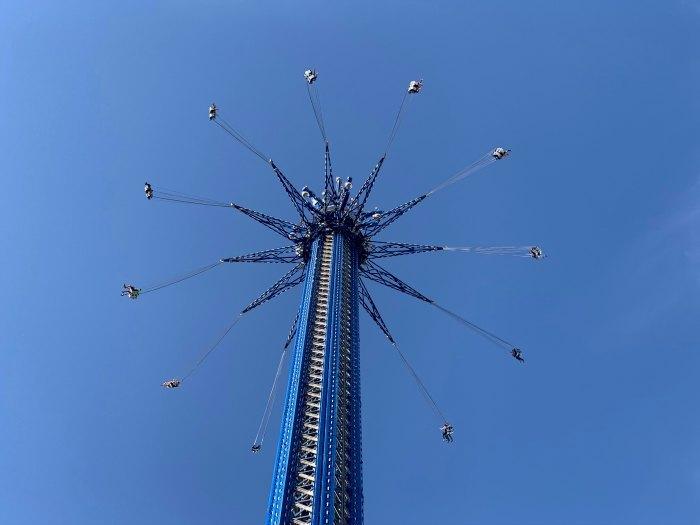 Let's face it, a giant McDonalds just isn't going to cut it for everyone. After visiting multiple times, I put together a guide to what to do in Orlando beyond the theme parks.
Off the Beaten Path Orlando Activities
Note: I received complimentary admission to some of these attractions for purposes of this review. All opinions are my own. In addition, this post contains affiliate links. If you click on a link and make a purchase, I may receive a small commission.
Kayaking at Shingle Creek
Just 20 minutes from Disney in nearby Kissimmee, Florida, you can take an eco-kayaking tour with The Paddling Center at Shingle Creek. Surrounded by a dense cypress forest and wildlife, it is hard to image that you are so close to the center of amusement and commercialism.
Spending a couple of hours paddling along Shingle Creek is certainly a relaxing contrast to a day spent at a theme park. You can rent kayaks, canoes, or paddle boards, but I would recommend a guided tour. Your trained guide is a pro at spotting wildlife including heron, turtles, snakes, and even gators.
The Paddling Center is located at 4266 W Vine St, Kissimmee, FL 34741
The Wheel at ICON Park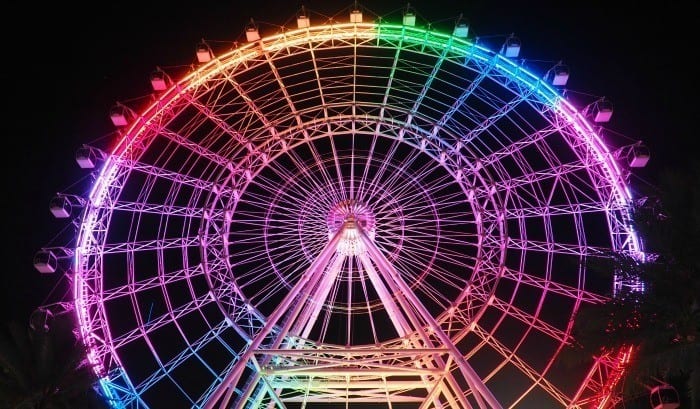 I suppose it is hard to call something off-the-beaten path when you can see if from so far away, but did you know that Orlando has a Wheel akin to the London Eye? I didn't.
Formerly called I-Drive 360, ICON Park is located on International Drive, right in the center of things. This entertainment destination includes cornerstone attractions like Madame Tussauds, the SeaLife Aquarium, and the SKELETONS: Museum of Osteology.
I think the highlight of this area is The Wheel at ICON Park. I'm no thrillseeker, but I can tell you that this ride is so smooth and slow that you barely notice you are moving. A single rotation takes 20 minutes and if you want, you can get a glass of bubbly to bring along.
A little champagne, some music in the car, beautiful views and you've got a party going on with an awesome view across Orlando. I highly recommend it at sunset but if you go mid-day you may even get a capsule to yourselves.
Save big on ICON Park attraction tickets!
Afterwards, enjoy dinner at Tapa Toro where the paella is deee-li-cious. If you are there for lunch, you won't find a better burger anywhere then the smoke shack burger at Shake Shack, it is our family favorite.
ICON Park is located at 8375 International Drive, Orlando, Fl 32819.
Orlando Starflyer
Also located in ICON Park on International Drive is the Orlando Starflyer, the world's tallest swing ride. While The Wheel is suitable for everyone, the Starflyer is better for the thrill seekers who don't mind heights.
The ride itself is actually pretty peaceful and smooth, with some amazing views. But wow is it high! 450 feet high to be exact. Each swing is a double seat so you can go with a friend and hold their hand when you get scared.
The swings move at speeds up to 45 mph, but it really isn't as scary as it looks (at least according to my teen, I was too chicken to try it!) If you need a little liquid courage, get a drink at the Star Bar before you go.
Save over 30% on the Orlando Starflyer tickets!
The Escape Game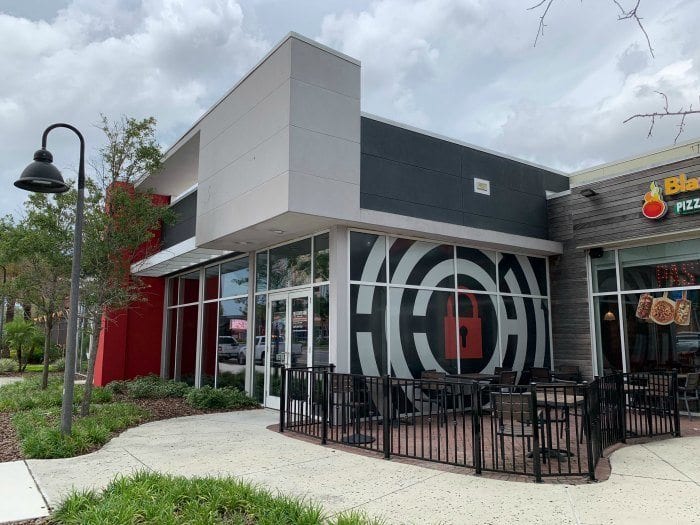 You will find quite a few escape rooms around Orlando, but The Escape Game is located right on International Drive, just a short walk from ICON Park, making it easy to combine with the above attractions for a day of fun.
Players should reserve their preferred time slot and game option in advance, as each game varies depending on how many people are involved and how difficult it is to escape. Three of us took on the Gold Rush and escaped with almost two minutes to spare. It was definitely challenging, but so much fun!
We can't give away any secrets but our host did give us props for finishing as the room is typically designed for up to eight people and the three of us conquered the puzzles to earn our release. The game was so much fun we were tempted to book another game on the spot (and they offer discounts if you do!)
The Escape Game Orlando is located at 8145 International Dr #511, Orlando, FL 32819
Andretti Indoor Karting and Games
Just a five minute drive from ICON Park, you will find an entertainment mecca at Andretti Indoor Karting & Games. This mega complex has it all — making it a perfect way to spend a rainy day in Orlando! We expected go karts and an arcade, but it is really so much more.
Andretti offers bowling, laser tag, an indoor ropes course / zipline, a 4D Dark Ride, tons of arcade games, multiple virtual reality experiences, and, of course, go karting. And when you get hungry, there is a full restaurant and two bars.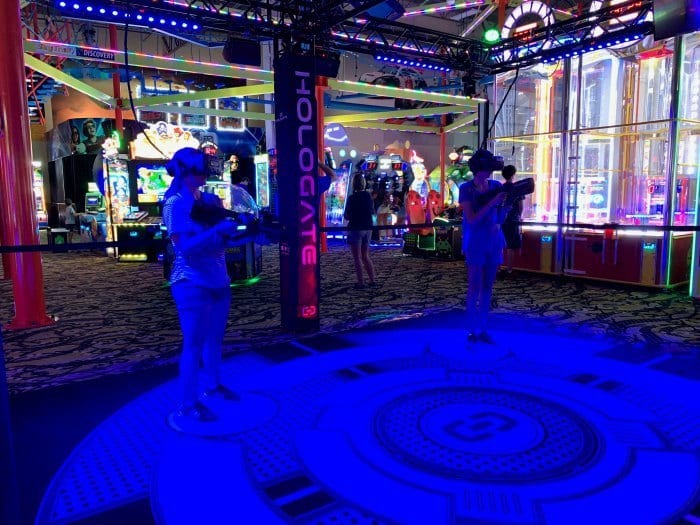 The indoor go karting is split into multiple tracks. The adult track is limited to those 15 and over with at least a driver's permit. There are also junior and intermediate options. You reserve a time slot on the selected track and the field is limited to no more than 12 drivers at a time.
I would recommend it for experienced go karters because driving is not easy (you really have to yank the wheel to get around tight turns) and people do tend to bump and bang into you, even though that is against the rules.
We spent only two hours here but I wish we had planned on staying for at least half a day. You can pay for attractions individually or purchase various passes that include multiple attractions.
Get discounted tickets to Andretti Karting and Games!
Andretti Indoor Karting & Games is located at 9299 Universal Blvd, Orlando, FL 32819
Topgolf Orlando
Topgolf Orlando is located right behind Andretti Indoor Karting and Games, making it a great combo to fill a fun day. I first tried Topgolf in El Paso, and had a great time! It looks like a driving range but it is so much more fun.
You rent a bay by the hour and are served drinks and food while you play. There are different games you can play and it isn't always a matter of hitting the ball the furthest. You scan your club before you take a turn and the system tracks your ball. Get it within various circles to earn points and the highest scorer is the winner.
Topgolf Orlando is located at 9295 Universal Blvd, Orlando, FL 32819
Harry P. Leu Gardens
Perhaps you are seeking something a bit more…shall we say…peaceful than what you'll find on International Drive or in the theme parks? Or perhaps you want something that will make all the generations happy?
The Harry P. Leu Gardens offers up three miles of paved scenic walkways, a butterfly garden, bamboo gardens and even a museum, which is a restored 19th century home that has been listed on the National Register of Historic Places.
You can enjoy azaleas, vines, tropical philodendrons, roses and camellias and stroll under the branches of camphor trees, elms and oaks. Plus, did I mention it was cheap? Now that's not easy to find in Orlando.
Leu Gardens is located at 1920 North Forest Avenue, Orlando, FL.
Charles Hosmer Morse Museum
Although Orlando is a town that animation helped build, there is a museum scene worth exploring around Winter Park. In addition to the Rollins College museum's extensive collection of contemporary art, the Charles Hosmer Morse Museum houses an extensive collection of the stained glass work of Louis Comfort Tiffany, and is worth the detour.
The story of the museum's acquisition of the largest Tiffany collection is worth reading about in the gallery spaces. Its location is in the middle of Winter Park's thriving shopping and restaurant scene.
The Morse Museum is located at 445 North Park Avenue, Winter Park, FL 32789.
Milk District
After spending some time in theme parks and on International Drive, it is hard to believe that there are some cute or historic districts in Orlando, but they do exist.
There is the Church Street District in the heart of downtown Orlando, which offers a glimpse of the past but also has an array of trendy restaurants and nightclubs.
Then there is Thornton Park, Orlando's most charming neighborhood with plenty of eateries. But what caught my eye was the up-and-coming Milk District, named for its location near a dairy. This thriving area is known for its funky shops and weekly food truck gathering. They had me at food trucks.
Orlando Science Center
Trying to convince your kids' teachers that you took them out of school for educational purposes for that trip to Orlando? Then you better stop by the Orlando Science Center, which is a hands-on science museum with educational exhibits, programs, planetarium shows, and 3D theaters.
With hundreds of exhibits across four floors, there will be plenty of opportunity for the kids to explore, experiment and discover.
The Orlando Science Center is located at 777 E. Princeton Street, Orlando, Florida 32803.
Theme Dining
Another way to build some fun into eating is with a theme dining experience. There are many options from Medieval Times, the Treasure Tavern Dinner Show, Sleuth's Mystery Dinner, or Mango's Tropical Cafe.
If you don't want to go all out with a dinner show, you can enjoy the lively entertainment and music at Taverna Opa. This Greek Taverna in The Pointe on International Drive is a place where people come to have fun, and maybe even dance on the tables.
The food is also delicious, from the warm pita bread, the flaming saganaki cheese, or the delicious chicken artichoke entree — it is hard to save room for dessert!
Taverna Opa is located at 9101 International Drive Suite 2240 Orlando FL 32819
Safari Wilderness Park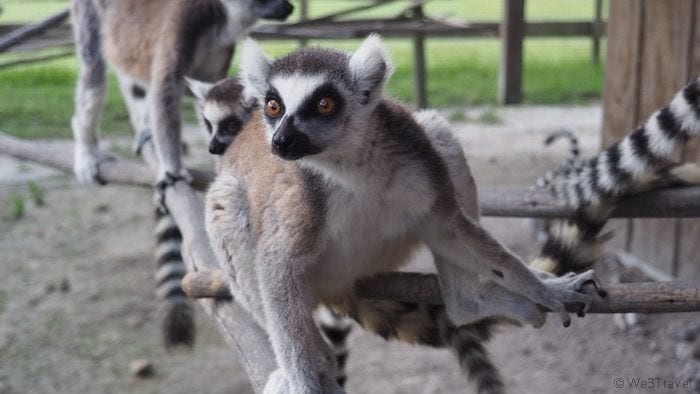 In nearby Lakeland, Florida, about 45 minutes from the Orlando area, you may imagine that you are on the plains of Africa. The Safari Wilderness Ranch has hundreds of animals, primarily hoof stock, including scimitar-horned oryx, Defassa waterbuck, eland, Red Lechwe, zebras, fainting goats, ostriches, llamas, camels and more.
To see the animals, you can take a covered open-air safari, or view them from horseback or camelback. You can feed the animals and there are also special animal encounters you can sign up for, including lemur feeding!
Safari Wilderness Ranch is located at 10850 Moore Rd. Lakeland, FL 33809.
Kelly Park Rock Springs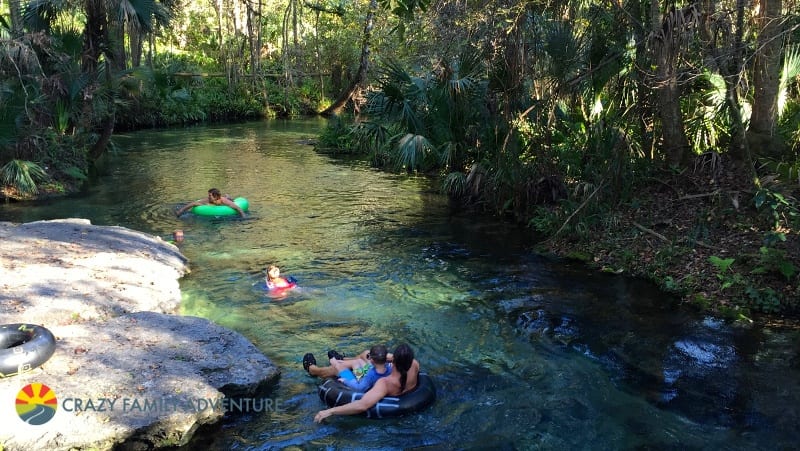 You won't want to miss tubing near Orlando on a crystal clear river! Kelly Park Rock Springs is gorgeous and the current takes you floating right down the river and ends at a beautiful little beach area.
This nature area is breathtaking and it is hard to believe that this is only 30 minutes outside of Orlando.
Kelly Park Rock Springs is located at 400 E Kelly Park RD, Apopka, FL 32712.
Wekiwa Springs State Park
Canoeing and kayaking through Wekiwa Springs State Park is a charming way to discover the Wekiva River while experiencing the beautiful, untouched wonders of Florida.
Just 20 minutes north of Orlando, Wekiwa Springs State Park Nature Adventures allows you to craft your own adventure of activities including canoeing, kayaking, bicycling to simply sitting back and swimming.
Wekiwa Springs State Park Nature Adventures is located at 1800 Wekiwa Circle, Apopka, FL 32712.
Rattlesnake Roller Coaster Zipline
Okay, this is one is a little further off-the-beaten path in St. Cloud, but I think it would be worth an hour's drive to do this roller coaster zipline. Plus, Forever Florida offers regular ziplining, horseback riding, nature tours, and the panther pounce free fall plunge.
Forever Florida is located at 4755 N. Kenansville Road, St. Cloud, Florida 34773.
Kennedy Space Center
Kennedy Space Center
on the Space Coast is also a bit of a hike (about an hour from Orlando), but still easy to do as a day trip. We have had a fantastic time at
Kennedy Space Center and highly recommend it for families
— even if you aren't super into space there is still so much to do. Plus, if you get lucky maybe you can go on a
launch day
!
[plan-trip]
[/plan-trip]
PIN THIS FOR LATER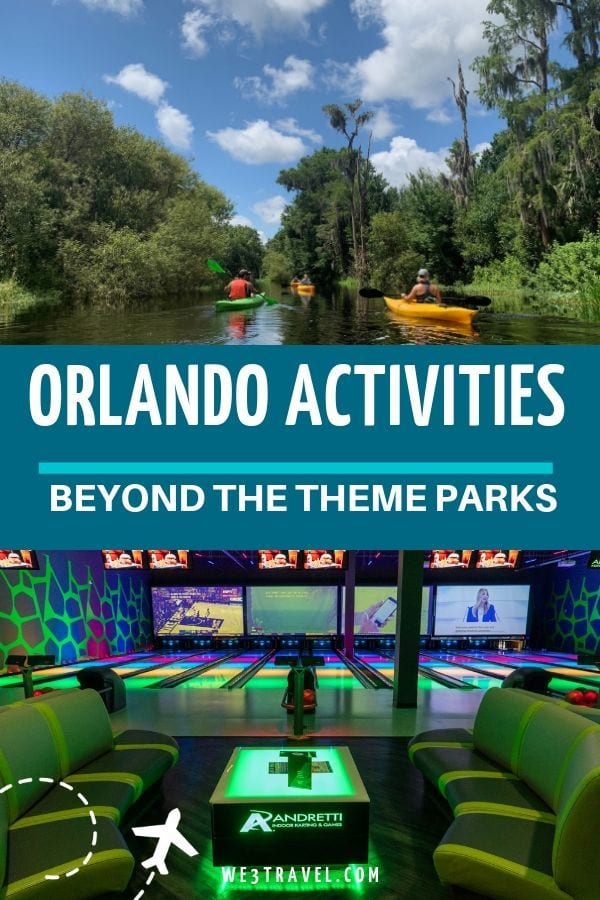 SaveSave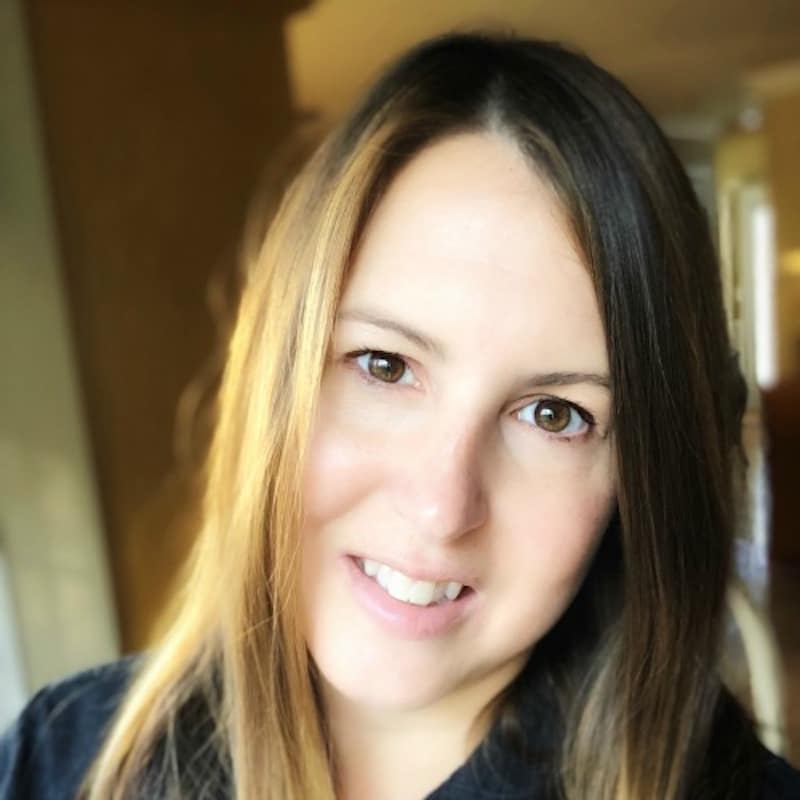 Tamara Gruber is the Founder and Publisher of We3Travel. A former marketing executive and travel advisor, Tamara is an award-winning travel writer and recognized expert in family travel. She is also the publisher of YourTimetoFly and the co-host of the Vacation Mavens travel podcast.