As we entered the NASA Virginia Air and Space Center (VASC) in Hampton, Virginia, our tour guide, Volunteer Coordinator Ken Flick, tells us how his interest in space started early and as a teen he would watch the astronauts practice landing on the moon using the Lunar Excursion Module Simulator. It is no surprise that Ken grew up in awe of our space program. After all, in 1958 nearby Langley Research Center was chosen as the site where NASA would plan America's conquest of space and train its first astronauts. The Mercury Seven astronauts, Scott Carpenter, Gordon Cooper, John Glenn, "Gus" Grissom, Walter Schirra, Alan Shepard and "Deke" Slayton were stationed there to train for Project Mercury and, as a boy, Ken had a chance to meet a few of these courageous heroes. Some of these "spacemen" were even local heroes, like Alan Shepherd, the first American in space, who lived in Virginia Beach.
Today, Ken's his passion comes through just a strong as he shares his knowledge and fervor with the budding scientists, pilots, and astronauts of tomorrow that visit the VASC. After all, the Center's main goal is education. In addition to over 100 "hands on" exhibits, the Center offers educational programs and STEM classes, including a robotics lab that caters to children as young as preschool.
With Ken's stories and knowledge, my want-to-be astrophysicist was hooked. Starting with the history of aviation from the Wright Brothers (did you know that their first flight really took place in Kill Devil Hills, not Kitty Hawk as widely thought?) to the future Orion mission to Mars, the Virginia Air and Space Center covers it all.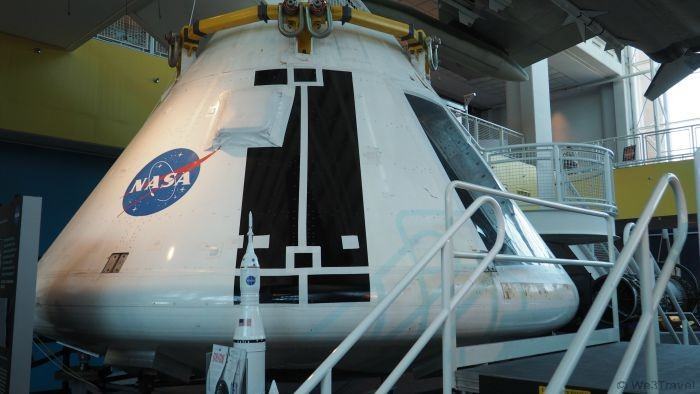 Covering the history of flight, the VASC features a replica of the Wright Flyer (the original is in the Smithsonian) to a full DC-9 airplane in which kids can practice their aviation skills with a flight simulator. It is also the only place you can find vehicles from four out of the five manned space missions that were either tested or used in space – Mercury, Gemini, Apollo, and Orion. The only one missing is the space shuttle.
As we learned about the tight quarters that the astronauts endured for days welded into the small early space capsules, we were amazed by their seemingly endless courage. Even though we had visited the Kennedy Space Center in Florida a couple of years ago (I highly recommend it!) and the Smithsonian Air and Space Center in Washington D.C., we learned more about the Mercury and Gemini space missions in one morning at the Virginia Air and Space Center than those two visits combined.
Of course while history is fascinating, the future is what really captures your imagination. In addition to the Orion capsule, the VASC has a large exhibit dedicated to the history of the Mars Rovers and the future of the Orion missions. Your ticket also includes entrance to one of their many IMAX shows in each admission. We took advantage of this with a viewing of Journey to Space, a 45-minute 3D movie that explains the current state and future of the Mars missions.
Another favorite exhibit was the Solarium. An immersive experience, this exhibit gives visitors an idea of what it is like on the sun through the use of video and sound (but luckily no heat.)
My only regret is that we didn't have more time to explore all the exhibits, but we did have a chance to see a three-billion-year-old moon rock, collected during the Apollo 17 mission and a replica of the Lunar Orbiter, which mapped the moon's surface for future landings. If you want to see it all, plan on spending at least three to four hours here.
The VASC was our favorite stop in Hampton, VA, but don't just take my word for it, see what Hannah has to say about the Virginia Air and Space Center.
Kid's Turn: The Virginia Air and Space Center
I love space, and everything about it, so it's no wonder I liked the Virginia Air and Space Center. One of my favorite parts was that I got to see real or test spacecraft from four out of five missions: Mercury, Gemini, Apollo, and Orion. I also found all of the aircraft hanging from the ceiling pretty cool, especially the one that you could walk through. Another one of my favorite parts was the 3-D movie Journey to Space. It talked about the Orion program, and how humans will get to Mars. I have always been fascinated by the idea of going to Mars, so I thought that it was really interesting. In a nutshell, I loved the Virginia Air and Space Center, and recommend it to anyone that is thinking of taking a trip to Virginia.
What you Need to Know
The NASA Virginia Air and Space Center is located at 600 Settlers Landing Road in Hampton, VA. Admission is $18.00 for adults and $14.50 for children. The VASC is also part of the Hampton's "Sea to the Stars" ticket, which celebrates Hampton's 400-year with a combination ticket that mixes history, adventure, and water recreation. The ticket is good for one-time admission to the Virginia Air & Space Center. Riverside Digital 3D IMAX Theater, Miss Hampton II Harbor Cruise, Hampton History Museum and the Hampton Carousel. Adults tickets are $39 and tickets for youth ages 4-11 are $25. Sea to Stars Tickets are sold at the Hampton Visitor Center.
After a visit to the Virginia Air and Space Center, it is fun to take a ride on Hampton's antique carousel just next door or catch lunch at family-friendly Venture Kitchen and Bar.
PIN THIS FOR LATER
Note: We received free admission and tour courtesy of the Hampton Visitor's Bureau and NASA Virginia Air and Space Center. All opinions are our own.