The Iroquois view a blue heron as an omen of good luck, so when we encountered a heron soon after splashing out into the Shenandoah River on our kayaks last August, I took it to be a positive sign for a good day ahead. Initially we were disappointed that after kayaking along the James River earlier in the week, we weren't able to try out river tubing the way we had planned. But the heron is also a symbol of going with the flow, and that is what we needed to do. And in August, the flow along the Shenandoah in Virginia is pretty slow and low. So unless we want to scrape our bottoms along the river rocks, kayaking was the better choice.
Little did I know that the heron was going to be our guide down the river. Yet every time we got close enough to attempt a photo, he swept away in majestic flight to a spot further down the river. Again and again, our heron guide lured us down the river as we attempted to understand his silent message.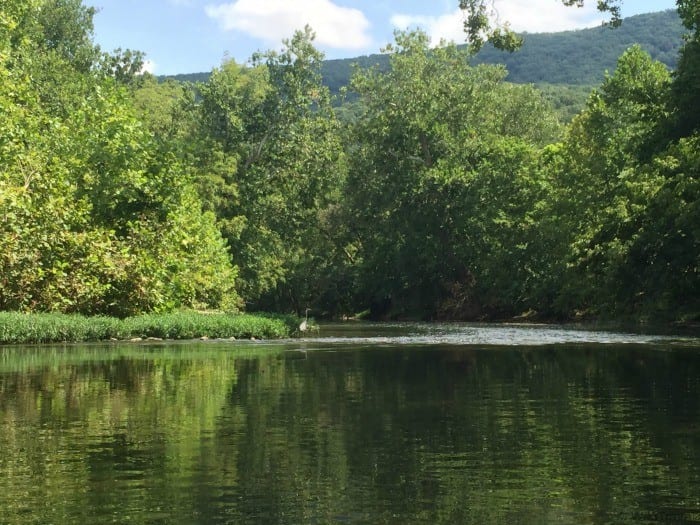 Kayaking on the Shenandoah River
Our day started with a short safety briefing at Route 11 Outfitters, before they loaded up our rented kayaks to drop us down the river a bit. Route 11 Outfitters is open April through November and offers watercraft and gear for tubing, kayaking, canoeing and fishing for children ages six and up, teenagers, and adults. Spring is definitely the time to try out water tubing, when winter melt off has the river running strong.
During the sweltering summer days of August, the river is low and even getting through with our kayaks took a bit of work. Since I sit a little lower in my kayak then Hannah, we had a few laughs as mommy got "beached" on rocks or sandbars. Usually a bit of scooting or pushing off with my foot outside of the kayak got me moving again, but a few times I had to climb out and give the kayak a push.
Our adventure was more of a workout than I anticipated, but not because of the rowing, just because of the pushing. Still, there is rarely a day out on the water in a boat of any type that I don't enjoy and this was no exception.
Our friendly heron guide wasn't the only wildlife we encounter on our trip. We seemed to attract beautiful creatures like a magnet that day. Hannah picked up a hitchhiking butterfly early in our trip and it stuck around for nearly an hour. After the heron left us for good, we rounded a corner just to see some large black shapes in the river up ahead. After our near encounter with a black bear in Shenandoah National Park, and discussions about how bears are common in this area, my heart skipped a couple of beats before I realized that the beasts up ahead were too big to be bears — they were cows. And before we could get too close, they all climbed back on land.
There is something so peaceful and rewarding about kayaking down a river. I'm not one for mediation or spirituality but combination of physical exertion and appreciation of the outdoors creates a certain type of zen and a connection with nature.
If you find yourself in the Shenandoah Valley, take the time to get out on the river and see the valley from a whole new perspective.
Route 11 Outfitters is located at 23228 Old Valley Pike in Woodstock, VA. It is best to book a reservation in advance. Kayaking trips range from $35 – 50 for a 2.5 to 6 hour trip. River tubing starts at $25 for a 3 to 4 hour trip.
PIN THIS FOR LATER
Note: Our trip was hosted by Route 11 Outfitters for purposes of this review. As always, my opinion is 100 percent my own.