I'll never forget my first glimpse of the Colosseum thirteen years ago. My husband and I had just landed in Rome. I was bleary-eyed and nervous with anticipation of my first European experience. Flying in from NYC, my first views of Rome out the taxi window looked like another cosmopolitan city. And then it happened. All I did was glance down a side street and there it was — the ultimate icon of Rome, the Colosseum.
It seemed too casual, too unbelievable that we were driving down this busy road and right there was a building that had stood for over 2,000 years. Unfortunately, this visit was before I had honed my mad planning skills and I wasn't anticipating the long wait to get into the Colosseum. As it turned out, the day we were to visit the Colosseum, the line was too long and we just didn't have time to wait. All we did was wander through the Forum, trying to listen in to tour groups to try to garner some idea of what these ancient ruins really represented. I swore that next time we would do it right.
Well it took over a decade but when we went back to Rome, we knew that a tour of the Colosseum had to be on the itinerary, especially since it would be our 10 year old daughter's first time. So we decided to explore Ancient Rome with Overome. Overome offers a number of tours including Best of Rome, Vatican, Ancient City, Borghese Gallery and Ancient Ostia. We signed up for their Colosseum and Ancient City tour.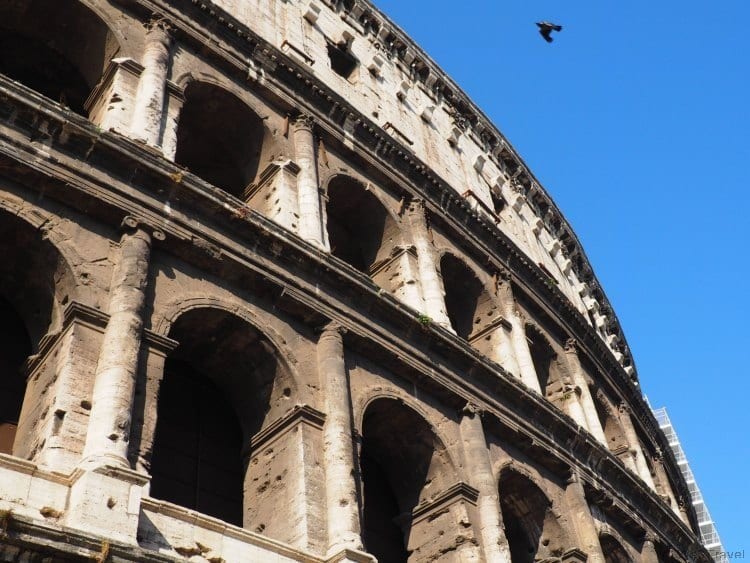 Overome Reviews: Colosseum and Ancient City Tour
We scheduled our tour for the morning of our first full day in Rome, which was a Sunday (see our full itinerary.) This worked best for us not just because it was top of our list of sights to see in Rome, but also because many other sights, such as the Vatican Museum, are closed on Sundays. Since the apartment we were renting was just a short walk from the Colosseum, getting there was easy. We met up with Federica, our tour guide, and our fellow tour group members just outside of the Colosseum Metro Station across from the main entrance. It was easy to find our group and after quick introductions to the other family in our small group of seven, we were ready to get started.
At first I was taken aback when Federica handed us each an audio device with earphones. I thought, "oh no, this isn't going to be just like listening to an audio tour is it?" I quickly realized it was just intended for us to be better able to hear Federica as she spoke to us. It still took me a couple of minutes to get used to and I didn't understand why our small group would need this assistance until we stepped inside the Colosseum. With 30,000 people visiting the Colosseum every day, making it the most visited site in Rome, it is crowded and loud as multiple tour guides shout to be heard above the din and the ancient stone structure wasn't built for acoustics.
Our tour began at the Colosseum, which sadly was also partially covered with scaffolding (like the Trevi Fountain the night before), but for good reason as the owner of Tod's (the famous Italian designer shoe brand) has donated $30+ million to help restore the building. We immediately saw the advantage of a small tour group as we were able to "skip the line." This is something that all tours offer to avoid the long queues for individual ticket buyers. However, what they don't tell you is that there are also multiple tour group lines and that small tours get the shortest line so it was a quick five minute wait while Federica secured our tickets and we were able to move inside.
Getting its name from the statue of Colossus out front, construction first began on the Colosseum in 72 AD, taking the work of 50,000 slaves every day to complete it so it could open to the public in 80 AD. The reason the Colosseum looks like it is crumbling in parts is because after it was closed in the 500s with the fall of the Roman Empire, it was looted during the dark ages for the marble and iron, which made its way into other buildings including the Vatican. To help us understand what the Colosseum used to look like in its full glory when it held 75,000 people, Federica pulled out her iPad to show us a mock up of the original facade.
In ancient times, the Colosseum attracted both the rich and the poor. Senators, politicians, and laborers alike would gather all day to watch gladiators fight first animals in the morning (including lions, tigers, bears, wolves, elephants and rhinos), and then fight each other in the afternoon. Since most of us (though not the little kids) were familiar with the Gladiator movie with Russell Crowe, it was interesting how Federica used the movie to contrast the Hollywood effects versus the reality of how the Colosseum operated. One comparison that made us laugh and stuck in our minds was that ancient gladiators looked a lot more like Danny DeVito than Russell Crowe (short and stocky versus tall and muscular.) It was really interesting to see how the Colosseum so closely resembles today's stadiums with the good seats, the cheap seats and even gate numbers (in Roman Numerals of course).
On our tour we got a good look into the corridors under what used to be the floor of the Colosseum, both from the main level and a better vantage point up above. We learned all about the games, the life of the gladiators, and the inner workings of the Colosseum. We also got to see many of the artifacts preserved from those days and could start to imagine, both through Federica's iPad renderings and the remaining embellishments, what the Colosseum looked like 2000 years ago.
Our heads spinning with history, we moved on to exploring Ancient Rome, in the Roman Forum and Palatine Hill. As we walked in, Federica told us about the legend of Romulus and Remus and the forming of Ancient Rome — as well as what modern theorists believe was the actual story (I'll let you learn that yourselves!) Once we were inside the gates of the Forum, the crowds spread out a bit and we were better able to move around as a group, but finding shade was definitely a challenge. While we have heard so much about the Colosseum, it is much harder to call to mind an image of the forum when you are surrounded by crumbling columns, slabs of marble, and other unidentified buildings and ruins.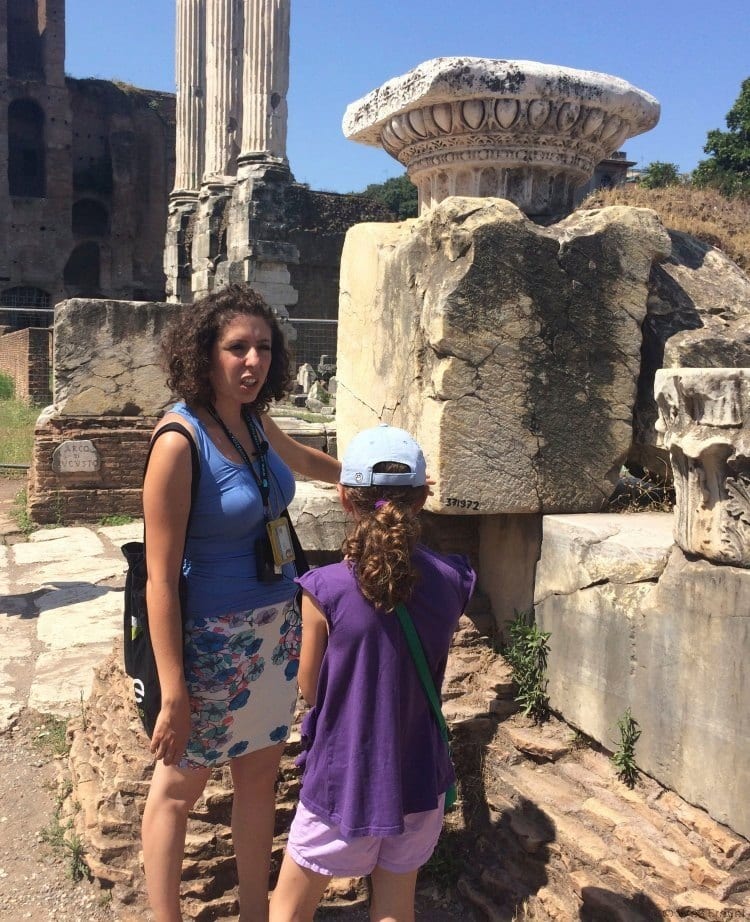 Luckily, Overome understands how challenging it can be for visitors to visualize what they are standing in the middle of, so Federica brought out her handy iPad again. This time, she had not just digital renderings of the forum and Temple of Jupiter, but an actual augmented reality app that everyone got a turn playing with. When you hold it up, you will see what the area in front of you looked like 2000 years before. Slowly pan from side to side, up and down, and all around for a 360 degree view that puts you in the shoes of an ancient Roman. Pretty darn cool. Especially for the kids that were starting to fade a bit from all the walking, heat, and history.
We spent a good 1.5 hours in the forum and Palatine Hill, learning about the Temple of Julius Casear, the Vestal Virgins, Temple of Romulus and its massive bronze doors, the Basilica of Constantine, and the Arch of Titus. Federica also took us to a beautiful overlook and photo point with a perfect view of the Colosseum.
So if you are planning on visiting the Colosseum and Roman Forum when in Rome (and I'm sure you are), don't even think about doing it on your own. It is just too crowded and even with an audio guide, I think it would be very hard to follow along. Don't bother with a large tour group either. Especially in the Colosseum it is VERY crowded. You will NOT be able to stick together, we had a hard enough time keeping track of the seven of us in our small group. Do you really want to spend your day searching for the right color umbrella or flag held aloft by your tour guide? Our experience with Overome was fun, educational and very enjoyable. Federica was very personable and kept things moving at just the right pace, open to answering questions along the way.
Some tips for touring the Colosseum and Ancient Rome:
Plan in advance and book a reputable tour with a company the ensures small groups (like Overome)
Wear comfortable walking shoes as you will be spending 3 hours on your feet walking over cobblestones, dirt paths, and climbing stairs
Bring a water bottle. There will be vendors to purchase water or beverages between the Colosseum and Forum but it is a good idea to start out with at least one.
Pack snacks, especially if you have kids. Three hours is a long time to be walking around without putting something in their belly. A simple granola bar will do the trick.
Wear a hat. There is a reason there are so many vendors in this area selling hats — there is very little shade and the sun is extremely strong.
This tour is definitely NOT for families with very young children. Strollers will not be able to maneuver through the Colosseum and won't be easy in the Forum either. I think it is best suited for those over the age of eight, depending on your child, their energy level and their interest in history.
However, I met with one of the founders of Overome and they are planning a special family tour of the Colosseum. I can't share details yet but it sounds awesome so if you are planning a trip to Rome after the summer of 2014, definitely check with Overome to learn more and I'll share more details once they are available.
Note: We were guests of Overome for the Colosseum and Ancient City tour. We thank Overome for hosting us and thoroughly enjoyed our tour. The review expressed above represents our sincere thoughts and opinions.