The Skyline Drive is the 105-mile scenic byway through the Blue Mountains of Virginia, which serves as the only road through Shenandoah National Park. This byway starts in Front Royal in Northern Virginia and ends at Rockfish Gap, where Route 64 crosses the Blue Ridge Mountains. South of Route 64, the highway becomes the Blue Ridge Parkway. There are four entrances and numerous surrounding communities that provide services to the park at Front Royal, Thornton Gap, Swift Run Gap, and Rockfish Gap.
Driving the Skyline Drive is a quintessential American road trip, offering gorgeous views and access to the scenic Shenandoah National Park. The park covers 200,000 acres through the Blue Ridge Mountains, named for the hue created by water evaporating from the plants and trees. Along the Drive, there are 75 overlooks across the park, as well as a chance to view some of the wildlife that makes it home in the park such as deer, black bear, wild turkey, and other woodland animals.
With a speed limit of 35 mph, it takes about three hours to drive the length of the Skyline Drive. The Skyline Drive is open 365 days of the year, but can close for inclement weather and at night during deer-hunting season, so it is best to check with the park before you head out by calling the park's recorded information line: (540) 999-3500, press 1, then press 1 again or checking on Facebook and Twitter. Just keep in mind that park services are only open from mid-March through late-November.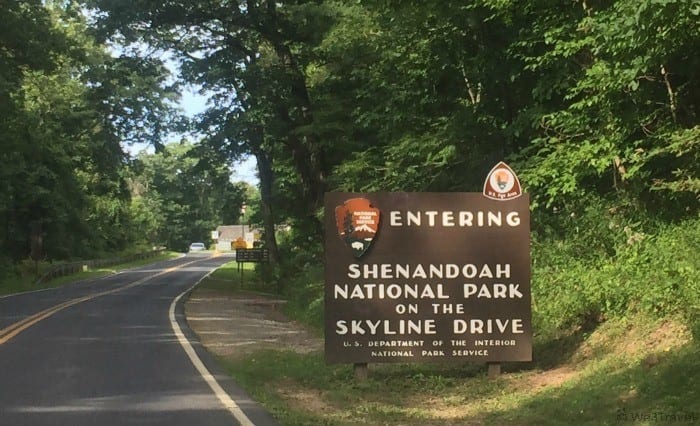 We entered the Skyline Drive at the southernmost entrance at Rockfish Gap. We were on our way from Charlottesville to Harrisonburg, VA and wanted to spend a little time in Shenandoah National Park along the way. Unfortunately, we didn't have time to drive the entire length, or do any hiking along the way, but our visit was still exciting…as you will soon see!
For those that do have more time to spend in and around the park, there is plenty to do including hiking, camping, picnicking, horseback riding, fishing, bird watching, backpacking, wildlife observation, and ranger programs. The Appalachian Trail goes right through Shenandoah for 101 miles, and the park offers over 500 miles of hiking trails from short, easy walks to long, rugged rock scrambles. From what I've read, some of these can be quite challenging so I'd definitely recommend a stop at one of the visitor's centers for more information before heading out.
There are also a few waterfalls in the park, including one just a short 1.4 miles roundtrip hike to Dark Hollow Falls near milepost 51.
You can definitely get scenic overlook fatigue if you stop at each and every one, but you just never know what you might find. Our most exciting moment in the park happened at a scenic overlook on the northbound side. We were standing near the car taking some pictures when I heard a loud rustling noise. I looked around and didn't see anything. But when I heard it again, I noticed a tree maybe a hundred feet down a slope from the overlook swaying wildly. I immediately thought — that's no bird! I scanned the area for danger and didn't see anything nearby so we stayed near the car to observe. Soon, a black head poked out of the tree and the face of a small black bear was clearly visible.
We couldn't believe we had a chance to see a bear in the wild — but also in a situation where we felt very safe, standing right next to our unlocked car. I got out my zoom lens for a better view and started snapping some pictures. Another car soon pulled up and they were going to just drive away when I gestured to them to point out the bear. We all observed quietly as the bear proceeded to break off the top branches of the tree to eat the leaves. At one point there was quite a crash and I thought the bear was going to fall right out of the tree but it caught itself. It was definitely the thrill of the trip to observe this bear in its element, but I have to say it made me think twice about the preparations I'd need before doing much hiking in the park.
Check out this bear encounter on the Cades Cove bike ride in Great Smoky Mountains National Park.
Click on the photos below to enlarge them:
PIN THIS FOR LATER
Tell us about your adventures driving the Skyline Drive in the comments below!