In my opinion, Vermont is the most picturesque of the New England states. I'm definitely biased by my many years of childhood memories exploring the Green Mountain state. But on every Vermont road trip you will pass by quaint covered bridges, roadside rivers rushing over rocks, classic red barns sitting next to fields dotted with black and white dairy cows, and small villages with church steeples standing tall over the town green.
Whether you are visiting Vermont on a romantic getaway, a girl's weekend, or a family vacation, there is a lot to see in this small state. Luckily, the state caters to tourists, offering roadside signs for attractions and Vermont Tourism makes it easy to find a fun way to explore, with maps of scenic byways and all sorts of maker trails from craft beer to artisan cheese. But what if you want a bit of everything?
I recently asked a friend to join me for a Vermont road trip over a long weekend. Since she is a teacher and has enough on her plate, she was happy to put the planning into my expert hands and let me surprise her with Vermont delights.
3-Day Vermont Road Trip Itinerary
I sat down with a wish list of scenic byways, covered bridges, waterfalls, local shops, Vermont cheese, maple syrup, and maybe some local craft beer or spirits. After poring over all the maps, blogs, and experiences from previous trips, I came up with the following three-day Vermont road trip itinerary.
Note: This post may contain affiliate links. If you click a link and make a purchase, I may receive a small commission. All opinions are my own.
Brattleboro
The first stop after our two-hour drive up from Rhode Island was in Brattleboro, Vermont. This hip and progressive, lesser-visited town in Southern Vermont has been heralded as one of the best small towns in America. If you want to extend this itinerary and spend a day in each destination, there is certainly plenty to do in Brattleboro from a circus class at the New England Center for Circus Arts, a romantic dinner in a train caboose at T.J. Buckley's, a chocolate charcuterie pairing at Tavernier Chocolate, or fruit and veggie picking at Wild Carrot Farm.
But for a short stay, downtown, you can do some shopping (stop at Sam's Outdoor Outfitters if you need any outdoor gear!), visit the Brattleboro Museum and Art Center (you can also join a gallery walk on the first Friday of every month in season), or grab some lunch at Yalla, featuring fresh, homemade, Middle Eastern food.
If you do plan to stay overnight, The Inn at Putney Road is a great option with a variety of rooms and suites, 15 miles of hiking trails nearby, and a multi-course breakfast in the morning. After exploring downtown, we stopped by the Grafton Village Cheese Shop just outside of town.
Pro tip: bring a cooler and some ice packs for all the cheese you are going to want to bring home!) This classic country store has a beautifully curated selection of Vermont-made products and an enormous cheese display. You can also find many Vermont craft beers for sale.
Molly Stark Byway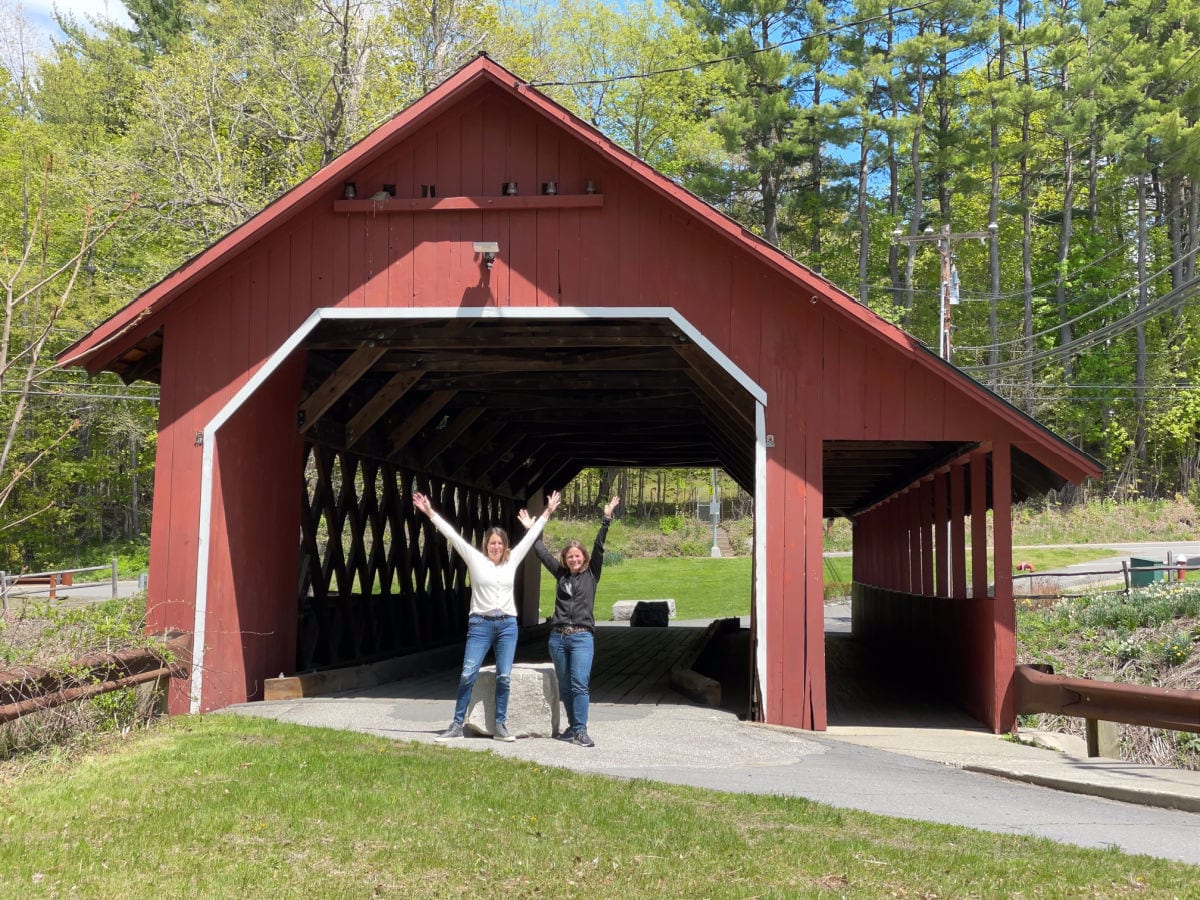 From Brattleboro, we headed west along the Molly Stark Byway towards Bennington. The byway is named after the wife of General John Stark, who led the Colonial militia to a victory at the Battle of Bennington on August 16, 1777. This byway links historic Bennington in the west to arts-oriented Brattleboro in the east and passes through Woodford, the highest village in Vermont, and sections of the Green Mountain National Forest.
The drive takes about an hour, without stops, but our plan was to enjoy the drive. Our first stop was just outside of Brattleboro at the Creamery Covered Bridge. This well-kept covered bridge is just off the road and has a nice parking lot and picnic area, making it an easy tourist destination.
If you enjoy handicrafts, make a stop at Vermont Bowl Company in Wilmington, about halfway through your drive. You can purchase beautifully crafted salad bowls, cutting boards, serving trays, and other products made from local wood.
Bennington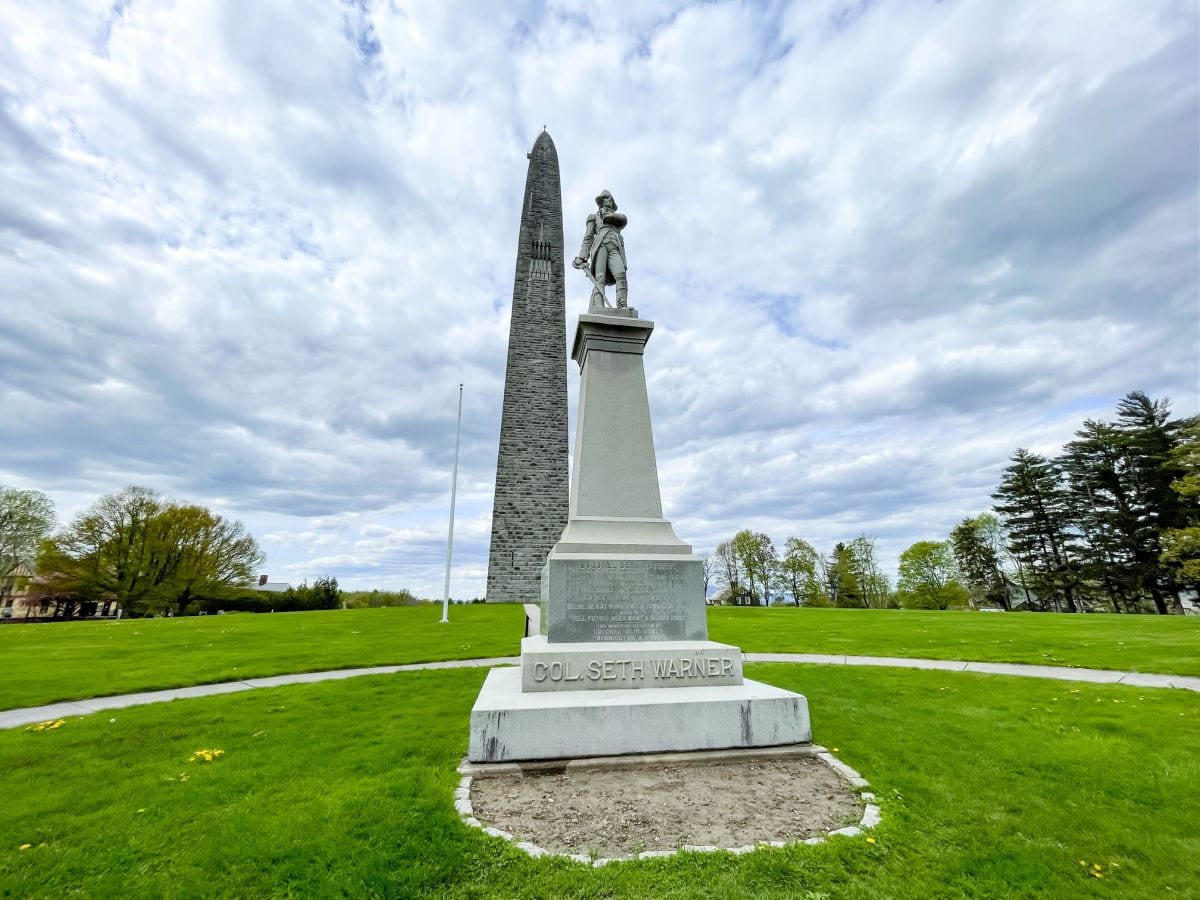 The next stop on our Vermont road trip was the historic town of Bennington, also home to Bennington College. Downtown Bennington is still recovering from the drop in tourism, but if open, be sure to check out the Bennington Bookshop, The Village Chocolate Shop, Vermont Confectionery, and Bennington Potters.
There are any number of places to grab a bite to eat in town, but we had a lively lunch and good local beer at Madison Brewing Company (tried the fried Brussels sprouts!)
History and literature fans may also want to see Robert Frost's grave at the Old First Church or stop into the Robert Frost Stone House Museum. Of course one of the main attractions is the Bennington Battle Monument. This 306-foot limestone obelisk was built to commemorate the Battle of Bennington, which occurred on August 16, 1777, and is considered to be the turning point in the Revolutionary War.
If you would like to spend the night in Bennington, The Four Chimneys Inn blends a traditional Vermont inn and a boutique hotel in a lovely location. If you spent a full day here, you would also have some time for nearby hiking, like the one-mile hike to Everett Cave (just bring a flashlight!) Then on your way out of town, you can stop at the Apple Barn & Country Bake Shop for some treats for the road.
Shires of Vermont Scenic Byway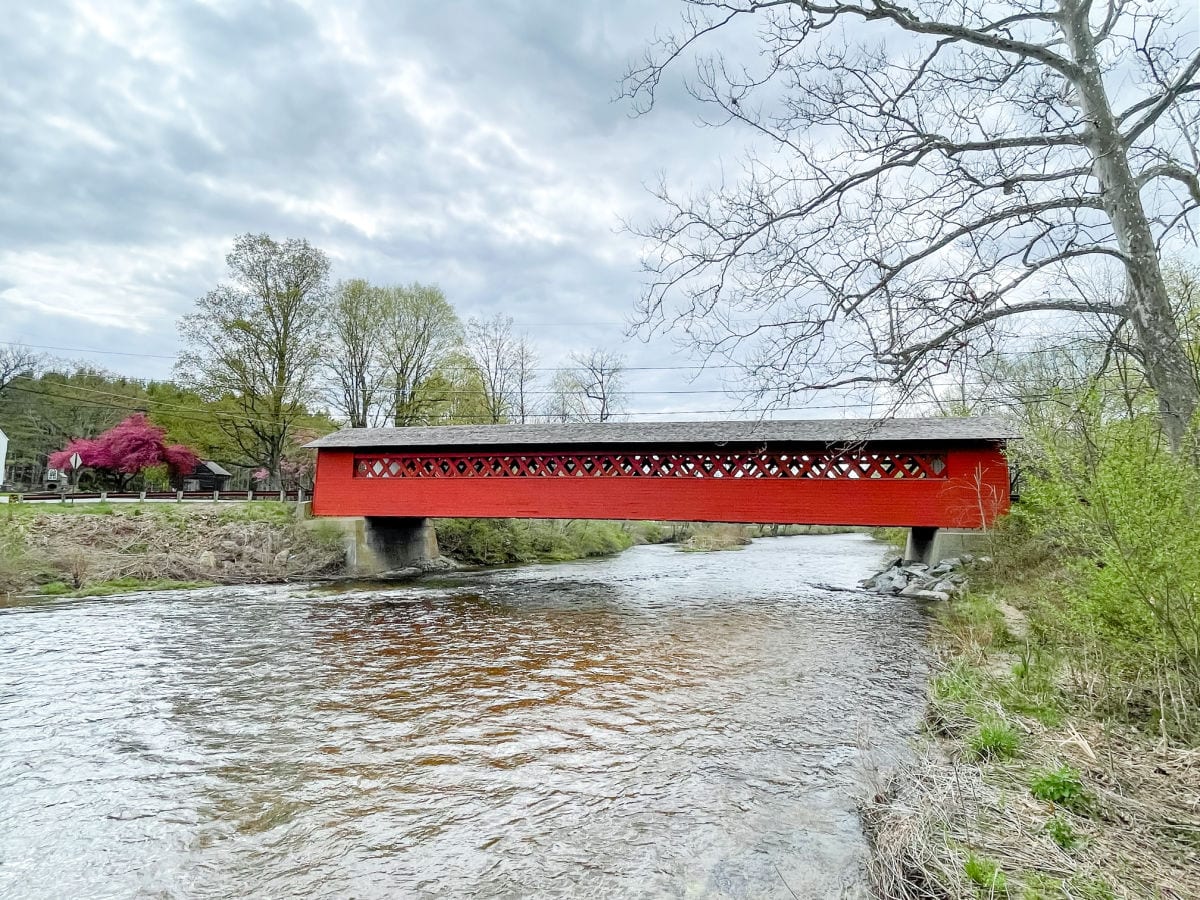 Continue your Vermont road trip by heading north on Historic Route 7A, or the Shires of Vermont Scenic Byway, towards Manchester. The drive only takes 30 minutes, but plan on at least an hour with various stops. If you like covered bridges, there are quite a few in this area worth checking out. However, keep in mind that cell service is very spotty so you may want to pre-save them in your GPS or Google Maps.
First up is the Silk Road Covered Bridge. Built in 1840, this lattice-truss bridge crosses the Walloomsac River between downtown Bennington, Vermont, and the village of North Bennington. The nearby Paper Mill Bridge, or Bennington Falls Covered Bridge, is similar but not quite as scenic since fencing from the nearby paper mill obstructs the photo opportunity. The Henry Bridge also has a similar design, but a town-constructed picnic area offers a nice side-angle view, which isn't always so readily available at other bridges.
Further up the byway, make a stop at the Chocolate Barn for handcrafted chocolate treats. Then if you aren't tired of bridges, you can go a little off the path to see Arlington Covered Bridge. But this one isn't as pretty as some of the others that are more easily accessible. We were planning to stop at Chiselville Covered Bridge as well but a GPS failure meant we had to skip it.
If it is open, your last stop before arriving in Manchester should be the Sugar Shack and Norman Rockwell exhibit (you will find Norman Rockwell is big around these parts.) If it is closed, don't worry, you will have plenty of other opportunities to purchase maple syrup products. And a quick pitstop at Mother Myrick's Confectionery in Manchester will satisfy your sweet tooth (famous for her butter crunch toffee!)
Manchester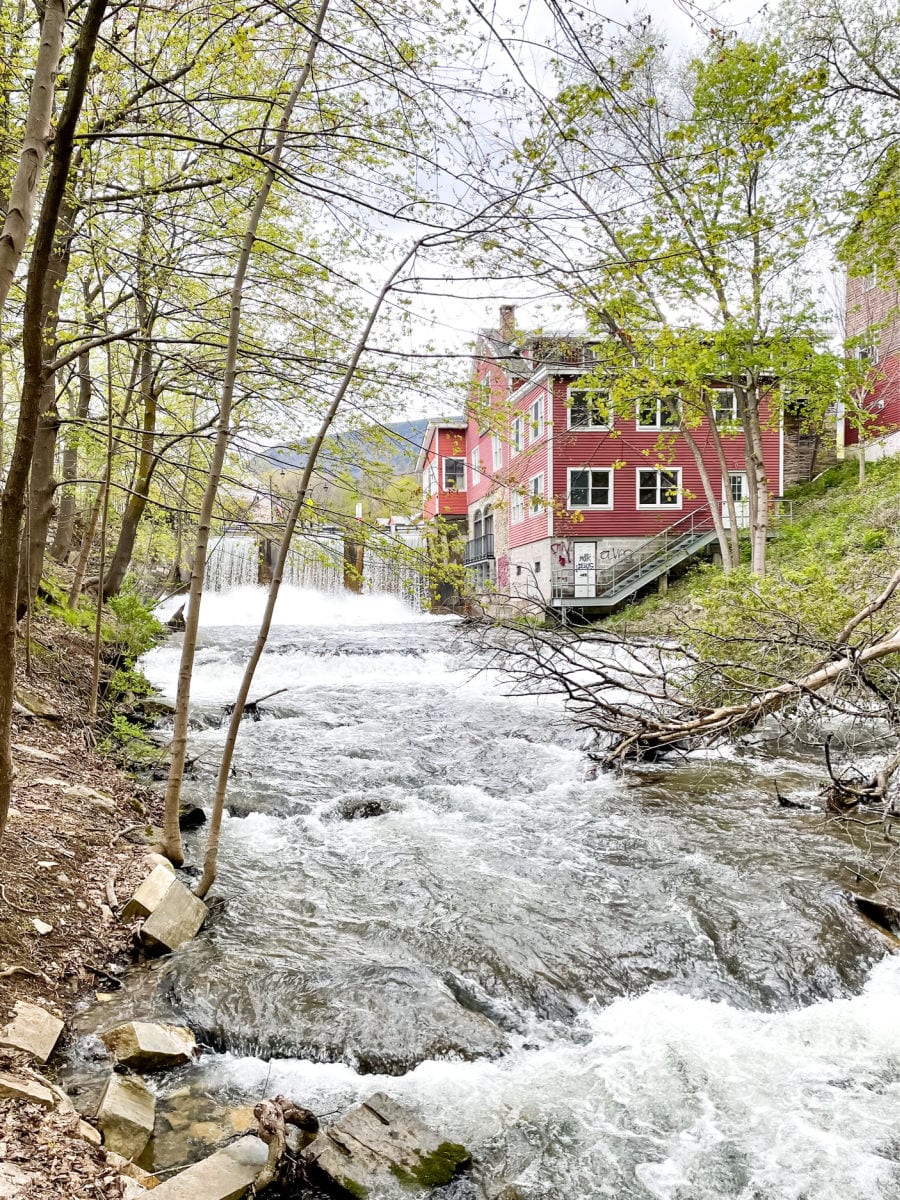 There are enough things to do in Manchester that you could easily spend your whole weekend here, but for our purposes, we focused on the highlights. Downtown Manchester is famous for its shopping. First, it is home to the flagship store for Orvis, the fly fishing and outdoor outfitters brand.
You will also find designer outlet shops clustered around Manchester. But my personal favorite is a visit to the independently-owned Northshire Books.
There are a wealth of accommodation options in and around Manchester, from the romantic Reluctant Panther to the luxe Equinox Resort & Spa, and the hip Kimpton Taconic. However, we were just two moms on a budget so the conveniently-located, fresh, and clean Hampton Inn & Suites Manchester worked out perfectly for us.
For dinner, if you are in the mood for an eclectic menu and fine dining, book a table at Silver Fork. Set inside an old library, this beautiful restaurant offers terrific service and delicious menu items that felt like such a nice change from family dinner around the kitchen table.
Lye Brook Falls, Manchester
The next morning, we enjoyed the free breakfast included at our hotel, but you could also easily walk to the Little Rooster Cafe in downtown Manchester for a home-cooked breakfast.
Just outside of Manchester, it is time to step into the woods and enjoy Vermont's natural attractions. A five-mile moderate out-and-back hike will bring you to the base of Lye Brook Falls, one of the tallest waterfalls in Vermont. Plan to wear your waterproof hiking boots and bring along a trekking pole or walking stick because you will need to cross a couple of small streams. If you can get there in the morning before moving on, the trail won't be crowded and you can have a little time to yourself to enjoy the falls.
Hildene, Manchester
One of Manchester's most famous attractions is Hildene, the former Lincoln family home. A self-guided tour of this historic home, built by Abraham Lincoln's son Robert as a summer home when he was President of the Pullman Company, only takes about an hour to explore both the home and some of the grounds. You can certainly take longer to enjoy the walking trails, have a picnic, or visit the Sunbeam Pullman car or Hildene goat dairy.
Scenic Route 100 Byway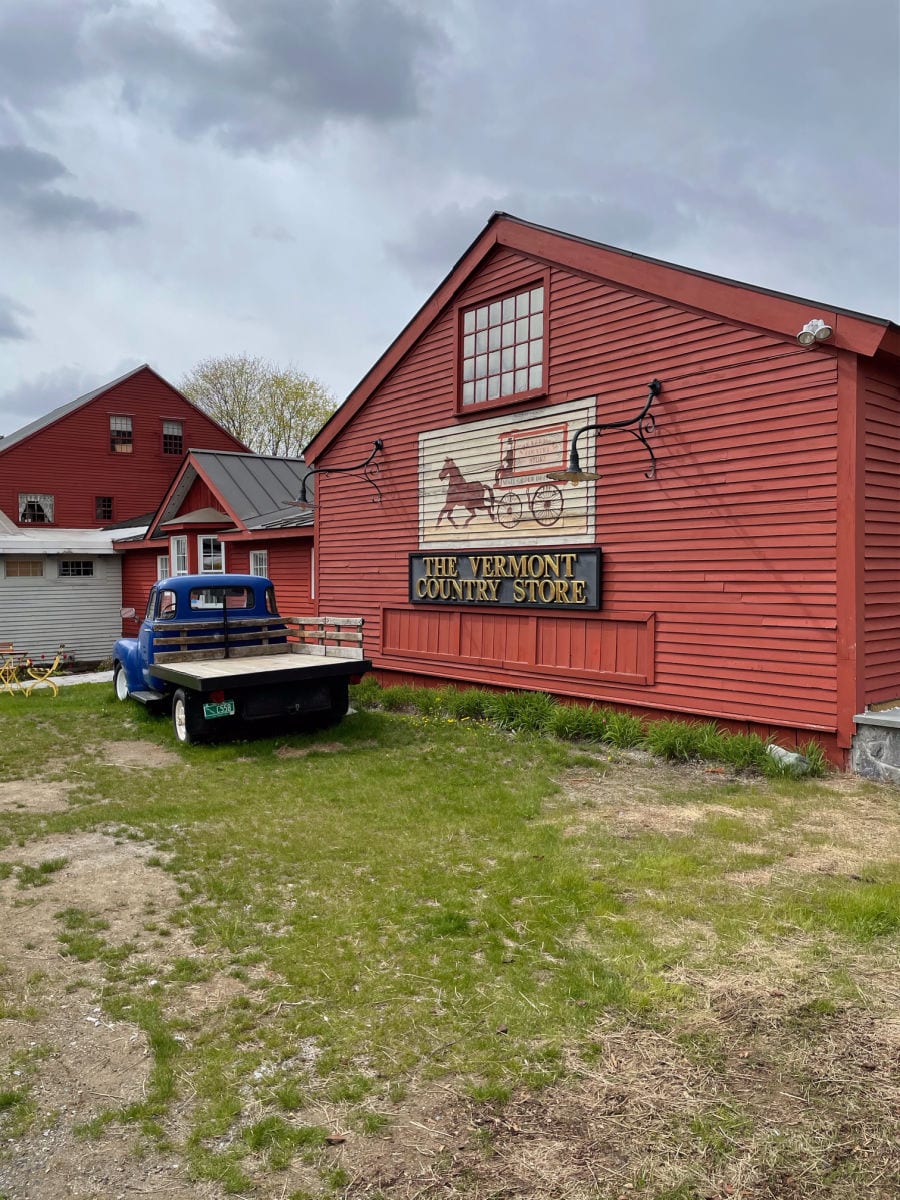 After touring Hildene, we turned our sights north, toward Killington and a scenic drive along Vermont's famous Route 100, past Bromley, Stratton Mountain, and Okemo. You could opt for lunch at Goodman's American Pie in Ludlow, or stop for burgers and lobster rolls at Honeypie in Jamaica, but we headed to Weston for a stop at the Vermont Country Store.
It is easy to lose yourself for an hour in this general store/gift shop turned tourist attraction, ducking into different sections for some of the best Vermont-made products from Darn Tough socks to their own syrup, cheeses, and cider. After poking around for a bit, you can stop at the cafe and enjoy a picnic lunch or a maple creemee (maple-flavored soft ice cream).
Our next stop on the Route 100 Scenic Byway was going to be Buttermilk Falls, in Ludlow, but we were running a little behind and I've been there before we so skipped it this time (no worries, we would see plenty of waterfalls the next day!) Instead, we headed to Green Mountain Sugar House instead to stock up on syrup and try one of their famous maple creemees. Set on a lake, it is also a great place to take your ice cream and sit in an Adirondack chair near the water to enjoy the view.
The next stop on my itinerary was Plymouth Artisan Cheese, in Plymouth, also the home to the historic site where President Calvin Coolidge was born and raised. Sadly we arrived just five minutes before the posted closing time and they were already gone for the day.
The Mountain Inn, Killington
We ended our day with a stay at The Mountain Inn, in Killington. This renovated inn is also home to a distillery, offering a trendy and fresh design and a fun atmosphere. Our mountain view room offered a small balcony and gorgeous vistas. It was perfect for the two of us, but for families, I would keep in mind that the rooms are small and the walls are thin. It wasn't busy when we were there so we loved our experience, but I imagine it would feel quite different in the winter season.
For dinner, I had booked a special pre-Mother's Day treat to enjoy dining in one of their two heated gondolas at the restaurant, Still on the Mountain (get it — still like the one used in the distillery? Fun play on words.) The food was great and the cocktail list was extensive (as you can imagine), but it was the atmosphere that we really loved.
Thundering Brook Falls, Killington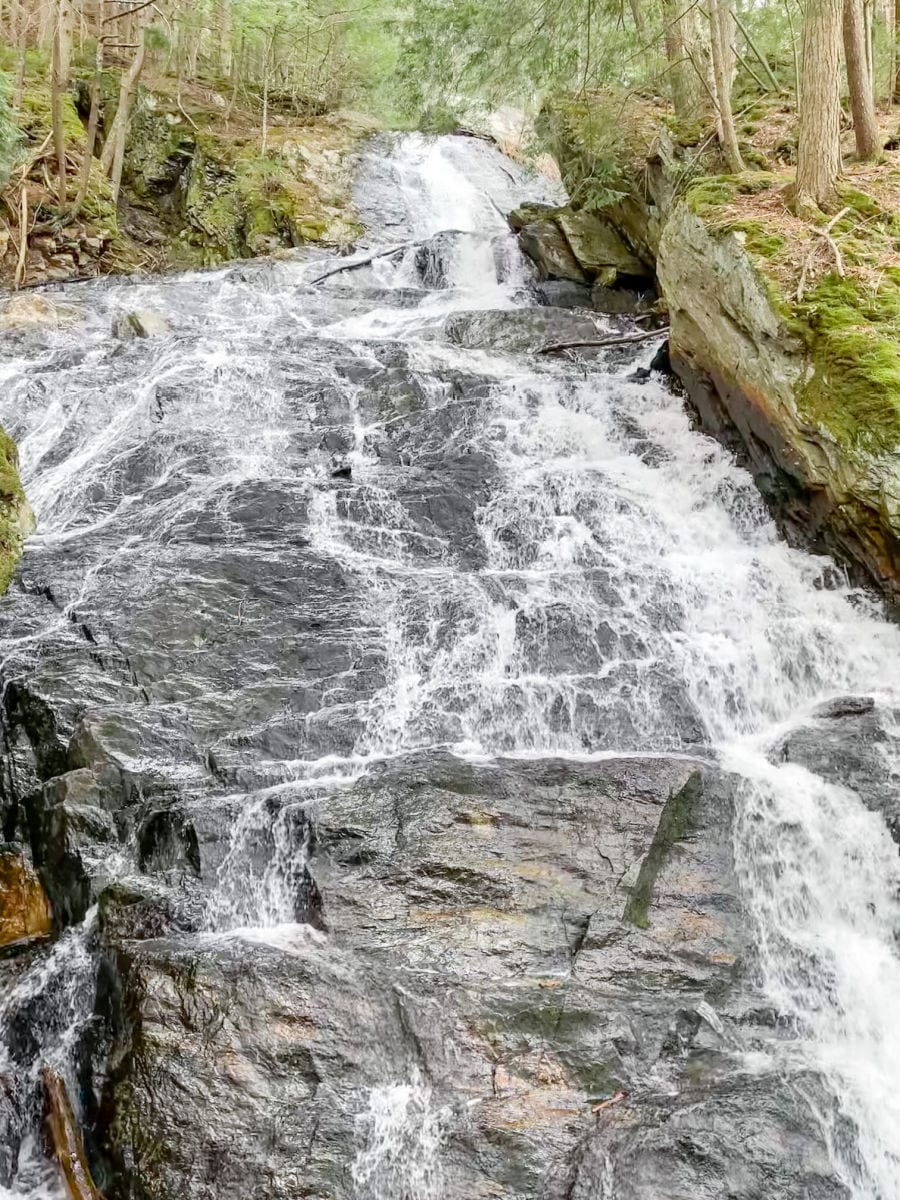 We started our third and final day on our Vermont road trip with the first of a number of waterfalls. Just a short drive from our hotel in Killington, Thundering Brook Falls is off the main road and more of a local gem. A short walk on a boardwalk through a marsh will bring you to the viewing platform at the base of the falls. You can also go off-path and climb up to see the upper falls — keep a close eye on children!
Texas Falls Recreation Area, Hancock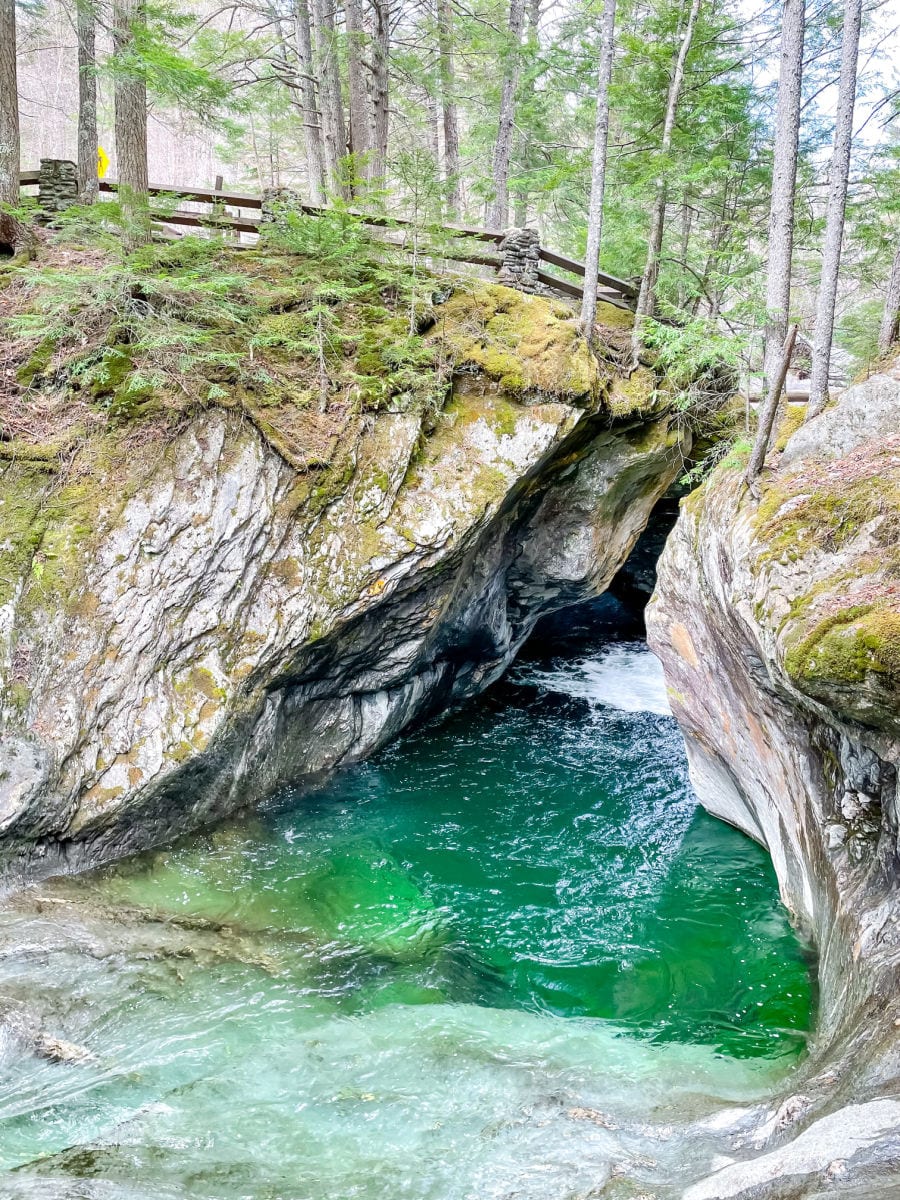 From Thundering Falls, we continued up Vermont Route 100 towards Granville, with a pitstop at the Texas Falls Recreation Area. This is well worth the short detour off Route 100, between there and the Lake Champlain Byway. This area features a one-mile nature hike through the woods, but you don't even need to do that to see the stunning waterfalls that have been carved through the rock over the generations. The best views are right at the beginning of the hike, just past the bridge that connects the trail to the parking lot. Depending on your day, there are also picnic grounds on-site and a toilet (not so easy to find on your drive!)
Moss Glen Falls, Granville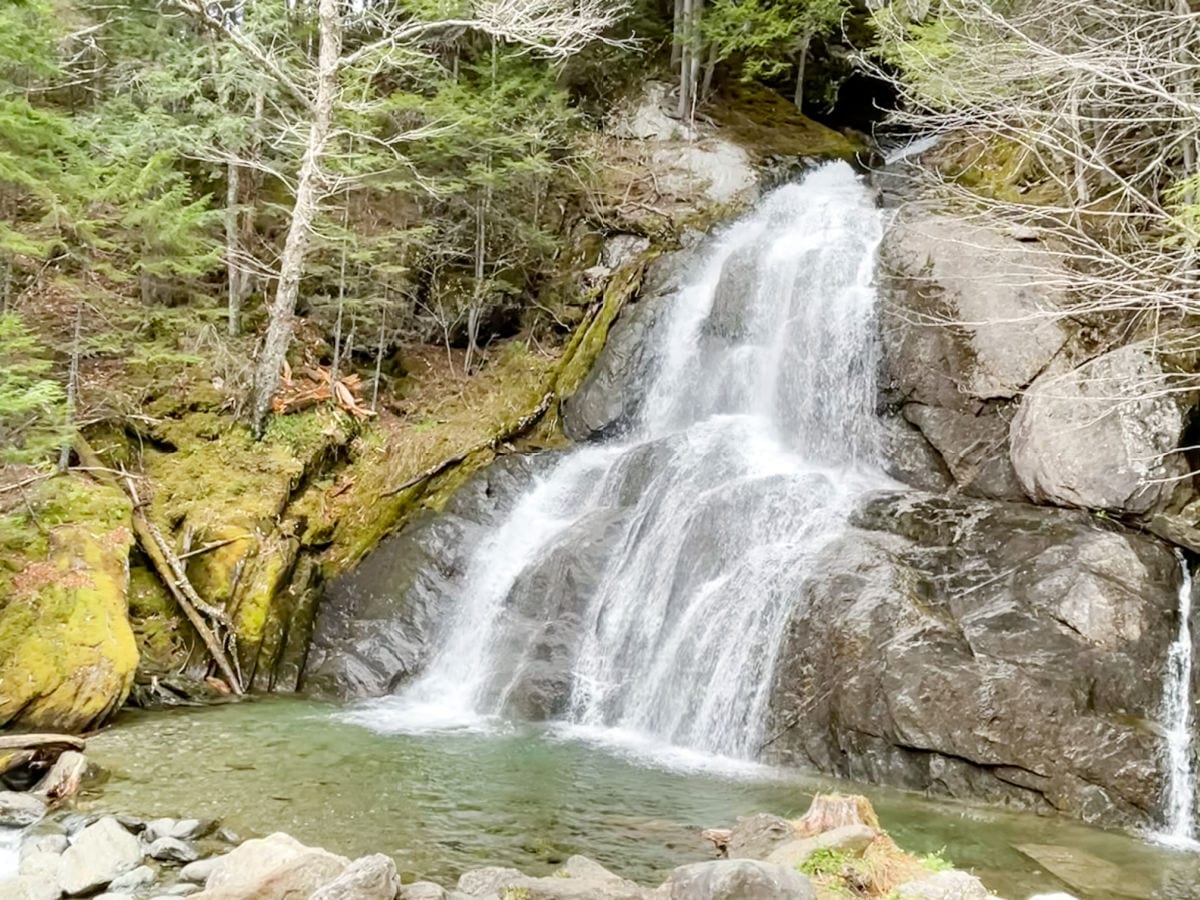 Head back to Scenic Route 100 and continue north towards Granville. Chances are you won't have any cell phone coverage, so keep an eye on the left for Moss Glen Falls. There is a small parking area and the falls are easily visible right from the road. There are hiking trails nearby but you can take a quick photo and continue on to other attractions.
Warren Falls, Warren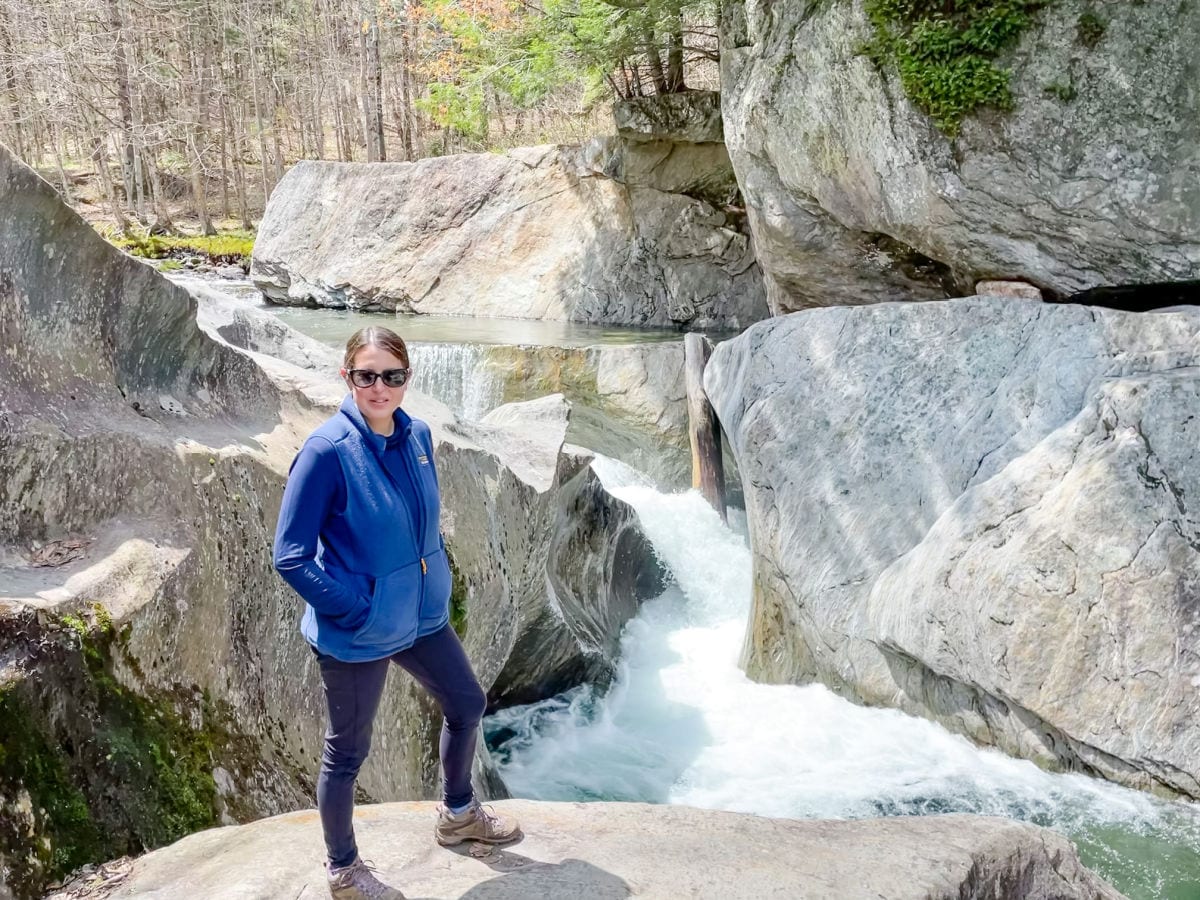 Even if you are getting tired of waterfalls, you shouldn't skip stopping at Warren Falls. The parking lot can get a little crowded on a busy day because this is a popular spot for families, picnickers, and hikers. But a short walk towards the cascades will bring you to a beautiful view of the water rushing through rocks. Stake out a spot on the rocks and sit and enjoy a picnic or just take in the view.
Waitsfield
The cute, artsy town of Waitsfield, near Mad River Glen Ski Area, is the beginning of the Mad River Scenic Byway. This is a great spot to stop for lunch, or even stay the night if you have more time for your Vermont road trip itinerary. You will find art galleries as well as pottery and glass artisans. Waitsfield is also home to Mad River Distillers and a few craft breweries. You can grab lunch at the Three Mountain Cafe or Mad Taco, or treat yourself to a maple ice cream cone at Canteen Creemee. If you did want to stay the night, The Inn at Round Barn Farm is a great choice.
Waterbury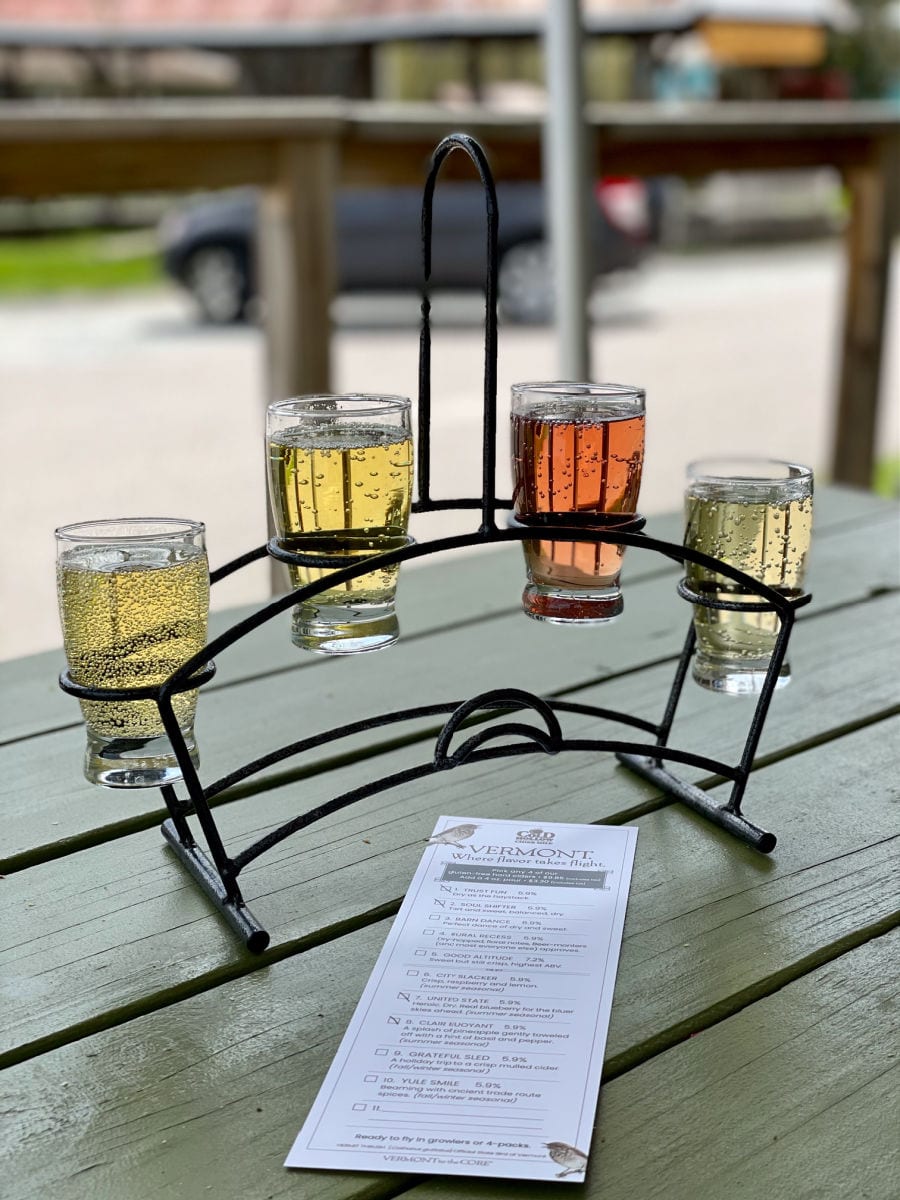 If you don't stop in Waitsfield, the larger town of Waterbury offers plenty of options for lunch or dinner, including Prohibition Pig or Hen of the Wood. On our trip, some of these weren't open for lunch so instead, we opted for a late brunch at Maxi's, a local favorite for breakfast and brunch.
Of course, the reason many people stop in Waterbury is the Ben & Jerry's Factory ice cream store just outside of town. We had both visited before and didn't want to stop for a tour or ice cream, but if you haven't been — even a quick stop for a stroll through the flavor graveyard is fun for B&J's fans.
If you head a little further north toward the Stowe area, it is well worth a stop at the Cold Hollow Cider Mill, one of my favorite things to do in Vermont. We first stopped here after going to Smugglers' Notch a few years ago and I fell in love with their apple cider donuts. My recommendation is to stop in at the hard cider tasting room first and try a flight (they may give you a coupon for 6 free donuts next door!) There is also a cafe serving up tasty sandwiches and salads. Next, head over to the main store and stock up on cider, donuts, pies, and other Vermont specialties to bring home to enjoy!
Morse Farm Sugarworks, Montpelier
By this time, we needed to start turning south to make our way home at the end of a wonderful long weekend. But before we hit the highway, we had one more stop just outside the state capital of Montpelier at the Morse Farm Sugarworks. At this maple producer and country store, you can sample all their flavors of maple syrup — from light and delicate to dark and robust. We also found the pricing here lower than in other places, so if you want to stock up on syrup, this is the place! You can also purchase maple sugar products and, of course, enjoy a maple creemee — some swear it is the best around!
Quechee Gorge, Hartford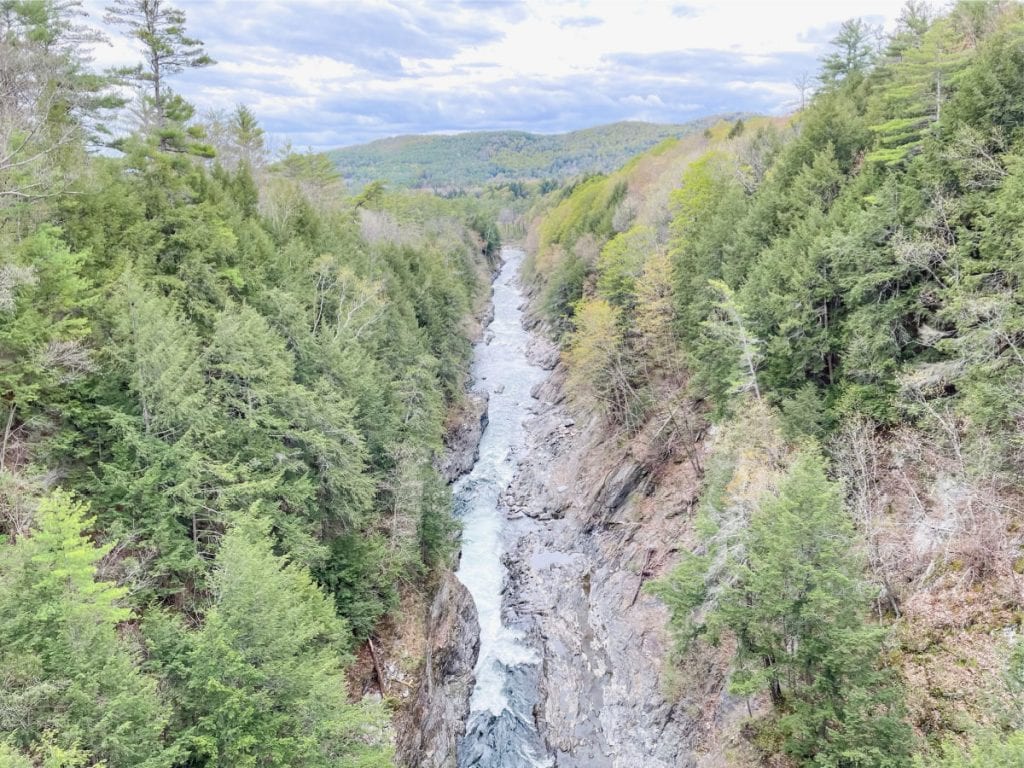 If you are looking for one final stop on your VT road trip, Quechee Gorge is located just a couple of minutes off Interstate 89 and 91. This "Vermont's Little Grand Canyon" is visible from the bridge on Route 4. Just park at the Visitor Center and walk over, or you can spend time learning about the geology and history of the area and take a hike on the trail along the river.
If you have a little more time to spend, I would recommend visiting the Simon Pearce glassware store and restaurant nearby and spending the night in the charming village of Woodstock at the Woodstock Inn.
Of course, there are so many scenic drives and cute towns to explore on a Vermont road trip that you can't fit everything into one weekend. If you are looking for more ideas, check out one of these New England road trips, which are great for fall foliage drives. I hope you fall in love with the Green Mountains of Vermont and keep going back just the way I have!
Visiting Vermont? You may be interested in…
Save this to Pinterest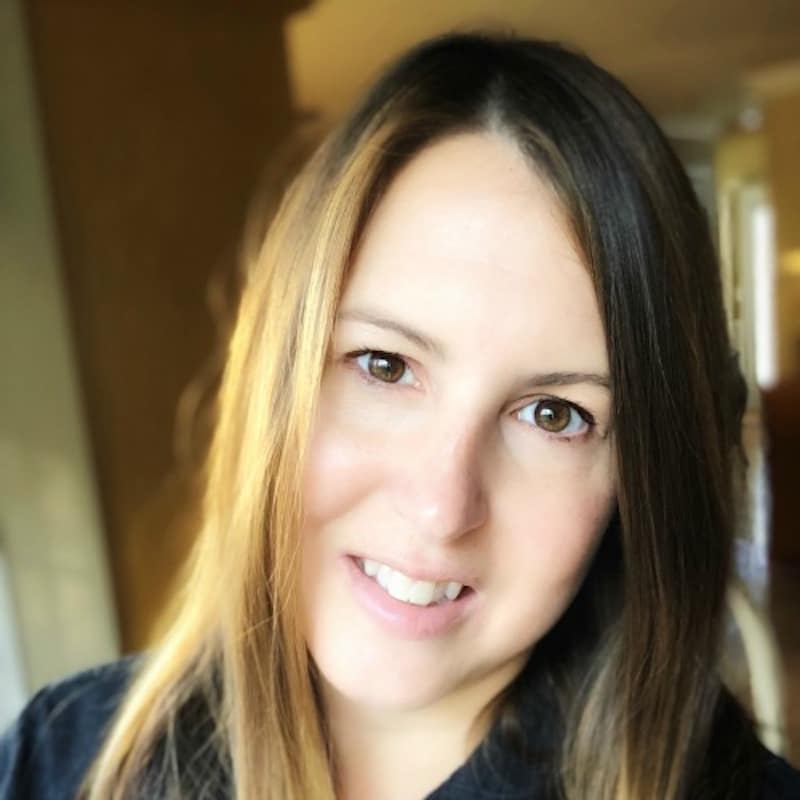 Tamara Gruber is the Founder and Publisher of We3Travel. A former marketing executive and travel advisor, Tamara is an award-winning travel writer and recognized expert in family travel. She is also the publisher of YourTimetoFly and the co-host of the Vacation Mavens travel podcast.