It can be worrisome to plan a ski vacation. Blizzards can keep you home (or prevent you from getting home.) Freezing temperatures might keep you inside. Warm temperatures can result in a lack of snow or poor skiing conditions. And cold and flu season can put a damper on your plans. That is what happened to us last weekend up in Vermont.
Since we aren't big skiers, we tend to only plan one or two ski weekends a year, and we were really looking forward to trying somewhere new this year. I'd heard so much about all the things to do at Smugglers' Notch and how it was named the #1 Kid-friendly Resort in the East by Ski Magazine. I really wanted to give it a try and push ourselves out of our comfort zones by trying a new mountain. But a few days before our trip, Hannah started getting a cold and cough and feeling really run down. She stayed home from school on Friday and I took her to the doctor, who said her ears and lungs were good and if she felt up to it, she was cleared to ski. So we headed up to Vermont, figuring her normally strong immune system and love for skiing would kick in and she would be ready to hit the slopes in the morning.
But then our expected five hour drive ended up taking eight, due to traffic and various stops along the way. By the time we checked into our condo it was close to midnight. We barely had time to marvel at the size and luxuriousness of our accommodations and choose which of the six beds she wanted to sleep in before I shepherded her off to bed…knowing that our plans were going to have to change.
We made the decision that there was no way we could all be up and ready at the rental shop by 8am to get outfitted and get Hannah to ski school by 9am. So we decided to cancel ski school, sleep in, and hit the slopes a little later.
The tough thing about last minute changes when it comes to ski vacations is that everything is usually booked in advance. You usually need to book ski school in advance to secure a spot. You may even buy lift tickets in advance to take advantage of online pricing through Liftopia or the resort website. And, of course, most ski resort accommodations have stringent cancellation policies. Unless you purchase trip insurance, booking a trip can feel risky. Which brings me to the first reason why Smugglers' Notch is the place to be, even if you can't ski on your ski vacation.
Reason #1: Free Travel Protection Plan
We were fortunate to be hosted by Smugglers' Notch and so canceling didn't mean we were losing money. However, for those booking a Club Smugglers' Vacation Package, they include a free travel protection plan. A 50% deposit is required when you make your reservation, which will be refunded on cancellations received 7 days or more prior to your scheduled arrival. So that may cover changes in plans or blizzard predictions, but what about illness? At least at Smuggs (as they are affectionally called), other cancellation deposits are applied to a future reservation within the next 2 years. You can still look into your own "cancel for any reason" trip insurance, but at least this gives you some protection.
Reason #2: Luxurious Accommodations
Someone getting sick on a family vacation is sort of a like a rite of passage, eventually it will happen to everyone. We've had to call doctors in Jamaica, Costa Rica and Mexico for everything from stomach issues to ear infections. Being sick in a hotel room can really stink. But being sick at Smugglers' Notch? Just as good as home if not better.
The on-property accommodations at Smugglers' Notch are a variety of Wyndham timeshare properties and vacation rentals in various condo communities, ranging from studios to four-bedroom condos. We were staying in a three-bedroom apartment in the Eagles building in the North Hill Community. While at first it seems confusing and overwhelming to find your way through these various communities, once you get there it is simple. Just leave your car there and call the free shuttle to pick you up and take you wherever you want to go. As long as you call (program in the number or dial 7000 from any house phone), they are usually there within 3-5 minutes.
The North Hill Community is one of the "premium" communities, and one of the newest, so I can't speak for all the accommodations at Smugglers' Notch but wow…seriously…wow! Most of the ski condos we have rented have your typical assortment of mismatched furniture and old skis hanging on the wall, lumpy mattresses and rough linens. Even the ski resort hotels are usually pretty simple. We've never cared because it is mostly a place to sleep, eat and pass out at the end of a long day. I'm SO GLAD this was not the case at Smugglers' Notch, because we ended up spending more time in the condo than on the slopes.
To start off, there is just the right amount of parking in front of each building, so no long schlep from the car to the condo with all your gear. The provided ski locker is on the ground floor, opens with your condo keycard, and can easily store six sets of skis. Our condo was on the top floor, but since ground level is technically the second floor, we only had to climb one wide, carpeted staircase and proceed down the hall to our unit. When we walked in, there was a nice bench and rows of coat hooks, giving us plenty of space to get our boots on and off.
We then proceeded down the hall into the huge kitchen, dining and living area, stunned by the sheer size and comfort level. The full kitchen featured stainless steel appliances, granite counter tops, and a full complement of new pots, pans, utensils and even matching sets of plates and glasses. You could either sit at a stool along the kitchen counter, or relax for a family meal at the dining table for eight.
The spacious living room had plenty of seating, a large flat-screen TV, and an easily-operated gas fireplace (just set it for 30, 60 or 120 minutes.) Between the carpeted floors and fireplaces, it didn't matter that I had forgotten my slippers at home.
Just off the family room was a four-season sunroom with more seating, a game table, and beautiful views of the mountains. The master bedroom off the kitchen featured another gas fireplace (yay!), a king-size bed and an enormous bathroom. I may have squealed with excitement over the two-person whirlpool and steam shower. My only disappointment was, after much anticipation, finding out that our steam shower wasn't working…or at least, not the steam part of it.
The condo also had another full bathroom, a queen bedroom and a kids' room with four twin beds. Altogether, the condo took up over 2,000 square feet! We didn't get a chance to use it, but right within our community, just a few steps from the Eagles building, was an indoor aquatic and exercise center including a lap pool, two hot tubs, and a children's splash playground. I wouldn't hesitate for a second to recommend staying here and it was the perfect environment to curl up on the couch under a blanket, put on the fire and watch the Winter X Games. I was able to make Hannah tea and oatmeal in the kitchen to keep her comfortable. I usually don't like to cook on vacation, but I regretted not bringing up more food to make dinner so she could stay comfy, so we brought something in from the Morse Mountain Grille instead.
Reason #3: Activities, Activities, Activities
When we woke in the morning, Hannah was feeling up to skiing for a bit so we headed over to the Village rental shop to pick up our skis. Unlike the all-in-one lodge set up found on many mountains, the Village is a series of buildings housing the Morse Mountain Grille, the Welcome Center for check-in, a small lodge with limited seating and food options (including a big Ben & Jerry's), a small ski shop, and a rental center. Since it was already after 10am, there was very little wait at the rental shop and soon we were geared up and ready to go. We knew we were going to start at the smaller Morse Mountain near the Village, the only mountain of the three to offer green beginner trails, so we headed past the learning area and magic carpet lifts to the Mogul Mouse lift for our first run.
On the way up, I could tell we were in trouble. Hannah was leaning her head on the lift and closing her eyes, feeling really nauseous. I suspected she was a bit overheated so I unzipped her a bit and shouted down to Glenn on the lift behind us to get off at the midway station halfway up the mountain. After cooling off for a few minutes, we made our way down the very gentle and easy Magic Learning Trail and cut over to the Village Lift so we could have a few more trail choices. On the way up, Hannah decided she wanted to get off midway again, but since the Village Lift is a little faster, getting off was a little trickier. Unlike the top of the mountain, where the lift usually gives you a nice little push down the slope, at the midway point there is a very short window for getting off and the ground is flat versus sloped. By hesitating a second to make sure she was off the lift, I found myself being carried up and quickly jumped off (dumb, I know, blame mother's instinct.) We were all fine though and ready to head down — just something to be aware of for beginners getting off at the midway point. Lower Morse Liftline was also a very easy and gentle trail, and I was hoping to get to try out a few more challenging trails, but it was not to be.
Hannah wasn't looking so good so I suggested a drink and some food. Just waiting in the food line at the lodge, I was worried she was about to pass out by the way she was swaying on her feet. I grabbed her, and our gear, while Glenn stayed behind to get us some food, and took her back to the condo. That was it, she was done.
But at Smugglers' Notch, just because one person can't ski, doesn't mean the trip is ruined. There are what seems like endless activities for families. In fact, they'll even send you a resort activities booklet and a DVD in advance so you can plan your stay.
In addition to daycare for kids from six months to age three, they also offer babysitting and teen programs. Plus there are things the whole family can enjoy such as:
FunZone indoor family entertainment center
Outdoor ice skating
Pools and hot tubs
Snow tubing
Ziplining and the ArborTrek treetop obstacle course (year round!)
A spa (with services for kids as young as four!)
Kid's night out programs
Skiing and snowboarding lessons and camps
Snowshoeing
Cross-country skiing
Hot chocolate around a bonfire
Broomball on the ice
Sock puppets
Snowmobiling
Mini snowmobiles
Ping-pong tourneys
Scavenger hunts
Airboarding
Snowman painting
Pirate dinners
Bingo
Cat Trax tours
Arts & crafts
I-DID-A-Sled make your own sled competition
Storytime
and even off-site dog sledding or ice fishing
That is a serious list. It is no wonder Smuggs is known as a family resort! Check out this post from Jessica at 30SomethingMotherRunner to see how her young kids loved the FunZone and Aquatic Center. You can also enjoy the nearby Stowe Recreation Path.
We were jazzed to take Hannah on her first snowmobile ride on Saturday afternoon. Unfortunately, we waited in the wrong spot and missed our tour. By the time the next tour came around, it was darker, colder, and Hannah looked like she was about to pass out again — so back to our comfy condo we went. Another time! And when we do, we'll be sure to find the Snowmobiling trailer near the First-timers area and check in at least 15 minutes early.
At least the next day we were all able to try out snowshoeing for the first time, but more on that soon.
Reason #4: Location
When I've talked to people about Smugglers' Notch, one common refrain is "it's up there" — meaning pretty far north in Vermont. And it is. But even still, it should be less than five hours from parts of Connecticut, Rhode Island and the Boston-area. But unlike Sunday River in Maine, where we have skied many times, there is a lot to do nearby. There is a small town in Jeffersonville, just outside of the resort, where you can go for lunch, dinner or your morning bagel. And just 30 minutes away down Rt 100 is the quaint town of Stowe, Vermont. Stowe is a scenic ski town with shops and restaurants, including The Bench, featuring wood-fired foods and craft beer. We stopped here for lunch on our way home and LOVED it. Everything on the menu sounded so delicious we had a hard time deciding but ultimately tried the poutine (amazing!), sliders, asparagus wrapped in prosciutto and mushroom pizza (which we took home.)
A bit further down and very close to Interstate 89, are very kid-friendly stops at the Cold Hollow Cider Mill for apple cider and freshly made apple-cider donuts, Ben & Jerry's Factory, Cabot Creamery store and even a Lake Champlain Chocolates store. You will not go home hungry!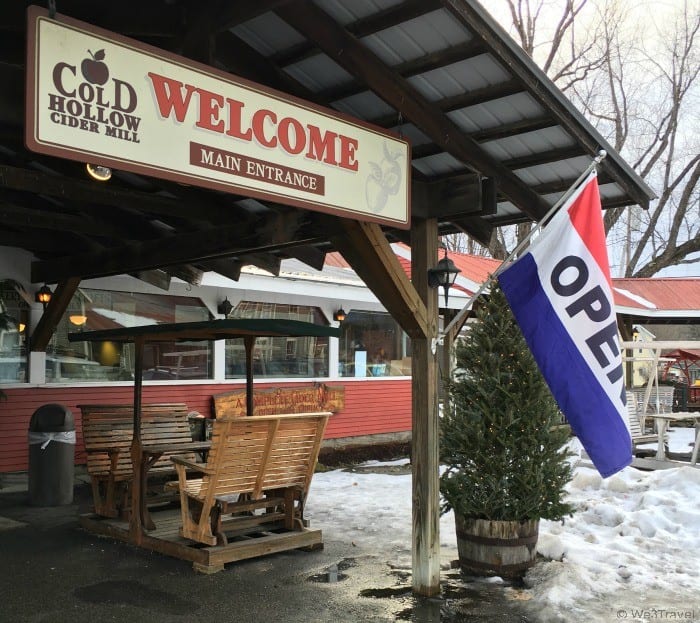 We loved our time at Smugglers' Notch, despite the illness, and can't wait to go back again. One HUGE lesson we learned is that a weekend is not nearly enough time to take advantage of what the resort has to offer. Even if you can't take a week, book at least a long weekend — you won't regret it!
PIN THIS FOR LATER
Note: Our stay, activities, lift tickets and rentals were hosted but Smugglers' Notch. As always, my writing and opinion is 100% my own based on our personal experience at the resort.
SaveSave