When you are looking for luxury hotels in Iceland, there are a few things you need to keep in mind. First, Iceland initially appealed to the backpacker and budget traveler. So you will find hostels, guesthouses, and plenty of camping spots. There aren't really any 5 star hotels in Iceland. Typically furnishings are very clean and simple. Even the best Iceland hotels have a modern, Nordic design style. The next thing to keep in mind is that while they are building 16 new hotels in Iceland, there is still more demand than supply. Luxury Iceland hotels and Iceland boutique hotels book up very early — so you need to plan 9-12 months in advance.
I was invited to stay at Hotel Ranga this winter, one of the finest Iceland hotels on the South coast and certainly one of the best Northern Lights hotels in Iceland. Unfortunately, the Northern Lights never made an appearance during that trip, but it was still a fantastic visit and Hotel Ranga made a great home base for exploring South Iceland.
Hotel Ranga: South Iceland Luxury Hotel
Hotel Ranga is located right off of the Ring Road, about one hour and 15 minutes from Reykjavik and two hours from Keflavik airport. Once you are there, it is only 20 minutes to Seljalandsfoss, one of the most popular waterfalls in South Iceland. And, it is just one hour to the black sand beaches and sea stacks in Vík. You should plan on staying at least three nights, so you can take advantage of some of the area's fun activities like glacier hiking, snowmobiling or ATV riding, hiking, horse back riding, or taking a super jeep tour into Thorsmark Valley. Of course, you need to spend at least one day just taking in the waterfalls and amazing scenery (or looking for puffins if you are there in the summer.) If you are there in the winter, hopefully that will also give you a good chance of seeing the Aurora Borealis.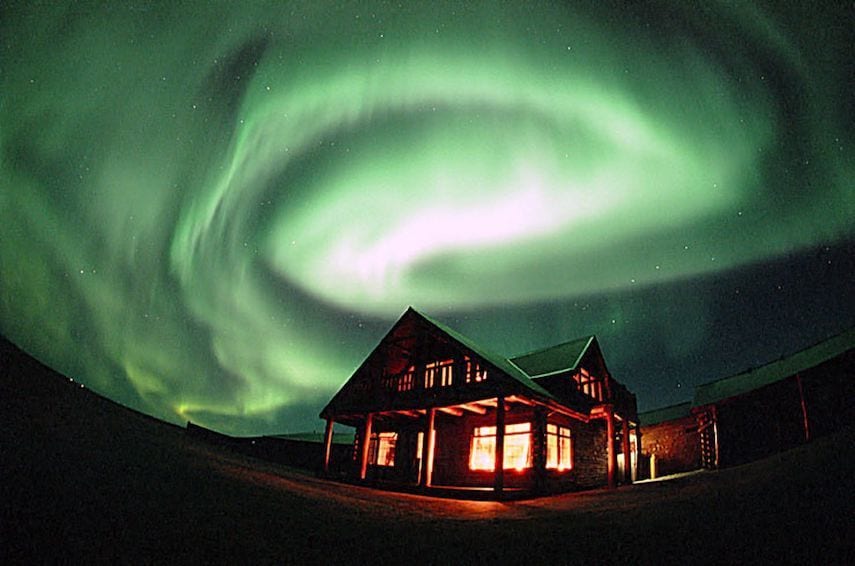 North Lights Hotel in Iceland
The reason that Hotel Ranga is such a perfect Northern Lights hotel is that they have their very own observatory on property. On clear nights, they invite a local astronomer to come in to educate visitors on the night skies. Being so far from any light pollution from nearby towns, the dark night skies make for amazing star gazing. The observatory is located 150 meters from the main building and the hotel even provides warm snow suits for heading out on cold nights. The roof rolls back so guests can use their two astronomical telescope, both an 11-inch Celestron Schmidt-Cassegrain and a TEC 160ED APO refractor on a Astro-Physics 900 mount. They also have an 18 inch reflector, the biggest telescope in Iceland. From there you can see Jupiter, Saturn, and Mars.
Plus, hopefully you will get to see the Northern Lights if you are there in prime season of November through March. You can also take a Northern Lights sightseeing tour, if you want to "chase the lights" but I preferred hanging out in the comfortable lounge and going to bed knowing that I'd get a wake up call if the Aurora made an appearance. There is a handy sign up list at the front desk and all you need to do is check off if you would like a Northern Lights wake up call. If you want to check the forecast for Northern Lights predictions, visit the Icelandic Met office website. We thought we were going to see the Lights when we were there but then the clouds started rolling in around 11pm, just when it was predicted to start the show. Bummer but it just encourages us to go back again (just read my tips about visiting Iceland in winter if you are going to see the Northern Lights.)
Eclectic, Lodge-like Accommodations at Hotel Ranga
While Hotel Ranga is an Iceland luxury hotel, it has a lodge-like feel with log walls and shiny hardwood hallways. It is set up in a typical Icelandic-hotel design, with one or two-story wings extending from the central reception area. The hallways are long and narrow, leading to 51 standard and deluxe rooms and themed suites. We stayed in a Deluxe room, with a king bed and a pull out sofa.
The room itself was pretty simple. The luxury comes into play more with the restaurant and some of the amenities. The bed was comfortable and I love the individual duvets for keeping warm — I think I need to try this at home! Our room had a door to the outside so you could make a quick exit if you got the call that the Northern Lights were on display.
The bathroom was surprisingly large and I love using the geothermal heat of Iceland to have amenities like towel warming racks. There was a large indoor Jacuzzi bathtub, which also functioned as the shower, but without a door or curtain so if you weren't careful the bathroom could get pretty wet. After busy days out in the cold, I enjoyed a warm shower and getting cozy in the provided robe and slippers to relax for a while before dinner.
If you want a splurge, each of the suites has a theme with personally curated effects from various countries. It is definitely eclectic and surprising to walk into an African-themed room in Iceland, but these little quirks keep the hotel interesting.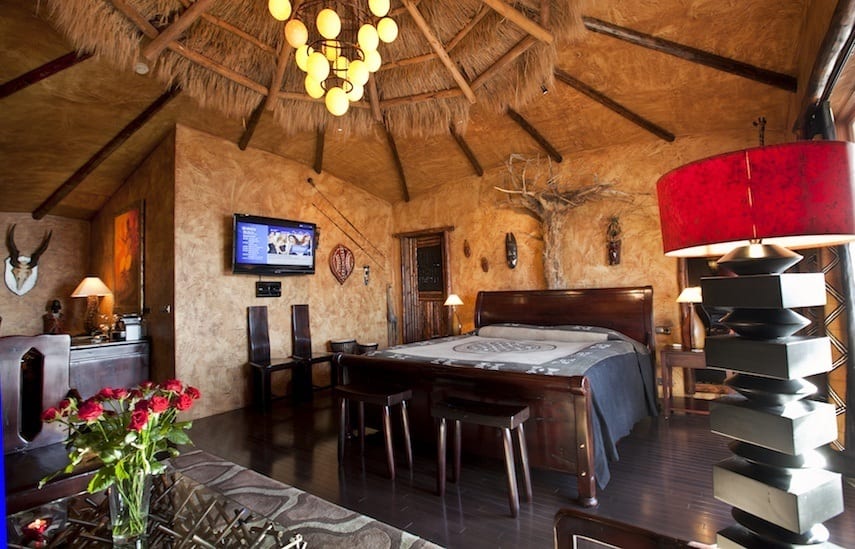 Fine Dining at Hotel Ranga
Your day at Hotel Ranga starts with a breakfast buffet in the main dining room. We were happy to fill up before our busy days exploring outside. It was a typical European/American buffet with scrambled eggs, bacon or sausage, potatoes, and make-your-own waffles. There was also fruit, meats, cheeses, hard boiled eggs, pastries, toast, and cereal.
While breakfast was fairly standard hotel fare, dinner was truly a fine dining experience. In addition to the main dining room, Hotel Ranga has a small bar, lounge and two meeting rooms upstairs. Since we were there as guests and part of a group of travel agents, writers and photographers, we enjoyed some special dinners in the private dining rooms upstairs. The restaurant has a "Farmer's Market" theme, focusing on local, fresh ingredients. For proteins, this means plenty of fish and lamb, but also some more adventurous options like reindeer carpaccio. I'm always impressed by the array of fresh vegetables and fruits available in Iceland, thanks to their ingenious use of geothermally-heated greenhouses.
The chef and staff are extremely conscientious about food allergies and restrictions. They do also offer a children's menu, so you don't need to worry too much if you don't have adventurous eaters. The Children's menu offers standard fish and chips, chicken, hamburgers and pasta. Of course, if you are adventurous, you can probably request a sample of fermented shark fin…they say the smell is worse than the taste.
We also had a blast hanging out in the downstairs and upstairs lounge, and the well-stocked bar had a great selection of spirits, wines and local beers — including my new favorite Einstok, which I surprisingly discovered in Amelia Island, Florida! What do you think of these funky bar stools? (Those are not my legs!) I was excited to hear that they have a plan to add an indoor fireplace, as well as some comfy outdoor seating and heat lamps by the outdoor hot tubs.
Hotel Ranga Amenities
Iceland isn't really a place that you visit just to hang out at the hotel, but after a busy day exploring, it is nice to have some creature comforts. Hotel Ranga's three outdoor hot tubs offer relief for aching muscles — although you need to be a little brave to make the dash from the hotel to the relative warmth of the tub. Good thing for those robes!
If you prefer to stay inside, there are a few gathering places indoors as well. Each wing has a day room, one of which is outfitted with a full size pool table and a number of board games to borrow.
[plan-trip]
Hotel Ranga is the perfect home base for exploring South Iceland and from the local food to the rustic lodge decor, you will have a memorable Icelandic experience.
[/plan-trip]
PIN THIS FOR LATER
Note: My stay was hosted by Hotel Ranga. We had a great time and I would happily stay there again. All opinions are my own. Feature photo courtesy of Hotel Ranga.