If you are looking for a vacation rental this summer, finding one may be a challenge. In some areas, rental inventory on platforms like vrbo were 90 percent booked by the end of March. A recent Airbnb earnings call showed that bookings are up 39 percent from the fourth quarter 2020 and the average daily rental rate has risen 25 percent, showing an increase in demand and the amount customers are spending.
So if the approaching summer vacation season has you scrambling to find the beach house, lake cabin, city apartment, glamping yurt, or accommodation that you are dreaming about, it is time to branch out beyond the popular Airbnb booking platform. Now is the perfect time to take a close look at some of these Airbnb competitors. Who knows, the way Airbnb has been increasing their extra fees, you may end up preferring one of these Airbnb alternatives better anyway.
Of course, no matter what platform you choose, make sure you follow these vacation rental tips when booking your trip, and use these packing tips when you are ready to go. And keep in mind that many properties list across multiple platforms so even if a property looks like it is available, don't assume it will be until your booking is confirmed by the owner. Happy hunting!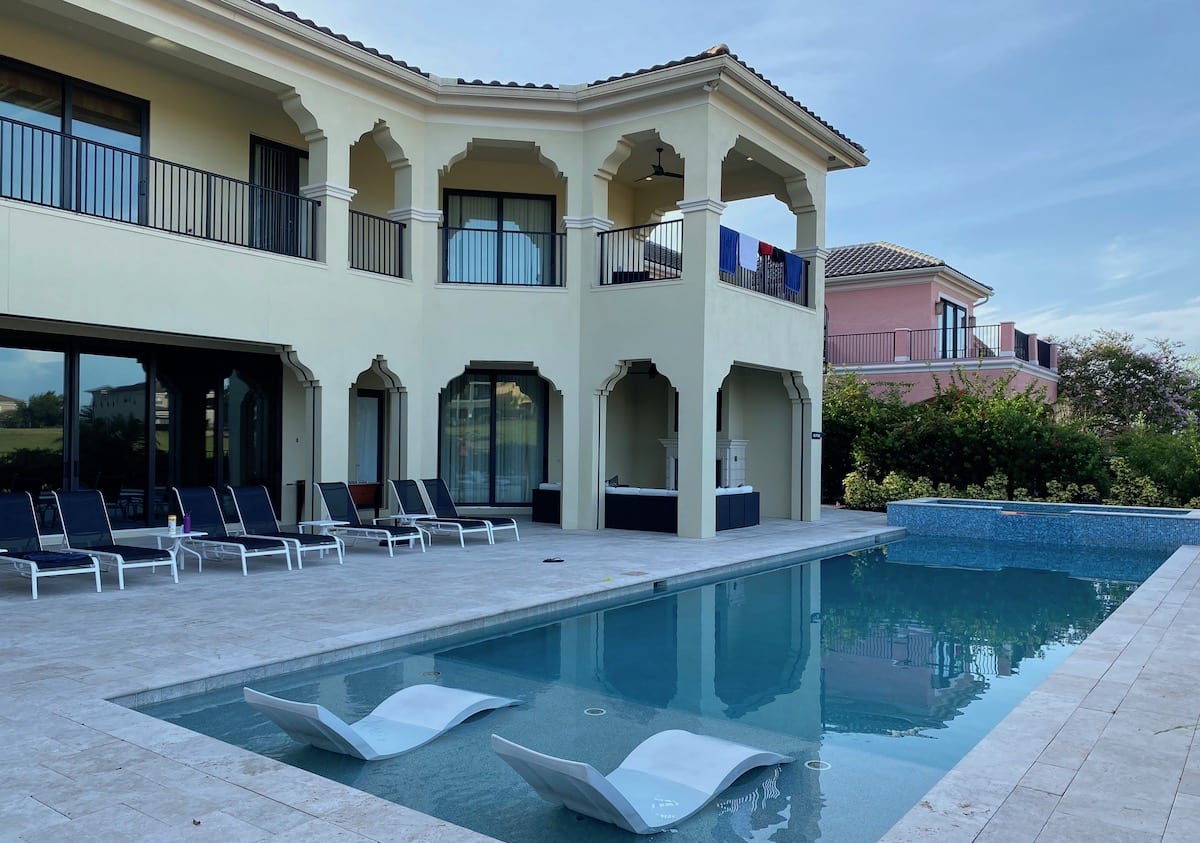 Best Airbnb Competitors
Over time, you come to learn the strengths and weaknesses of the various vacation rental platforms. Some specialize in families, some focus on the luxury market, some have a great inventory of large villas that are ideal for multi-generational family trips, and others have a budget focus. Spend some time exploring these Airbnb alternatives and see if you can find the right fit for your trip.
Note: This post may contain affiliate links. If you click a link and make a purchase, I may receive a small commission. All opinions are my own.
vrbo
As I mentioned above, vrbo is one of the most well-known of the Airbnb platforms. Formerly branded as VRBO standing for Vacation Rental by Owner, after purchasing Home Away in recent years, the company has rebranded to vrbo (pronounced ver-bo). It is still an ideal platform for finding an entire home — especially in resort communities for beach houses and ski chalets. However, you can find also find cabins, apartments, and condos.
We have rented many times from Home Away and vrbo and have always had a positive experience. The search filters are quite extensive to help narrow down what you are looking for in terms of location, features, amenities, nearby activities, price, reviews, cancellation policies, and even "premier hosts", vrbo's version of the Airbnb Superhost.
Vacatia
I first learned about Vacatia at a Family Travel conference and I was struck by the owner's message of letting Vacatia take the pressure off the "Chief Vacation Officer" in the family for organizing family trips and finding that perfect property for multi-generational vacations. Today, the company offers handpicked studio to six-bedroom resort residences, located in 100 of the best family vacation destinations. These resort residences offer the spaciousness and necessities of a private vacation rental with the comfort and convenience of onsite check-in, housekeeping, and full-time staff. The company provides large photos, floor plans, detailed info about what makes each resort special, but also offers a live chat with a specialist that can help you find the right property for your family.
Vacasa
Vacasa offers a range of vacation rental properties from lake houses, cabin rentals, riverside properties, and beach houses. The company manages homeowners' vacation houses directly, so that guests can book with the peace of mind of knowing they're going to find exactly what they're looking for without any surprises. And the last thing we all want when traveling with kids is a surprise when we finally arrive at our destination! Vacasa maintains local care-taking teams in every market they manage, with central support staff and 24/7 customer service. Altogether, the platform has over 30,000 vacation homes in 34 U.S. states plus Canada, Belize, and Costa Rica. A few years ago, Vacasa purchased Wyndham Vacation Clubs, bringing those properties under the company umbrella.
Kid & Coe
Kid & Coe is all about family travel and lists over 1,000 hand-picked properties in 50 locations throughout the USA, Europe, Australia, and Central America. These kid-ready homes and apartments are equipped with books and toys and kid-friendly bedrooms, along with a helpful guide to things to do in the area. In addition to family-ready properties, Kid & Coe works with carefully-chosen partners in select locations to provide concierge services, baby equipment rental and itineraries to make the family vacation go smoothly.
FlipKey
FlipKey is part of the vacation rental arm of TripAdvisor, along with Holiday Lettings, Niumba, Vacation Home Rentals and HouseTrip. The platform has more than 830,000 properties in 190 countries, from city apartments to beach houses, cottages, villas, and ski chalets. FlipKey has a robust search engine with enough filters and choices to easily find what you are looking for.
Plum Guide
While other sites focus on quantity, Plum Guide emphasizes quality, listing only the top three percent of homes in each destination who receive the Plum Award. The Plum Guide's Home Critics rigorously vet all homes before adding them to the platform. The company uses a price checking algorithm and does price matching to make sure that you won't find the homes listed on on another platform for the same dates – giving you peace of mind that you are getting the best deal possible. Plum Experts are available seven days a week to help find you the perfect stay or solve any issues in-stay should your host not be available.
Villatel
Villatel focuses on creating, maintaining, and servicing vacation homes and properties for families. They offer short-term luxury villa rentals in the Orlando area, including Solara, Solterra, and Reunion Resorts. More of a property management company than rental platform, Villatel designs and manages every property in its collection to guarantee reliability and the highest standards of product quality across its portfolio.
Our family stayed at a luxury vacation rental property in Reunion Resort last year and it was perfect for our group of 14! With a pool, indoor and outdoor hot tubs, a sauna and steam room, movie theater and game room, we never needed to leave the property. For those that do want to explore all the Orlando attractions or plan a trip to Disney or Universal, Villatel also offers add-on experiences such as private chefs, golf package, VIP theme park tickets, and more. add-ons, like private chefs, transportation, housekeeping, in-home rentals, and more.
Marriott Homes & Villas
Homes & Villas by Marriott International is a new home rental platform offering access to 2,000 premium and luxury properties in 100 markets across the United States, Europe, the Caribbean and Latin America. The great part of this program is that you can earn and redeem Marriott Bonvoy points with each rental. Each private home is professionally cleaned & inspected to Marriott standards. Hotel residences, such as the Ritz-Carlton Residences are also included in the platform, along with a curated selection of family-friendly homes.
Explore Marriott Homes and Villas
Disney Vacation Club Rentals
Disney Vacation Club members can use points to stay at Disney resorts in Florida, Hawaii, California, and South Carolina. DVC members also have access to a concierge collection of upscale hotels and can exchange points to stay anywhere in the world through the RCI timeshare exchange program. However, you don't need to be a Disney Vacation Club member to stay at a DVC property, you can always rent them from a DVC timeshare owner. You can usually rent DVC points to stay in a deluxe Disney resort for about the same price as booking a Disney World moderate resort. However, the DVC villas offer more space and amenities such as a full kitchen and a washer/dryer, plus the perks of staying in a Disney resort. You can rent direct from an owner or through a service such as David's Vacation Club Rentals.
Explore David's Vacation Club Rentals
Best Airbnb Alternatives for Glamping
If you are looking for a unique and memorable vacation, maybe it is time to try glamping instead of your traditional vacation rental.
GlampingHub
GlampingHub offers over 23,000 unique accommodations all over the world; ranging from pet-friendly hotels or eco-friendly hotels, to glamping retreats & getaways. You can find a bit of everything on the site from yurt rentals to lakeside cabins to luxury treehouses, safari tents, tipis, domes, glamping pods, to even trains and boats. You can search the platform by accommodation type — if you are looking for inspiration — or by destination if you know where you want to go and just want to find a cool place to stay.
Outdoorsy
If you have considered taking a RV vacation, but aren't quite sure you are ready to invest quite yet, you can rent a RV, camper van, or travel trailer through Outdoorsy.com, a peer-to-peer marketplace for RV rentals. Outdoorsy offers delivery, 24/7 service, and free roadside assistance. Just search for RVs with the amenities you want near your destination and then you can contact the owner to arrange to have the rental picked up or delivered. Over 240,000 trips have been arranged through Outdoorsy.
Tentrr
Tentrr helps families try camping, even if they don't have any equipment. With Tentrr Signature, you camp in style with no equipment required, each site is a ready-to-go camping adventure, with the tent and equipment completely set up and waiting for your arrival. Tentrr Partner sites contain a curated list of specialty camping experiences, including glamping tents, some even with amenities like en-suite bathrooms or private chefs. There are over 1,000 Tentrr campsites available across the US.
Hipcamp
Many people use Hipcamp to find tent camping sites, but the platform lets you also discover and book RV parks, cabins, treehouses, and glamping sites. You can search the platform by destination or by the type of camping or glamping accommodation that you are looking for near your location.
RV Share
RV Share is the largest RV rental marketplace with thousands of five-star reviews. Similar to Outdoorsy, RV Share connects you to owners in your local area, or at your destination. You can search through thousands of options including Luxury Class A Diesel Pushers, Class B Camper Vans, Class C Motorhomes, and Travel Trailers. On the site, you can filter your search and compare RV rental prices, features, reviews and more. RV Share offers rental insurance and 24/7 emergency roadside assistance, with someone always there to help or answer questions about your RV.
Best International Airbnb Alternatives
While many of the above platforms have a good selection of international properties, some rental sites or agencies focus more exclusively on select markets.
Perfect Experiences
Perfect Experiences is the umbrella brand for London Perfect, Paris Perfect, and Italy Perfect. Perfect Experiences offers a portfolio of beautiful vacation rental properties and is where we turned when renting an apartment in Paris. Every property is carefully chosen and vetted to meet the company's standards for quality, location, cleanliness, comfort and features. Guests are provided with luxury amenities such as Egyptian cotton linens, luxury toiletries, high-end appliances and beautiful professionally designed décor. The Perfect Experiences team can also arrange transportation and provide concierge services. Each guest is provided with a detailed neighborhood guide with suggestions on getting around, things to do, and restaurant and shopping recommendations.
One Fine Stay
When I was a travel advisor, I frequently used One Fine Stay to book apartments in London or Paris for clients. These luxury apartments and vacation rentals command a premium, but you know you are getting quality accommodations. You can choose from over 5,000 unique homes, villas and chalets, in 50 global destinations. The reservations team can also help pair you with the perfect rental, depending on your priorities and budget. One Fine Stay properties are located in the most desirable neighborhoods, and are hand-picked after a rigorous in-person inspection.
Mr. and Mrs. Smith
Mr. and Mrs. Smith is primarily a place to find boutique and luxury hotels around the world. However, the company also has a selection of luxury and family-friendly villas from around the world. These beach and countryside villas can be found in Greece, United Kingdom, Spain, Italy, France, Morocco, Thailand, Portugal, Indonesia, and the Caribbean. Each property is personally vetted, with options for hotel villas that offer the perks of a hotel, or private villas that provide the seclusion you are looking for.
Holiday Lettings
Holiday Lettings is the U.K.-based vacation rental brand within the TripAdvisor vacation rental family. Holiday Lettings advertises 600,000 privately owned holiday cottages, villas and apartments in 150+ countries worldwide. There are options for whatever your vacation preference, with holiday rentals such as villas in Spain, holiday cottages in Cornwall, villas in Portugal, apartments in Sydney and many more.
Only Provence
If you are dreaming of a villa rental amidst the lavender fields or small village in Provence in the South of France, Only Provence has a wide selection of luxury villa rentals in the South of France. I used them as a travel advisor because the company has a long history of quality, personalized service with a bilingual staff that live or have lived in Provence and have an intimate knowledge of the region. Only Provence has a collection of nearly 200 properties located in Provence's most notable villages, such as Gordes and St Remy de Provence. These 'best in class" properties strike an ideal balance of authenticity, charm, and amenities.
Haven In
Haven In offers boutique vacation apartments and villa rentals in Paris, Provence, Italy, and London. The all American, multi-lingual and well-traveled team matches you to one of its hand-picked and personally vetted properties. Haven In places quality over quantity, and the portfolio of apartments and villas offer all of the comforts, space, amenities and privacy of home as well as all of the service, luxury and sophistication of a 4-star boutique hotel.
Save this to Pinterest