Americans have fallen in love with Tuscany not just because of its beautiful rolling hills dotted with cypress trees and charming Medieval walled villages perched on those hills. We have also fallen in love with Tuscan food.
One thing you quickly learn when visiting Italy is that each region has its own distinct cuisine based on climate and what grows there. What we think of as "Italian food" at home is usually a mix of dishes from various regions that you would never find all on one menu in Italy.
When you visit Tuscany, you will soon learn about the most popular Tuscan dishes. Tuscans have long relied on hearty ingredients: wild boar, rabbit, pork, and steak, along with beans, mushrooms (and truffles!), chestnuts, pasta, polenta, and crusty Tuscan bread.
These belly-filling ingredients are often paired with robust Tuscan wines, like Brunello di Montalcino, Vino Nobile di Montepulciano, and Chianti Classico, or other Italian drinks. The nice thing about Tuscan cuisine is that it isn't complicated. You don't need to be a chef to accomplish these simple dishes at home.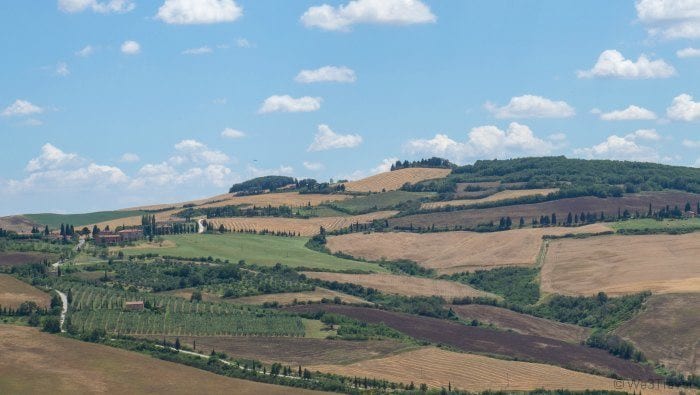 So, gather up your gourmet club, or group of friends that enjoy good food and wine and plan a Tuscan feast this fall with the following suggestions and Tuscan recipes.
How to Plan a Tuscan Feast
The typical Italian meal will consist of four courses:
Antipasto (cheeses, cured meats, antipasto…)
Primo (typically soup or pasta)
Secondo (a meat or fish)
Dolce (sweet dessert)
Each course would be paired with a different wine. I'm going to give you ideas and recipes for five courses, so you can pick and choose what you think your guests would enjoy and how large of a meal you want to present.
Start with Antipasto
I would suggest starting out with some antipasti as your guests are arriving. These can be arranged in platters before anyone arrives, while the wine is chilling. Some pecorino and other cheeses are a must, along with some prosciutto, with figs or melon (sweet and salty is always a winner).
If you want something heartier, you can add in Panzanella (Tuscan bread and tomato salad), crostini with tomatoes, and some crispy-fried sage leaves. These crispy leaves are delicious with a glass of chilled white wine.
If you are feeling festive, start off with a sparkling wine from Trento or Franciacorta, or some Prosecco. I'm partial to a sparkling Rosato from Northern Italy near Genoa. If bubbles aren't your thing, you can try a white such as Verdicchio or Passerina from Le Marche or a Pinot Grigio from Alto Adige.
When choosing an Italian wine, there are a few things to look for. Italy has different ways to classify its wine. The DOCG (Denominazione di Origine Controllata e Garantita) is the highest wine classification in Italy and always contains some reference to the place of origin of the wine, but not necessarily the name of the grape or grapes in the wine.
In addition to the origin and classification of the wine, you may also notice a few common terms when reviewing Italian wine labels. A "Classico" is from the heart of the winemaking region (e.g. Chianti Classico.) A Riserva (or what we call a Reserve in the U.S.) has gone through some additional aging to increase the complexity of the wine. And, a Superiore has a slightly higher alcohol level. (learn more about wines of Italy.)
2. Next Comes the Primi Dish
For your primi course, my absolute favorite from Tuscany is pappa al pomodoro. There are many soups in Tuscan cuisine, including the more well-known ribollita, made with cabbage and beans. I fell in love with pappa al pomodoro on a rainy day in Florence, nearly 20 years ago.
This simple soup of bread and tomatoes is so delicious that we make it each fall when our tomatoes are ready to harvest. This dense soup is filling enough to be a meal, so you will need to decide how many courses you want to offer.
Since pappa al pomodoro is so acidic and hearty, you will want to pair it with a wine that can balance out that acid, perhaps a Barolo from the Piedmont region, Amarone, or a Chianti Classico from Tuscany.
Pappa al Pomodoro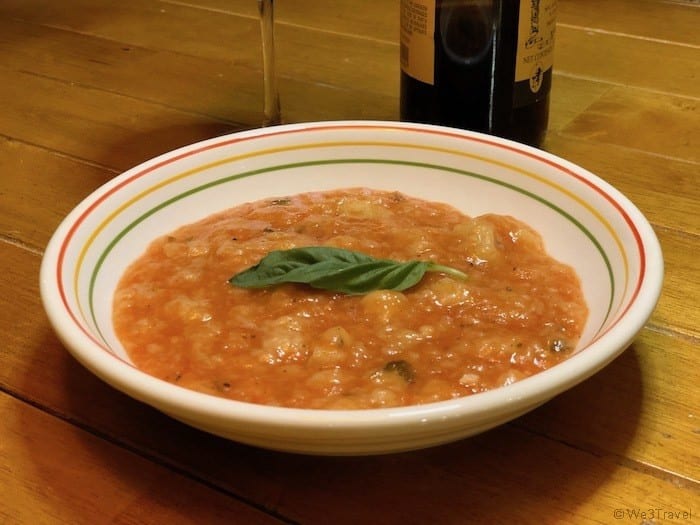 2 pounds of fresh tomatoes cut into chunks
1 medium yellow onion, peeled and coarsely chopped
1 medium carrot, coarsely chopped
1 stalk celery, coarsely chopped
4-5 sprigs of flat-leaf parsley
salt and pepper to taste
¼ cup extra virgin olive oil
2 garlic cloves, peeled and crushed
½ lb. country-style bread, crusts removed
1 stalk basil
pinch of sugar
Place the first five ingredients in a soup kettle with ¼ cup of water and bring to a boil.
Cook, uncovered for about 20 minutes or until soft.
Halfway through, add salt and pepper to taste and add a little more water to keep it from sticking.
Remove from heat and allow to cool.
Run the mixture through a food mill.
Heat the olive oil in a soup pot over medium-low heat.
Add the garlic, cook and stir until soften but don't let it brown.
Tear the bread into pieces and add to the pan, along with the basil and 2 cups of boiling water.
Cook the bread, stirring with a spoon to break it up and add more water as needed (up to one cup.)
When the bread has absorbed the water, add 2 ½ cups of the tomato purée and stir it in.
Cook over low heat, stirring frequently, for one hour.
Add more tomato sauce or boiling water if needed.
Season with a bit of extra virgin olive oil and garnish with basil leaves.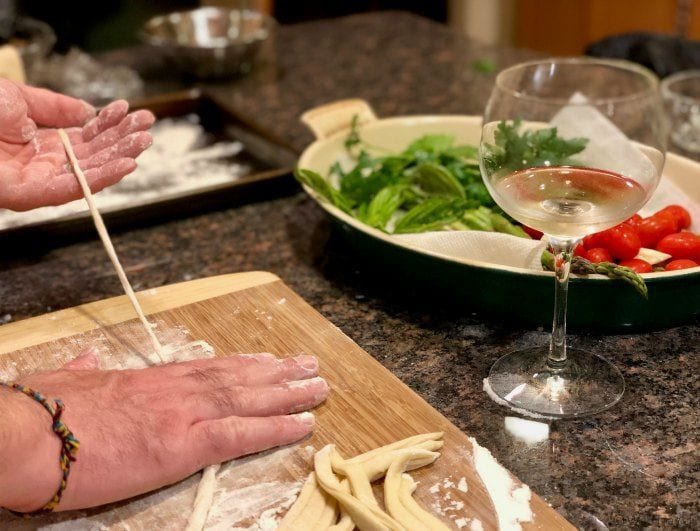 One of the more popular pasta dishes in Tuscany is pici, which is unique to the region and supposedly dates back to the Etruscans. Pici is like a thick, hand-rolled spaghetti, which is dense and has a good bite to it. Unlike spaghetti you buy in the supermarket, pici is meant to be rolled long…up to 9 feet!
If you aren't up for hand-rolling your own pasta, you could substitute fresh pasta such as bucatini or pappardelle. This pasta is lighter and fresher than the soup, which may be better if you are planning a warm-weather feast.
I would recommend serving this with a Vernaccia di San Gimignano white wine. This wine varies in intensity and its golden highlights become more evident with aging. It is rich on the nose, with notes of wild apple, white flowers, almond, grapefruit and pineapple.
It's also one of the few white wines made from a grape traditional to Tuscany. Other good alternatives would be a Verdicchio from Marche or an Orvieto Classico.
Pici Pasta all'etrusca
2 hard-boiled eggs
3 garlic cloves
1 handful fresh basil
1 handful fresh parsley
½ handful fresh mint
Extra virgin olive oil
50 g pecorino cheese, grated
Hard boil the eggs and let them cool. Peel and cut in half lengthwise. Remove one yolk and set aside.
Boil water for the pasta and cook according to package directions.
Put the peeled garlic cloves, egg whites, one yolk, basil, parsley, mint, and pecorino into blender or food processor. Add olive oil and pulse to form a rough sauce. Add more olive oil if it is too dry. Add salt and pepper to taste.
Put sauce into bowl and add some pasta cooking water to loosen it up.
Drain the pasta and add to the sauce. Sprinkle with egg yolk, pecorino, and parsley to garnish.

3. The Secondo Is the Meat or Fish Dish
Wild boar, rabbit, porchetta, handmade sausages…these are all very common in Tuscany, but not as easy to obtain in the United States at your average butcher or supermarket. So, for your main entree, you may want to go with something traditional like a Bistecca ai Ferri, sometimes called a Bistecca alla Fiorentina (or Steak Florentine.) It actually hails from Cortona, where each year they host a steak fair in town. This is best done wood-grilled if you can manage, but you can make do with a gas grill.
The steak can be accompanied by grilled asparagus, spinach, braised mushrooms, or some hearty beans.
A good steak always calls out for a full-bodied red wine, with strong tannins to balance the fat. You can stay true to a Tuscan stalwart such as a Brunello di Montalcino or Vino Nobile di Montepulciano, but also consider Super Tuscans. Super Tuscans often start with the Sangiovese grape, but are bolstered with even fuller-bodied varietals like Cabernet Sauvignon and Syrah, balanced with some Merlot. Of course, there are other hearty Italian reds such as Barolo or Amarone, mentioned earlier which would also pair nicely.
Bistecca ai ferri
1 bunch fresh arugula
¼ lb Parmigiano-Reggiano cheese
Salt and pepper to taste
2 porterhouse or T-bone steaks, 1 ½ inches thick
2 tablespoons extra virgin olive oil
Lemon wedges, for garnish
Shave the cheese and set aside
Build up the heat on the grill.
Sprinkle the steaks with salt and pepper on both sides and drop them onto the hot grill. Cook for 5-7 minutes, or to taste, and flip. Cook another 7-10 minutes for medium-rare.
Arrange the arugula on a platter and place the steaks on top. Make sure to cut the steak off the bone and then slice horizontally to serve. Drizzle with olive oil and sprinkle cheese shavings. Serve with lemon wedges.
4. Finish sweet with Dolce
For dessert, there are many traditional holiday desserts in Tuscany, from cream puffs to chestnut cake and sweet rice fritters. You could also do a ricotta cheesecake (La Masseria in Rhode Island, NYC, and Florida makes the creamiest, most delicious that I have ever tasted). However, after such a big meal, I would do a simple panna cotta (cooked cream.)
Serve this up with a traditional Vin Santo or Occhio di Pernice dessert wine from Tuscany and you will have the perfect end to your meal.
Panna Cotta
4 cups heavy cream
1 envelope unflavored gelatin
½ cup sugar
1 tsp vanilla extract
5 egg whites
Combine 1 cup of cream with the gelatin in a small bowl and set aside.
Bring the remaining cream to a slow boil with the sugar and vanilla. Boil for 3 minutes.
Remove from the heat and set aside for 1 ½ minutes, then add the gelatin-cream mixture and stir until it is fully combined.
Transfer to a bowl and cool at room temperature for 3 hours.
Beat the egg whites until very stiff. Gently whisk about half the beaten eggs into the cream, then fold in the remaining egg whites.
Transfer to individual cups and refrigerate for at least 3 hours before serving.
Play a little Italian music in the background and you have a delicious Tuscan feast!! Just make sure you keep plenty of wine on hand.
To learn more about local wines, be sure to take a Tuscan wine tour when you are in Italy, one of my favorite things to do in Tuscany.
PIN THIS FOR LATER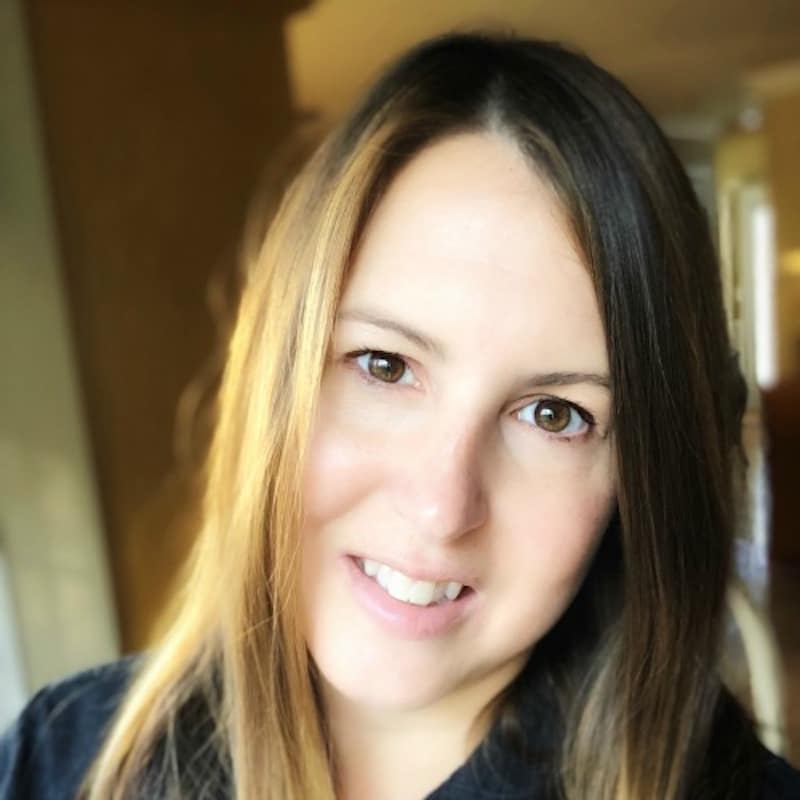 Tamara Gruber is the Founder and Publisher of We3Travel. A former marketing executive and travel advisor, Tamara is an award-winning travel writer and recognized expert in family travel. She is also the publisher of YourTimetoFly and the co-host of the Vacation Mavens travel podcast.