We were warned that November was the beginning of the rainy season in Vancouver, but circumstances aligned to make it an ideal time for us to visit. We needed to use an Air Canada credit by the end of the year, Hannah had a four-day weekend from school, and Glenn was spending most of the fall on the West Coast for business anyway.
So we rolled the dice and hoped that the West Coast's dry spell would last just a little bit longer. Unfortunately, our gamble didn't pay off and we were blessed with two full days of pouring rain. But we didn't travel across the country to stay in the hotel, as cozy as it may be. We needed to find some fun things to do in Vancouver with kids in the rain.

Where to Stay in Vancouver
Note: This post may contain affiliate links. If you click a link and make a purchase, I may receive a small commission. All opinions are my own.
Since we were planning to primarily stay in downtown Vancouver and not visit sites like the Capilano Suspension Bridge, we didn't want to rent a car while in the city. Therefore it was important to us to stay in a very walkable location to all the major attractions we wanted to visit, with easy access to public transportation. The Pan Pacific Vancouver was the perfect choice. Located right on the Harbourfront, it offered great views of the Vancouver Skyline and we took advantage of amenities like the Club Lounge.
Things to do in Vancouver with Kids
We were bummed to cancel our Vancouver seaplane tour, but it wasn't worth it if all you could see was rain and fog. So we set out to make the most of it. We had hoped to walk or take a bike tour along the water to Stanley Park but that wasn't fun in the rain either.
To save some cash, we headed out on the Vancouver trolley hop-on hop-off tour, which loops through Stanley Park and other main sites in the city.
Vancouver Aquarium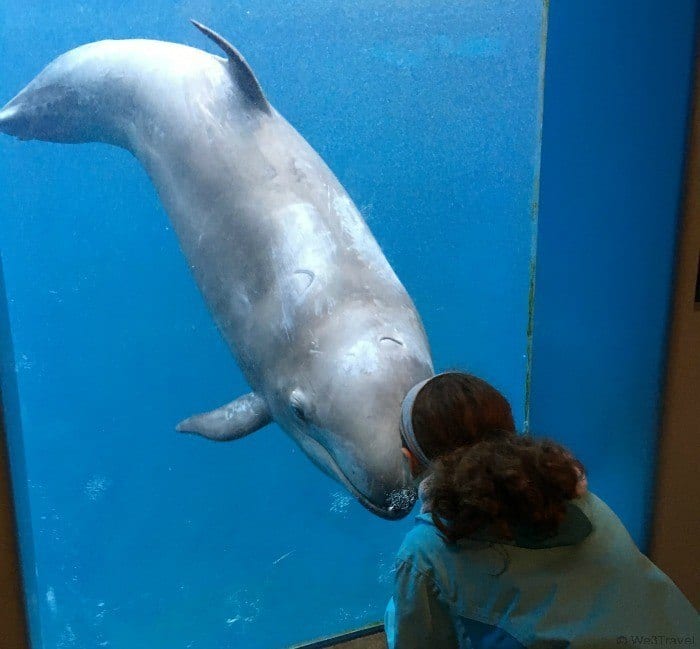 Our first stop was the Vancouver Aquarium, the largest aquarium in Canada and the first in the world to commit to no longer capturing cetaceans from the ocean for display. The Vancouver Aquarium is serious about conservation and only accepts and cares for dolphins, whales, and porpoises that were born in an aquarium or rescued and deemed non-returnable to the wild.
And, while many of the exhibits are outside, some also offer some shelter from the rain and it is easy to spend a few hours exploring the exhibits inside and out.
Actually, we could have spent a few hours just watching Chester, a false killer whale who was the friendliest wild creature I've ever seen. Just take a look at some of the many creatures you can find at the Aquarium, including otters, porpoises, jellyfish, penguins, and more.
Just beware, you might encounter some more wild creatures just outside the entrance. We saw a whole gaze of raccoons hanging out in the grass but don't get too close — they can be rabid.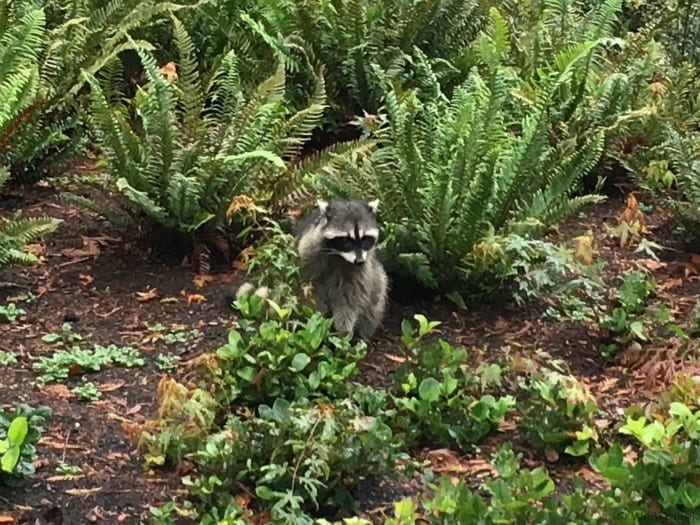 The Vancouver Aquarium is located in Stanley Park at 845 Avison Way. (Note: I was given free admission as part of a Media Pass from Tourism Vancouver. All opinions are my own.)
Stanley Park
Yes, Stanley Park can be fun to explore even in the rain. We would have preferred to bike the perimeter, but the hop-on/hop-off trolley is a good option in the rain. When we got tired of waiting for the next one to show up, we hopped in a cab that was happy to show us around.
My favorite stop was to see the totem poles at Brockton Point. After studying Native Americans / First Nations in elementary school, this was Hannah's first opportunity to see totem poles up close. All I kept thinking about was how she used to talk about "tote-em poles," in her little toddler voice, after watching the Little Einsteins.
We loved the giant cedar trees that cover so much of the park and enjoyed finding some shelter in a hollow tree.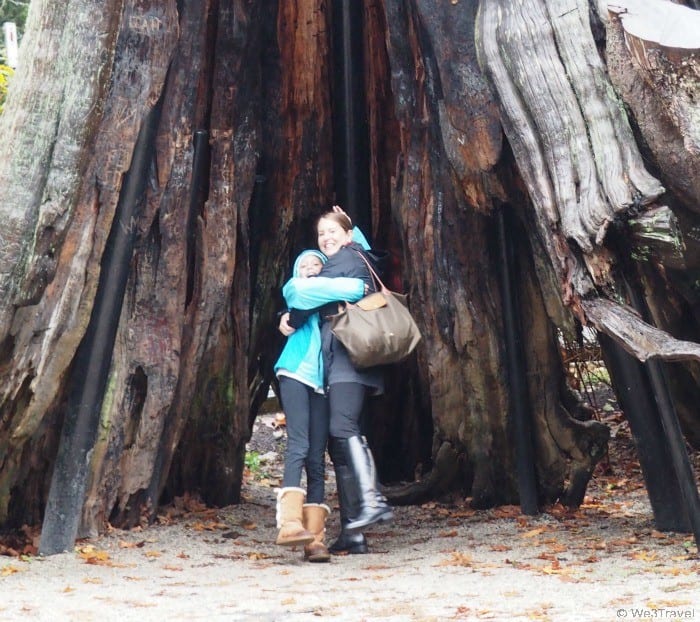 There are also amazing views of the bay and, on a clearer day, Grouse Mountain. Even shrouded in clouds and mist, the backdrop was beautiful.
Science World
Science World is a great place in Vancouver for kids, no matter what the weather. We ended up only spending a couple of hours here because we had other things to do and see but it was one of the better science museums that we've visited, and we've visited quite a few (Boston, Kansas City, Baltimore, and Philadelphia to name some.)
What we loved most was how interactive and hands-on all the exhibits were. Take a look…
Science World is located at 1455 Quebec Street, on False Creek, making it easy to get there via Aquabus from Stanley Park or Granville Island.
Museum of Anthropology at the University of British Columbia
Located outside of downtown Vancouver, it would be better to have a rental car to get to the Museum of Anthropology, but it was well worth the $40 CA cab ride to get there. In fact, it was our favorite attraction we saw during our short weekend in Vancouver.
The building itself is stunning and if it isn't pouring too hard, you should definitely walk around the back to see the totem poles and long house, with views of the water.
Inside, the floor-to-ceiling glass walls bring the outside in and the collection of totem poles, is the largest collection of First Nation artifacts. The displays were jaw-dropping in size and detail and reading the stories behind each was an immersion in First Nation culture.
The museum also had an amazing special exhibit that really made you understand the perspective of First Nation peoples who want to reclaim their artifacts and maintain their culture.
Not to be missed is the museum's impressive collection of 535,000 archaeological objects from the South Pacific, Asia, Africa, Europe, and the Americas. Over 6,000 pieces in the collection are textiles from all around the world. We were also entranced by the Bill Reid Rotunda.
Bill Reid is one of the world's most recognized Haida artists and the museum houses his largest collection. The centerpiece of the rotunda is his famous sculpture "The Raven and the First Men," which depicts the origin story of the Haida people when Raven found his first humans in a clam shell on the beach. The Raven is carved out of a massive block of laminated yellow cedar and was once featured on the Canadian $20 bill.
The Museum of Anthropology is located on the campus of the University of British Columbia at 6393 N.W. Marine Drive. (Note: I was given free admission as part of a Media Pass from Tourism Vancouver. All opinions are my own.)
Granville Island
I had heard a lot about Granville Island, a small island and artist colony in the middle of the river offering shops, restaurants, a kid's market, and an indoor public market. It was the indoor market that drew us in out of the rain. We've visited public markets in Toronto, Barcelona, Madrid, Boston and Philadelphia and I have to say that while the Granville Public Market was nice, it didn't wow me…but it did keep us dry.
Perhaps I would have enjoyed it more through a Granville Island Market Tour. There was the typical selection of fresh produce, flowers, butcheries, fish stalls, and gourmet foods, along with a food court-like section with tables and chairs for getting a quick lunch or snack.
We did treat ourselves to a few sweet and savory macarons from the Bon Macaron Patisserie (who can resist?) but decided we'd prefer to eat somewhere a little quieter and found the perfect spot just around the corner at The Sandbar.
I got a little nervous when our hostess led us upstairs and onto the terrace, but it was fabulous. Covered above but open on the sides, the terrace featured a fireplace, multiple space heaters, and lap blankets for every table. We couldn't have been cozier and had a wonderful view of the Creek and bridge — and the food was excellent too!
After lunch we strolled through the Kid's Market — but it was really geared toward kids that could fit through the small half-door entrance, with its toy store, adventure zone, and other shops. Getting a taxi in the rain to make it back to the hotel was quite a challenge and competition at the taxi stand was fierce. If possible, I'd recommend using the Aquabus or getting the number for a cab company in advance.
FlyOver Canada
If you love Soarin' at Disney, you will love the multi-sensory experience of FlyOver Canada at Canada Place (conveniently located very close to our hotel.) This flying ride features scenes from coast-to-coast across Canada. The special effects including wind, mist, and scents, combined with the flying motion and beautiful visuals make you both feel like you have seen all of Canada, while also making you want to visit all those places in real life. It is a ride I could do again and again.
Shop in Gastown
This historic district, founded from a tavern owned by "Gassy Jack," today features boutiques and some of the best restaurants in Vancouver. Kids will get a kick out of the steam clock. (Here is a great guide to Vancouver vegan restaurants.) You can also take a Gastown food tour (just bring your umbrella!)
Vancouver Public Library
You can spend an afternoon getting lost in this nine-story, Coliseum-like structure with more than 1.3 million books at the Vancouver Public Library.
H.R. MacMillan Space Centre
If we had more time during our visit, we would have loved to stop at the H.R. MacMillan Space Centre for our budding astrophysicist. The centre has many interactive exhibits that teach visitors about space and astronomy. You can learn about the solar system, the history of space exploration, and the latest discoveries in astronomy.
The planetarium is a must-see attraction with immersive shows that simulate space travel and explore the wonders of the universe. You can also attend live demonstrations that showcase the science of space exploration including rocket launches, space suits, and other space-related topics. Of course, the Space Centre also offers star gazing events — but those aren't happening in the rain!
The H.R. MacMillan Space Centre is located in Vanier Park at 1100 Chestnut Street, Vancouver, BC.
Britannia Mine Museum
Complete with an underground tour and gold panning pavilion, the Britannia Mine Museum teaches the mining industry and history in a fun and interactive way (and my little Minecraft fiend would love it.)
The Britannia Mine Museum is located at 150 Copper Drive, Britannia Beach, BC
We spent the remainder of our time in this great city sampling its culinary delights — after all, it is known for being a foodie city and there were so many great Ramen shops to warm our bellies on rainy days. We all loved our time in Vancouver and I found it much more modern and hip than when I last visited (umm…20 years ago almost?).
Hopefully, we'll get to visit again in nicer weather and finally take that seaplane tour. I'd also love to get over to Victoria (since we only saw a tiny bit on our Alaska Cruise), spend time on Vancouver Island, or take a scenic drive up to Whistler.
PIN THIS FOR LATER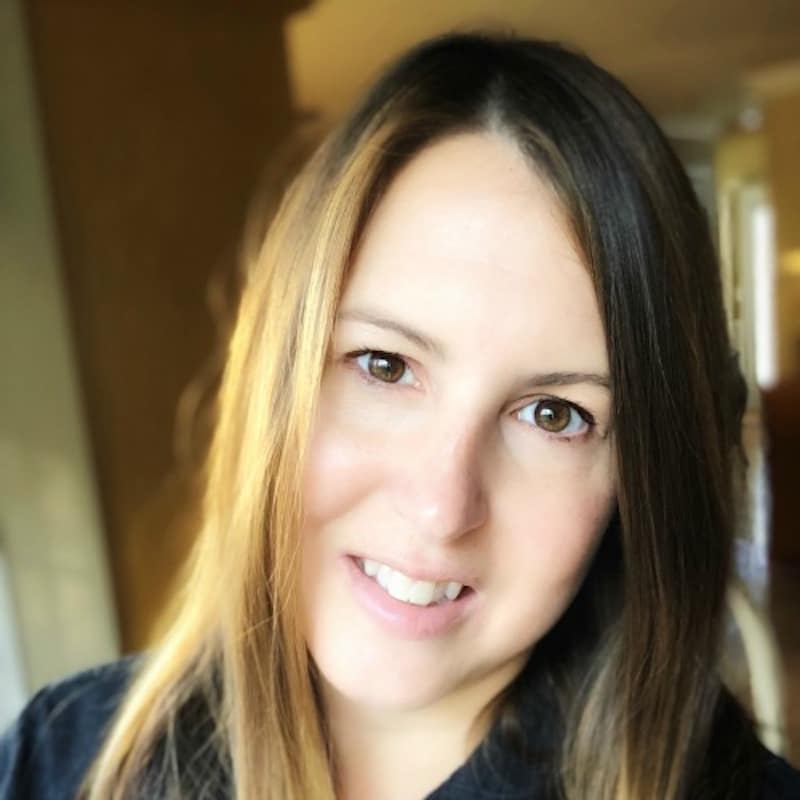 Tamara Gruber is the Founder and Publisher of We3Travel. A former marketing executive and travel advisor, Tamara is an award-winning travel writer and recognized expert in family travel. She is also the publisher of YourTimetoFly and the co-host of the Vacation Mavens travel podcast.