I'm just back from my first trip to Ireland for the TBEX (Travel Blogging) Conference and I'm already thinking about when I can return with my family. Flying from Dublin into Kerry Airport on a small prop plane, I looked down at the vast greenness below, dotted with sheep and cows and broken up by stone walls, and I knew — Ireland had me at hello. Or, should I say, "fáilte" (Gaelic for welcome.)
Even though I was in Ireland for a conference, I built in time for some exploring too. I didn't want to visit a new country just to see the inside of a conference center. Based in Killarney for four nights, I was able to use this as a jumping off point for exploring the Ring of Kerry, Dingle Peninsula, and the Muckross House.
When the conference was finished, I bit the bullet and successfully navigated my first attempt at driving on the left by renting a car and driving with some friends over to the stunning Cliffs of Moher. On the following day, I drove across the country and finished up with 24 hours exploring Dublin. There is still so much to see, and I'm especially eager to visit County Donegal and then scoot into Northern Ireland for a look at the Giant's Causeway.
After spending a week in Ireland, I definitely fell in love with the people, the landscape, and the Irish culture. But a few experiences really stood out. Here are my recommendations on the best things to do in Ireland.

Best Things to do in Ireland
1 — Private Tour of the Dingle Peninsula
Many Americans are familiar with the "Ring of Kerry" as a must-do when visiting Ireland, but not as many have discovered the neighboring Dingle Peninsula. Slightly more pastoral and less rugged, the Dingle Peninsula offers fabulous views. We hired a private driver from Killarney Tours and Taxi to chauffeur us around and it was the perfect choice. Not only did we not have to deal with navigating the narrow roads, our driver also knew some "hidden" locations, like Minard Castle, that we would never have discovered on our own. It is hard to pick a favorite view — from the expansive Inch Beach, to the mooing cows in a sweeping valley, to the rocky cliffs overlooking Skellig Michael. Lunch in the adorable town of Dingle was the perfect way to break up the day.
2 — Visiting the Cliffs of Moher
The Cliffs of Moher is a quintessential tourist destinations, but you wonder if it will live up to the hype. Still, when I decided to stay on in Ireland for a few days after my conference was over, the one place I knew I wanted to see was the Cliffs of Moher (or Cliffs of Insanity for those Princess Bride fans out there.) And I can say yes, it was worth the harrowing drive down some busy narrow roads (lanes?) to get there and the steep fee to park. It is touristy but bring on the selfie sticks — it is also something you shouldn't miss. First time visitors, don't miss these Cliffs of Moher tips!
3 — Authentic Stay at the Currarevagh House
After our adventure at the Cliffs of Moher, I drove up to the Currarevagh House in Oughterard, north of Galway on Lough Corrib (Lake Corrib to us.) Our stay was arranged by the folks at Ireland's Blue Book, which promotes a portfolio of country inns and manor houses. Arriving after a long and stressful drive, my tension gently washed away as I sat down to tea and a glass of wine in front of the peat-fueled fire. There is something quite special, and very authentic, about staying in a guest house that has been owned and operated consecutively by the same family since 1842, the longest-running in Ireland. You can learn the story of the tiger skin hanging in the stairwell, and answer the call of the dinner bell to a meal prepared by the owner's wife. It was even worth rising before dawn to watch the sunrise over the lake and see the swans raise their regal necks to start the day.
4 — Seeing the Long Room Library at Trinity College
I don't read as much as I used to (I think my record a couple of years back was 75 books in a year), but I'm still a major bibliophile. After seeing all the Instagram photos of the Long Room at Trinity College, I knew this was a must-see when I was in Dublin. I pre-booked tickets to see the Book of Kells, which includes entrance to the Long Room. I was actually disappointed by the Book of Kells, but entering the Long Room was worth the cost of admission. Actually, it had me wondering what it would take to get a VIP tour to get some photos without all the people. As soon as you enter, the smell of old books and leather hits you as you breathe deep to soak it in. All it took was one picture sent to my daughter and she was begging to visit Dublin just to see it in person. Even though it is a look and don't touch kind of library, I still could have stayed for quite a while just soaking in the atmosphere.
5 — Spa Treatment at the Killarney Plaza Hotel
I discovered a new way to overcome jet lag — hit the spa! When I arrived in Killarney after an uncomfortable overnight flight, my room wasn't ready yet at the Brehon Hotel. Luckily, I anticipated this problem and I had booked myself in at the Spa at the Killarney Plaza Hotel. Even though the Brehon has a wonderful spa, I had a $150 Spafinder gift card that was almost a year old and itching to get used and the Brehon didn't take those. So when I searched online and found the Killarney Plaza spa was part of Spafinder, I did a little happy dance.
The Spa at the Killarney Plaza Hotel is beautiful and very relaxing, surprising for a hotel in the middle of town. I started off with a 30 minute scalp massage and treatment, then moved on to the Earth, Fire, and Water Serail Therapy. This rivaled the water journey at the Grand Velas Riviera Maya for one of my all time favorite spa experiences. This therapy provides your own private steam room. When you enter, you can sample a variety of scrubs and muds for face or body and use one of the in-room shower heads to rinse off. After, I took a towel and laid down on the bench, soaking in the warmth of the steam and promptly fell asleep. I woke to the sudden rain shower that ends the session and then took my time in the private shower before retreating to the relaxation area to enjoy the provided juice and chocolate truffle. I couldn't imagine a better start to the trip.
6 — Dinner at Bricín Restaurant in Killarney
One of the nice things about attending conferences is getting to spend time in real life with the friends that you mostly connect with in the virtual world. I had a lovely dinner at Bricín with some of my fellow family travel bloggers, but it was made even better by our welcoming host. Opened by two brothers nearly 25 years ago, Johnny mans the front while Paddy serves up the signature "boxty" in the kitchen. Conceived from a potato pancake dish made to find new ways to make the staple dish of potatoes more interesting, today's boxty is filled with beef, chicken, fish, or vegetables. The food was delicious, the company was lovely, but it was the welcome from the owners that made the night so memorable and put it into my favorite things to do in Ireland.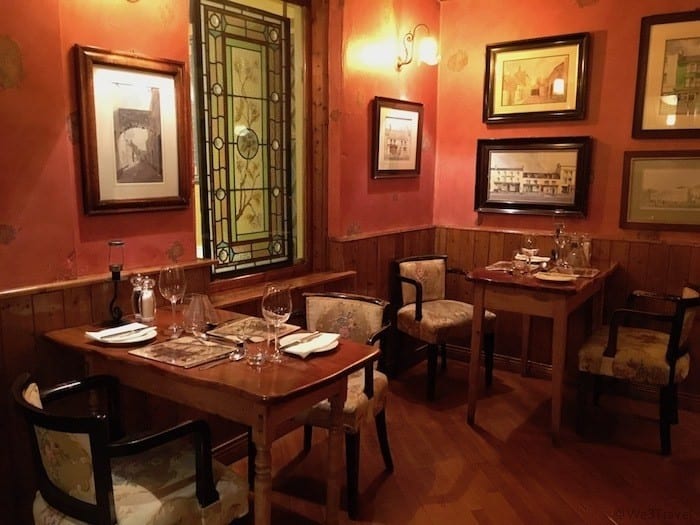 7 — Entering Middle Earth at The Shire
I am a HUGE Lord of the Rings fan and a trip to Hobbiton in New Zealand is definitely on my bucket list. So you can imagine what a delight it was to find that I could enter Middle Earth right from Killarney, Ireland at a pub called The Shire. As you pass through the Hobbit hole, you will notice everything is themed, from Arwen's Evenstar hanging on the wall to the beer selection. I'll give you a little tip though, while Gandalf, Frodo and Bilbo's beer sounds cute, they aren't very good. Go for the atmosphere and the music. For beer, see below.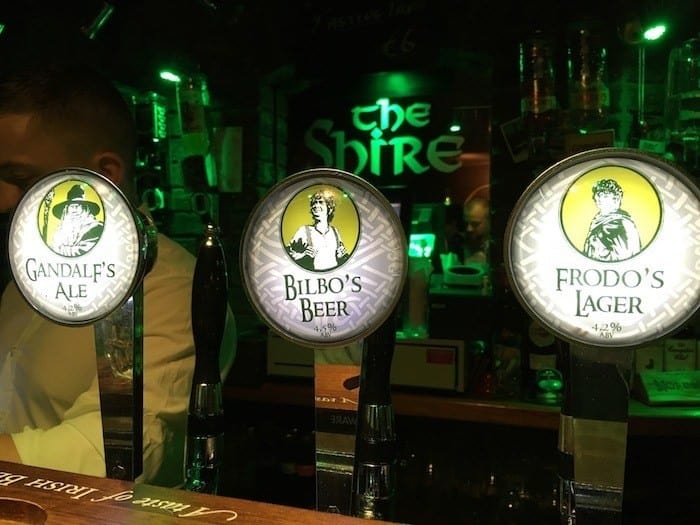 8 — Sampling Beer at the Celtic Whiskey Bar in Killarney
On my first night in Ireland, my friend Kirsten from Kids are a Trip, and I headed into Killarney for a quick dinner before jet lag finally got the best of us. As we settled in at the traditional yet modern Celtic Whiskey Bar, I felt the pull toward Guinness but decided to sample some of the local favorites instead. As I sipped my way through a beer flight while tasting local cheese and charcuterie, I found my favorite beer in Ireland…possibly my favorite ever. The Celtic Ard Rí is matured in whiskey barrels for a smoky, malty flavor. Ah, if only I could get this in the States. I suppose I have one more reason to return to Ireland.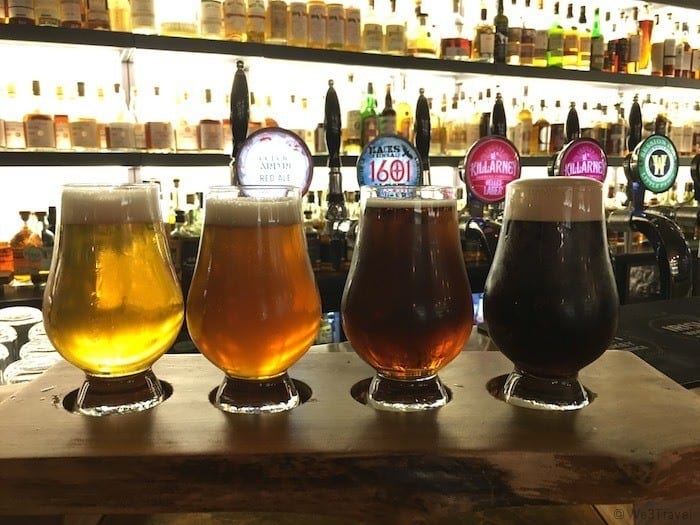 There is still so much more of Ireland that I want to explore and I can't wait to introduce my family to this magical Emerald Isle on a return trip.
Start your day dreaming here:
PIN THIS FOR LATER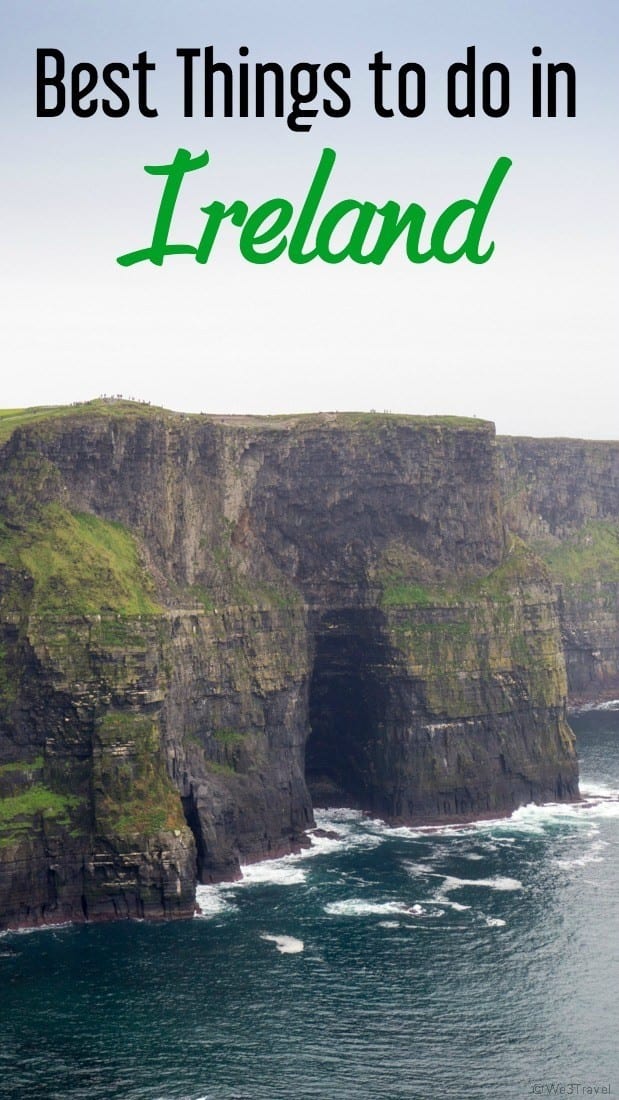 Note: Our stay at the Currarevagh House was hosted, all opinions are my own. This post contains affiliate links.
SaveSave
SaveSave
SaveSave
SaveSave
SaveSave
SaveSave