The MUOS 5 Atlas V rocket rises above the trees to the shouts and cheers of the crowd gathered on the grounds of the Kennedy Space Center, but it is many seconds before the rumble of the launch and vibration of the ground reaches us from the launch pad seven miles away.
People of all walks of life are united in the excitement and wonder of the accomplishment of another successful space launch. There was a time when we got a little jaded and nonchalant about the space program, but the throngs of people visiting Kennedy Space Center on launch day shows that the innovations of SpaceX and United Launch Alliance continue to ignite an interest about space. For me, being there to see a live launch was definitely a dream come true.
Coordinating my recent visit with a United Launch Alliance launch was a lucky coincidence, as it may be for many traveling from far away since launches are scheduled, moved and scrubbed all the time.
The good news is that they are happening about once a month so if you plan a trip, perhaps you will get lucky too. I was already excited about this trip to KSC as part of a press trip to the Space Coast, since we had a great time when visiting Kennedy Space Center with my family a couple of years ago. But when I found out we were going to get to see a launch…ear-to-ear grin. My only regret was that Hannah and Glenn couldn't come too, so we will just have to come back again.
Being there for a launch definitely taught me a thing or two, so I'd like to share with you my tips for visiting Kennedy Space Center on launch day.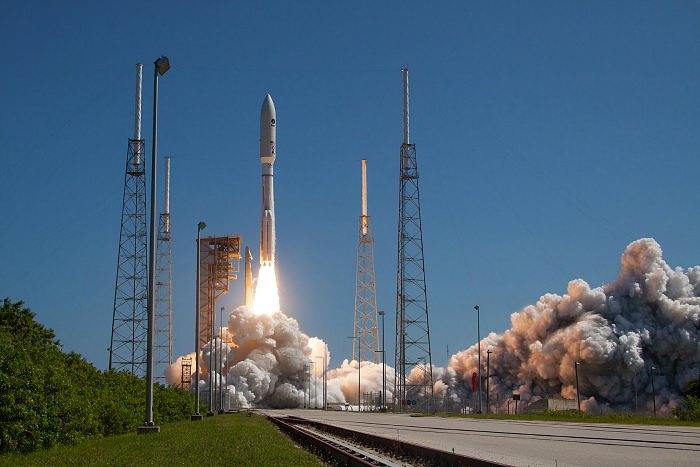 Tips for Visiting Kennedy Space Center on Launch Day
Plan your trip
Check the KSC website for details about upcoming launches when planning your trip and if you can, give yourself a few days on the Space Coast in case the launch is moved or postponed.
Don't worry, there is plenty to do in the area from the gorgeous Cocoa Beach (East Coast surfing capital) to fun family attractions like the Brevard Zoo. We stayed at the Hampton Inn right on the beach, but many local hotels offer great packages.
Pick your viewing location
There are a few different options when it comes to viewing a launch at a variety of price points and experiences. First, you can grab a spot at one of the many public viewing areas on nearby beaches and parks including: along the Indian River on U.S. Highway 1 in Titusville, the U.S. Space Walk of Fame, the U.S. Astronaut Hall of Fame, Port Canaveral, Jetty Park in Cape Canaveral, SR-A1A in Cocoa Beach and the Cocoa Beach Pier.
If you go this route, be prepared to get there a few hours early (or camp out overnight) for a prime spot. Alternatively, you can see the launch from the Kennedy Space Center itself. The rocket rises above a line of trees just across the road from the main entrance. Visitors pack the lawn beside the Atlantis and other viewing areas throughout the park. The only downside is that you will only see the rocket as it rises above those trees.
If you really want a splurge for a dream-come-true experience, you can buy tickets to exclusive launch viewing areas within Kennedy Space Center. Locations can vary depending on launch but are generally available at the NASA Causeway, LC-39 Observation Gantry and Apollo/Saturn V Center. Each offers bleacher seating, live commentary and close up views.
Tickets are available online and if you want to do this, be sure to purchase tickets as soon as possible as they do sell out quickly. I would have gladly paid the extra for this if they were still available.
Get there early
If you are watching from the Kennedy Space Center, plan on arriving when the gates open if you are waiting for a morning launch. Expect long lines for parking and at the gate so be sure to buy your tickets online in advance to avoid queues. Also, don't bother waiting your turn for a selfie at the NASA globe outside the entrance…if you stop by later the crowds will be gone. You will want to head over to the viewing area 45-60 minutes prior to the scheduled launch window, more if you purchased those special viewing location tickets. If you want to find a place to wait in the shade, those spots are limited so you'll need to stake your claim early.
Be prepared!
That Florida sun can be hot. You will want to bring water, a hat, and plenty of sunscreen…maybe even an umbrella for shade while you are at it. I seriously thought I was going to melt and protected my tiny slice of shade like a knight defending his castle.
Expect crowds
If you are visiting the Kennedy Space Center on launch day, expect heavy crowds and a less-than-ideal experience. When we visited last, our wait for the Shuttle Launch Experience in the Atlantis exhibit was a short 5-10 minute wait.
This time, we skipped it entirely because it was a good 1+ hour wait. Lines for busses will be longer, crowds in exhibits will be thicker, etc. It doesn't mean that you won't enjoy your visit, but if this is your first time visiting, I would suggest one of two things.
Either visit over two days…on the day of the launch and the day after. Or, view the launch from a nearby public site and then visit the Kennedy Space Center the next day. If those aren't possible then by all means go and enjoy the experience and make the best of it despite the crowds.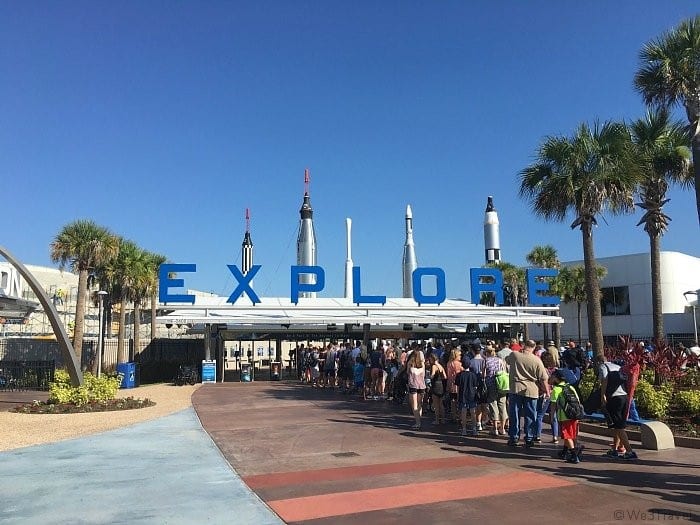 Consider add-on experiences carefully
If you are visiting KSC on launch day, chances are you are space geeks…or at least someone in your family is! If so, be sure to check the schedule for any astronaut meet and greets. I had a chance to have lunch with an astronaut, but it isn't nearly as intimate as it sounds.
First, you wait about 30 minutes to be allowed in and then you are slowly seated and allowed to join the queue of the other 200+ guests on one of the buffet lines. The food, consisting of salad, fish, chicken, pizza and some other hot entrees, as well as a dessert table, was mediocre at best. Understand that you are paying $29.99 per adult and $15.99 per child for the experience of sitting down in an air-conditioned ballroom to hear a presentation from an astronaut and have a chance to ask one of the half a dozen or less questions permitted.
If you are willing to dedicate a little more time to the experience, you can stay after for a chance for a photo with an astronaut. Or, you can just check the schedule and attend one of the free astronaut events at other times throughout the day.
Visiting Kennedy Space Center on launch day was an amazing experience for this nerd, as you can see:
I hope you get a chance to see a launch and if you do, let me know what tips you have to add. In the meantime, I need to start planning another family trip for an upcoming launch! If you are looking for more info about visiting Kennedy Space Center with kids, be sure to check out this post.
PIN THIS FOR LATER
Note: I received free admission to Kennedy Space Center and Lunch with an Astronaut as part of a press trip with Visit Florida. All opinions are my own. Featured photo courtesy of United Launch Alliance.