Getting kids excited about history can be hard. Getting anyone to picture what happened 150 years ago in and around a small town in South Central Pennsylvania when between 46,000 to 51,000 soldiers and 1 civilian (Jennie Wade, who was shot while caring for a sick relative and has her own museum today) were killed or wounded in one of the bloodiest, and most critical battles of the Civil War is even harder. So if you are visiting Gettysburg with kids, you'll want to plan ahead to make sure that everyone in the family gets the most out of the experience.
After visiting Gettysburg with my nine-year-old daughter and talking to Katie Lawhon from the Gettysburg Public Affairs Office, Barbara Sanders, Gettysburg's Education Specialist, and Renae MacLachlan, our official Battlefield Guide; I've come up with some tips to help kids get the most out of a visit to Gettysburg National Military Park. I assure you that Gettysburg is not some dry, boring place that your kids will moan and complain about visiting. In fact, chances are, a visit to Gettysburg will ignite an interest in history and move everyone with the powerful events that took place on that hallowed ground. It may even end up being the favorite part of your trip — I know it was with ours.
Before you Visit Gettysburg with Kids
While you can certainly visit Gettysburg without having first studied the Civil War, a little background is helpful. Since kids usually don't study Gettysburg and the Civil War until 8th grade, reading up on slavery, Abraham Lincoln, the Civil War, Gettysburg and the Gettysburg Address is a good way to create some context.
Barbara Sanders recommended:
A History of U.S. Series by Joy Hakim – since this is an expensive set you might want to check it out of your local library
For Younger Kids, you might also want to check out some books from familiar series including:
What was the Battle of Gettysburg by Jim O'Connor
I Survived the Battle of Gettysburg by Lauren Tarshis
The Story of Gettysburg by Patricia A. Pingry
My America: My Brother's Keeper: Virginia's Civil War Diary, Part One by Mary Pope Osborne
Spies in Disguise in Gettysburg (National Park Mystery Series) by Mary Morgan
Civil War on Sunday (Magic Treehouse Series) by Mary Pope Osborne
Older Kids might also enjoy:
The Red Badge of Courage by Stephen Crane
Across Five Aprils by Irene Hunt
Barbara also suggested the teacher resources on the National Park Service website, including the "Best Field Trip Ever" planning kit.
First Stop: Gettysburg Museum and Cyclorama
Once you arrive in Gettysburg, you'll want to make the Visitor Center your first stop. If you haven't done so already, book your tours and check out the Junior Ranger and National Park programs. You will want to start your visit with the Cyclorama. Before we went to Gettysburg many friends and relatives said, "You HAVE to do the Cyclorama," but I had no idea what it really was. Basically before there were IMAX theaters, there were cycloramas, which are 360 degree paintings that depict a scene (in this case, the Battle of Gettysburg ) and surrounded by artifacts and landscaped foregrounds to create a three-dimensional effect. Painted by Paul Dominque Phillipoteaux and his assistants, the Cyclorama of the Battle of Gettysburg was first displayed in Chicago in 1883.
Before you enter the actual Cyclorama, you will visit a theater to watch a 20-30 minute film about slavery and the issues leading up to the Civil War, an overview of the main events of the Civil War leading up to the Battle of Gettysburg, culminating with an overview of the three days of fighting that happened in July 1863. From there, you will move upstairs to a newly created theater housing the Cyclorama. Position yourselves anywhere along the rail and when the presentation begins, you will hear how the last day started with Pickett's Charge. Using light to highlight portions of the painting and sound the scene will come alive. Afterward, you will have a few moments to move around and look at the other portions of the painting. Be sure to look for a man standing near a tree holding a sword, this is where painter Phillipoteaux put himself into the picture.
After taking in the Cyclorama, you will want to spend about an hour exploring the Gettysburg Museum of the Civil War. To help you understand the timeline, the museum leads you through the exhibits starting with the events leading up to the Battle of Gettysburg and the through each of the three days of the Battle and the aftermath. Each section features a video that takes excerpts from what you saw in the Cyclorama and expands upon them to give a better understanding of who is who and the Battle timeline and locations.
The museum should keep your kids intrigued with so many multimedia exhibits. In addition to the videos, there are many touchscreen, interactive exhibits throughout the museum to bring history to life. It is also a great preparation for a visit to the actual Battlefield. After exploring the museum, visitors can also stop in to the resource center to research any ancestors that may have fought at Gettysburg.
The Cyclorama and Gettysburg Museum are located in the Gettysburg Visitor Center at 1195 Baltimore Pike. Tickets are $12.50 for adults, $8.50 for youth ages 6-12, and around 6 are free.

Gettysburg National Park Service Programs
Gettysburg National Military Park offers a number of children's programs that get kids engaged including:
Junior Ranger Program – if you aren't familiar with the National Park Services Junior Ranger program you should take a look at their website as these programs are offered throughout the National Parks. At Gettysburg, the park provides an activity booklet for kids ages 6 to 13 and participants are invited to spend 2 to 4 hours exploring the park's Museum and Visitor Center, the Soldier's National Cemetery, the David Wills House, the historic Gettysburg railroad station and other sites on the battlefield and in town. After completing the activity booklet, Junior Rangers are awarded a patch and certificate.
Join the Army – offered daily at 11 a.m. from June 7 through August 9, 2014, children are invited to enlist in the army and learn something about what it meant to be soldier in the Civil War. The program runs for one hour and is limited to 25 participants.
Hands-on History Cart – Each afternoon from June 7 through August 9, 2014, Park Rangers display a different themed history cart in the Museum and Visitor Center. Activities include a chance to load and fire a miniature cannon, dress up and drill like an infantryman or civilian, or learn the secret codes of the Signal Corps. These free activities will appeal to the whole family.
Junior Secret Service – at the Eisenhower National Historic Site, children ages 7-12 can become Junior Secret Service Agents by completing the activities in the training manual including practicing radio procedures, using binoculars to spot suspicious objects and interrogating employees who might be spies. Jr Agents are awarded a badge and certificate.
A great time to visit the National Military Park is during the Battle of Gettysburg Anniversary July 1-4th or November 15th for the Remembrance Day parade in conjunction with the Gettysburg Address Anniversary, but special events take place throughout the year so check the website for the schedule before you go.
Touring the Gettysburg Battlefield
There are many ways to tour the battlefield, including bike tours, horseback tours, bus tours, audio self-driving tours, and even segway tours! But the way I'd recommend for your first visit to Gettysburg with kids would be with an official Battlefield Guide. More about our experience touring the battlefield soon!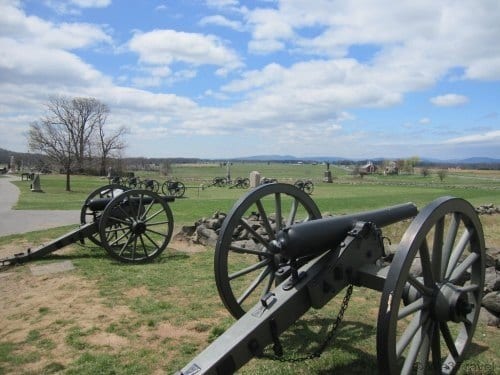 Note: Our visit to Gettysburg was hosted by Destination Gettysburg, with lodging provided by the Hilton Garden Inn Gettysburg, and included all tours and admissions, as well as some meals. We thank Destination Gettysburg but assure you that the opinions are our own!