Some of you may remember Robin Leach's Lifestyles of the Rich and Famous television show. If not, there is always YouTube. Stepping into Capritown on the island of Capri just off the Amalfi Coast of Italy is like watching an episode of Lifestyles of the Rich and Famous.
Uninterrupted by cars, the pristine streets of town are lined with upscale boutiques from the likes of Chanel, Cartier, Louis Vuitton, and Prada. During the day these streets are jammed with tour groups and daytrippers, along with electric carts whizzing by making deliveries to stores, restaurants and hotels.
But in the late afternoon when the daytrippers have departed back to the port to return to mainland or their respective cruise ships, the streets are quiet until the well-heeled visitors emerge from their luxury hotels or come in from the many mega-yachts that line the marina to have drinks, dinner, and shop. There were times, especially when glancing at the posted prices while window shopping, when I had to ask myself, "what am I doing here?"
While Positano attracts its own brand of wealthy tourists, its winding road, steep stairs, and local boutiques help it maintain a more authentic air, which I greatly enjoyed. Capri, while breathtakingly beautiful, is more polished, refined, and some might say a bit snobby.
But not the shopkeepers or restaurateurs — the people of Capri are absolutely welcoming and charming. And part of the reason we were spending five nights in Capri was to meet some of these people. My in laws first visited Capri thirty-one years ago and they have been going back every year since. Over this course of time they have become friendly with not just fellow regular visitors, but also with their hosts — from the owners and staff at their favorite restaurants, to the owners of their favorite hotel (La Scalinatella), to the managers and sales staff at their favorite boutiques.
When we last visited Capri with them in 2001, there weren't any grandchildren in the family. This trip provided my in-laws with the opportunity to show off one of their granddaughters, something they have been looking forward to for some time.
Since La Scalinatella doesn't allow children, except to visit for lunch, we stayed next door at its sister property, Casa Morgano. While the hotel technically allows children, our daughter was the only one we saw during our stay. If La Scalinatella attracts wealthy retirees (we met GE's former CEO Jack Welch there during our first stay), Casa Morgano caters to the slightly younger professional set. Spread out over many levels, this five-star hotel has only 20 rooms, keeping a very intimate feel. We had one of the largest rooms in the hotel, a suite with a king bed and a cot in the adjoining sitting room.
We were definitely living a luxurious lifestyle, although luckily this portion of our trip was courtesy of my in-laws. During the day we would start out with the included breakfast buffet on the terrace, enjoy one of the hotel's two pools, break for two hour lunches by the Scalinatella's pool with enough food, wine and sangria to stuff us for the day, then take a stroll or relax until it was time to get ready for dinner — starting with pre-dinner drinks next door. It is easy to see why my in-laws like spending a few weeks here every year. Walking through town before dinner we saw Magic Johnson and Samuel L. Jackson, while another evening Magic and his wife were having dinner at the same restaurant we were. Yup, it was the life.
But if all that sounds decadent and luxurious, it was nothing compared to the day we hired a boat for the five of us to explore the island of Capri. The 54 foot boat from Sea Cruise Capri was equipped with a captain, steward, bathroom, galley, two bedrooms and a lounge. But my favorite part of the boat was the back deck, where I could stretch out and watch the gorgeous scenery fly past. I truly think it was one of the most memorable days of my life. If you go, I strongly recommend a day boat hopping on the Amalfi Coast.
Instead of joining the throngs on your typical around the island tour or Blue Grotto boat ride, we could go wherever we wanted and were waited on hand and foot when we needed towels or drinks. It was so gloriously relaxing. As we jetted through the famous faraglioni rocks, I felt like I needed to pinch myself to believe that this was really happening and that it was really us stretched out on this boat enjoying the sun and the beautiful views. Compared to some of the yachts in the marina that had features like swimming pools, running tracks, and stern garages that housed tenders and multiple jetskis, our boat was small, but it was still the largest private boat I'd ever been on and it felt very luxurious to me.
When we arrived at the Emerald Grotto, we were able to get close enough to jump into the green-tinted water and actually swim through the grotto and get picked up on the other side. Looking back, I should have made sure we put on our life jackets because the swim was longer than it looked and my daughter and I were tired by the time we got to the other side. We tried to rest but the waves were buffeting us against the rocks. Luckily a helpful stranger gave her a piggyback ride over to our boat, which was too large to get too close the rocks.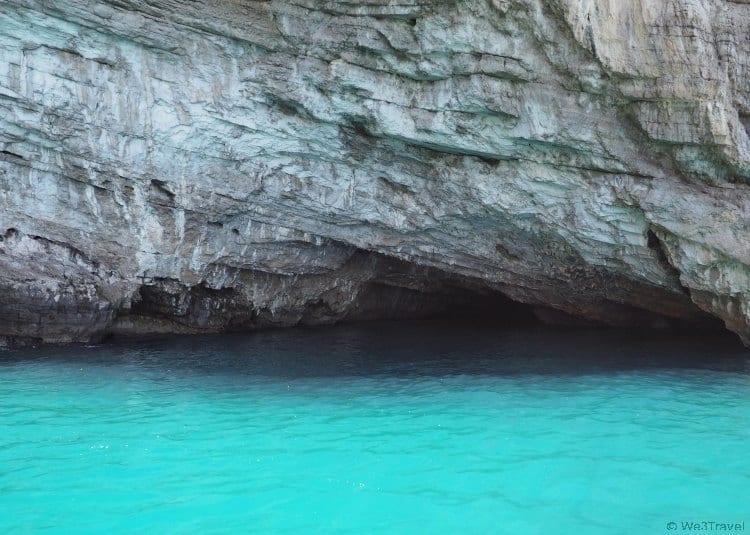 Next we took a peek at the White Grotto and the Marvellous Grotto above it, tucked into the white cliffs above.
By this time we were dried off from our swimming adventure and we set our sights on the Amalfi Coast for lunch at Lo Scoglio in Nerano. We were able to step off the boat right onto the deck and head upstairs to the restaurant right on the water. Here everything was fresh from the sea or grown in their organic garden. My delicious lunch of spaghetti and yellow tomatoes used the simplest of ingredients, yet had exceptional flavor.
After lunch, we headed back to Capri and took another swim in the crystal clear, beautiful blue waters of the Tyrrhenian Sea. This time we brought along some flotation devices and enjoyed some time just relaxing in the refreshing water. I attempted to swim over to the island, which looked so close, but once I got over the darker, sapphire blue water, my old panic of sharks and fear of swimming in water where I can't see what is below me kicked in. Trying not to freak out, I turned myself around and made my way back to the boat, more than happy to stretch out in the sun once again.
Before heading back to the marina, we checked in at the famous Blue Grotto after the throngs of daytrippers had left. Here we still had to wait our turn because only a few rowboats at a time can fit into the grotto. Once one approached our boat, my husband, daughter and I climbed on board and paid our fare to our skipper and entered the magical world of the Blue Grotto.
Once you enter the cave, you are mesmerized by the unworldly blue water. Combined with the haunting echoes of the skippers singing like Venetian gondoliers, it feels like you have left earth and have been transported to another planet. The time goes quickly before you are ducking your head once again to exit back into the bright sunshine, blinking in disbelief and knowing that for once, something touristy really lived up to the hype.
While I could have stayed on the boat all day, or happily slept onboard, our magical day of living the posh life needed to come to an end. Our experience on the boat was a perfect depiction of what makes Capri unique. It combined the raw natural, and sometimes staggering beauty of the island and its surrounding waters, with the luxury that is so commonly associated with Capri.
It was a perfect day in a perfect place. Of course all good things come to an end and back to regular life we return. But that is the joy of a vacation, right?
PIN THIS FOR LATER