Capri, Italy is the playground of the rich and famous. This fabled island off the Amalfi Coast has been a vacation destination for the jetset for decades, if not longer. While yachting, eating, and drinking are the past-times in Capri, the most popular sport is shopping. Designer shops line the main avenues of Capri Town. This would lead you to think that a Capri shopping spree would be limited only to the wealthy.
However, not every shop displays the same designer wares that you can find in every fashion capital. There are still some local goods that are worth spending your Euros on to bring home some special souvenirs. While some require splurges, others have options for every visitor's budget.
After spending five days walking up and down the streets of Capri, peeking into shops that looked like they might offer something I can afford, I came up with some recommendations on where to shop in Capri, Italy. I've focused primarily on locally-made or owned businesses that sell goods that can't be found just anywhere.

Where to Shop in Capri, Italy
There are three main shopping streets in Capri, as well as the area around the piazzetta. The main street off the piazzetta is Via Vittoria Emanuele. This street curves around to Via Camerelle in front of the Hotel Quisisana. This is where you will find the major designer shops. If you want things that are a little more off-the-beaten path (read: not as expensive), head over to the narrow Via le Botteghe.
By the way, don't be surprised when you see models about town (beyond those vacationing there) from the Capri Style shop. They are showing off the stylish linen outfits, which are both overpriced and beautiful.
After shopping, be sure to stroll down Via Tragara to the scenic viewpoint at the end of this road. You can stop for a lemon granita along the way.
Capri Watch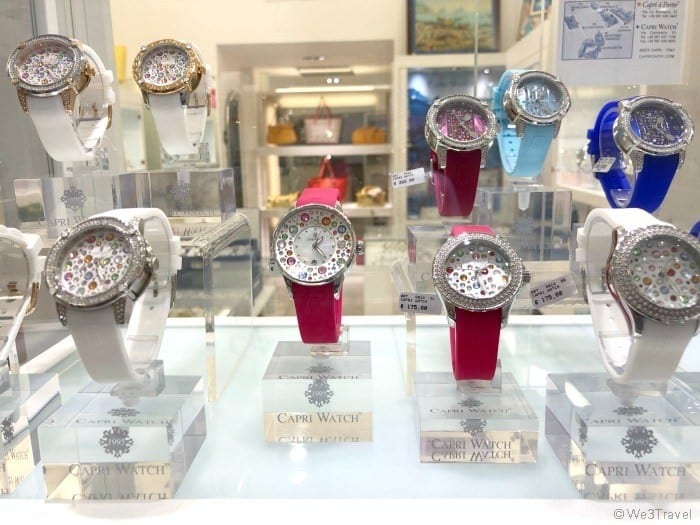 From the minute you board the funicular in Marina Grande, you are bombarded with advertisements for Capri Watch. These colorfully-jeweled watches and neoprene bags are offered at multiple namesake shops around town. Since I'm not big on bling or large watch faces, I didn't think I would find anything to suit me. Yet ever since my watch gave up the ghost, I've been searching for another. I was thrilled to find a rose-gold watch with a navy face, embellished only by a few carefully-placed jewels, and at a manageable price point.
Bottega Capri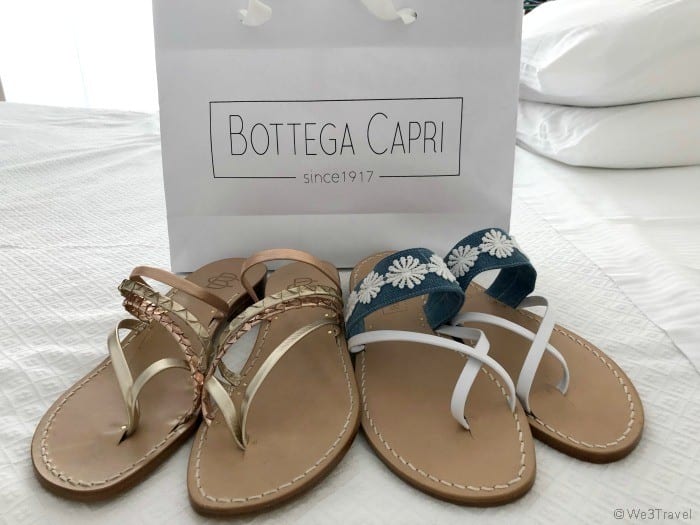 A few years ago when shopping in Positano, I had a pair of custom sandals made and they have remained a very special souvenir. I was thrilled to find Bottega Capri, a shop that also makes handmade, custom-designed sandals. They have many samples to give you ideas but you pick your heel height, leather sole color, and strap style. You can then choose from an abundance of colorful leather straps to complete the look. They will size you and then create your custom sandals. When you come back, they will make sure the straps fit your foot perfectly and finalize the sandals on the spot. I loved so many of the styles that I bought two pair!
Marta Ray
Marta Ray offers handmade leather goods including shoes, bags, belts, and other accessories. Walking into the store you are hit with the appealing smell of the soft, supple leather they used in the goods. I purchased a pair of leather strappy sandals for 79 euro, which is more than I would spend at home but not as outrageous as all the designer boutiques. I also found a fun leather cuff bracelet for 19 euro.
O Bag
At first I walked past the O Bag shop without a second thought. It looked a bit like Crocs for purses. But when I stepped inside I was sold on the concept. The totes are made of a soft, rubberized material in all sorts of colors. You can mix and match the bags and the straps to create a customized look. There are even liners that can be added to jazz it up. In addition to the bags, the shop also offers rubber watches with playful faces, somewhat like Swatch but more fun because you can create your own. Just choose the band color and then pop in the watch face. The faces and bands are interchangeable to mix and match as you like.
Carthusia
Carthusia I Profumi di Capri offers up the scents of the herbs and flowers of the island. The perfumes, candles, soaps, and lotions will allow you to bring the fragrance of Capri home, and the gift sets make lovely gifts.
Alberto Guardiani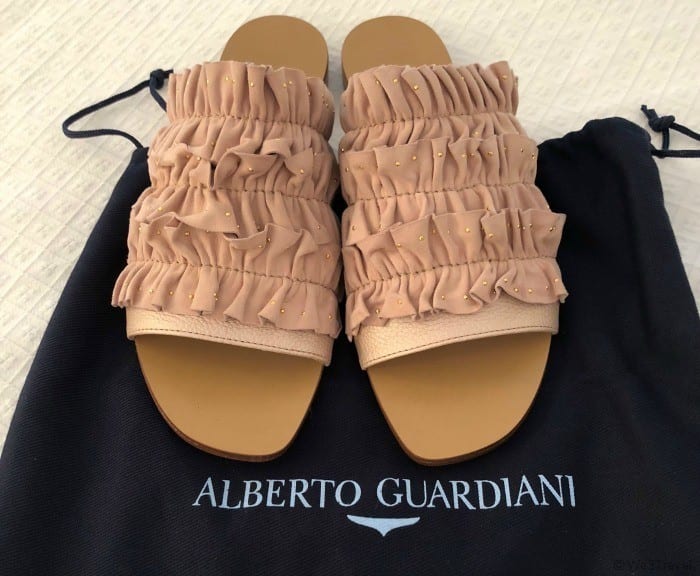 The Italians know shoes, and if you are willing to splurge a bit (but not outrageously), Alberto Guardiani should be on your Capri shopping list. My husband found a great casual shoe and loafer/driving shoe and I splurged on something a bit more high fashion than my standard fare.
La Campannina Gift Shop
La Campannina Restaurant is a staple in the Capri dining scene. This sphere of influence now extends to their gift shop where you can purchase everything limoncello. These make great souvenirs and gifts for those back at home.
PIN THIS FOR LATER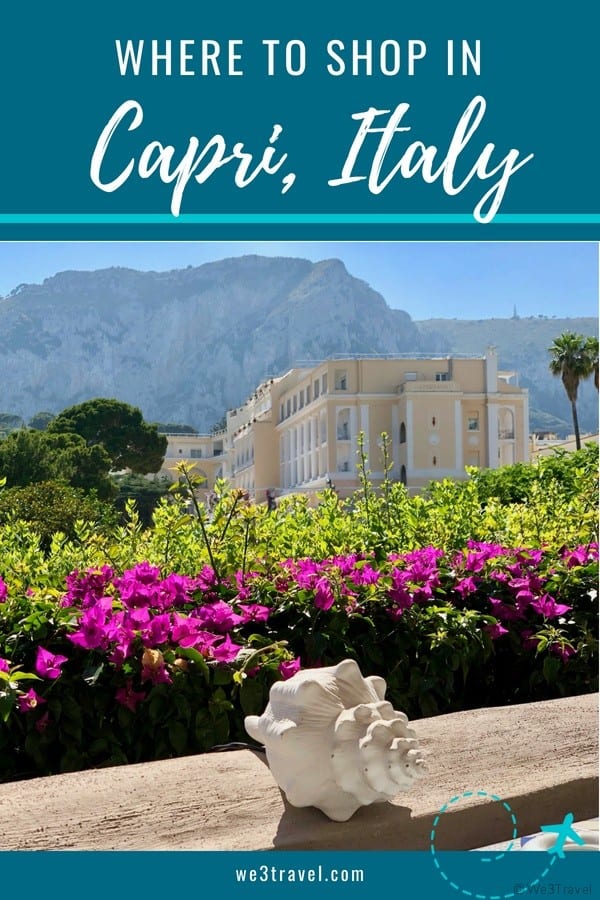 SaveSaveSaveSaveSaveSaveSaveSaveSaveSaveSaveSaveSaveSaveSaveSaveSaveSaveSaveSave