When I moved to the Ocean State over 20 years ago, these Rhode Island foods were new to me and some of them took a little getting used to and others I loved from the start. Now I can't imagine eating anything but Rhode Island-style calamari and I eagerly look forward to feasting on lobster rolls, stuffies, clamcakes, and doughboys in the summer, washed down with a Del's Lemonade of course!
These are just a few of my picks for must try Rhode Island foods — from the quirky and unique, the street food and the home-cooked. This is certainly not a complete list of Rhode Island foods, but these are a few highlights that you just can't miss.
10 Must Try Rhode Island Foods
If you are wondering what to eat in Rhode Island, start with these delicious Ocean State favorites.
Calamari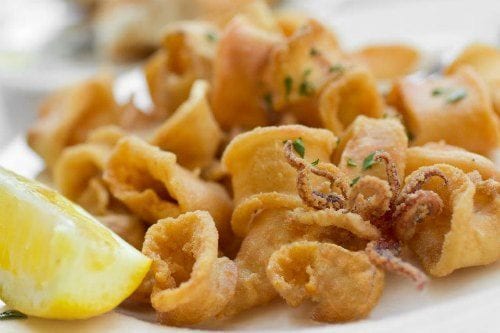 Unlike other parts of the country, Rhode Island calamari is very lightly battered, then fried or sautéed and served with a mix of garlic butter and hot cherry peppers; and it is delicious.
In fact, RI-style calamari is the official state appetizer. I rarely have a bad plate of calamari so you really can't go wrong at any of the fine restaurants around Rhode Island; but if you want a stand out serving, try ordering it at Pane e Vino in Providence.
If you love seafood, head down to Matunuck Oyster Bar for both the calamari and the locally-farmed oysters — my favorite in the state!
Del's Lemonade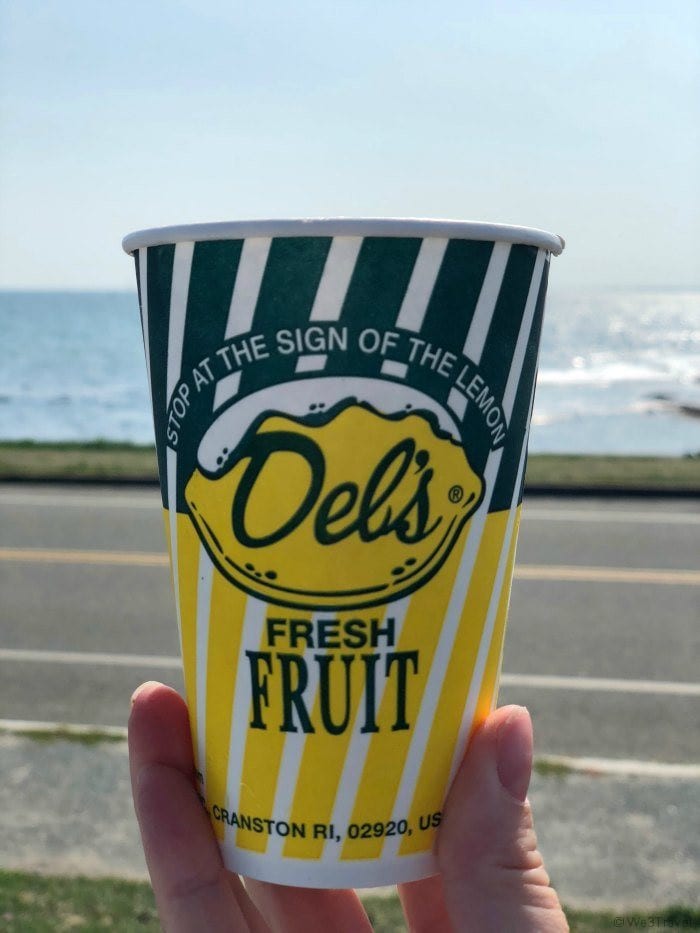 Based on Italian lemon ices, Del's offers frozen lemonade (like a lemon slushy) and is ubiquitous in Rhode Island during the summer from permanent stands to roadside carts at popular attractions. Del's is now available in a variety of flavors including mango/peach and watermelon.
Lobster Ravioli
While many restaurants serve it, most of them source lobster ravioli from the masters – Venda Ravioli.
Located in Depasquale Square in Providence's Federal Hill district, Venda Ravioli is a gourmet Italian market, complete with a sidewalk cafe. If you can't get a table there, try their sister restaurant Constantino's just across the square. You can even buy frozen versions in many local markets, such as Dave's Market.
Clam Cakes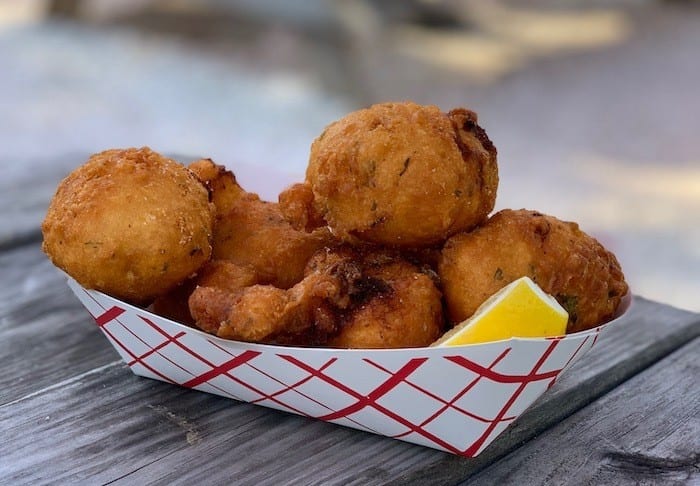 A clamcake is a egg-sized mixture of fried dough with small pieces of clams inside. I think of it like a fritter but clearly some disagree!
Clam cakes are one of those foods that people swear by one vendor's versus another; but if you want to try two great examples, head down to Narragansett to try Iggy's and Aunt Carrie's.
However, I've recently been converted to think the best clam cakes in Rhode Island are at Dune Brothers Seafood food truck in Providence. Their secret? Cooking them in beef fat. It adds this extra layer of flavor that sets them apart.
I'm also a huge fan of the lobster rolls, fried clams, and clam cakes at Blount's Clam Shack in Warren.
Doughboys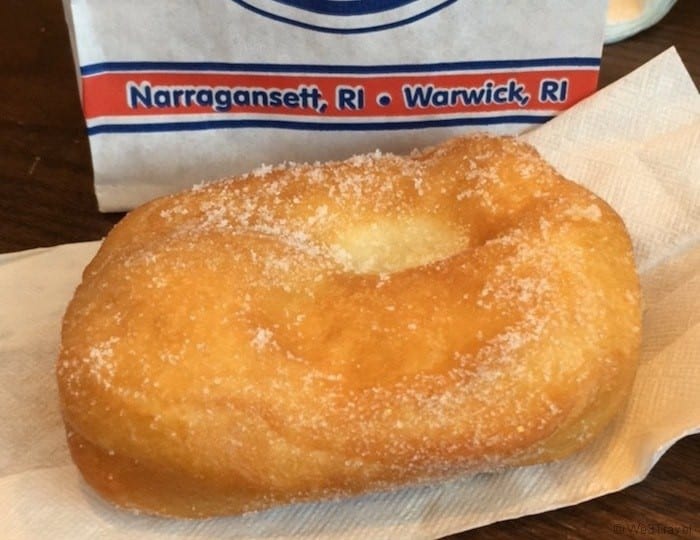 While you are down at Iggy's, you should also pick up some doughboys. Every region seems to have its own version of fried dough (funnel cakes, NJ-style zeppolis…), and doughboys are Rhode Island's.
Doughboys are flat, sometimes-plate sized pieces of fried dough. Others are smaller and you get them by the half-dozen. Served hot out of the fryer, you can get them plain, with sugar, cinnamon sugar, or powdered sugar.
Pizza Strips (aka Party Pizza)
When I first moved to Rhode Island, I didn't understand these cheeseless pizza strips that turned up at every party. I often heard, "I'll bring party pizza!" This oddity has since grown on me and now I'm sometimes the one bringing the party pizza.
Pizza strips are strips of focaccia-like dough topped with a thick tomato sauce. They are served at room temperature and are available at most local bakeries and markets.
Zeppole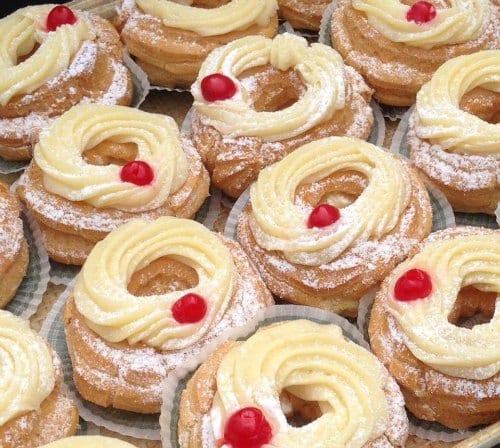 When I was talking about doughboys, I mentioned NJ-style zeppolis, which are small balls of fried dough (strangely enough, about the size of a clamcake).
These are sold by the dozen or half-dozen, and topped with powdered sugar or cinnamon sugar. It was a favorite treat of mine when visiting the boardwalk at the Jersey shore.
So when I moved to RI, I heard about this holiday called St. Joseph's Day, which was celebrated by eating zeppole. I was excited until I went to the bakery and found that the zeppole sold in RI are actually a creampuff-like pastry filled with a custard-type cream or other option, and topped with cream and usually a cherry.
Yummy, just not what I was expecting. Unfortunately, zeppole are mostly found around St. Joseph's Day in March so if you are visiting at another time, you might miss out.
But if you are lucky enough to be in town at the right time, I'd recommend stopping by LaSalle Bakery in Providence (also pick up one of their amazing red velvet cupcakes while you are there.)
Coffee Cabinets and Coffee Milk
In Rhode Island, a cabinet is not just a place to store things, it is coffee beverage made of coffee ice cream, coffee syrup and milk. I'm not sure if it is the official state drink, but it should be. You don't see them too often anymore, but it is something the long-time Rhode Island residents still know about and they are still served at Newport Creamery.
However, coffee milk is something you still see around, or at least you can buy coffee syrup in the market. Coffee milk is made by adding a sweetened coffee concentrate called coffee syrup to milk, the same way you make chocolate milk.
Stuffies (aka Stuffed Quahogs)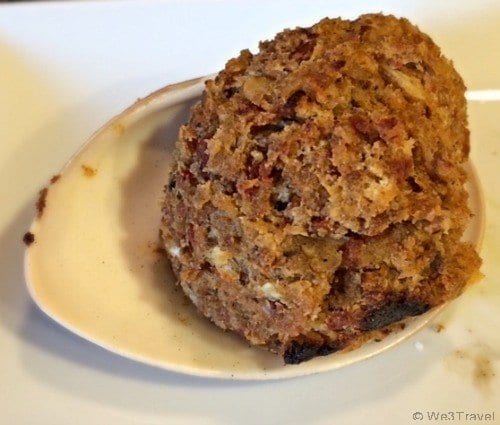 Stuffies are another famous Rhode Island food that I never heard of before I moved here but now order or serve often. Stuffies are a form of a stuffed clam that is exclusive to Rhode Island.
They are stuffed with a breading that includes chopped quahogs (the RI state mollusc), herbs, and bits of peppers and chourico sausage.
Stuffies are another thing that you can get just about anywhere and my favorites are actually from my local Dave's Market; but if you would rather eat them out, try Finn's Harbourside in East Greenwich.
New York System Hot Weiners
I had to put this one last because after 21 years in RI, I still don't understand why locals tout a food that was named after another state. I also lived in NY and I don't get the connection. My guess is it goes back to Coney Island style hot dogs although I've seen similar offerings on the Upstate Eats Trail in New York on the way to Buffalo.
But, that said, these hot dogs are a classic RI food so if you want to try it, head over to one of Olneyville N.Y. System's locations.
The traditional wiener is made with a small, thin frankfurter made of veal and pork, giving it a different taste from a traditional beef hot dog. It is served in a steamed bun, and topped with celery salt, yellow mustard, chopped onions, and a seasoned meat sauce.
Bonuses
Rhode Island is a foodie state and Providence is a foodie city. So while I can list all of the best food in Rhode Island, there are a few honorable mentions that I simply can't leave out.
Donut Cake. Yup, that is a must try food that I've only seen in RI and you can only get them at Allie's Donuts in North Kingstown, but you better order in advance.
Gregg's Chocolate Cake. Yes, you can get chocolate cake anywhere. But can you get this thick, rich, moist, extra chocolatey cake like you can at Gregg's restaurant.
Johnnycakes. These cornmeal pancakes are found around, but not as prevalent anymore.
RI-style clam chowder. Unlike New England clam chowder, RI has a clear broth.
Dynamites. Hamburger meat with peppers, onions and tomato sauce – sort of like a sloppy joe.
Wondering Where to Eat in Rhode Island?
Try these:
PIN THIS FOR LATER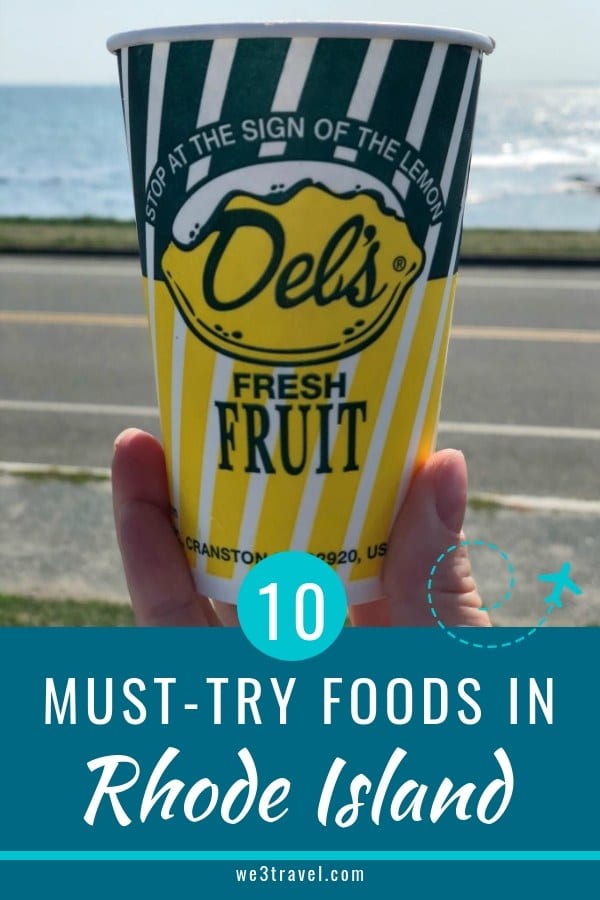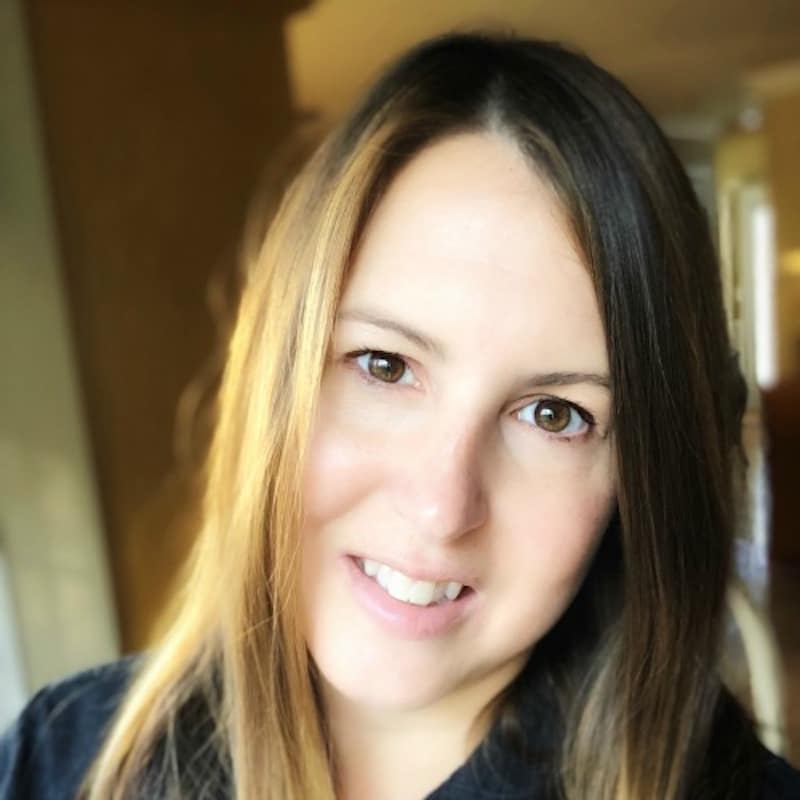 Tamara Gruber is the Founder and Publisher of We3Travel. A former marketing executive and travel advisor, Tamara is an award-winning travel writer and recognized expert in family travel. She is also the publisher of YourTimetoFly and the co-host of the Vacation Mavens travel podcast.