We have been taking road trips with our daughter since she was four weeks old. So now that she is sixteen, we kind of have road trips down pat. I know what to pack for a road trip and how to stay safe on a road trip.
Over the years we have taken some epic road trips — through the Canadian Rockies, the midwest, and visiting Civil Rights sights in the South. Throughout those trips we have relied heavily on audiobooks, road trip games, road trip questions, trivia, and a family favorite…road trip bingo.
Traveling with toddlers? Try these road trip activities.
Note: This post contains affiliate links. If you click a link and make a purchase, I may earn a small commission.
At a very early age we bought the wooden Melissa & Doug travel bingo game. To this day when her friends get in the car, they can't believe we still have those game boards in the pockets of the back seat. Even the teens still pull them out to start competing (and usually bending and making up rules as they go!)
Yet the game cards that came in that set always drove us a bit crazy. There were so many obvious options that were missing. I often joked that we should just come up with our own categories and options. Well, I finally did.
Road Trip Bingo Printables
I have created five new road trip bingo printables: vehicles, car brands, restaurants, gas stations, and signs. Each sheet can be printed out and used however you like. For example, you can give each child a clip board with the various road trip bingo printables with a pen attached using string or a rubber band.
However, if you do own the Melissa and Doug game boards, these printables have also been sized to cut down to fit perfectly to show behind the gameboards fun flip doors!
This summer I am planning a massive two week road trip through Wisconsin, Minnesota, North Dakota, South Dakota, Nebraska, Iowa, and Illinois. We are going to have a lot of time to kill in the car. I'm already lining up our audiobooks and can't wait to give these new road trip printables a whirl.
How to Use:
Print on standard 8.5×11″ paper. We recommend a card stock or thicker weight paper, especially if you are using them with the Melissa and Doug game boards.
If you are using the game boards, cut along the dotted lines so that these will fit into your game board.
Otherwise, snap onto a clipboard (one clipboard for each child) and attach a pencil or marker using a string, rubber band, or carabiner.
Tip: To save money on ink, sign up for HP's Instant Ink Program!
How to Play:
There are many ways to play:
Competitive: each player uses the same game board. Whoever sees the object first calls it out and marks it off on their board. The first player to get four across, down, or on a diagonal wins.
Individual: each player uses whichever game board that they would prefer. When they see an object on the game sheet, they mark it off their board. They "win" when they get a BINGO (across, down or diagonal), or when they have checked off the entire game board.
Full board: everyone tries to complete the entire game board. Whomever finds an object first calls it out and can mark it off their board (but only they can check it off for that one object, everyone else has to find their own.)
Click on the images below to print, or you can download all the road trip bingo printables to save them for later.
Click on the Vehicles Road Trip Bingo image to print:
Download the vehicles PDF.
Click on the Signs Road Trip Bingo image to print:
Download the road signs PDF.
Click on the Car Brands Road Trip Bingo image to print:
Download the car brands PDF.
Click on the Restaurants Road Trip Bingo image to print:
Download the restaurants PDF.
Click on the Gas Stations Road Trip Bingo image to print:
Download the gas stations PDF.
Do you have other categories that you would like to see? I'd love to hear your ideas so that I can create even more road trip printables. Just leave a comment below.
PIN THIS FOR LATER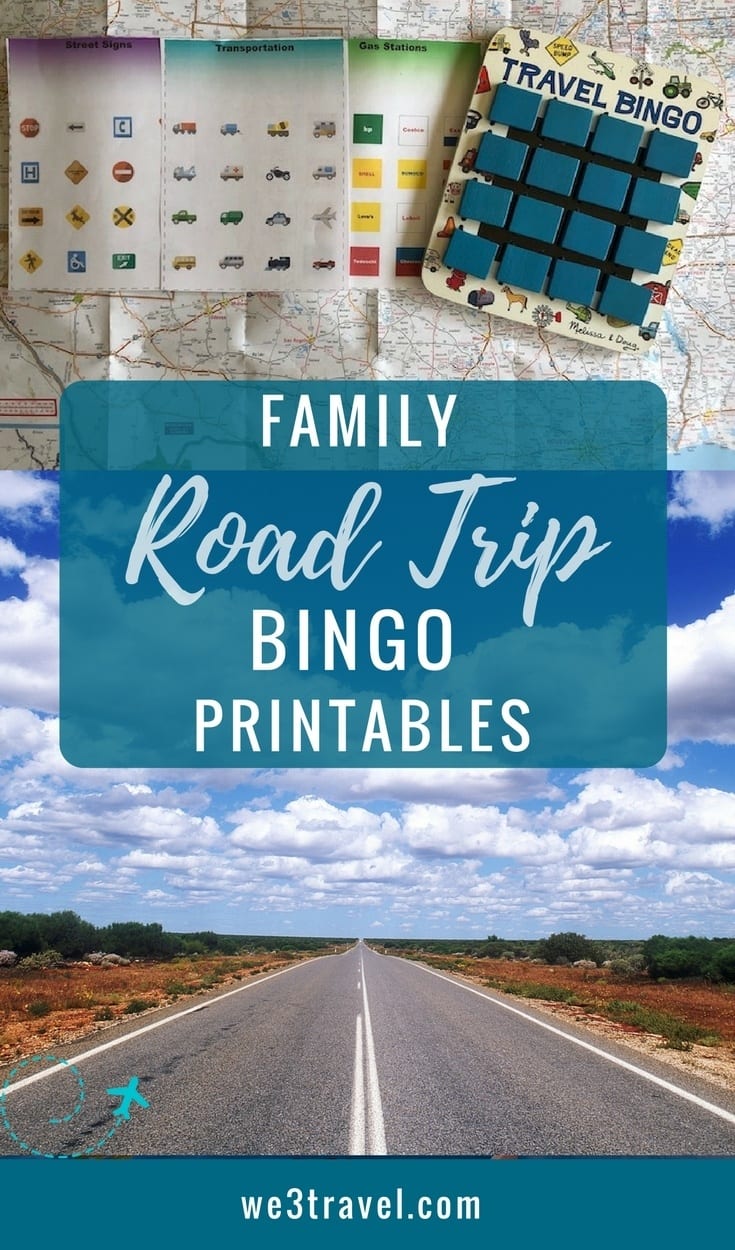 SaveSave
SaveSave