Are you missing the crisp mountain air? The smell of the sea? The rich flavors of Maine lobster, real maple syrup, or delicious Vermont cheddar? If you miss New England or know someone that does, send them a little slice of New England this holiday season with this curated selection of New England gifts and locally-made products.
You can support small businesses while making someone on your gift list very happy with these local New England products from Maine to Connecticut.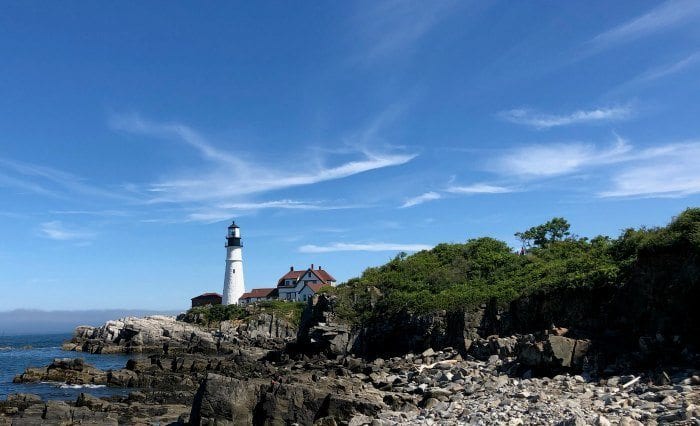 New England Gifts to Get this Holiday Season
Darn Tough Socks: Darn Tough socks are made in Vermont and guaranteed for life. Perfect for hikers, outdoor enthusiasts, and anyone prone to cold feet, these premium Merino wool socks stay comfy, warm, and in shape over time.
Simon Pearce Glass: handcrafted in Vermont, Simon Pearce offers glassware, tableware, pottery, lighting, and home decor, including some beautiful holiday pieces.
Vermont Flannel Company: this family-owned company will wrap you up in a flannel hug with cozy pants, shirts, blankets, pjs, and more. Perfect for matching holiday pajamas.
Vermont Teddy Bear: a Vermont Teddy Bear is a perfect way to mark a special occasion or just send a bundle of huggable love. Personalize your bear or send a special Christmas bear to someone you love.
Cabot Cheese: from Seriously Sharp to Hot Buffalo Wing Cheddar, Cabot Cheese from Vermont tantalizes taste buds and offers up some great pairing ideas and charcuterie board options.
Lake Champlain Chocolates: gourmet chocolate bars, tasty truffles, and holiday gift boxes from Lake Champlain Chocolates in Vermont will satisfy the most finicky sweet tooth.
Vermont Country Store gift basket: the Vermont Country Store is a great stop on any New England road trip, offering products of all sorts to create your own Vermont gift basket.
Cold Hollow Cider Mill gift basket: one of my favorite stops when visiting Smugglers' Notch, Cold Hollow Cider Mill is the place for maple syrup, pancake mix, donuts, baked goods, and of course, cider.
Runamok Maple Syrup: Runamok Maple offers premium, organic maple syrup from Vermont in mouth-watering specialty flavors such as my favorite, cinnamon-vanilla infused syrup.
Vermont Rolling Pins: for the baker on your list, Vermont Rolling Pins offers rolling pins and baking tools that are individually hand turned and made with care.
Wooden Toys from Maple Landmark: Maple Landmark makes eco-friendly wooden toys, puzzles, games, blocks, and more — perfect for ditching the plastic for the kids on your list.
L.A. Burdick Chocolate: based in New Hampshire, L.A. Burdick has produced exquisite Swiss-style chocolates for over 30 years. Ship a chocolate lover a box of signature chocolate mice, penguins, or snowmen.
Badger Balm: New Hampshire-company Badger Balm makes certified organic and all-natural body & skin care products including healing balms, natural sunscreens, skin moisturizers, and muscle rubs. There are many gift sets perfect for holiday gift giving.
Peterboro Basket Company: since 1854, Peterboro Basket Company has crafted the world's finest handmade baskets in Peterborough New Hampshire. These are perfect for new home owners, with picnic baskets, firewood totes, storage baskets, and more.
NEMO Equipment Inc. sleeping pad: based in New Hampshire, NEMO Equipment is an award-winning designer of innovative outdoor gear, including tents, sleeping bags, sleeping pads, camp showers, and more. Started by graduates of the Rhode Island School of Design, we found its sleeping pad to be perfect for camping and sleepovers. It reflects body heat and folds up tight and packs light.
Casco Bay Soap: there are many local soap producers but few bring the aromas of Maine home as well as Casco Bay Soap Co.. Straight from the coast of Maine, these homemade, old fashioned, from scratch artisan soaps come in fragrances reminiscent of time well spent by the sea shore, at the lake, or in the woods.
L.L. Bean Boots: L.L. Bean may no longer be a small company, but there is nothing that screams New England more than a classic Bean Boot. From cozy flannels to matching family pajamas, you can find something for everyone on your list, even the dog.
Maine Sea Bags: made from recycled sails, Maine Sea Bags make perfect gifts. There are totes of all sizes, beverage bucket bags, wine totes, door mats and more. Every time I visit a Maine Sea Bags store I fall in love with another pattern.
Stonewall Kitchen: you can find specialty foods from York, Maine-based Stonewall Kitchen throughout New England. The company's themed holiday gift baskets offer tasty treats of many flavors from pancake breakfast samplers to whoopie pie mix and the best Maine blueberry jam.
James Hook & Co. Maine Lobster: get fresh live Maine lobsters shipped right to your home from Boston-based James Hook & Co.. In addition to lobster you can ship chowder, lobster dinners, and other shellfish.
Real Oyster Cult: based in Duxbury, MA, Real Oyster Cult is a family-run oyster farm offering gift bundles that include a selection of hand-curated oysters and Real Oyster Cult will curate the most delectable oysters from across a free ROC shucking knife and gloves.
ChappyWrap blankets: for a year when everyone wants to spend more time outside, what could be better than keeping cozy in a ChappyWrap blanket or throw. This Massachusetts-based, mother-daughter duo offers designs that are pure New England.
Vineyard Vines: founded on Martha's Vineyard in Massachusetts, the love for the preppy, New England style of Vineyard Vines have spread far. Matching shirts make for great holiday family photos and matching pajamas help make the holidays festive.
Yankee Candle: bring the scent of the holidays home with a gift box from Yankee Candle. Visiting the factory store near Springfield, Massachusetts, and its special holiday shop is a great way to welcome the holiday season.
The Black Dog gear: another Vineyard-based company, Black Dog Tavern Company was born of one sea captain's love of the ocean, Martha's Vineyard, and, of course, his dog. Fun and cozy sweatshirts, tees, loungewear, and, of course accessories for the pup, all make great gifts.
Kiel James Patrick: designed in Rhode Island, Kiel James Patrick offers classic New England clothing, from holiday sweaters to cozy flannel and fleeces, fashion aficionados will treasure a special gift from KJP.
Lemon & Line: Lemon & Line offers rope bracelets and accessories hand-crafted in Newport, Rhode Island. These make a perfect gift for anyone that loves sailing and summer.
Air and Anchor: Air and Anchor jewelry is made for the moments the matter, the time that matters between all that other stuff. Designed in Rhode Island by a husband and wife team, Air and Anchor products are ethically sourced and environmentally-conscious, collaborating with local artisans and using recycled products whenever possible.
Alex & Ani: based in Rhode Island, Alex & Ani revolutionized charm bangles and bracelets and created a movement of people donning these stackable bracelets.
Yacht Club Soda: send a case of "Rhode Island's soda" from Yacht Club Bottling Works, with flavors from classic cream to fruity pineapple and Mercy Brown Vampire Blood Orange Mango.
Del's Lemonade: any native (or former) Rhode Islander will enjoy having the taste of summer at home with a Del's Frozen Lemonade make at home bucket.
Mystic Knotwork: the oldest knot shop in the United States, Mystic Knotwork offers a whimsical selection of nautical bracelets, home decor, and even rope-based Christmas ornaments.
Blackkat Leather: you don't need to travel to Italy or Morocco to get hand-crafted leather goods. The husband and wife duo behind Blackkat Leather in Chester, CT create hand-crafted bags, belts, bracelets, and other classically-designed leather goods.
Do you have other New England-based companies to recommend? Leave your favorite gift ideas in the comments below.
Save this to Pinterest