My daughter spends a lot of time on our travels reading during our downtime or while in transit. Since it is the time of year when we are all struggling with what to buy for holiday gifts, especially for teen girls since all they seem to want are their phones, I thought I would put together a list of gifts for bookworms.
So if you have a teen that loves to read, take a look at this gift guide for book lovers. Everything was hand-selected and approved by my teen bookworm.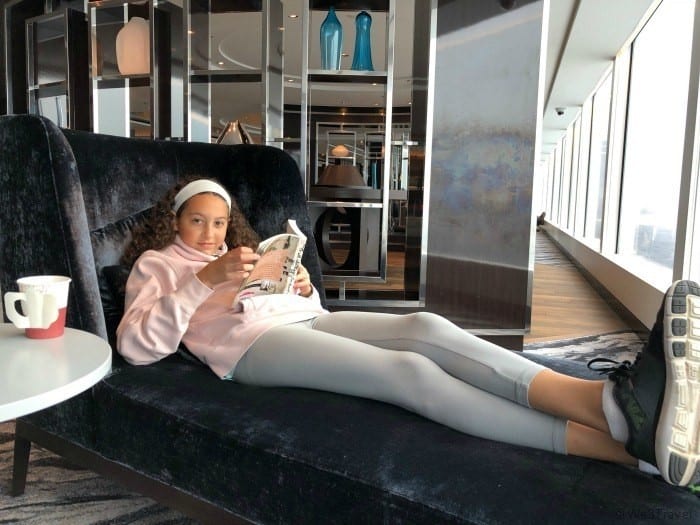 Gifts for Teen Bookworms
My daughter is obsessed with the Throne of Glass series by Sarah J. Maas. Over the summer she was able to evangelize this book and hook many of her friends to this series. There are a total of seven books, the last of which just came out in October 2018. Just keep in mind that this is for the mature teen. There is a lot of violence and the romance starts out tame but really heats up by the third or fourth book and may be a little steamier than you would approve of depending on the age and the kid.
If your kid is a book lover and proud of it, then let them show it off with this adorable fox bookworm t-shirt. I don't know what it is about this age group of book lovers but they love foxes, hedgehogs, and cats. 🙂
I have recently been raiding my teen's bookshelf and I agree that All the Bright Places by Jennifer Niven was an amazing read. It does deal with issues of teen depression and suicide so note the trigger warning. However, it was moving and insightful. And yes, I cried. If your teen likes John Green, I think they will like Jennifer Niven too.
Is your kid always begging to stay up late to read? Or are they late to the dinner table because they are finishing a chapter? I admit that I'm guilty of that too. This throw pillow makes a great addition to the bedroom or family room — perfect for leaning on when reading.
Cinder by Marissa Meyer is the first of a fantasy trilogy that is a spin off of fairytales but in a very different setting. Cinder reimagines Cinderella set in Asia in a world of robots and moon-dwelling peoples. This is another one I borrowed from Hannah and it quickly got me hooked.
If your teen needs another reason to tell you to go away, reading may be it. At least this fun sign is nicer than having a door slammed in your face.
If your teen hasn't read The Hate U Give yet, then the fact that it is now a movie may convince them. I don't know about your book lover but mine always wants to read the book before seeing the movie (and yes, the book is always better.) This powerful realistic-fiction novel is so current and deals with issues of race, police brutality, protests, and coming of age. Yes I cried when I borrowed this one too.
I can't fully understand the cross over between cat ladies and book lovers but my daughter isn't the first bookworm to also love cats. We couldn't resist adding this adorable nightlight. It may not be bright enough to read by, but it is too cute to pass by.
Like many teens we know, Hannah is obsessed with fantasy — maybe because reality today is so stressful? Another of her favorite series starts with Six of Crows by Leigh Bardugo.
For teens, it isn't Calgon that takes them away. They prefer bath bombs. Your teen book worm can relax and read in the bath with these vegan bath bombs.
The Sun is Also a Star by Nicola Yoon is another current novel that will soon be a movie. Teens that liked Eleanor and Park, The Hate U Give, Fault in our Stars, will also like this one.
This wrap ring will worm its way into the heart of book lovers. Available in multiple sizes, it is also adjustable to fit growing fingers.
Book one of get another series, Zodiac by Romina Russell is a sci-fi saga that fans of astrology (and astronomy) will enjoy.
My mom used to always tell me, "turn on the lights, you will ruin your eyes." I probably did ruin my eyes with all my reading but if I had one of these handy book lights maybe I would have used it instead.
You may have seen this one on Netflix, because it has been turned into a Netflix Original. To all the Boys I've Loved Before by Jenny Han is a sweet teen romance for fans of rom-coms.
Remember…hedgehogs, cats, foxes, and probably penguins too. This adorable book worm hedgehog is the best of both worlds (cute animals + books.)
I'll give you the Sun by Jandy Nelson wrestles with sibling rivalry, bullying, teenage struggles, divorce, and the search to identify and accept sexual preferences. It was another of our favorite YA books in the last year.
You can't have a gift guide for book lovers without paying homage to Harry Potter. There are so many choices, but this t-shirt is one of my teen's top picks.
If you are looking for something more inspirational for your teen girl, perhaps Because I Was a Girl: True Stores for Girls of All Ages by Melissa de la Cruz will do the trick.
Does your teen love to share his or her favorite books? Make sure they are returned with this personalized book stamp.
Keep precious books in pristine condition with this wizard's map book sleeve, a perfect gift for Harry Potter fans.
This personalized book locket is a special gift for the book lover on your list. You can have a special message placed inside to create a treasured keepsake.
Does your teen already love the Throne of Glass series? If so, she/he will love these mini bookmarks featuring Celaena / Aelin.
I know our teens spend a ton of time on their phones and computers, but here is a way to still show their love for books even on their electronics. This "weekend is all booked" sticker is a fun way to decorate a laptop or phone case.
When Internet stars and books come together, you get the best of both worlds, right? Maybe with this cute grumpy cat bookmark.
Do you have a teen bookworm? If so, I would love to hear their favorite books in the comments below. After all, I have to find some new things to buy my teen too!
PIN THIS FOR LATER
SaveSaveSaveSave
SaveSave
SaveSave
SaveSave
SaveSave
SaveSave
SaveSave
SaveSave