Thomas Jefferson is one of the United States' Founding Fathers. He was a drafter of the Declaration of Independence, penning the famous words declaring that "all men are created equal" and have the right to "life, liberty, and the pursuit of happiness." Yet even though he spoke out against slavery, he remained a slaveholder until he died. He was a scientist, an architect, and a strong believer in the value of education. Not only did he found and design the University of Virginia in his retirement, he also paid for his grandsons' educations, even when he really couldn't afford it. He was a significant figure in history, serving as delegate to the Virginia General Assembly, governor of Virginia, minister to France, secretary of state, vice president, and the U.S.'s third president.
With that history, how can you not go visit Monticello, the home that Thomas Jefferson so lovingly designed and built, if you are near Charlottesville, Virginia? We were passing through the area during a two-week road trip through Virginia and found a stop at Monticello a perfect follow-up to our stops in Newport News, Hampton, Williamsburg and Jamestown.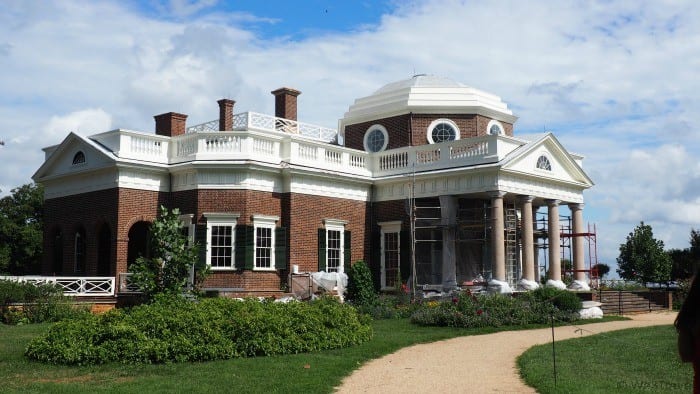 Our visit started at the Visitor Center, but we quickly boarded a shuttle bus for a short ride up the hilltop to Monticello. Tours run every five minutes, but when you exit the shuttle you are lined up according to your tour time. We started off in the Entrance Hall, where we were given a bit of background about Jefferson and his family.
Thomas Jefferson was born just two miles away from Monticello and inherited the land when he was 21. He began building Monticello at 25, using his own design. The house that you tour today is still 80 percent original, so you get a very good idea of what it was like in Jefferson's time. One of the most fascinating features of the entrance hall was the clock designed by Jefferson. It is a seven-day clock, but when Jefferson installed it in the home, the measurement was off and the bottom of the clock extends into the basements. The hall also contains artifacts from Jefferson's life including European art, maps, Native American pieces and souvenirs from the Lewis & Clark expedition. Because so many furnishings are original to the period, visitors are warned against leaning or touching, which can be a bit challenging for kids.
Although the house has 21 rooms, including 12 bedrooms and a nursery which were later utilized by Jefferson's children and grandchildren, you only visit a few of these rooms on the tour. Jefferson was married for only 10 years of "unchecked happiness" to his wife Martha, who died giving birth to their sixth child. His daughter Martha later moved in and had six girls and five boys to fill those rooms.
When we stepped into the book room, Jefferson's love of education was clear. He was educated at the College of William and Mary, followed by five years spent studying the law. He could read and write in seven languages and owned 7,000 books in his time, which formed the foundation for the Library of Congress. In fact, education was so important to Jefferson that instead of including his presidency on his gravestone, he requested the following engraving:
Here was buried
Thomas Jefferson
Author of the Declaration of American Independence
of the Statute of Virginia for religious freedom
& Father of the University of Virginia
After the book room, we moved into Jefferson's private study and bed-chamber. It was powerful to see the place where Jefferson penned over 1,300 letters in one year. It was also a bit strange to be able to see the bed where this six foot two and one-half inch president slept.
As we stepped through the parlor, with its many religious paintings and parlor games, people were brimming with questions, but because the tours follow each other so closely, there isn't a lot of time for answers. One of the features that struck me in the dining room was the small folding table — I expected a much grander dining hall. But Jefferson liked to keep dinners small and minimize exposure to slaves, by having food already laid out in the room and utilizing a cart with shelves and the dumbwaiter hidden behind a fireplace.
After the formal tour ended, visitors are permitted to explore the "dependencies" or service rooms, like the wine cellar and other storage rooms, under the house on their own. Visitors can also wander around much of the estate's 5,500 acres, exploring the slave quarters and vegetable gardens. If you have the time and energy, you can take the Slavery at Monticello tour or Gardens and Grounds tour, which are included in the price of general admission.
It is really amazing that the estate has been maintained at all. Because Jefferson died in debt, his estate was sold off six months after his death. Luckily in 1923, it was sold to the Thomas Jefferson Foundation by the Levy family in a desire to preserve it out of respect for Jefferson's views on religious freedom.
This is definitely a great stop for families that like to include history into family trips. However, it could be a bit tough for young kids to make it through the tour. Overall, they do a much better job of welcoming children then places like Hearst Castle, as they offer a Family-friendly tour and even hand out an "Exploring Monticello" brochure designed for kids to introduce Monticello from the perspective of Cornelia Randolph, Jefferson's granddaughter.
Know before you go
When visiting a historical attraction with kids, it is always helpful to provide a little context before you go. This involves learning about the person/place/event through books and video, and setting proper expectations on what they will see and experience. Here is what I recommend:
There are many books available to provide some historical context about Thomas Jefferson including: Thomas Jefferson Grows a Nation by Peggy Thomas; Goodnight Cavaliers by Catherine Jennings Davis and Traci Shirley Thompson; Thomas Jefferson: A Day at Monticello by Elizabeth V. Chew; and Who Was Thomas Jefferson? by Dennis Brindell Fradin
Play the Learn with Homer iPad app to learn more about the Founding Fathers
Older students may like diving into the world of Thomas Jefferson through an online course
If you are staying in downtown Charlottesville (check out The Graduate Hotel), you might take a stroll through the University of Virginia campus to see the Rotunda that Thomas Jefferson designed
Make sure the kids know that this is a 45-minute to one-hour guided tour and that they will need to stay with the group and listen quietly without many opportunities to ask questions, especially if you have a large group
Tips for Visiting Monticello with Kids
Book your tickets in advance if you are going during a busy time to get the time slot you want. Monticello does offer a "Family-friendly" tour and day pass option, designed specifically for families with kids ages 5-11.
Consider visiting in the morning, before it gets hot, especially if you are visiting in the summer
Take in the film at the Visitor's Center, but save the rest of the exhibits for after the tour, just in case the kids are at the end of their attention span
Give yourself plenty of time to take the shuttle up the hill and arrive at the meeting spot before your tour departs
Large bags and backpacks are not allowed, so leave those in the car.
Photos are not permitted inside the house, so you may want to just leave your big camera behind too.
If the kids are too tired to take the Slavery at Monticello tour after the house tour (I know we were!), you can still download the Slavery at Monticello app and explore the grounds on your own (free WiFi is available on site)
After you are done touring the house and ground, kids might enjoy burning off some energy with a walk down the hill to the Jefferson's Grave and/or the Visitor's Center instead of taking the shuttle back.
A good way to fill up before or after the tour is a mid-day meal at the colonial-era Michie Tavern just down the road.
Monticello is located at 931 Thomas Jefferson Parkway in Charlottesville, VA 22902 . It is open every day except Christmas. Gates open 10 am to 5 pm and the first tour starts at 10:15 am; last tour starts at 4:10 pm. The property closes at 5pm. Family-friendly tour and day pass tickets are $25 for adults (Mar-Oct; $20 Nov-Feb) and $8 for children 5-11 (under 5 are free.)
PIN THIS FOR LATER
Have you been to Monticello? Tell me about your experience.
Note: Our visit was hosted by Visit Charlottesville. We received complimentary tour tickets to facilitate this review. All opinions are my own.