Taking a trip to Languedoc is akin to visiting Napa Valley in California. It is France's largest wine producing region, located in the south of France and stretching from the edge of Provence down to the border of Spain. In the past it was known for quantity over quality, but the last couple of decades have seen a reversal and now there are many excellent wines produced in the Languedoc.
Originally thought of for its reds, the region is also famous for its sparkling Crémant de Limoux and my new-found favorite, the Picpoul de Pinet white. As you drive through vineyard after vineyard, winding your way through various villages, you can get overwhelmed with the choices. There are over 21,000 wine-growing estates in the Languedoc-Roussillon region, representing a range of wines over 36 controlled-origin appellations, producing the most of the wines of France and five percent of the world's wine.
Since we don't speak French and don't have an in-depth knowledge about this region, when my husband and I were visiting southwest France on a romantic getaway, we decided that the best way to learn was by taking a Languedoc wine tour.
Taste du Languedoc Wine Tour
Note: We received a complimentary tour in exchange for our honest review. All opinions are my own.
After researching, I came to learn that wine tourism is not as big in Languedoc as it is in the United States. Luckily, I was able to come across a couple of options for a guided wine tour and ended up choosing Taste du Languedoc. I had heard good reviews from a friend who is a travel advisor, and I really liked that it was run by an English-speaking couple, which made communication very easy.
Matthew was born in Ireland, but has lived in France for many years. His wife Angela is British, and she handles the back office, as well as runs their art gallery / wine shop, while Matthew runs the tours. Both were so nice to work with, over both email and phone.
Taste du Languedoc offers wine tours throughout many of the AOC regions in the Languedoc, including the Minervois, Saint-Chinian, and Corbières, as well as Languedoc wine tours combined with city tours of Carcassonne or visits to local attractions like the Cathar Castles. Since we already had plans to visit many of these areas on our own, we selected to take the La Clape seaside wine and gourmet food tour.
La Clape Wine Tour
La Clape is a region on the coast, just outside of the city of Narbonne, and is the place where Romans first planted vines for winemaking. This region is in the Narbonne regional park, which serves as a preserve for natural habitats and provides the "garrigue" flavors to the wine. This combination of the Mediterranean salt air and garrigue from juniper, thyme, rosemary and lavender bushes, makes the wines distinct.
This AOC produces red, white, and rosé wines, primarily from Grenache, Syrah, Mourvedre, Grenache Blanc, Clairette, and Bourboulenc. Probably the most famous winery internationally from this region is Gerard Betrand, with Chateau d'Angles and Mas du Soleilla following behind (although Mas du Soleilla was recently bought by Gerard Betrand.)
The Taste du Languedoc wine tour included visits and tastings at three wineries, a seaside lunch, and transportation to/from accommodations or meeting point. The La Clape wine tour is a full-day tour (approximately 10 am to 5 pm) and is offered as a group tour. If you want to book a private tour, you will need to buy out the tour, which can get pricey. Since group tours are based on other bookings, you may need to have some flexibility in when and where you go unless you are willing to shell out for a private tour.
Just be aware that the wineries you visit may be different than what is listed on the website, as availability changes based on which wine makers are available and open for visitors on a particular day.
Chateau Camplazens
The first stop on our wine tour was Chateau Camplazens. Camplazens is located on the site of a Roman settlement on top of a mountain just two kilometers from the Mediterranean Sea. Purchased by a British couple in 2001, this boutique vineyard focuses on producing quality wines.
Here we took a tour of the barrel room, enjoyed the view from the rooftop tasting room, and tasted four of their red wines. The wines didn't overwhelm us but the environment was nice and it was a chance to get to know our guide and fellow tour group mates.
Lunch at Le Perle Gruissanaise
After our first tasting we headed down to the beach for a seaside lunch. I think this was my favorite part of the entire day, because the food was so delicious and the environment was perfect. This little fish market / restaurant, Le Perle Gruissanaise, is known to the locals but would have been near impossible for us to stumble upon as tourists.
Inside you order your shellfish, such as oysters or prawns by the kilo. This is also where you order your wine and bread accompaniment. Outside, there is a food stall sort of restaurant where you can pick your choice of fresh fish and frites. So if you want to start with oysters or prawns, order that inside and order the fish and the rest of your meal outside.
There is then a covered picnic area and you just need to grab your utensils, plates, and water and wait for the food to be freshly prepared. I didn't get fish, only the oysters and prawns, and both were absolutely delicious. We also shared a large order of the frites and they were cooked exactly as I like — perfectly crispy with just enough salt.
We spent quite a while lingering over lunch and enjoying the wine and view of the port. Even if you don't take this tour, I would recommend seeking this place out for lunch at the beach. Just be prepared to practice a little French.
Chateau Ricardelle
The next stop on the La Clape wine tour was Chateau Ricardelle. Since we were visiting during France's sweltering heat wave, by this time I was feeling quite overheated after our outdoor lunch and I have a feeling I didn't enjoy this tasting as much as I would have otherwise because the little I could sip was delicious, especially the white and rosé.
Chateau Ricardelle is owned by an Italian man, Bruno Pellegrini, since 1990. The family has suffered some heartbreaks, including a powerful hailstorm that hit on Friday, June 13, 2014, which destroyed many of the vines. To show their resilience and the spirit of community that allowed them to survive, one of the red wines is named Vendredi XIII for the Friday the 13th.
I really enjoyed the Les Dames de Ricardelle Viognier, which is a very drinkable white wine for summer, that is light and soft, with a touch of acidity to finish. The rosé was also very good and we bought a bottle to enjoy at our hotel. The wines in this region are so affordable that we would have been happy to ship some home but either the vineyards didn't ship or the costs were too prohibitive. Next time we need to come with a wine suitcase!
Sarrat de Goundy
Our last stop of the day was at sarrat de goundy. Sarrat de Goundy offers more than just a tasting room and wine shop. There is also a gorgeous outdoor covered terrace with a wood burning oven, and an indoor bar and pop up restaurant (check to see their schedule.)
I really loved the space here, and it reminded me a bit of our tasting at Podere le Ripi in Montalcino, Tuscany last summer. It was a bit harder to learn about the wines, as our host only spoke French. Matthew of course translated for us but since the rest of the group also spoke French, we were a bit on the outside of the conversation.
The wines, however, were good and Glenn enjoyed the white and rosé even more than what we tasting at Ricardelle.
My only negative about the Taste du Languedoc tour was the transportation. In the past when we have taken wine tours they were in nice, new vans. This van was old and a little tight, but the real kicker was that the air conditioning broke the week before and the passenger side window didn't roll down.
This made the ride very uncomfortable. It couldn't be helped and I'm sure it was fixed shortly after our tour and we just had bad timing. Of course the nice thing about a wine tour is that you don't have to worry about drinking and driving, but if you are a stickler for luxury, you may need to drive yourself.
Overall, we enjoyed ourselves so much that we ended up booking a private Canal du Midi barge cruise and wine tasting with Taste du Languedoc the following evening.
Canal Cruise and Wine Tasting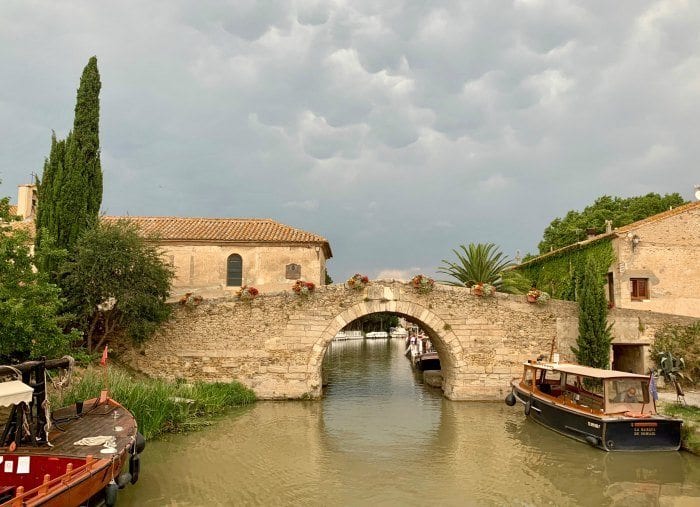 Even though we weren't taking a week long barge cruise along the Canal du Midi, I had my heart set on getting out there on the canal and enjoying the barge experience. So many of the group tours that I found offered didn't look like my cup of tea. However, what was offered by Taste du Languedoc hit the mark perfectly.
Unfortunately they didn't have anyone else signed up so to make it happen, we needed to pay to buy out the boat for the evening tour. Luckily at the last minute, one other person joined our group and we had a fabulous time chatting, drinking, and nibbling as we sailed along the canal.
As we sailed along, Matthew offered up different wines to try. As he put it, the wine tour is about "tasting" and this was about "drinking." In other words, instead of just a taste, we got to have a glass. And actually, with just three of us, sometimes even more.
Along the way he also presented various tapas including sardines, charcuterie, and more. It was honestly my favorite activity of our trip. I so enjoyed the company, conversation, wine, and the views. We passed through cute villages and through scenic landscapes, watching the sun slowly dip lower closer to the horizon. I believe it was supposed to be a two-hour tour but ours was at least three to four hours.
If you are traveling to this region and want to learn about the local wines, I would encourage you to check out Taste du Languedoc. We really enjoyed our time with Matthew and feel like we left with a really great overview of the various wines and appellations in the region.
PIN THIS FOR LATER