There are many reasons why Italy is a favored destination for travelers. The food, the wine, the history, the people, the landscape — the love for Italy runs deep. If you know someone dreaming of a trip to Italy, give them the next best thing from our hand-curated selection of Italian gifts.
If you are looking for gifts from Italy ideas, you can't go wrong with the selection below. These Italian gift ideas were chosen from our favorite Italian vendors, representing some of the best experiences and products Italy has to offer.
Want to learn more about how they celebrate the holidays in Italy? Check out these Italian Christmas traditions.
Gifts for Italy Lovers
Looking for gifts for Italians or gifts for someone traveling to Italy, we have ideas for every budget.
Note: This post contains affiliate links. If you click a link and make a purchase, I may receive a small commission. All opinions are my own.
Virtual Experiences
For someone that can't travel to Italy right now, or an individual who may want to prepare for a future trip, there are plenty of virtual experiences to soak in the Italian culture, history, art, and food.
LivTalks from LivTours
LivTours (formerly LivItaly) is one of my favorite tour companies and has received recognition for its top-rated tour guides. I'm happy to call charismatic owner Angelo Carotenuto a personal friend. In 2020, the company added a selection of 55 virtual 45-minute discussions on all things art, culture, and history to its selection of private and small-group tours. These go beyond a typical virtual tour to have humorous, engaging, in-depth discussions on topics as diverse as "Carvaggio, the Bad Boy of Baroque" to "Gladiators and Gladiatorial Games."
Shop the collection of LivTalks
Italian Cooking & Wine Classes with Devour Tours
One of my favorite food tour companies is Devour Tours, with tours in Spain, Portugal, France, Italy, and England. In 2020, they also started offering online cooking and wine pairing classes to bring the local experience into your home. For Italy, the company offers a class on how to "Cook Pasta like a Roman", which includes two authentic Roman pasta sauces. There is also an Italian Wine 101 class, which teaches how to buy, pair, and enjoy Italian wines.
Virtual Tours with The Tour Guy
The Tour Guy is another of my favorite tour companies in Italy. In addition to private and group tours, the company started offering virtual tours for those who can't get to Italy right now. It isn't the same as being there, but it is something — and these virtual tours provide a deeper understanding and appreciation of the sights to visit on a future trip. The Tour Guy offers dozens of virtual tour options in Rome, Venice, Pompeii, and Florence.
Shop Virtual Tours from The Tour Guy
Italian Food & Wine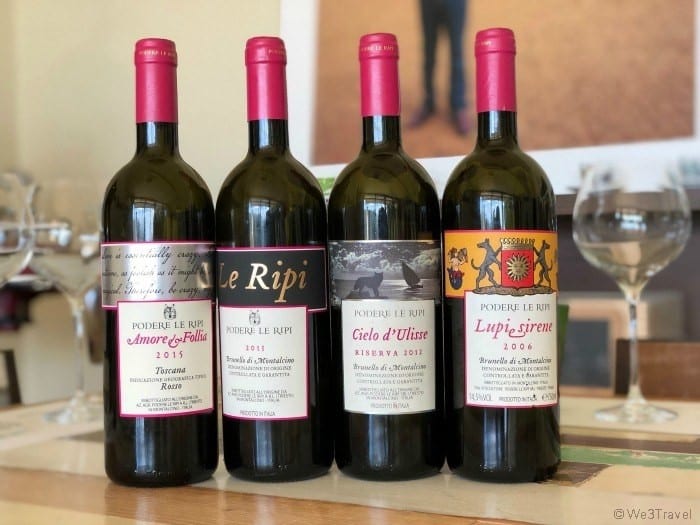 Pasta, biscotti, limoncello, wine — just thinking of Italian food makes me hungry. Surely your Italy lover will enjoy a sampling of authentic food and wine.
Italian Wine from Tuscan Organic Wines
When we last visited Italy, we took a wine tour with Tuscan Organic Tours. During recent months, the company has expanded to offer both wine and olive oil through sister company Tuscan Organic Wines. They are the first company to offer organic, biodynamic and natural wines and olive oils, which are produced in Tuscany.
Tuscan Organic Wines has put together a gift box of Quintessential Tuscan Wines and a special offer for We3Travel readers, offering a 15% discount on all products and mixed boxes using promo code WE3TRAVEL (valid until December 25, 2020.) If you prefer a subscription, you can receive a 10% discount off of a wine subscription with code WE3TRAVELCLUB (also valid until December 25, 2020.)
Italian Food & Gift Boxes from Eataly
If you aren't lucky enough to live near one of Eataly's 35 locations, don't worry — they ship! These Italian markets, dining, and learning centers were designed to gather high-quality Italian food at sustainable and reasonable prices under one roof.
You can shop individual categories, like cheese, meats, or truffles, or simply choose one of their curated gift baskets from one of your favorite regions of Italy.
Italian-themed Gifts
When you are in Italy, it is hard to hold back when shopping for Italian souvenirs from local artisans. You can still bring those hand-crafted goods home, thanks to the wonder of international shipping. A few of our favorites include:
Italian Christmas Ornaments
When it comes to Italian Christmas ornaments, there is much more to offer than Dominick the Italian Christmas Donkey. If you are looking for traditional Italian nativity sets and accompanying villages and accessories, look to the famous Fontanini nativity sets.
Of course the best place to shop for Italian Christmas ornaments, from beautiful glass pieces to hand-carved decorations, would be at the Italian Christmas markets or artisan shops. But if that isn't possible, there are still many places to buy online. The best place to find Italian-inspired hand-crafted items, instead of imports, would be on Etsy. Some of my favorites include:
Books & Movies Based in Italy
Maybe your loved one would prefer an escape to Italy through the written word or movies and shows set in Italy. A few favorites include:
Movies and Shows set in Italy
Books Set in Italy
In addition to the few mentioned above, a few other giftable books set in Italy include:
So are you ready to book a trip to Italy yet? Even if you are still dreaming, you may want to check out some of our Italy guides to Rome, Florence, Tuscany (Siena, Montalcino and Montepulciano, Pienza), Umbria (Orvieto or Assisi) and the Amalfi Coast (Capri, Ravello, and Positano.)