There is a reason why we picked London for a family vacation. As our teen said, "some girls are all about fashion and dream of going to Paris, but I really want to go to London." Why? Because of all the Harry Potter attractions in London of course!
After reading the books and seeing the Harry Potter films countless times, it did seem fun to try to see some of the places depicted in the movies in person.
So I set out to track down all the Harry Potter attractions in London (and nearby) and plan the ultimate trip to London for Harry Potter fans. If you have an aspiring wizard or witch in your family, you will want to check these out as well. Just remember, for some of these planning early is essential!
This post will cover Harry Potter tours, Harry Potter filming locations in London, the Warner Brothers Studio Tour, magical teas, a wizarding hotel, and day trips from London to see more Harry Potter filming sites.
Harry Potter Tours in London
Note: This post contains affiliate links. If you click a link and make purchase, I may receive a small commission.
There are quite a few Harry Potter film locations within the city of London. But remember, it has been 25 years since the first movie came out and the city is always changing. Plus, some of the locations were digitally altered to disguise their appearance. So finding them all on your own can be tough.
One option is to take one of the Harry Potter walking tours in London, including a Muggle's Guide to London, but those will only cover what you can reach within a reasonable walking distance. If you want to cover more ground, consider a Black Cab Harry Potter driving tour.
We took the three-hour Black Cab Harry Potter tour, which covers a wide range of filming locations within London. They do also offer a full-day option, which takes you to some destinations outside of London, but we were saving those for another day.
What I loved about this tour is that our guide would show us the clip from the movie, whether it was Order of the Phoenix, Deathly Hallows, etc. and then we would hop out of the cab for a closer look. The movie clips really help refresh your memory and make the individual sites more interesting.
Harry potter Filming Locations
Some of the Harry Potter filming locations that you can visit include:
Piccadilly Circus
After the attack at Bill and Fleur's wedding in Harry Potter and the Deathly Hallows, Ron, Hermione, and Harry apparate to London right in the heart of Piccadilly Circus. The filming of this scene was one of the few times that traffic has been shut down at this busy intersection.
It looks different now with more high-tech electronic billboards and a shift in the traffic pattern, but much is still the same.
Scotland Place
Scotland Place and the Great Scotland Yard showed up on two occasions in the Harry Potter films. The most memorable is when Ron, Harry, and Hermoine drink Polly Juice potion to transform into Death Eaters to sneak into the Ministry of Magic in Harry Potter and the Deathly Hallows, Part One.
You can peak around the same corner as the main characters did when they were watching for anyone coming to then knock them out and drag them into a garage to change clothes.
Cecil Court
It is rumored that this charming little street off of Charing Cross Road was JK Rowling's inspiration for Diagon Alley. It is full of book shops, maps stores, and fortune tells so you can see why this rumor got started.
If you are willing to shell out beaucoup bucks, one of the shops even sells a first-edition, autographed copy of the Chamber of Secrets.
Parliament
When Hagrid first brings Harry to London to get his school supplies, they fly past Parliament. Of course, this is from the riverside. Nearby is also Westminster Tube Station, which so befuddled Mr. Weasley.
After stopping for a picture at Parliament, we went across the Lambeth bridge (but we didn't pass by the Knight Bus!) to the South Bank.
Millennium Bridge
The Millennium Bridge is featured in Harry Potter and the Half-Blood Prince, when the Death Eaters fly over London and the bridge shakes and breaks and people fall into the river.
You can walk across the bridge today if you want to cut over from Shakespeare's Globe Theater to St. Paul's Cathedral, if that is part of your London itinerary.
Borough Market
Borough Market is a popular attraction when visiting London and we hadn't fit it into our otherwise jam-packed London itinerary so I was happy it was included in our Harry Potter tour.
Other movies were filmed near here too (like Bridget Jones' Diary), but today there is a taco stand where what was once used as the entrance to the Leaky Cauldron. Even if it looks different, Borough Market is a good place to grab lunch or dinner if you are taking a DIY self-guided Harry Potter tour.
Leadenhall Market
After Borough Market we went back across the river, taking in views of the Tower Bridge, which Harry and crew fly over on broomsticks in Harry Potter and the Order of the Phoenix. Afterwards we stopped at Leadenhall Market. I would not have even known about this little gem of a market if it wasn't for our Harry Potter tour but I would love to come back here for shopping and a bite.
The original Leaky Cauldron entrance is now an optometrist shop and the outside is a different color, but if you compare it to the movie, you can trace Hagrid and Harry's footsteps.
Kings Cross Station
While Harry departed for Hogwarts on the Hogwarts Express from Kings Cross Station, the outside of that station is not very attractive so what you will sometimes see are exterior shots of St. Pancras Station next door.
Anyone can go line up to take a picture at the Platform 9 ¾ shop in Kings Cross Station, but our Harry Potter tour took us onto the actual platform that was used for the filming. Usually you can only get here if you are a ticketed passenger and it isn't actually between Platforms 9 and 10.
Platform 9 ¾ Shop at Kings Cross
Our tour ended at the Platform 9 ¾ Shop at Kings Cross Station. There is a full souvenir shop and a photo spot with a trolley going into the wall under a Platform 9 ¾ sign.
You can stay and visit the shop and take pictures with props if you are willing to wait the 45-60 minutes in the queue. If you are visiting on your own, I would recommend going early to avoid a long wait.
Warner Bros. Studio Tour "The Making of Harry Potter"
Any trip to London with Harry Potter fans requires a day trip to the Warner Bros. Studio in Leavesden, about 20 minutes outside of London, to see the film sets. The studios where the majority of the movies were filmed have been transformed into "The Making of Harry Potter." Now they have even opened Gringotts Bank!
Getting there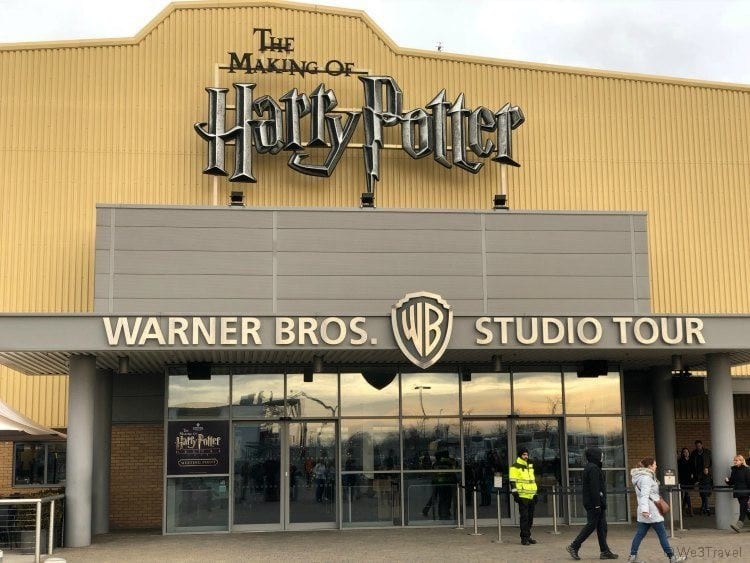 There are three options to get to the Warner Bros. Studios: train, bus, or car. Many bus tours are available from Central London, just keep in mind that these only allow for three hours at the Studios, which is cutting it a bit short and you may feel that your time there is too short.
For that reason, I would recommend buying tickets direct and taking the train. Just keep in mind that tickets sell out MONTHS in advance and sometimes the only option is to book a bus tour through a company such as Golden Tours or on Get Your Guide.
To take the train, you should allot close to 1.5 to 2 hours from your ticket entrance time. You will need to take the Tube (or a taxi) to Euston station. From there, you can catch a train to Watford Junction. Be sure to check the train options because some are express and only take 20 minutes, while others might be much longer.
Once you arrive in Watford Junction, there are shuttle busses that will take you to the Warner Bros. Studio. They run every 30 minutes from 9.20am (with additional services available from 8.15am when the first tour is at 9am). The last return shuttle bus back to Watford Junction will depart the Studio Tour when the Tour closes.
What to Expect Inside Warner Bros. Studio Tour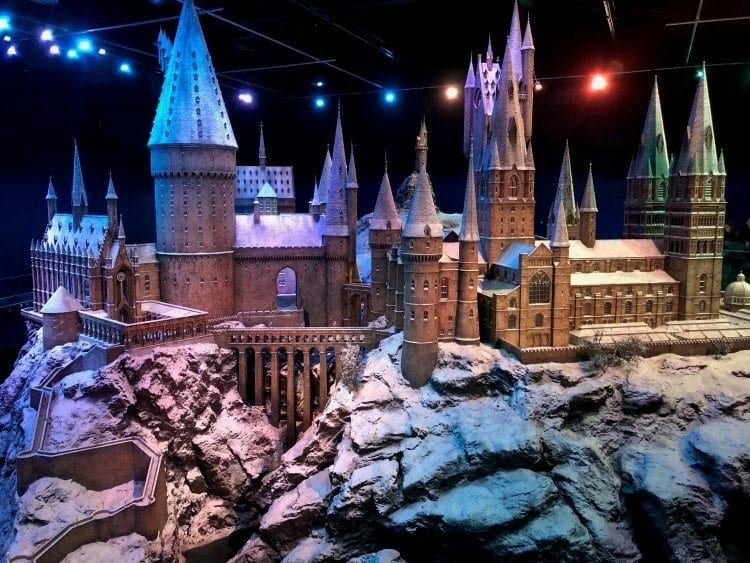 Some people think that The Making of Harry Potter is some kind of amusement park, like the Wizarding World of Harry Potter at Universal. Others get confused by the studio "tour" name — thinking that it is a guided Harry Potter studio tour. It actually is neither.
Warner Bros. Studio Tour is the actual studio where the movies were filmed. Tickets are given an entrance time and that is when your "tour" starts, but the tour is self-guided.
It begins with a short film about the making of the movies and then you are allowed to enter the Great Hall. We visited in December during the "Hogwarts in the Snow" event when the hall is decorated for the holidays. You are given just a short time to explore this room before you are ushered into the main room.
In the main room, you will find sets, costumes, and props that were used in the movies. There is the Gryffindor Common Room, Dumbledore's Office, Hagrid's Hut, the Burrow, the Potions Room, and Malfoy Manor.
You can also learn how the magic was made. There are some interactive exhibits such as riding a broomstick in front of a green screen and learning to cast spells. You can also explore the Forbidden Forest, home to Aragog and his spider friends and learn the magic behind the casting of a Patronus.
On Platform 9 ¾ you can step aboard the Hogwarts Express set, take a photo at Platform 9 ¾, and take a "ride" on the Hogwarts Express with a green screen backdrop. There are plenty of opportunities throughout to purchase souvenir photos.
After all that, take a break for some Butterbeer in the cafe (I will admit I prefer the Butterbeer at Universal Orlando.) Then you can head outside to see the Knight Bus, Privet Drive, and the Hogwarts bridge.
Make sure if you take a bus tour that you save time for the end of the tour because the miniature models, the draft artwork, and the model room with the full version of Hogwarts is absolutely fascinating. I think you should allow at least four hours to see everything if you can.
Harry Potter and the Cursed Child
If you can manage to get tickets (and can afford them — see how much a trip to London costs), your Harry Potter fan will adore you if you include a performance of Harry Potter and the Cursed Child at the Palace Theater.
We were not able to get tickets to see the Cursed Child in London, but we did see Harry Potter and the Cursed Child on Broadway.
Harry Potter Hotel
If you really want to go crazy, book a stay at this Harry Potter-themed hotel:

Check rates and reviews at the Gregorian House Hotel and read the full Harry Potter hotel review on Travel Yourself. We did not stay there but Cailin's video tour and review make it look quite intriguing for the right guests.
Harry Potter Themed Afternoon Tea
Since we didn't want to make our entire trip about Harry Potter, we actually opted for a Glam Rock themed high tea with our teen at the K West hotel. However, if you are inclined to try a themed high tea with your kids, there are a few that meet the bill:
Harry Potter Locations Outside of London
If you are looking for a day trip from London, a visit to the Harry Potter filming sites in Oxford is a perfect option. There are 38 colleges that make up the University of Oxford, and some of these were used for filming scenes in the Harry Potter movies. You can explore on your own but I would recommend a walking tour. You can also hire a private driver-guide like we did for a full-day trip.
A must-do stop is at Christchurch, where the Great Hall is what was used for the Great Hall/Dining Hall at Hogwarts. You can also visit the staircase where McGonagall greeted the first-year students in Chamber of Secrets.
In New College you can see the Cloisters that were used for some of the hallways scenes, and the tree where Draco Malfoy was turned into a ferret.
If you have a car or hire a driver, you can also stop in Lacock Abbey, where they filmed the Potter's house in Philosopher's Stone and the Potions classroom. Find more Harry Potter filming sites in the countryside here.
Visiting England? Read more:
PIN THIS FOR LATER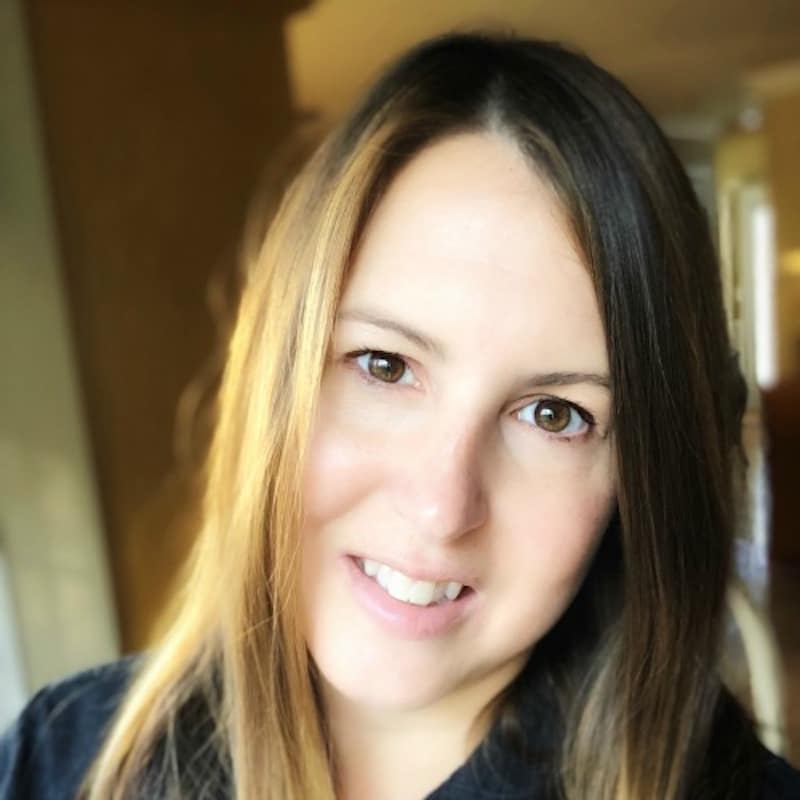 Tamara Gruber is the Founder and Publisher of We3Travel. A former marketing executive and travel advisor, Tamara is an award-winning travel writer and recognized expert in family travel. She is also the publisher of YourTimetoFly and the co-host of the Vacation Mavens travel podcast.