If all you know about El Paso, Texas is that they may or may not make salsa there, you are not alone. Before I planned a girl's trip to El Paso, I didn't have any idea what to expect either. But I can tell you that this West Texas city in the Chihuahuan desert makes a great destination for a girlfriends' Texas getaway. Before I get into what to do in El Paso, let me start with some fun facts.

Fun Facts about El Paso, Texas
Nicknamed "Sun City", El Paso is the 6th sunniest city in the U.S. with more than 300 days of sunshine (NerdWallet)
El Paso is the only Texas city to have mountains as part of the landscape
El Paso is closer to the state capitals of Arizona and New Mexico than the Texas capital
El Paso is the birthplace of the margarita and the "Mexican food capital of America"
El Paso is the boot making capital of the United States
El Paso is the 10th Best Small American City (resonanceco.com, 2017)
El Paso is the #2 Safest Metro City in America (Safewise.com, August 2017)
El Paso is #25 out of 100 Best Cities for Recreation (Wallethub, July 2017)

Texas Getaway to El Paso
This post contains affiliate links. If you click a link and make a purchase, I may earn a small commission. I was hosted on my stay by Visit El Paso with complimentary travel, lodging, and activities to experience the area. All opinions are my own.
If you enjoy good food, wine, shopping, and lots of outdoor adventure, then El Paso is a perfect Texas getaway destination for you! There is just the right amount to do for a long weekend, or you can pair it with a visit to Ruidoso or Albuquerque, New Mexico for a longer trip. I spent three nights in El Paso recently with my friend and podcast co-host, Kimberly from Stuffed Suitcase.
Where to Stay in El Paso
Hotel Indigo is the perfect home base for an El Paso girl's trip. While part of IHG, each Hotel Indigo takes pains to reflect the local culture and history. Located right in downtown, Hotel Indigo El Paso has a hip vibe with a fun bar that opens up to the rooftop pool. The decor reflects the locale, with black and white photos of Singer sewing machines in the rooms (the original factory was based in El Paso), Sun City murals on the closets, and other local artwork and decor throughout.
In an area with its fair share of value-focused chain hotels, it is nice to find something that has the feel of a boutique hotel. The rooms are stylish and extremely comfortable with plenty of space and amenities for business or leisure travelers (like conveniently-located outlets and USB charging options.) I was especially happy to find Aveda bath products upon my check in and those helpful make up remover towelettes.
While there are plenty of places to eat nearby, if you don't want to leave the hotel, the Downtowner Restaurant offers breakfast, lunch, and dinner on the ground floor of the hotel. Since I arrived late after a long day of travel, I skipped a night on the town to indulge in a green-chili cheeseburger to kick off my visit to El Paso.
Top Picks for El Paso Restaurants
As the Mexican food capital of America, it is a given that you are going to find good Mexican. And it is Texas, so yes, there is also steak. But some other choices may surprise you.
Los Bandidos de Carlos & Mickey's
Los Bandidos de Carlos & Mickey's is a popular spot for classic Mexican cuisine. It has also been voted El Paso's best margarita so we had to give that a try. Their margaritas come in all flavors — and sizes, including "Texas size." The Texas Margarita is ultimately shareable with a group of girlfriends since the two of us could barely make a dent in our giant sangria blended margarita.
My favorite bite was their delicious queso dip and homemade chips. Usually, there isn't enough cheese for your chips but at Carlos & Mickey's, you are served a small platter of queso cheese with a handful of chips that look more like tortilla shells than chips cut for dipping. In my world, there is never enough cheese so, despite my lactose-intolerance, I dove right in.
Another favorite was the chili-stuffed shrimp, wrapped in bacon and topped with more cheese. I'm not sure I could have more than one but it makes a perfect shareable appetizer. I really don't think you can go wrong with any of the standby favorites on the menu or the authentic atmosphere.
L&J Cafe
Voted El Paso's best Mexican restaurant, I'm sure most tourists drive right by and think it is nothing more than a dive bar. Perhaps the cars lining the streets might give you a heads up that something good is inside, but until you step inside this nondescript building and see room after colorful room filled with happy customers, you know that L&J Cafe is a gem.
Opened in 1927, L&J Cafe is now in its fourth generation of family ownership. The salsa there isn't chunky, but it is spicy. If you like it, you can even take it home by the jar. If green is your color, green salsa is also available. With so much good food in El Paso, I had to limit myself from becoming overfull and only tried the guacamole, chicken, and refried bean tostadas (the guac was my fave!)
Salt + Honey Bakery Cafe
One of my favorite surprises from our El Paso trip was breakfast at the Salt + Honey Bakery Cafe. The atmosphere is hip and fresh and the blend of southwestern and middle eastern flavors creates some interesting dishes. I loved my hummus avocado toast with tomato and arugula. It was fresh and filling while still feeling light. And good thing because then I blew the diet with a taste of the green chili and cheese hash brown. Could you say no to that?
Cattleman's Steakhouse
On a lonely road outside of El Paso in Fabens, Texas, you will find a ranch known worldwide, capable of serving up steak to over 300 guests a sitting. Cattleman's Steakhouse attracts visitors from around the world and is more than a restaurant, it is a tourist attraction. You will want to go early to take it all in. From beautiful lake views and walking trails to covered wagons and animals (including a snake pit — eek!)
Inside, the tourist attraction continues with a gift shop and gallery of posters and pictures of movies that were shot on site. While the dining area is huge, it doesn't feel that way as it is spread throughout multiple rooms with a casual, cowboy flair. Pricing is also surprisingly affordable for what is clearly both a tourist attraction and local favorite with steaks in the $20s, complete with sides. Sides are served family-style with a pot of baked beans, pineapple coleslaw, and tasty rolls. Entrees also come with a choice of potato. Save room for dessert because they do claim to have the best chocolate cake. I'm not sure about the best, but wow is it chocolatey.
What to do in El Paso
If you are looking for a Texas getaway that is full of outdoor activities and adventure, its definitely "all good in El Paso." (#ItsAllGoodEP) El Paso is an outdoor enthusiast's ideal destination, with the largest state park within an urban center (Franklin Mountain State Park.) There is hiking, mountain biking, rock climbing, running, and all sorts of ways to get off-road. But when you want to clean up a bit, El Paso also offers wine tasting and shopping, both at upscale shops, outlet malls and its famous boot factory outlets.
Kim and I certainly didn't waste any time exploring all that El Paso has to offer. Usually, with a jam-packed itinerary, I'm dying for some downtime, but our El Paso trip was nothing but fun.
Boot Shopping at Lucchese
El Paso is the boot-making capital of the U.S. and you can find factory outlets for Tony Lama, Justin, and others but the cream of the crop is Lucchese. We were lucky enough to tour the Lucchese factory before our shopping spree to get a real appreciation for what these artisans create. While they don't offer regularly-scheduled public tours, they are available upon request (but only on Monday-Thursday.)
After seeing the painstaking care given at each step of the production process, from cutting of the leather to the staining of the soles, it is easy to see how it can take two to three months for a pair of boots to be completed. It is also easy to understand why they come with the price tag they do — and that is just the regular designs and not custom orders! These boots are gorgeous! And never will I let someone call a factory worker "unskilled." These men and women have an average of at least 15 years on the job and they are absolutely expert craftsmen and women.
After this eye-opening factory tour, the team at Lucchese was kind enough to present us with a gift certificate towards our own pair of Lucchese boots, which we promptly took shopping at one of their three outlet stores. It was hard to narrow down the options (thanks Instagram followers for the input!), but ultimately I just had to go with the beauties pictured above.
Downtown El Paso
Downtown El Paso is quiet but still gives off a fun vibe. For a city this large, it is surprisingly sleepy, probably because the city is really spread out and the downtown is fairly small. It is still happening though with fun murals, a minor league baseball stadium in the heart of downtown, theaters that bring in major traveling Broadway shows, and outdoor areas to hang out and host live events. El Paso is also investing heavily in the city by installing a new cable car line, renovating hotels, and adding new attractions like an all-new children's museum.
Wine Tasting Near El Paso
You may not know it, but in Texas, wine is big business. I had a taste of this in Grapevine, Texas previously. As of August 2017, there are 436 wineries in Texas, which contribute $13.1 billion in economic value (as per the Texas Wine Industry.) While Texas wines tend to be sweeter to go with the hot, dry climate, you can really find all varieties. I love going wine tasting just as much as I love wine so adding this into our girlfriend getaway was the perfect counterpart to our outdoor adventure activities.
Our first stop was the lovely Zin Valle Vineyards, owned and operated by the Poulos family. While they grow their own grapes, they also use grapes from California and Italy to produce their nine wines. My two favorites were the Rising Star Red Zinfandel and the sparkling Italian Red Sensi Sangue di Guida. For me so much of the tasting experience depends on who is behind the bar pouring. So to have a chance to meet one of the owners and hear their backstory is half the fun of learning about the wine. Zin Valle also has a lovely barrel room for private tastings and events, as well as places to sit outside and enjoy the wine (plus a friendly winery cat!)
For our second stop, we traveled a few miles down the road and crossed the border into New Mexico to visit La Viña Winery. La Viña is New Mexico's longest-standing winery. We toured the vineyard and fermentation room with Guillermo Contador, the winemaker. Guillermo grew up in Chile and has worked in wineries in Chile, California, and South Africa. Today, most of La Viña's wines are sold through the tasting room, but they do also sell in the local Whole Foods. They have a big space out back where they host festivals and events with live music, food trucks, and tastings. They produce everything from dry reds and whites to semi-dry, semi-sweet, and sweet wines, although the locals tend to fancy the sweet. I have to say, as someone that loves big dry wines, I was surprised by how much I enjoyed my sip of their Caliente, a sweet wine with a mix of chocolate, cinnamon, and chili pepper.
Hiking and Mine Tour with GeoBetty Tours
Of course, shopping and wine tasting are great activities for a girl's trip, but if you want to work off all that Mexican food, you need to get active. GeoBetty Tours offers a range of guided hikes and mountain biking tours, but we joined the owner Don for something new — a tour into an abandoned copper mine. Now keep in mind, this is not for the claustrophobic, or at least those that aren't willing to challenge themselves a little. But, if you are ready to get dirty and try something new, it is pretty darn cool.
We started with a morning hike in Franklin Mountain State Park up to the opening of an exploratory copper mine. They didn't find enough copper there to ever turn it into a working mine, but that is a good thing or there may not be any mountain left! After wriggling through a small entrance, the rest really wasn't too tight. It certainly wasn't cavernous and you did need the helmet to keep from banging your head on the low ceiling, but you were walking, not crawling. We followed Don deep into the mine to see the quartz and small copper deposits. Don provided all the gear we needed and filled us in on the history (and a bit of geology) along the way. I think Kim was happy to breathe fresh air again but both of us enjoyed the adventure. GeoBetty is also starting a tour that combines the mine tour with repelling off the mountain and that sounds so fun to me! Even if you aren't into the small spaces, I would give GeoBetty a call for custom-guided hikes.
ATVing at Red Sands
If caving challenged Kim, ATVing unexpectedly challenged me. Even though I went off-roading for hours in New Hampshire last summer, I find UTVs much easier to drive than ATVs. My only other experience was in Iceland, and there I made Glenn drive. If you are going to go ATV riding in El Paso, Red Sands is definitely the place to go. Just maybe not on the weekend or holidays when thousands of people turn out to party and ride (just check out this crazy video.)
Many people bring their own, but we worked with Rent an ATV. They use the profits from tours to fund the rescue operations from people that get injured or stranded while riding their own vehicles recklessly (or intoxicated.) I found driving the ATV challenging in the sand but if you like off-roading, you would love it here. Rent an ATV offers a variety of tours from one hour to full-day excursions including dinner at Cattleman's Steak House. They are really affordable too, starting at $38 per person for the Jack Rabbit one-hour tour.
Topgolf El Paso
One of the latest attractions in El Paso is Topgolf – a brand new entertainment venue. At first I thought this was just a fancy driving range but it is really so much more. These are cropping up all over the country and the 40th opened in El Paso the week before we arrived. There are three floors with a total of 102 bays. Each bay serves six golfers where you pay by the hour. Bays can be reserved for a $50 reservation fee. While walk-ins are waiting, there is also a full-service restaurant and bar, servers will deliver food and drinks to your bay.
Unlike a normal driving range, you choose from a variety of games where you earn points for getting balls into one of the three large circles on the field below. Each ball is microchipped and tied to the individual player. It really makes for a lot of fun, whether you are competitive or not! We had such a fun time (and not just because I won!) and the food was delicious. The brisket-grilled cheese and tater tots were too delicious for my own good!
When I came home, everyone wanted to know if I would recommend El Paso and I say 100 percent! It makes a perfect destination for a warm-weather girl's trip and a Texas getaway for those that enjoy being active and enjoy the outdoors. So what do you think, are you ready to head to El Paso?
PIN THIS FOR LATER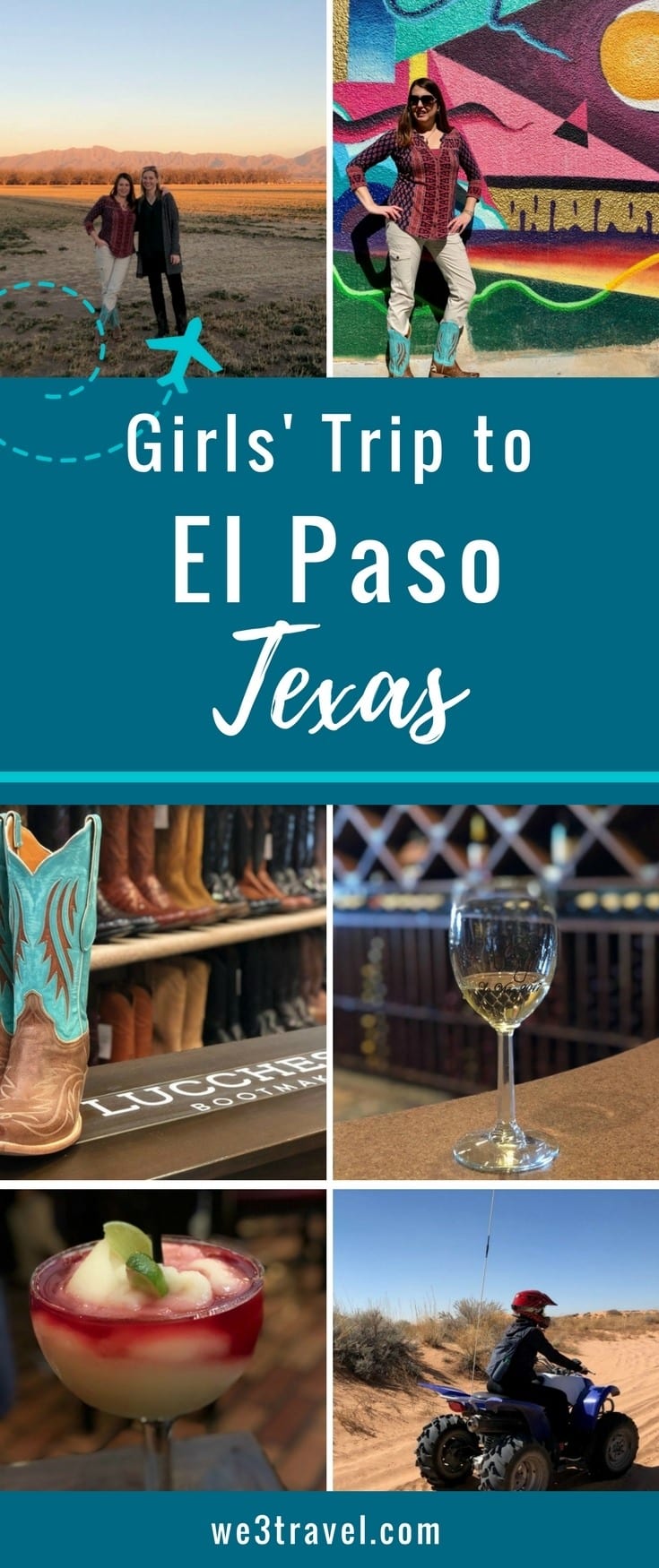 SaveSaveSaveSaveSaveSaveSaveSaveSaveSaveSaveSaveSaveSaveSaveSaveSaveSaveSaveSaveSaveSaveSaveSaveSaveSaveSaveSaveSaveSaveSaveSaveSaveSaveSaveSaveSaveSaveSaveSave