In September I was invited to explore Seattle with CityPass and Visit Seattle. I saw plenty of Seattle's top attractions, from the Space Needle to Pike Place Market. While it was easy to explore on my own, it was the Seattle tours that showed me the underbelly of the city (literally) and introduced me to some of Seattle's tastiest bites. How else could I learn the role that poop and prostitution played in the formation of Seattle? Or find the chocolates that were the favorites of the Obama White House? Get the inside scoop on the tastiest of Seattle food tours and Bill Speidel's Underground Tour.

Savor Seattle Food Tours
Spoiler alert: this was my favorite of the two Seattle city tours by far. Savor Seattle offers a few different food tours. Some offer a tour of Pike Place Market, including an early access tour, but the one I took was the Gourmet Seattle Tour.
Savor Seattle offers small group tours with no more than 12 people. Kids are welcome as long as they are able to participate in the 2.5 hour tour, which makes stops at six different restaurants for sips and bites. Nick was our guide for the Gourmet Seattle Tour and he made the tour both fun and informative.
We met up with the rest of our group at Orfeo, a contemporary Italian restaurant in Belltown, which is the third restaurant from Kevin and Terresa Davis Restaurant Group. Orfeo focuses on a blend of Northwest and Italian cuisine using a wood-fired kitchen. After getting to know each other, we started off with a delicious, fresh bolognese over polenta, paired with a Yakima Pinot Noir sparkling rose. It was a hearty taste to start off our tour!
From there, we took a short walk to the nearby Serious Pie, for another seated tasting in the kitchen of this famous pizza place. One thing that really surprised me about this food tour was that nearly all the tastings were seated. Some food tours have a lot more stand-up tasting so it was nice to take a break inside (especially with Seattle's weather.) Here we tasted two pies…a straight up Margherita and one with roasted seasonal mushrooms with truffle cheese. The crust is deliciously crispy and the toppings are fresh and delicious. They use the best ingredients, going through $30,000 in cheese a month. If you want a deal, go for pizza happy hour between 3-6pm on weekdays for $6.00 pies.
To work off our pizza, we took a stroll down to Pike Place Market to the Steelhead Diner. This smart-casual restaurant is definitely a step above what you would think of as a traditional diner. Another member of the Kevin & Terresa Davis Restaurant Group, the blend of Pacific Northwest and New Orlean's cuisine is stellar. I had trouble holding myself back from finishing the Alaskan Razor Clam Chowder with applewood-smoked bacon and truffle oil. This was one of the best clam chowders I have ever had — and that is saying a lot from a New England girl! Paired with another glass of wine, I would be happy to spend a rainy afternoon holed up there, but instead, it was time to move on.
Our next stop was at Noi, for authentic Thai cuisine in a chic, upscale setting. Here I was happy to sample the extras of the group's mango drop cocktails and crispy garlic chicken. The other thing that surprised me with this food tour was how many drinks were included. Maybe this one isn't the best for kids!
And the drinking wasn't done. At the Von Gusto Bistro, we sampled the Two Mountains Rose, along with sourdough pasta with wild salmon, micro arugula, duxelles mushrooms, and roasted Asiago cream sauce. Who knew there was such a thing as sourdough pasta?! They use a 53-year old sourdough starter so clearly this is just a new thing to me. Von's 1000 Spirits Gusto Bistro also features Seattle's largest collection of spirits and offer cold-brew coffee aged in whiskey barrels.
Our final stop on the tour was Fran's Chocolates, who was the official chocolatier of the White House for eight years. We sampled a few truffles but my favorite was the dark chocolate with salted caramel, with salt that was smoked over oak chips. Yup, that chocolate indulgence is something else I agree with the Obamas on.
The Savor Seattle food tour was one of the best food tours that I have done to date (and I've done quite a few including Rome, Vienna, Nashville, Atlanta, and Kure Beach.)
Seattle Underground Tour
Bill Speidel's Underground Tour is the only way to explore the underground tunnels of Seattle and a unique way to learn Seattle's history. This walking tour is definitely unlike anything I've done before. It leaves from the office in Pioneer Square, where we started off with a brief history of Seattle. It was a history that included a lot of talk about poop — since the poop of the settlers backing up in the streets was relevant to the way Seattle was architected.
From there, we headed underground. You see, modern Seattle was built up after a devastating fire. While the roads were being raised and new buildings were constructed, existing businesses still continued, below street level. Eventually, the sidewalks were covered over and this whole layer of Seattle was lost to time for a while until Bill Speidel made it a tourist attraction.
To go "underground," you climb down stairs not unlike walking into a subway station. Throughout the tour you are led through these underground tunnels while learning about Seattle's history. There isn't a lot to see on the tour. The underground isn't a "wow" attraction. The cool factor is more about learning Seattle's history in a unique way than the sights. You will see rubble, old signs, and other artifacts.
I would only recommend this for families interested in history. First of all, the tour groups are very large with up to 47 people per guide. You may want to consider upgrading to a private tour because honestly, with such large tours I'm not sure how everyone can hear what the guide is saying. Next, because there isn't a lot to see, kids might have a hard time staying attentive. It is a long time to walk and stand still with very few opportunities to sit and rest.
So while the underground tour is one of the most popular Seattle tours, I'd say to save it for a second visit unless you are really interested in history.
[plan-trip]
[/plan-trip]
PIN THIS FOR LATER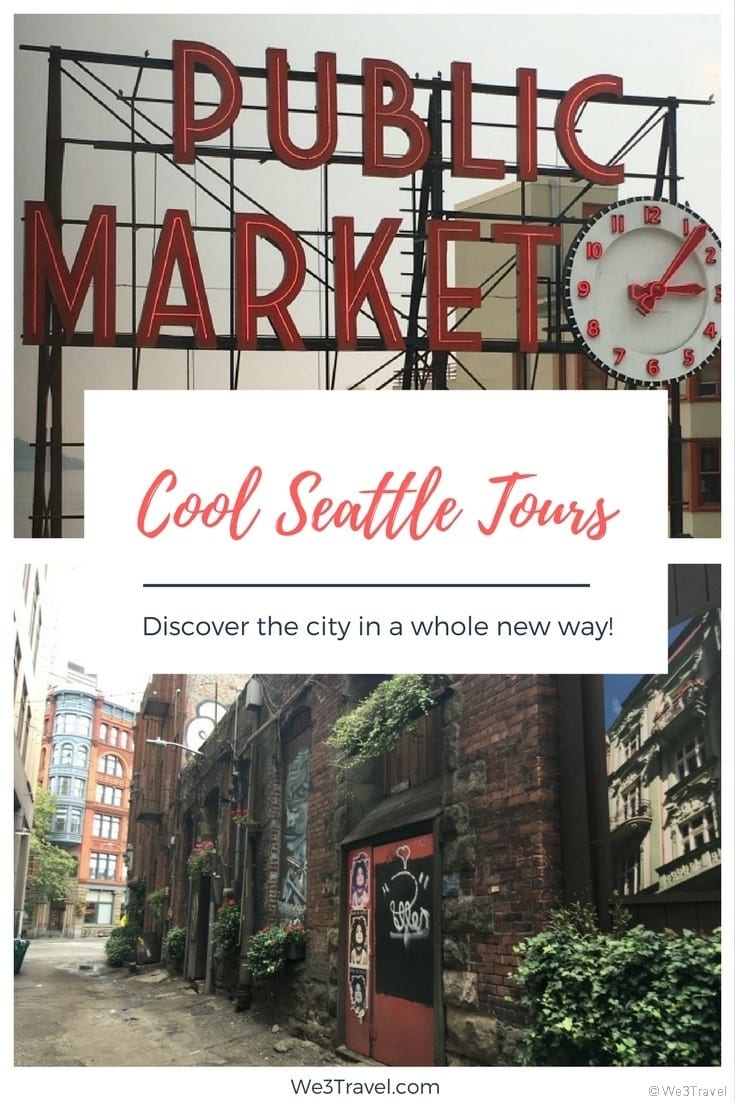 Note: I was a guest of CityPass and Visit Seattle for these tours. All opinions are my own.SaveSaveSaveSaveSaveSaveSaveSave
SaveSave
SavSaveSaveSaveSaveSaveSaveSaveSaveSaveSaveSaveSaveSaveSave