As you pull up to the Red Jacket Mountain View Resort in North Conway, New Hampshire, you feel like you've flashed back in time to the era of grand mountain resorts when no one could put Baby in the corner. Set on a hill overlooking the White Mountains, with a wide sweeping green lawn, the hotel maintains a stately air, even in this era of modern commercial resorts.
We've become accustomed to seeing hotels as a place to sleep, and not much more. But despite all there is to do in the White Mountains, we were actually sorry we hadn't set aside more just to relax and enjoy the resort. We knew about Kahuna Laguna, the indoor water park, but the activity board that greeted us in the lobby offered up so many fun options like family movie night, crafts, kick ball, story time, and a camp fire with lemonade and marshmallows.
Red Jacket Mountain View Resort Review
The hotel has two wings that branch out from the main lobby, with each wing divided into sections that I can only think represent additions that were built over the years. We were put up in a mountain view room with two double beds and a balcony overlooking the front lawn with views of the mountains beyond. The rooms themselves are unassuming, and somewhat dated, but at the same time they are comfortable with all the amenities that you need — especially free WiFi. And let's face it, with so much to do in the resort, who cares if you have a giant TV on the wall or a smaller flatscreen on a dresser?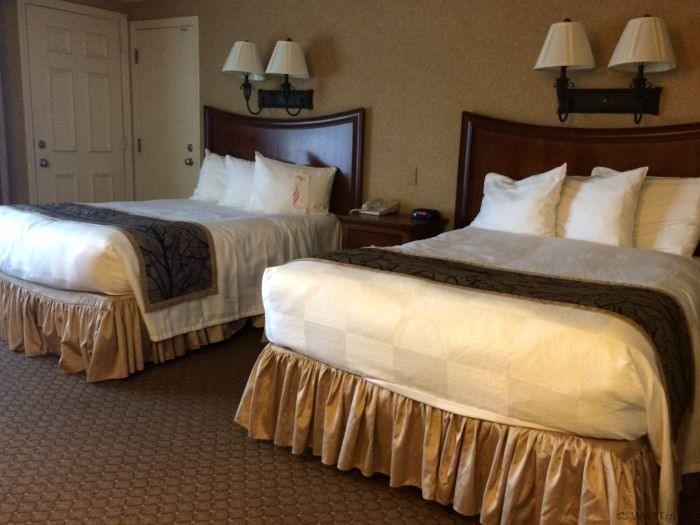 The beds were comfortable, with fresh sheeted bedding — no old fashioned quilts or comforters. The bathroom was small, with the sink and vanity in the room, but at least it was behind a dividing wall so late night trips to the bathroom didn't disturb anyone sleeping in the room.
As we walked through the halls and the swinging doors separating the different sections, I got the feeling that generations of families had walked these halls before me. It is easy to picture parents bringing their children back to relive memories they created as children.
Of course some things have changed. The 40,000 square foot Kahuna Laguna indoor waterpark to start. Then there is the arcade, the outdoor pool, the playground, the campfire area, and the spa. There is plenty that is modern about the Red Jacket Mountain View Resort (did I mention the free WiFi?)
The resort also offers a number of casual dining options, from breakfast in Champney's Restaurant to dinner in Palmers Lounge, but we were eager to get to Kahuna Laguna after our busy day in the White Mountains so we opted for light fare at the Tiki Tide Cafe. We took our little lobster pager and enjoyed some slides while waiting for our dinner of grilled cheese, nachos and hummus.
Kahuna Laguna
Ever since our visit to the Great Wolf Lodge, Hannah has been obsessed with water slides. It was all I could do to contain her to finish eating before she was off, determined to make the most of our two and a half hours at Kahuna Laguna.
The main feature is a three-story tower with four water slides, two body slides and two tube slides, that shoot down twists and turns to a 43,000 gallon pool below. The waterpark also features a zero-entry wave pool that pushes out three-foot waves at regular intervals. The wave pool also features two waterfalls and a water basketball area. There is also a 25 person hot tub, a play area for smaller kids, and the Bamboo Bay adventure tower with water cannons, slides, and a giant tipping bucket for loads of family fun.
Since Hannah didn't have any friends to accompany her this time, I was cajoled into accompanying her down the slides. After I got used to my stomach dropping along with the slide, I was actually able to sit back and enjoy the ride — even the slides in the pitch black. We were both a little sad when the waterpark closed at 9 pm, but I have a feeling we will be back again!
Take a look and be sure to watch how Hannah surprised me at the end when she took control of the GoPro!

The Red Jacket Mountain View Resort is located at 2251 White Mountain Highway in North Conway, New Hampshire. The hotel offers 164 rooms, suites, townhouse and vacation rentals, including a number of family suites. Entrance to the Kahuna Laguna is not included in a hotel stay, unless you purchase a waterpark package. Admission can be added to any stay for $20 per person.
PIN THIS FOR LATER
Note: We were hosted by the Red Jacket Resort and Kahuna Laguna for purposes of facilitating this review. All opinions are my own.