Let's play a little game of free association. When I say family vacation to Florida, what do you think? Mouse ears perhaps? Or maybe a trip to the space coast? Living it up in vibrant South Beach? Images of crowds and chaos? Your first thought probably wasn't gliding silently through mangroves with manatees beside your kayak, walking on a long beach littered with shells of all types, or watching dolphins flolicking from the beach. But if you'd prefer a vacation where you can appreciate nature, relax under the palm trees, and stroll the beach collecting shells Captiva or Sanibel Islands in FL might be right for you.
Sanibel and Captiva are two islands off the south west coast of Florida in the Gulf of Mexico. Connected to the mainland by the Sanibel Causeway, the islands are only about a 30-40 minute drive from the Ft. Myers airport. Combined, the islands boast of 15 Miles of Beaches, 25 Miles of Bike Paths, 50 Kinds of Fish, 230 Kinds of Birds, 250 Kinds of Shells & 0 Traffic Lights.
I've always been a fan of the West Coast of FL and after visiting Captiva Island a few years ago we found it to be a perfect place for a family vacation. The beaches are long and wide and the water calm and filled with abundant wildlife. The pace is laid back and in tune with nature. And the shells, what can we say about the hours you can spend collecting all varieties of sea shells?
To help provide some deeper insight into where to stay, what to do and where to eat in Sanibel and Captiva Islands, I solicited the advice of my friend Nicole Varadi, who has been going to Sanibel for vacation for the last 14 years.
Where to Stay on Sanibel
Nicole owns a timeshare at the Casa Ybel Resort, which also offers one or two bedroom condos with full kitchens on a nightly basis for non-owners. The resort is Nicole's favorite on the island and has it all; including an amazing beachfront restaurant, Coconuts pool bar, private beach, children's pool, large adult pool, tennis courts, free on-site laundry, grills for cooking your fresh catch and beautiful tropical scenery.
See also this guide to Sanibel Island beaches and hotels.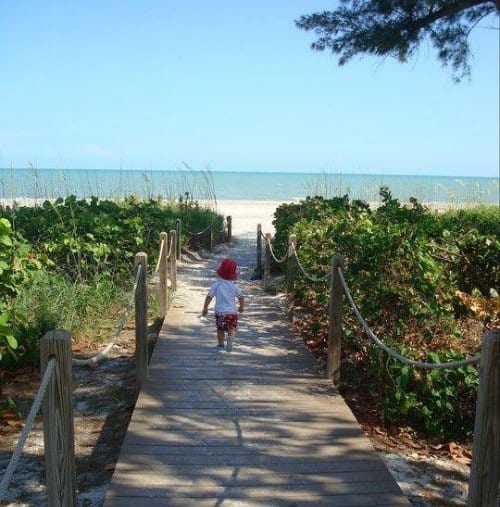 Where to Stay on Captiva Island
When we went to Captiva we stayed at the South Seas Island Resort. It is also set up for owners and non-owners with a choice of a more standard hotel room or "villas," which are condo-like one or two-bedroom units with full kitchens, a living space and lanai. The resort is quite spread out so you might find yourself in for a walk to the beach or pool of your choice, but there is also transportation available. All this space gives room for plenty of amenities including a water park complex with two slides and a zero entry pool (new since our stay), two beaches, a marina, shopping if you want to cook, or multiple restaurants including a pizza and ice cream parlor. When we went there was also an old fashioned candy shop but that seems to have been replaced since. They offer a ton of kid activities as well as sailing, fishing, kayaking, parasailing, tennis, golf, fitness and a spa.
What to Do on Sanibel and Captiva
1. Shelling: This is probably the number one activity that Sanibel and Captiva are known for, so much so that the hunched over walk is called the "Sanibel Stoop!" The best time to go is at low tide so check the tide schedule to plan your day. If a low, low tide is coming, Nicole recommends heading over to Blind Pass, which connects Sanibel and Captiva Islands, for the most amazing shells. Lighthouse Beach on Sanibel is also a hot spot for seashells, but during low tide, any beach on either island is going to yield some shells. We found plenty of beautiful shells on Sunset Beach in Captiva.
2. Sunsets: Captiva is the best place to watch the sunset. You can try Sunset Beach on the South Seas Resort or Nicole finds that if you want to catch the best sunset, get a beachfront seat at The Mucky Duck. There is a legend about "the green flash" of light which happens just as the last bit of sunshine is melting into the ocean. If you aren't lucky enough to see it, you can always get a Green Flash drink (a mix of Pina Colada with Midori) instead.
3. Manatees: One of the things I loved about Captiva was visiting with the manatees, which hung out by the marina at the South Seas Resort. I've seen dolphins and other sea creatures but this was the only place where I could see manatees just hanging out by the boats and surfacing to check you out as you walked by to dinner or the pool. It was a highlight of our day. Nicole also recommends Jensen's Marina on Captiva as a great place to see manatees frolicking with each other in the evenings.
4. Dolphin Watching: You might be lucky enough to watch the dolphins from the beach or you could take a Dolphin Watching and Wildlife Adventure Cruise with Captiva Cruises. On this 90-minute cruise we saw plenty of dolphins and the kids had a blast.
5. Parasailing: Captiva Island was the first place my daughter went parasailing. I couldn't go because I had hurt my neck kayaking the day before so I was a nervous wreck sending her out with my husband and the boat crew but she had an amazing time. The crew took plenty of pictures with my camera and when we got home we bought a plain wooden frame at Michael's and hot glued some of the small shells we had collected during our stay on to it to create a shell frame to house the pictures of her parasailing — a great keepsake!
6. Beaches: Nicole happens to think the beach at Casa Ybel is the best but if you want to explore, you can also visit the beach at the lighthouse. It is free to park but since it is a public beach it can get crowded with day trippers. All the beaches near the Causeway Bridge are free, but the water can get quite rough there so you mostly see fisherman in this area. Bowman's Beach is breathtaking but there is a fee to park and it is a long walk through the sand from the parking area to the beach.
7. Wildlife Watching: Sanibel is home to the Ding Darling Wildlife Preserve but throughout the islands you can find so many types of wildlife including egrets, pelicans, herons, sandpipers, manatees, dolphins and even alligators and crocodiles! Nicole recommends biking or driving through the wildlife preserve, where you might run across some pretty big gators that get rehomed there from other parts of the islands. But it isn't just on the preserve that you'll get close to nature. In the water you'll see dolphins following the boats and playing in the wake, in the shallows you might run across some sting rays (so shuffle your feet along the bottom so you don't step directly on one), and surf fishers might even reel in some decent size sharks.
8. Biking: With the entire island equipped with bike baths, Sanibel and Captiva are excellent places to rent a bike for the day.
Where to Eat on Sanibel and Captiva Islands
When I went to Captiva we mostly ate at our resort, except for one foray off the resort to
The Bubble Room
— which was a big hit with the kids. The menu isn't impressive but there is certainly enough to keep kids distracted. The restaurants claims that it is "always Christmas" there and it is a sensory overload of sound, lights, stuff hanging from walls, trains and more.
For more suggestions, I asked Nicole for some of her recommendations for families on Sanibel:
Thistle Lodge at the Casa Ybel Resort — located right on the beach with an amazing view!
The Lazy Flamingo (also have a location on Captiva)– This very casual restaurant has the best peel & eat shrimp and wings on the island. They will also cook your fresh catch any way you want.
Doc Fords – The owner was a fisherman, turned writer, turned restaurateur. The menu offers awesome seafood choices, as well as a few dishes for the land lovers, and they offer outdoor dining as well. If you enjoy shrimp, try the Dinkin's Bay Boil. Casual atmosphere.
Schnapper's Hots (take out) – They offer burgers, fries, and pizza but are known for their hot dogs with tons of different toppings.
The Island Cow – This casual restaurant serves breakfast, lunch, and dinner with outdoor seating, live music in the evenings and plenty for kids to look at. If you go for breakfast, Nicole recommends the Coconut French Toast.
And on Captiva:
Key Lime Bistro – Serves breakfast, lunch, and dinner with a small menu, but great food. With live music and outdoor seating, it is a popular place so expect a wait in the evening.
RC Otters – Located on the main road to the beach, this casual restaurant offers outdoor seating, live music in the evenings, large portions and a large variety of beer.
The Green Flash – Open for lunch and dinner, this less casual restaurant has a very large dining area with all seats offering a view of the Gulf so you will see boats, dolphins, manatees, and all kinds of birds while you eat. They offer a different spin on seafood entrees, but limited with regard to non-seafood options.
Tips for First Time Visitors
Visit the www.sanibel-captiva.org or http://www.fortmyers-sanibel.com/ websites before you go for everything you need to know about lodging, and restaurants or stop at the visitor's center right after you cross the Causeway.
If you plan on hunting for shells, bring along beach shoes, a shell net/bag, and a shell identification guide. Also keep in mind that taking live shells is illegal and can result in fines if you are caught!
Bring sunscreen and a reputable brand of no-see-um bug repellent. If you can't find it at home, the islands are the best place to pick up the bug repellent.
After this long, long winter, just thinking of the sandy beaches and calm blue sea of Sanibel and Captiva make me long for a trip to paradise. When I asked Nicole how she feels when she is in Sanibel she said "Relieved to be in paradise, even if just for a short while." Oh Nicole, I'm jealous that in another month you'll be spending a couple of weeks in paradise. Enjoy!
Looking for more Florida beach options? Check out this post from my friend Lesli with 25 of the best Florida beach vacations. And if you take the express ferry over to Key West, check out these recommendations on things to do in Key West.
PIN THIS FOR LATER
Have you been to Sanibel or Captiva? What are your favorites? If not, where is your little slice of paradise? Leave a comment and let me know so I can try there next!
SaveSave
SaveSave
SaveSave