I'm a firm believer that good food is worth traveling for. In fact, sometimes a meal, a food tour, or a cooking class can make the best travel memories. As an affirmed chocolate lover, I love seeking out local chocolatiers on my travels (and I've found some great ones in Seattle and Madison!) But why stop there? Spend a few days satisfying your sweet tooth at these amazing chocolate festivals around the world.
Imagine learning about how chocolate is made, watching pastry chefs and chocolatiers in action, and sampling your way through the festival. I've gathered up a list of some of the best chocolate festivals in the world, including some local chocolate events in the United States.
If you like traveling for food, be sure to also check out my best USA foods worth traveling for!
Chocolate Festivals in the Caribbean
Granada Chocolate Festival
The Grenada Chocolate Festival, which takes place in May, has been taking place on the Caribbean island of Grenada since 2014. The Festival celebrates the award-winning chocolate produced on the island by following the journey from 'seed to bar'. The event includes visits to cocoa plantations, working as a cocoa farmer for a day harvesting and extracting the beans from the cocoa pods, participating in the cocoa dance to polish the beans, and making your own chocolate bar.
There are also workshops on painting the taste, mindful chocolate tasting with a chocolate meditation, making beauty potions using chocolate, a chocolate salon and how to grind cocoa beans using a metate just like the Aztecs. And of course there are chocolate themed meals, cocktails and even a chocolate beer to sample.
Chocolate Heritage Festival, St. Lucia
Every December, travelers with a sweet tooth should head to the island of St. Lucia for a taste of 'chocolate tourism.' Chocolate is part of St. Lucia's legacy — the island has been producing cacao for centuries, with a mountainous terrain that's ideal for growing cacao.
Jade Mountain resort features more than 2,000 cacao trees on site, and has a Chocolate Lab where a dedicated Chocolate Alchemist guides guests in creating their own signature sweets.Throughout the first two weeks of December, the resort hosts a Chocolate Heritage Festival that includes tours of their Emerald Estate organic farm where the cacao is harvested, chocolate making workshops, tastings, and a guided tour of the on-site Anse Mamin cocoa crop. A chocolate cocktail party and a beachside bash with burgers and chocolate milkshakes round out the offerings.
Belize Chocolate Festival
The country of Belize hosts an annual three-day Chocolate Festival during the month of May in celebration of Belizean chocolate and the cacao-driven culture of the Toldeo District. Belize is renowned for its superior coco beans, and this event is the perfect excuse to visit the diverse southern region of Belize, namely the town of Punta Gorda (dubbed the 'chocolate capital of Belize') to experience the culture first-hand.
The festival pays homage to the one fruit that was used as currency once upon a time: cacao beans. These cacao beans are a significant export crop and, within country, are transformed into distinctive and high quality chocolate. Every year Belize celebrates this marvelous food, and many devoted followers return to the Toldeo District each year to find out what's new in the world of chocolate making.
Chocolate Festivals in Europe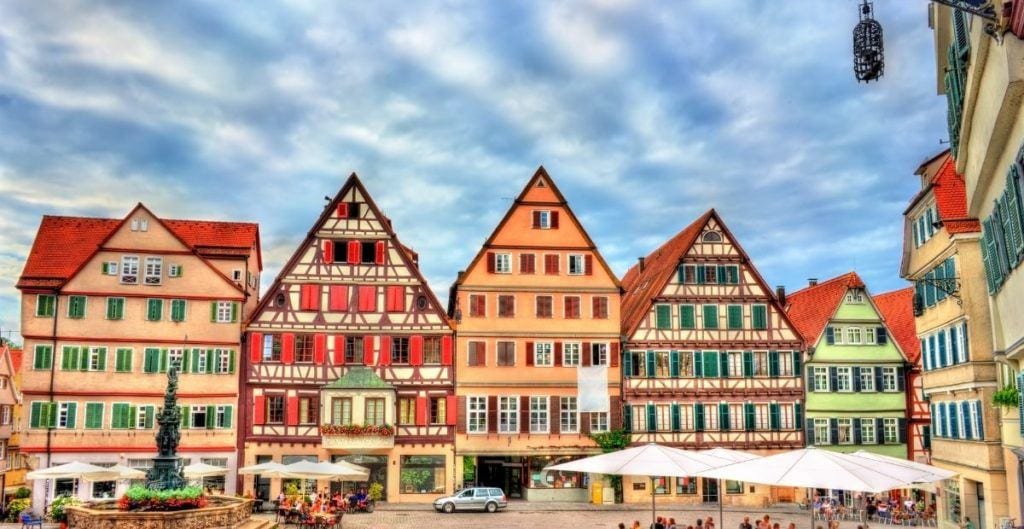 chocolART, Tübingen, Germany
The largest chocolate festival in Germany, the Internationales Tübinger Schockoladenfestival, or chocolART, takes place for five or six days across the first weekend of December each year in the town of Tübingen, combined with the town's Christmas Market.
With a 10,000 square meter festival area and chocolate path stations, chocolART offers fine chocolate tastings, creative pralines course, artful cocoa painting, inspirational readings and exceptional chocolate lectures. There are activities for children and even chocolate menus in restaurants.
Eurochocolate, Perugia, Italy
Katy from Katy in Umbria told me about the Eurochocolate festival in Perugia, Italy. Even many Americans are familiar with Baci chocolate from Perugina Chocolate, which is now owned by Nestle. But Perugia is also home to a 10 day Eurochocolate festival in October. Taking place since 1993, Eurochocolate is the largest chocolate festival in Europe.
Visitors can enjoy a variety of activities including chocolate art displays, experimental chocolate tastings, street performances, and chocolate sculpting. In the past, there has even been an igloo constructed of chocolate and the largest chocolate bar in the world. You can even have a chance to make a chocolate day spa appointment.
Altro Cioccolato, Citta di Castello, Italy
Also taking place in October, the Altro Cioccolato festival focuses more on smaller artisanal chocolate makers and workshops. Visitors can enjoy a chocolate lab and even a chocolate museum. Since both festivals are in October, you can spend a month in Italy enjoying chocolate, truffles, and more.
Chocoa Festival Amsterdam
Mimi from The Atlas Heart surprised me by letting me know that Amsterdam is the world's greatest cocoa distributor. The two-day Chocoa Celebration, which takes place in February, assembles the world's best chocolatiers and brands in one place.
While this is largely a trade fair, chocolate lovers are also encouraged to attend to learn about cocoa sustainability, hear the history of individual companies, and, of course, taste the samples.
Chocomodica Festival, Sicily
The Chocomodica Festival takes place in early December in Modica, Italy, on Sicily. Allison from Experience Sicily recommended this event and the grainy, dark, bitter-sweet Modican chocolate bars.
Salon du Chocolat Paris
The Salon du Chocolat festival takes place in 15 countries around the world, but it is the one in Paris that gets the most acclaim. This five-day festival typically takes place in late October or early November.
Visitors will find chocolatiers, patissiers, artisans, and confectioners from cocoa producing countries from all over the world. The fair is packed with events including the Pastry Show (with demonstrations of recipes by top chefs), the Cacao Show (musical entertainment and performance from cocoa producing countries), the Chocosphere (talks and tastings), workshops for adults and kids, and of course the famous chocolate fashion show featuring models wearing dresses made of chocolate.
Festival Internacional de Chocolate de Óbidos, Portugal
Chocolate Óbidos takes place in late April to early June in Portugal and features monumental sculptures that are crafted over many months. Visitors will also find dozens of exhibitors, show cooking sessions, workshops and courses aimed at amateurs and professionals. The Casa de Chocolate das Crianças gives children the opportunity to work with chocolate for the first time. Every day there are different activities where visitors can taste the best of chocolate.
Poland Chocolate Festival
Will Hatton of The Broke Backpacker shared his favorite chocolate festival, which takes in Warsaw, Poland at the Palace of Culture and Science. Taking place in December, visitors can see chocolate exhibitions in the forms of cakes, trains, trees, and more. These displays can be purchased, or there are plenty of bite-sized treats to sample for free.
Belgrade Annual Chocolate Festival
Philip Weiss shared an annual chocolate festival in Belgrade, Serbia. This festival gathers local brands from all around the country and neighboring countries in the Western Balkans. Taking place at the end of October in the cultural hub of Dorcol Platz. Visitors have a chance to try different chocolate, learn how it's made and attend one of the masterclasses at the festival. Also, kids can enjoy one of the games carefully prepared for this event.
Chocolate Festival Radovljica, Slovenia
Ian from Wild 'N" Free Diary tipped me off to the Chocolate Festival Radovljica in Slovenia. This three-day event is the biggest chocolate festival in Slovenia and includes concerts, children's entertainment, creative workshops, and cooking shows. Attendees have the opportunity to taste an array of pralines, chocolates, desserts, and other chocolate delights using tasting coupons.
Chocolate Festivals in Asia
Salon du Chocolat Tokyo
Peter from Japanoscope Travel recommends the annual Salon Du Chocolat Tokyo, which takes place in the trendy Shinjuku NS building in February, just in time for Valentine's Day. Aside from the obligatory wonders of chocolate creation on display, such as this set of edible high heal shoes, you can participate in workshops, meet world class chocolatiers and learn recipes.
Local Chocolate Events in the United States & Canada
Big Chocolate Show, New York
For two days in the fall, the Big Apple takes on Big Chocolate at the Big Chocolate Show. You can learn to make bean-to-bar chocolate bars in chocolate-making classes. There are cooking demonstrations, tasting classes, and even wine pairing demos where you can meet famous chocolatiers, chefs, and patissiers. There are even classes for children at the show.
Chocolate Fest, New Brunswick, Canada
Taking place in early August, Chocolate Fest in New Brunswick began in 1984 by Ganong Bros. Limited, one of the chocolate industry's most important companies, as a unique celebration of chocolate discovery. In 2000, St. Stephen was officially registered as "Canada's Chocolate Town" as a mark of the importance of chocolate in its past and present, with "The Great Chocolate Mousse" as the town's official mascot.
The family-friendly festival offers activities such as a chocolate-themed brunch, a chocolate museum, a blindfold taste test, a choctail hour, a parade, and a treasure hunt take place. Plus you can have pictures with the Great Chocolate Mousse and his wife Tiffany.
Toronto Chocolate Festival
Taking place in October, the Toronto Chocolate Festival is a city-wide event that features everything from a chocolate ball to a chocolate dinner and chocolate afternoon tea. There is also a chocolate walking tour, a blind wine and chocolate tasting, and a craft beer and chocolate pairing.
Dallas Chocolate Festival
Taking place in September, the Dallas Chocolate Festival was started in June of 2009, with the goal of promoting artisan chocolate in Dallas. Featuring chocolate samples from industry innovators the world over, the event now features dozens of chocolatiers and chocolate makers, demonstrations, and even workshops.
Ghiradelli Chocolate Festival, San Francisco
Typically hosted in September, the Annual Ghirardelli Chocolate Festival features over 50 sweet and savory vendors from all around the Bay Area. Dessert demonstrations are held by local celebrity chefs, and Ghirardelli's Chocolate Master teaches "Chocolate School" at the Culinary Stage. In the Chocolate Lounge, attendees can sip spirits and Bay Area wines while enjoying live music.
Flagstaff Annual Chocolate Walk
Alanna Koritzke from Periodic Adventures clued me in on a family-friendly chocolate event that takes place in Flagstaff, Arizona each year. The Annual Chocolate Walk takes place each year before Valentine's Day and celebrates local candy shops and chocolatiers through a chocolate-tasting adventure.
Each participant receives a "chocolate passport," which includes a map of participating local shops. Following the map, you walk around downtown Flagstaff, sampling chocolates and collecting stamps on your passport, which you can use to enter a prize drawing. Participants also vote on their favorites and enter Chocolate Walk Photos in a competition to win chocolate prizes!
Colorado Chocolate Festival
Held over Mother's Day weekend, the Colorado Chocolate Festival is the largest in Colorado, featuring 100 manufacturers from across the country. Attendees can purchase tasting tickets to sample the wares at the various manufacturer's exhibits. Live chocolate-making demonstrations are also offered throughout the day.
Death by Chocolate, Chincoteague, Virginia
My sister and brother visit Chincoteague every February to enjoy the Death by Chocolate event in Chincoteague, Virginia. Imagine a chocolate scavenger hunt with delicious chocolate treats at participating merchants around town. Players can pick up playing cards at any participating merchants and submit completed cards at the Chincoteague Center to win over 35 prizes.
Creede Colorado Chocolate Festival
On the weekend following Thanksgiving, the small town of Creede, Colorado brings together residents to sample chocolate delicacies made by local business owners. Chocolate delights range from tiramisu, tortes, and chocolate-covered pretzels, to jalapeno bean fudge and chocolate-dipped bacon. There is a prize for people's choice for the chocolatier, and deals and coupons for the ticket holders.
The events is the kick off to the holiday season and often Santa and Mrs. Claus can be found in town, along with live music and special holidays sales.
Choctoberfest, Hershey, PA
Of course the Sweetest Town in the USA has to host a chocolate festival, right? In October, Hershey, PA brings chocolate lovers together for Choctoberfest. This family-friendly festival offers live music, local craft beer, and food from several downtown restaurants. Visitors can sample chocolate from more than 70 booths using tasting tickets. Kids can also enjoy activities like face painting, an obstacle course, and other games.
Northwest Chocolate Festival, Seattle, WA
The Northwest Chocolate Festival is the best show in the world for artisan chocolate. Visitors can enjoy classes, workshops and seminars, enjoy chocolate + drink pairings, and meet the cacao farmers who supply the raw ingredients for chocolate making. The best part? ​Taste Chocolate from around-the-world with a global showcase on the main exhibit floor. The event takes place in late October.
Save this to Pinterest