This is a sponsored post written by me on behalf of Italian Trade Commission. All opinions are 100% mine.
The Amalfi Coast is bursting with the flavors of lemon and fresh seafood, vegetables, and herbs plucked straight from the garden and sea. The air is fragrant with the aroma of the bougainvillea and flowers that twist and turn over the buildings like the curves of the windy coastal roads. Amalfi coast wine complements these flavors and aromas, drawing on the rich volcanic soil and sea air to add minerality and complexity.
The Costiera Amalfitana (Amalfi Coast), which begins south of Sorrento Peninsula, is most famously known for its beautiful towns of Positano, Amalfi, and Ravello, as well as the island of Capri. We have visited all of these towns on our recent travels and it remains one of my favorite places in the world.
Visiting this fabled region of Southern Italy is a dream come true, but so much of the experience is heightened with the flavors of the Amalfi Coast food and wine. Nowhere else have we had such sweet and succulent baby clams tossed with the perfect hand-rolled al dente pasta for spaghetti alle vongole. Nowhere else have I seen lemons the size of grapefruits growing on trees in backyards and used to add zing to dishes from zucchini to lemon sponge cake. And nowhere else have I had such a perfectly-crispy fried zucchini flower or tomatoes that have the sweet warmth that could make me eat Caprese salad every day of my life.
It is a place that many dream of visiting, but few want to leave. We have tried to create these delightful food and wine experiences at home to bring back those memories and carry a bit of sunshine back into our meals. Some have had mixed results, without access to those fresh ingredients, but others we have been able to perfect. Taking a cooking class at Capri's famous Villa Verde restaurant recently has certainly helped!
I would like to share some of our recommendations (and a recipe), so you can also recreate the flavors of the Amalfi Coast at home. Just sip a fine Italian wine, nibble on delicious food, play some Italian music in the background and let the day dream sweep you away!
Amalfi Coast Wine
While the Amalfi Coast may be more well known for its towering cliffs above the sea and designer shops, there are a number of wines that also originate from this area. The Amalfi Coast is part of the larger Campania region of Italy. Campania is the ninth-largest wine producing region in Italy.
As you may know, Italy's wine production is divided into appellations, known as denominazioni di origine controllata, or DOC. There are 334 DOC appellations in Italy, all divided geographically. These represent the finest of wines, with the strictest regulations.
Gone are the days of cheap Italian table wines served in giant jugs. Italy's wines have grown in quality and character. During our wine tours in Italy, we found wine producers very concerned with sustainability and creating unique, artisanal offerings. While wine production has boomed worldwide, Italy has more types of vines planted than any other country, with over 500 cataloged grape varieties. While you may not have heard of all of them, the way you do mass-market wines, there are high-quality options that pair perfectly with a wide variety of cuisines.
In addition to the DOC designation, there are also 74 DOCG zones, which guarantee authenticity of wine of "particular esteem," wherein wines must meet standards of typology and quality imposed by a commission. There are also a growing number of wines that fall under the category of indicazione geografica tipica (IGT.) All this is to say that Italian wines are among the highest quality and most unique in the world.
Italy is very well-known for its red wines, but Italy is also a major producer of whites and bubbly wines. In Campania, the coastal breezes and volcanic soils of Vesuvius have developed some of the most treasured wines, and modern winemaking techniques have brought these ancient grapes to a new level.
The Campania wines that are most well known include wines made from the Aglianico, Greco, and Falanghina grapes. Both Taurasi and Falerno del Massico are red wines made from the Aglianico grape. Taurasi is known as the "Barolo of the south," although it maintains a style all of its own.
The high-end of the Greco wines is the Greco di Tufo, named for the village of Tufo that sits on a deposit of sulfur-rich tuff rock, which is a dry white or can be a dry sparkling Spumante. Falanghina grapes were the base for the white version of Falernian, a favorite of the Ancient Romans.
The other DOC/DOCG wines to look for from Campania include: Fiano di Avellino, Aglianico del Taburno, Aversa, Campi Flegrei, Capri, Castel San Lorenzo, Cilento, Costa d'Amalfi (Furore, Ravello, Tramonti), Falerno del Massico, Galluccio, Guardia Sanframondi or Guardiolo, Ischia, Penisola Sorrentino, Sannio, Sant' Agata de' Goti, Solopaca, Taburno, and Vesuvio, including varietals such as Coda di Volpe, Biancolella, Piedirosso, Pallagrello Bianco and Nero, and Casavecchia.
Pairing Amalfi Wine and Food
While I often choose my wine depending on my mood, the weather, and/or what I am eating, I do always find that wines pair best with foods from the same region. There is something about digging roots into the same soil and soaking up the same sun that just creates a natural pairing. That said, while in Capri, I drank my share of Gavi di Gavi, a wine from Northern Italy, and it paired just fine. Don't be afraid to experiment!
However, to get you started, let me suggest three courses and wine pairings that can represent the Amalfi Coast.
Antipasti
Some traditional antipasti courses on the Amalfi Coast would include Buffalo mozzarella, tomato and basil Caprese salad, fried zucchini flowers, cold seafood salad, or mozzarella in carrozza (breaded mozzarella and fried, sometimes with an anchovy in the middle.)
The Greco di Tufo from the Campania region is a high acid wine that contains a lot of minerality picked up from the volcanic soil. This can work well to cut the grease from the fried foods like the zucchini flowers or the mozzarella in carrozza. It also pairs well with foods that have a lot of acid, such as those with a strong lemon flavor profile.
One of my favorite antipasti dishes on the Amalfi Coast is buffalo mozzarella (or other local cheese), which has been grilled between two lemon leaves. The flavor is just bursting with lemony goodness. We had this in Positano at Covo dei Saraceni, in Ravello at Villa Maria, and my favorite, at Paolino under the lemon trees in Capri.
Primi
For your first course, or primi, you would usually have a pasta like spaghetti alle vongole, or Villa Verde's famous Pasta Fagioli (see below for recipe.) An Ischia Biancolella would be perfect with the spaghetti with clams, while the versatile Falanghina works nicely with this lighter version of pasta fagioli.
If you try a pesto pasta, the Fiano di Avellino is a medium-bodied wine with a strong hazelnut quality and notes of basil and pine that will pair nicely.
Secondi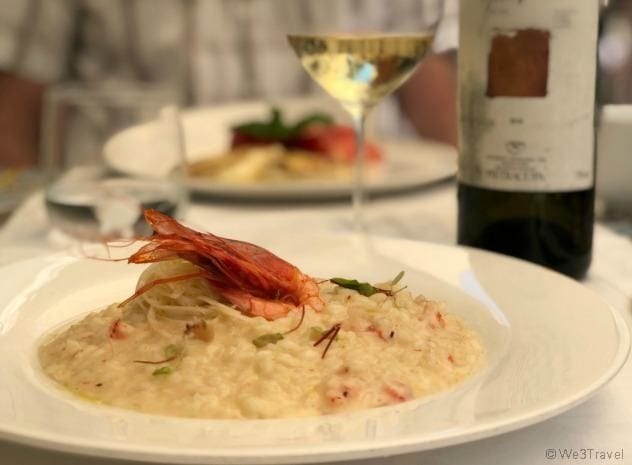 Your main course on the Amalfi Coast, if you have room, is likely to be seafood. Perhaps a whole Branzino baked in salt, giant prawns, or a nice shrimp risotto. The Falanghina wines have a crispness that works well with seafood and won't do you wrong.
Finish that all off with Delizia Limone (lemon cake) and a shot of limoncello and you have created the perfect Amalfi coast feast.
Pasta Fagioli di Villa Verde
To get you started, I will share one of the recipes learning during a cooking class in Capri. This is unlike any other pasta fagioli you have ever had. Just do me a favor and when you serve it, start singing "when the moon hits your eye, like a big pizza pie, that's amore!" While it may be Italianesque, it is what the waiters sing when serving this dish in the restaurant.
Ingredients:
1 14.5oz can of cannellini beans
1 stalk of celery (diced)
¼ onion (diced)
1 garlic clove
100g ditallini pasta
Vegetable broth
Fresh basil
Parmigiano-Reggiano cheese, grated
Olive oil
Red pepper flakes
Directions:
Cut onion and celery into a small dice.
Sauté with either garlic oil or oil+ smashed and minced garlic until soft.
Add can of cannellini beans, including liquid. Do not rinse beans.
Add pasta and some vegetable broth. Keep adding broth as needed until pasta is cooked al dente.
While the pasta is cooking, mix minced basil, parmesan, and a pinch of red pepper flake with olive oil to form a gremolata.
When pasta is cooked, stir in basil and cheese mixture.
PIN THIS FOR LATER
SaveSave
SaveSaveSaveSaveSaveSaveSaveSave