For many families, winter break means a trip to the beach or hitting the slopes. After our long New England winters, I usually want to jet off to Europe or soak up some sun somewhere. Jumping on a horse for a dude ranch winter break vacation never really crossed my mind. That is, until an invitation to visit and review the Vista Verde Guest Ranch popped into my inbox.
I typically think of dude ranches for summer horseback riding, probably because that was our previous experience out in Montana. It made me wonder, what would a ranch trip be like with snow on the ground? Luckily we were already trekking out to Colorado on a massive college road trip and a few days at the ranch sounded like a perfect break before a long drive home.
As it turns out, a ranch vacation is exactly what we all needed before my teen was ready to graduate. Time outside, engaging in fun activities together, soaking in gorgeous natural surroundings, relaxing in our luxuriously-appointed private cabin, and eating way too much delicious food — it was everything I love about a dude ranch vacation at just the right time.
Vista Verde Ranch Review
Note: Our trip was hosted by the Vista Verde Ranch for editorial purposes to facilitate this review. All opinions are my own.
The Vista Verde Guest Ranch is a luxury dude ranch located about 40 minutes north of Steamboat Springs, Colorado. The property is situated in the National Forest and has permitted access to the gorgeous Mt. Zirkel Wilderness Area. (See other things to do in Steamboat Springs in the winter.)
With about a dozen cabins and a handful of lodge rooms, the ranch can accommodate about 50 guests at a time. Priding itself on personalized service, Vista Verde maintains a 1:1 staff-to-guest ratio that makes everyone feel warmly welcomed and accommodates everyone's needs.
Vista Verde welcomes guests for weeklong visits in the summer from Memorial Day through late October. It then reopens in mid-December for the holiday and winter season, wrapping up spring break at the end of March.
Just keep in mind that from right after New Years until President's Day weekend, the ranch is set aside for adults only, but families are welcome from mid-December until New Years and mid-February until they close for the season at the end of March. This makes it a perfect choice for holiday family vacations or those with an early spring break.
Non-holiday winter visits have a three-day minimum, while at other times weeklong stays run from Saturday to Saturday. Pro tip: the last two weeks of the winter season are designated for spring break and offer a 15 percent discount!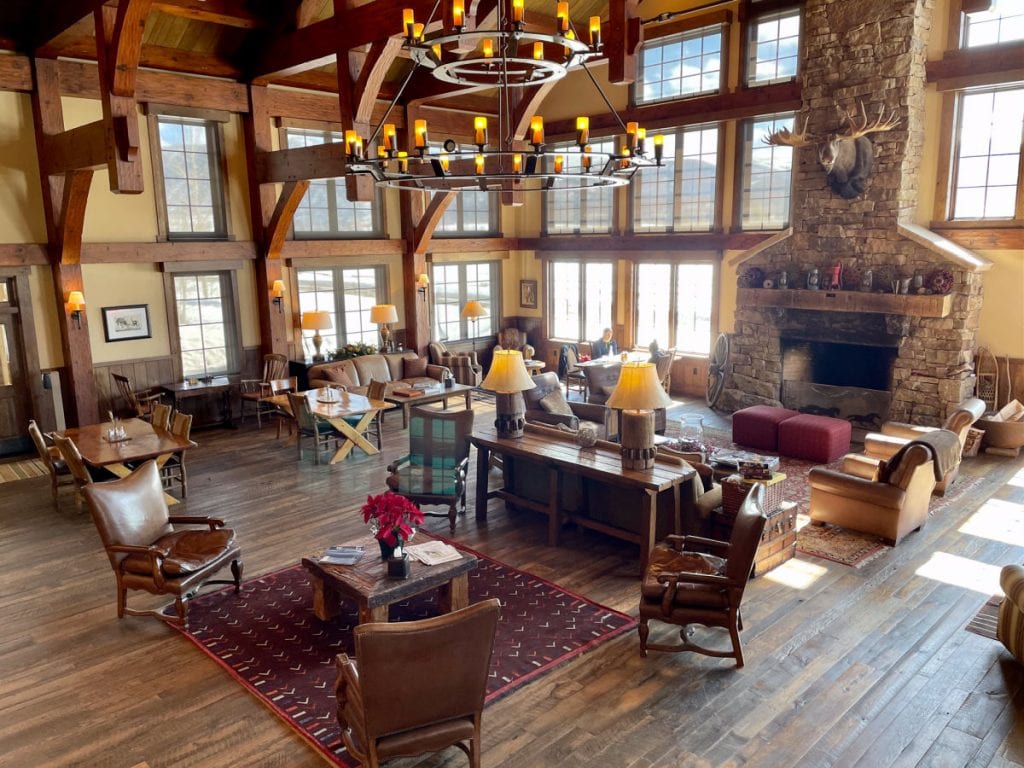 Cabins at Vista Verde Ranch
Vista Verde Ranch offers a range of accommodations. There are a few lodge rooms located upstairs in the main lodge, but the primary accommodations are in the ranch's dozen cabins, ranging from one-bedroom up to four bedrooms, including one duplex with two separate cabins.
Each cabin is comfortably and luxuriously appointed, but not over the top like you might see at some of the super luxe ranches. At Vista Verde, it is more about the experience and service. That said, you have everything you need to relax and be comfortable in your own cozy cabin.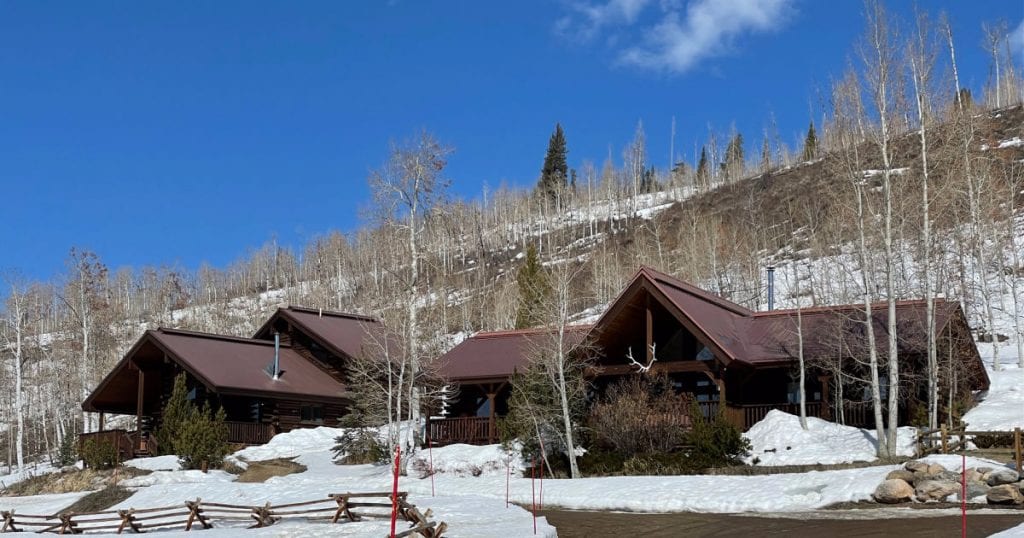 Every cabin has a sitting area with either a wood-burning stove or gas fireplace, and its own private hot tub on the deck for a relaxing soak at the end of a busy day. There is also a refrigerator stocked with complimentary beverages and a welcome basket stuffed with snacks and other goodies — not that there is a chance of going hungry at Vista Verde!
You won't find any TVs or phones in your cabin — but that is intentional so you can unplug and relax. But the cabins are equipped with coffee makers, hot water kettles, hairdryers, robes, and more. The cell service at the ranch can also be pretty spotty, but you can get just enough WiFi at the main lodge to check those necessary emails — just don't expect to stream anything or spend a lot of time on social media. That definitely is not the point of a ranch vacation.
We stayed in North Fork, one half of the North and South Fork duplex cabin, which is close to the Main Lodge. The back deck of this 900-square foot, two-bedroom, two-bath cabin looks out over the horse paddock, giving a beautiful view to enjoy your morning coffee or an afternoon soak in the hot tub.
The first bedroom has a queen bed and an en-suite full bathroom. In the front hall you will find a closet and mudroom area, including a boot dryer, along with a fridge, sink, and coffee maker. The sitting area has a sofa and armchair, as well as a small gas fireplace. There may not be WiFi but there are games to play to keep you busy — the choices of Pandemic and Herd the Horses felt very apt. You can also exit the sitting room to the back porch, equipped with a few log Adirondack chairs and the hot tub.
The main room features a king-size bed, along with a very large master bath. The en-suite bathroom featured double sinks, a separate room for the toilet, and a large walk-in stone shower stall with a rainfall shower. The floors were heated, keeping it cozy even in the winter, and the ranch provided locally-sourced bath amenities including lotion, body wash, shampoo, and conditioner. I also appreciated the small special touches like a humidifier in each bedroom to help with the drier weather and higher altitude.
When traveling as a family, we always appreciate having lots of space — whether it is a suite at a hotel, an apartment rental, or our own cozy cabin. It felt so great after busy activities or filling meals to come back to the cabin and relax in the living room and hang out as a family, but then divide up into our separate bedrooms when we were ready to go to sleep or wanted some alone time. And frankly, I wish I could just import the bathroom from our cabin to my own home. It was so spacious and I now want radiant heat in my bathroom floors to warm my cold feet.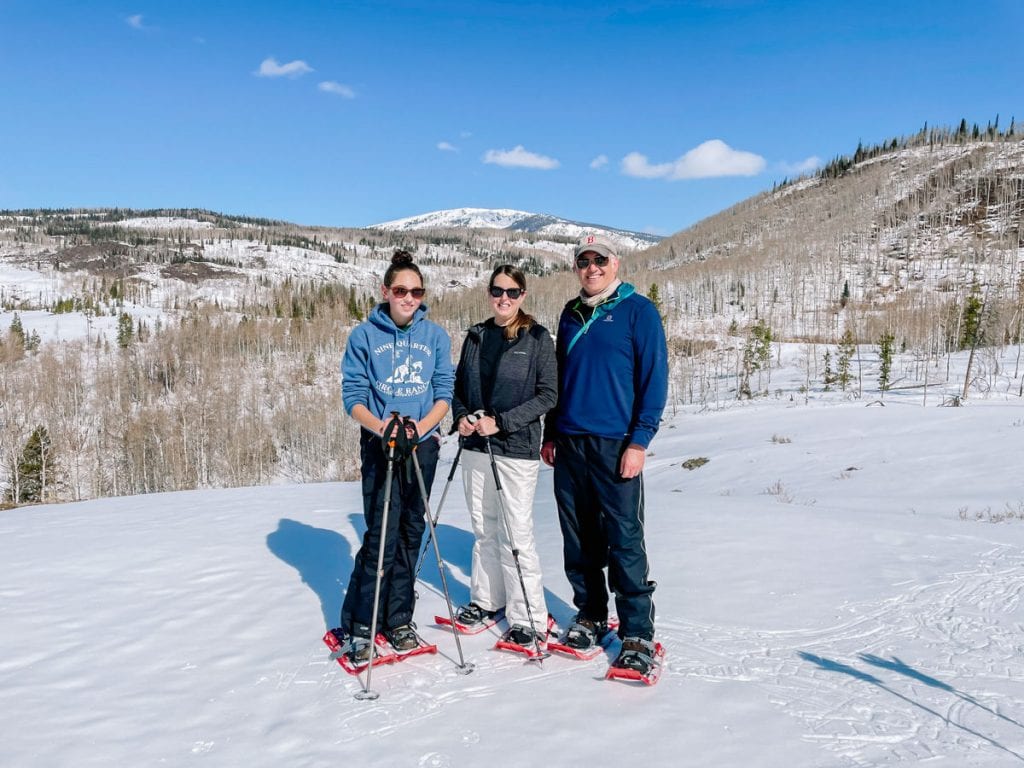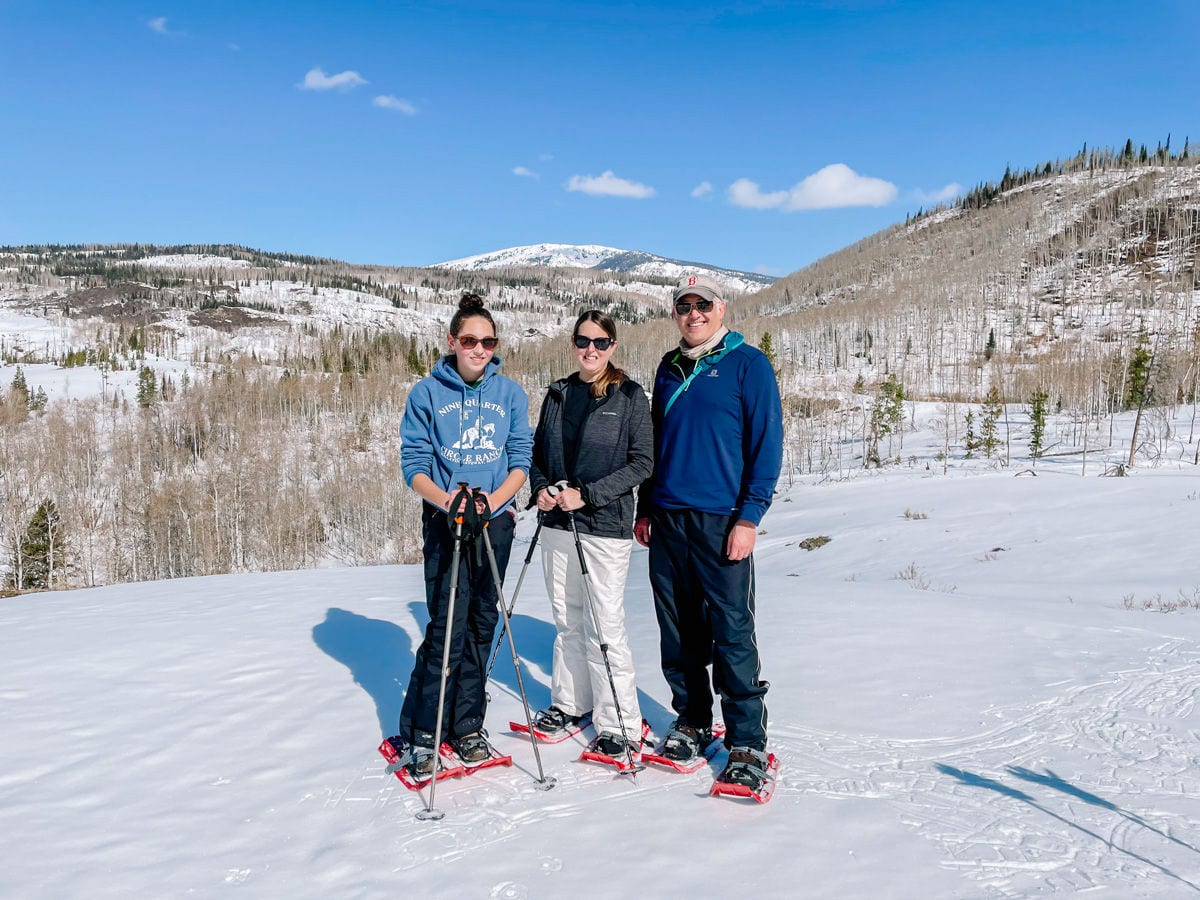 Winter and Spring Break Activities at Vista Verde Ranch
The main reason I never considered a ranch vacation for spring break was that I didn't think there would be much to do. I've seen the gorgeous photos from luxury ranches that have elaborate holiday festivities — but March? Plus our previous ranch experience in the summer was fantastic, but we were riding twice a day, fishing, hiking, sitting around campfires, taking hayrides, playing softball…I wasn't sure how much of that would be possible or comfortable in Colorado's early spring. Turns out there was way more to do at Vista Verde Ranch than we could fit into our visit.
Before you arrive, the ranch will send you a sample calendar of activities so you can start to think about what you may want to do on your vacation. Each evening during happy hour or dinner, a staff member will come around to see what you want to sign up for the next day. There are some standard options that are offered daily, such as horsemanship, cross-country skiing, snowshoeing, and others such as trips to town or snow tubing that are offered only once or twice throughout the week. At any time, you can check the activities calendar and sign up list in the lodge and adjust your picks if there is still space.
Snowshoeing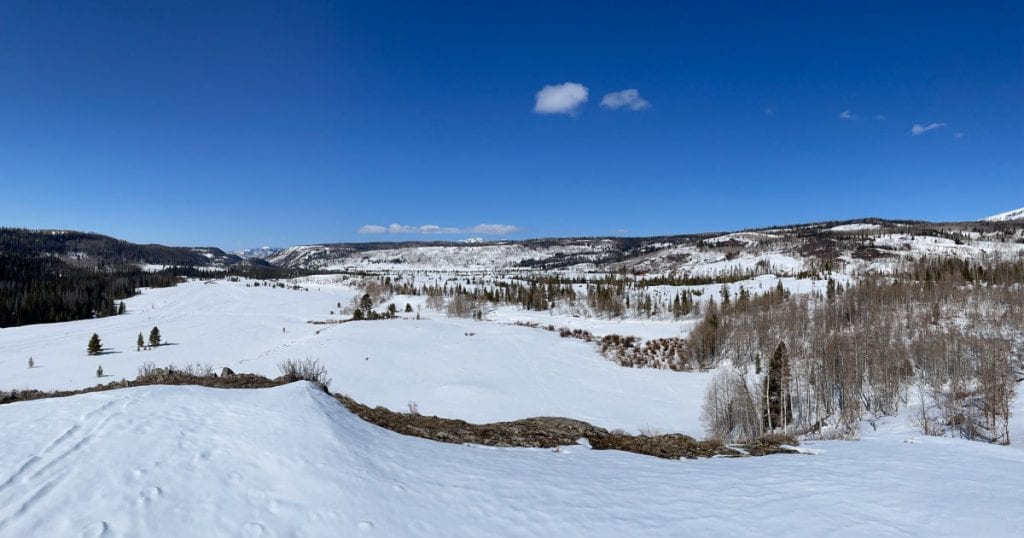 Since first trying snowshoeing at Smugglers' Notch in Vermont, I've been a fan of this sport. It offers a workout and a chance to enjoy nature and beautiful views, but without the skill required for skiing. Unless you can follow trails that are very easily marked, it is best to head out with a guide.
At Vista Verde, the equipment and guide are included in your package. Guided tours are offered in the mornings and afternoons, and they try to pair you up with your own guide for your family group so you can go at the pace that you want and explore the terrain that best fits your family. Tours typically last for about 90-minutes, but you have multiple opportunities to cut it short if you want, depending on how much you want to do.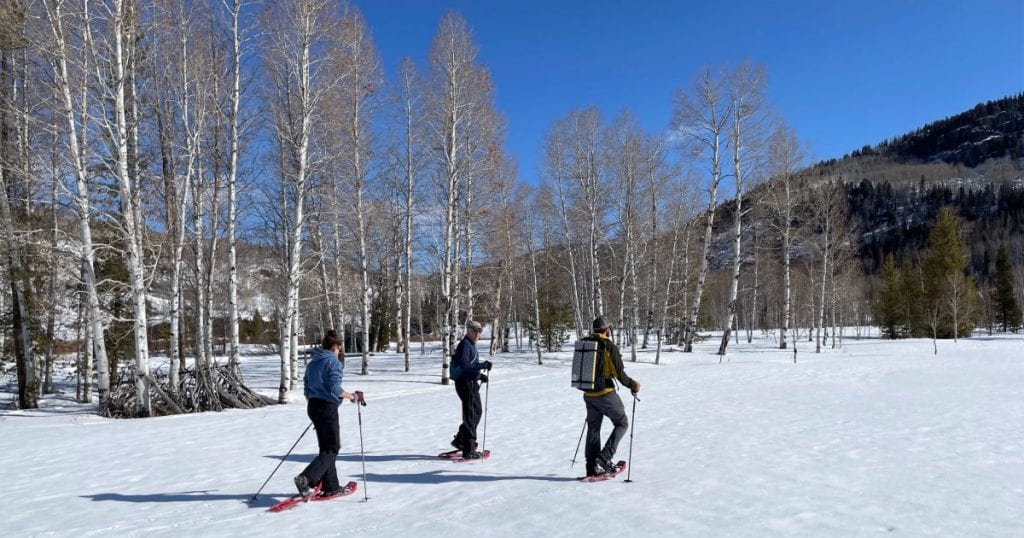 We had an absolute blast snowshoeing at Vista Verde. The weather was complete perfection, even though the temps said it was in the 30s it felt like the 50s and with a little movement, we were plenty warm. Our guide Alex was so helpful and fun to talk to throughout our time together. Once we were all equipped, we headed out into the back country to explore. Since we were all feeling energized by the great weather, we ended up hiking up to Indian Hill, which offers panoramic views of the ranch and surrounding countryside. Altogether we went about 3.5 miles in our morning tour.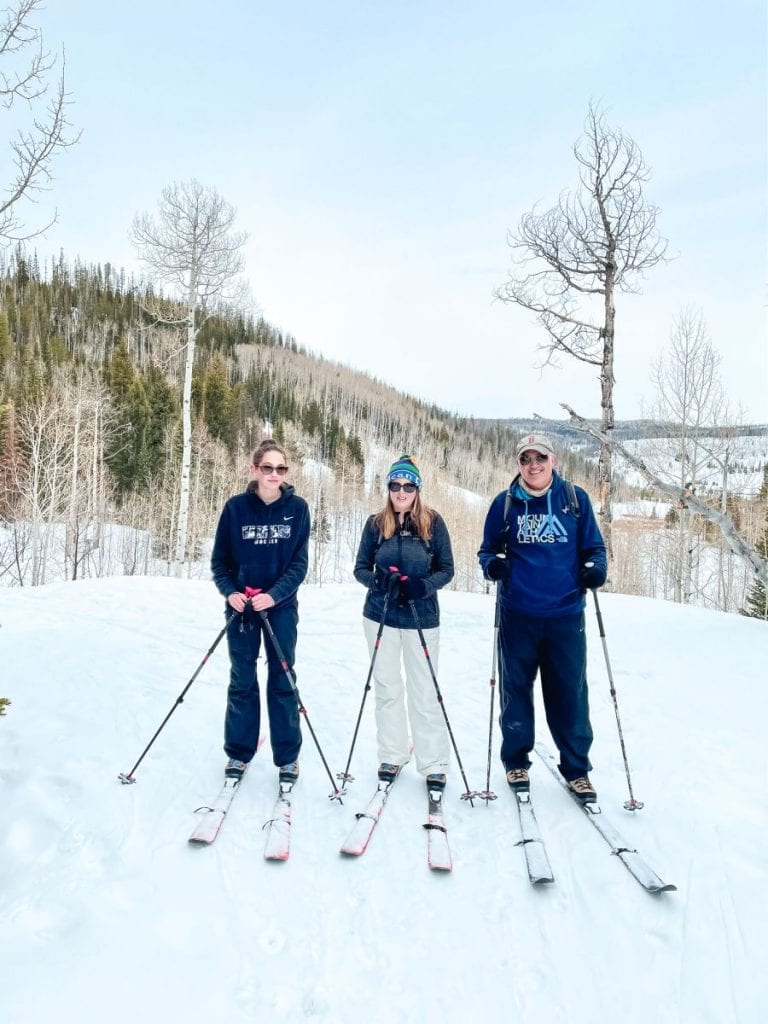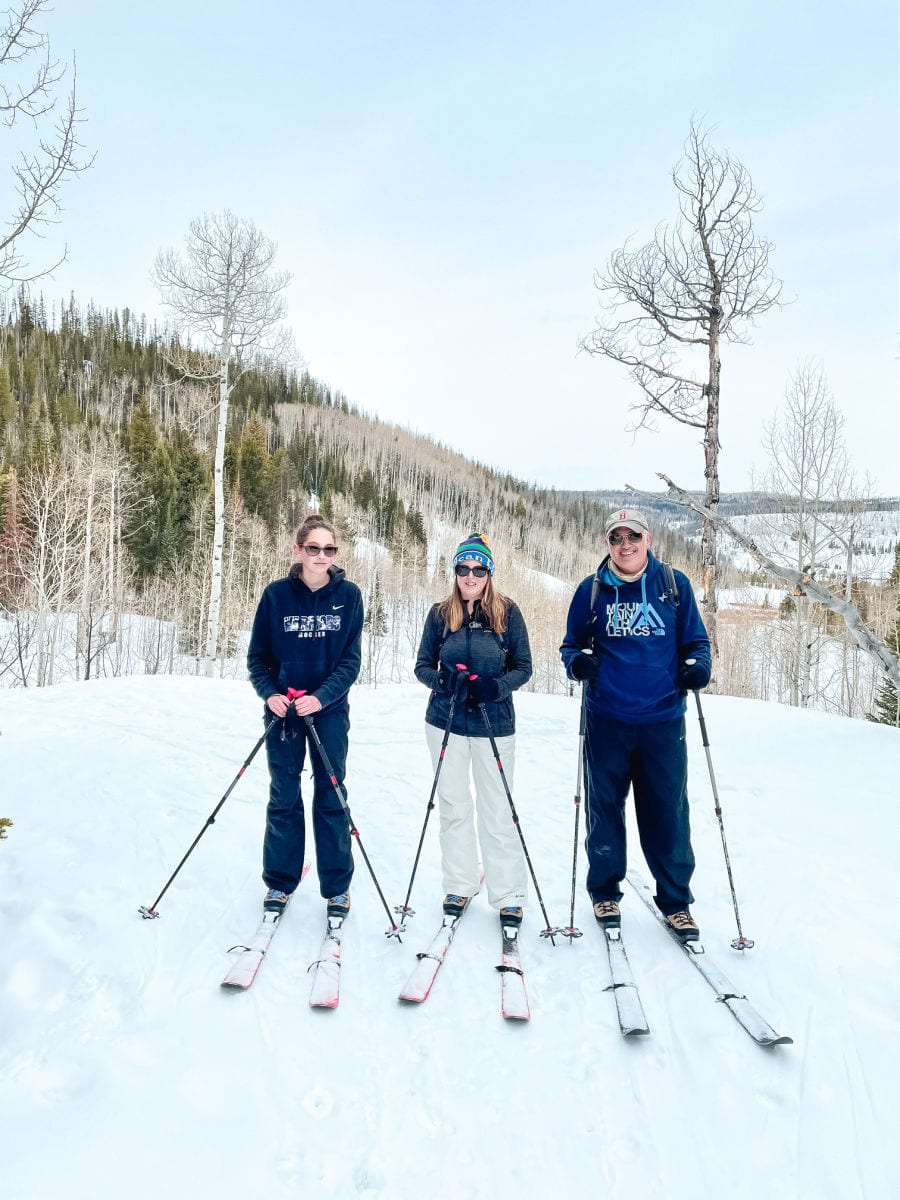 Cross-country Skiing
Glenn had a hankering to try cross country or Nordic skiing, and since it is part of the all-inclusive package at Vista Verde, it seemed like the perfect opportunity. Of course, conditions can be a bit tricky at that time of year, since you don't want the snow too icy or slushy. We gave it a try on our second morning at Vista Verde.
The first option is to get comfortable on the skis on the groomed trails near the adventure center on property before heading into the back country. However, given the conditions on that morning, our guide packed us into one of the ranch vehicles to take us to some nearby back country to give it a try.
Everything was going fine until we started to climb into the hills. We soon learned that going down inclines on cross country skis versus downhill skis is actually quite different. Hannah loved it and was often first to give it a try, and then waited patiently for Glenn and I to make our way down, sometimes falling along the way. When our guide first talked to us about falling before we got started, I laughed thinking, how can you fall doing cross country? I found out!
Let's leave it by saying that we are all glad we had a chance to give it a try, especially with a patient and helpful guide and without strangers watching our progress. But at the same time, I think Hannah might be the only one giving it another go in the future. For me, I'll stick to snowshoeing!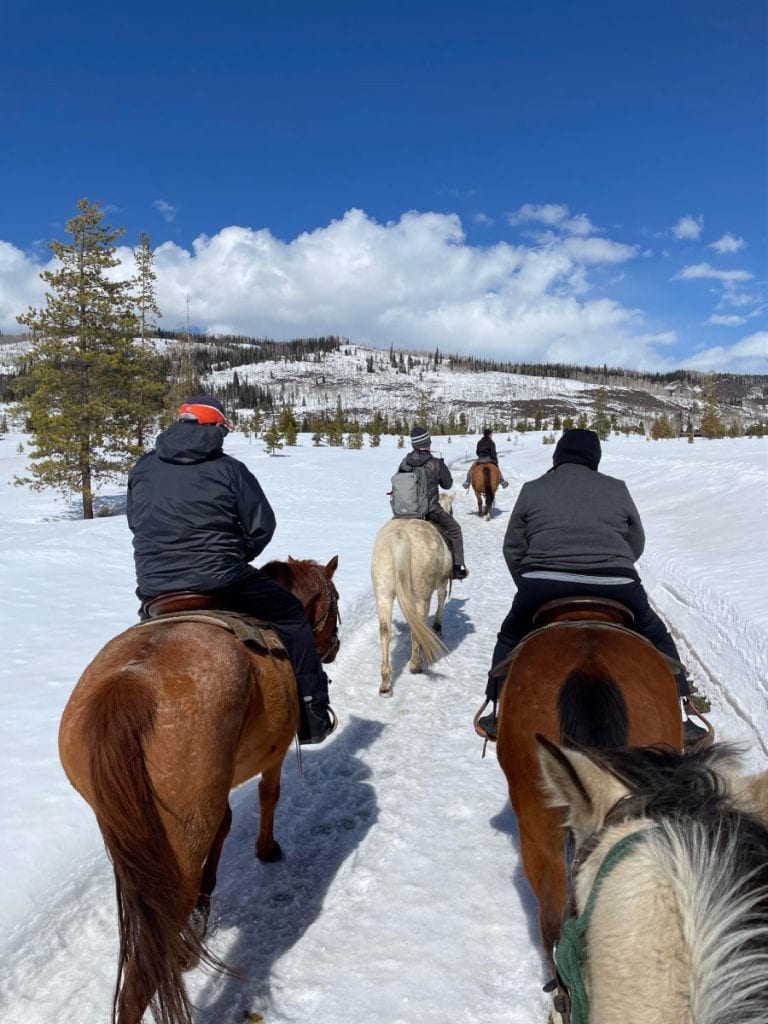 Horseback Riding
Every day during the winter and spring break seasons, Vista Verde offers horsemanship lessons in the indoor arena. The sessions start with a lesson on horse handling and are followed up by a trail ride. In addition, trail riding is offered several times a week. The trail rides are fairly short, about an hour or so, in case of cold. The horses take a relatively flat trail through the ranch property. Guests are paired up with horses based on their riding experience.
Snow Tubing
During the winter months, Vista Verde also offers snow tubing on a hill above the indoor arena. Guests are escorted to the mountaintop on snowmobiles. Then you grab a tube and choose one of two trails down. The snowmobiles will then whisk you back up to the top for another go.
Just be careful in the warmer weeks when the trails get slick. You will speed down the hill and need to slow down before hitting the barriers at the end of the run. When the trail is too icy, it can hurt a bit to use your feet as brakes. That didn't end too well for my husband who reinjured his foot that he had broken a couple of years ago – so be careful and wear sturdy shoes!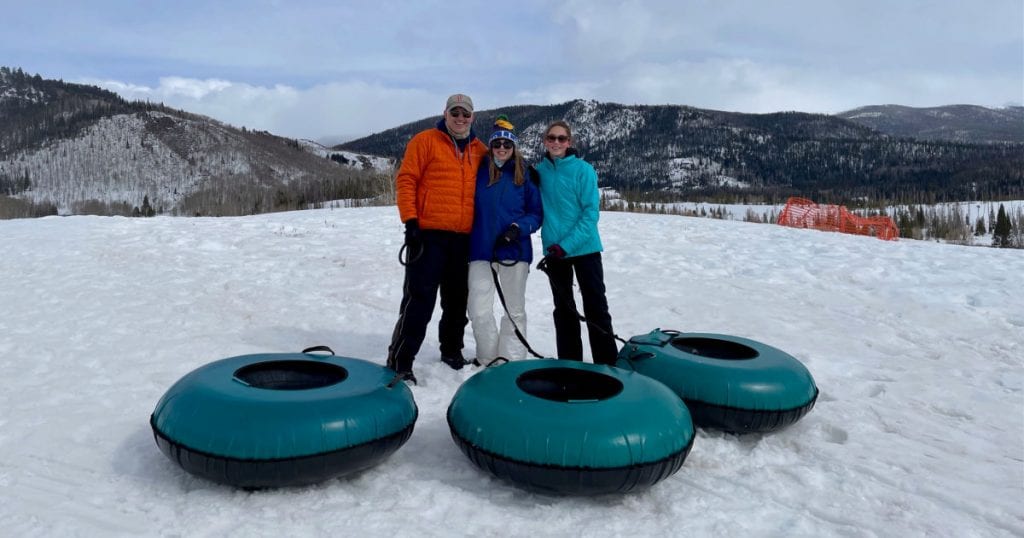 Other Outdoor Activities
In addition to the activities we had a chance to try, guests in the winter can also enjoy ice fishing and fat biking. And, when the weather is right, the ranch also offers horse drawn sleigh rides and the opportunity to hop onboard the feed sled to assist in throwing hay out to the horses, who eagerly follow along behind. There are also optional activities such as snowmobiling, dog sledding, or spa services, which are not included in the rate but can be arranged by the ranch staff.
We also enjoyed participating in "spring shed." In the spring, the horses shed their winter coats and need a lot of brushing. In the afternoon, guests are invited to join the ranch hands in the paddock to brush the horses. It was a fun opportunity to get up close to the horses — definitely a win for horse lovers!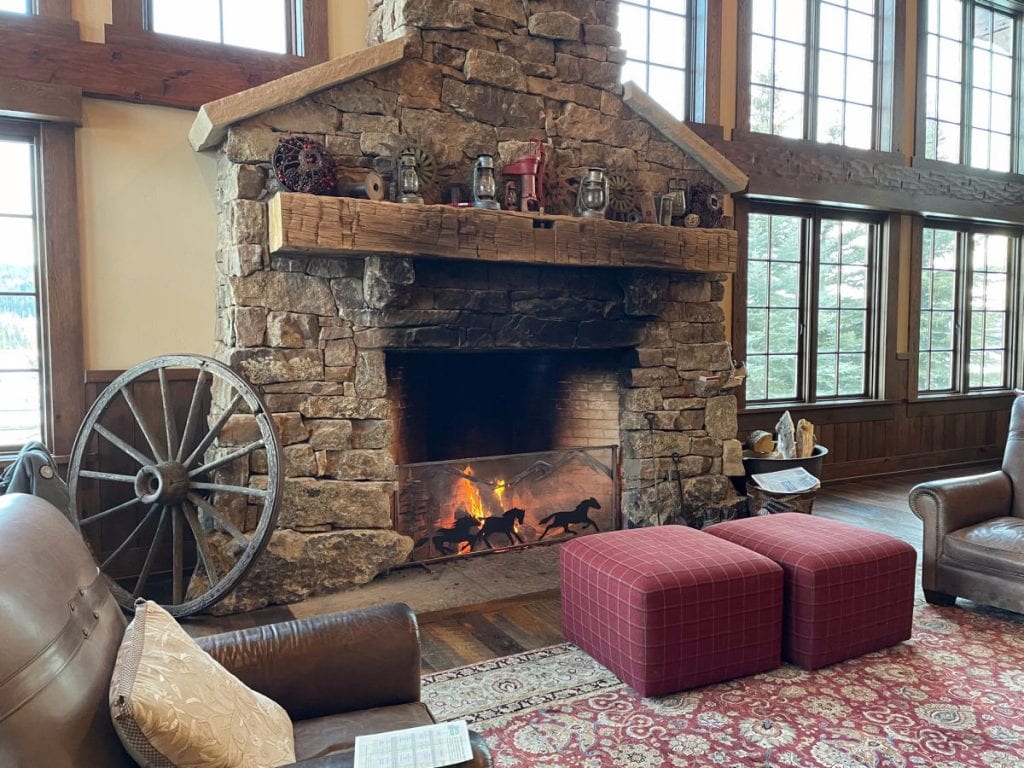 Indoor Activities
Not all the fun is found in the great outdoors. If you would rather not venture out into the cold, the team at Vista Verde makes sure there are plenty of indoor entertainment options. You could try indoor archery, join a beer or wine tasting, watch a movie, or take a yoga class. The lodge also has games, including chess, that you can play by the roaring fire.
Kid's Cabin
Kids are not left out of the fun at Vista Verde. During the summer months, there are full programs for kids ages 6-10, tweens 11-13, and teens 14-18. During the winter and spring, the programs are a bit looser, depending on how many kids are visiting, but there are always programs and activities available for kids. Families can also do many activities together, like snow shoes, tubing, etc.
Dining at Vista Verde Ranch
While some ranches favor family-style meals, Vista Verde kicks the food up quite a few notches to become a true highlight of the experience. In normal times, meals would be served at communal tables with a mix of guests and staff. Currently, guests typically opt to dine separately and tables have been spread out throughout the dining room, main lodge area, and the outdoor patio in warmer weather, and staff eats separately.
Breakfast, lunch and dinner are included in the rate, as well as evening happy hour, which ran from 5:30-6:30 and included wine, beer, and small snacks such as deviled eggs or prosciutto-wrapped dates. At least two main entree menu options were available at each meal, as well as starters and dessert for lunch and dinner. And if you have trouble deciding, the staff is extremely accommodating in serving up a bit of each. From the generous meals to the homemade cookies and the snacks provided in the cabins, guests will certainly never go hungry.
The chefs deliver not just on the quantity, but also on the quality and variety. I was quite surprised on our first night to be offered Alaskan King crab legs. I couldn't even get those on our cruise to Alaska! I also saw a variety of vegetarian options, so it seems that the ranch is fully capable of addressing most dietary restrictions.
Breakfast was served anytime between 8:00 and 9:00, which was perfect for my family of late risers. We then had a little time before morning activities kicked off between 9 and 9:30. Everything that came out of the kitchen was delicious, but for breakfast I'll give extra props to the pancakes and the perfectly cooked bacon.
Lunch is served promptly at 12:30, although they seemed to accommodate the stragglers fairly well. The mid-day meal typically started with a soup or salad, followed by an entree, such as a burger or fish and chips, and finished with a sweet treat. The portions of this meal alone could have satisfied me for the entire day, but somehow I still found myself looking forward to the dinner bell at 6:30.
The ranch offers both casual dinners, such as a barbecue themed-night, or formal dinners. On formal nights, guests aren't expected to dress up, but the meals are a bit more refined. The chefs come out to present the options, and kids are given the choice of choosing a grab-and-go meal to eat quickly and then hang out, instead of sitting through a longer dinner.
Of course my teen was happy to join us on a foodie experience! Our formal night selection was salmon over a truffled cauliflower risotto and Brussels sprouts leaves. In case you haven't gotten the picture yet, I was thoroughly impressed with the food at Vista Verde.
What to Expect for Weather
I tend to think of Colorado winters as snowy and primarily for skiing. But what I learned from our visit is that winter in Colorado is different than home. The air and snow are drier, the skies are bluer, and generally the temperatures are a little milder, making it ideal for outdoor activities. And the nice thing about staying at Vista Verde is, if you want to go skiing for a day, you can be in Steamboat Springs in less than an hour.
Visiting in late March is definitely going to be a mixed bag when it comes to weather. We saw snow flurries and cold nights, along with gorgeous sunny days and air temperatures that felt much warmer than it would have at home (it must be that sunshine and altitude). We were more than comfortable snowshoeing in just a base layer shirt and a sweatshirt. Of course, you do also need to be prepared for some mud as the spring thaw begins. It may impact your packing, but not your fun.
What to Pack for a Spring Break Dude Ranch Vacation
Note: This post may contain affiliate links. If you click a link and make a purchase, I may receive a small commission. All opinions are my own.
Packing for a spring break vacation at a dude ranch can get a little tricky, since you are right at the cusp of snow and mud seasons. My dude ranch packing list for summer is a little more straightforward. For spring break, you will want to be sure to bring the following:
Snow jacket and/or windproof shell with fleece to go under it
Warm snow boots or waterproof hiking boots
Warm, wool or moisture-wicking socks (such as Darn Tough socks)
Rain boots or "muck" boots for walking through the snow and easy cleaning after walking through the pasture
Wool or moisture-wicking base layers
Snow pants or weather-proof pants
Warm sweaters or sweatshirts/ fleeces
Lounge wear for the cabin and lodge wear for meals
Headlamp or flashlight for finding your way back to the cabin from the lodge after dark. Preferably one that has red light for star gazing
Sunglasses (and possibly goggles if you want to do snowmobiling or snow tubing)
Bathing suit (for the hot tub)
Day pack for bringing water, snacks, tissues, etc on snowshoeing or skiing activities
Sunscreen
Refillable water bottles
Garbage bags/plastic bags for packing dirty shoes
Books
Lip balm / a moisturizing hand cream / eye drops
Bottom Line
A stay at the Vista Verde Ranch isn't cheap and when you first look at the rates, you may get a bit of sticker shock. But give it time to sink in and think about how much it would cost for all those activities (e.g. group guided snowshoe tours will usually start at $50 per person, private tours will be more), plus luxurious cabin accommodations (e.g. a luxury 2 bed, 2 bath condo in Steamboat Springs will likely cost $350+ per night), and all that food (three full meals a day, plus drinks, plus snacks). Maybe then the price won't seem quite as high.
A trip to the Vista Verde Ranch is never going to be a budget vacation, but it may just be the trip of a lifetime. The experience, the service, and the location make it worth the splurge.
Save this on Pinterest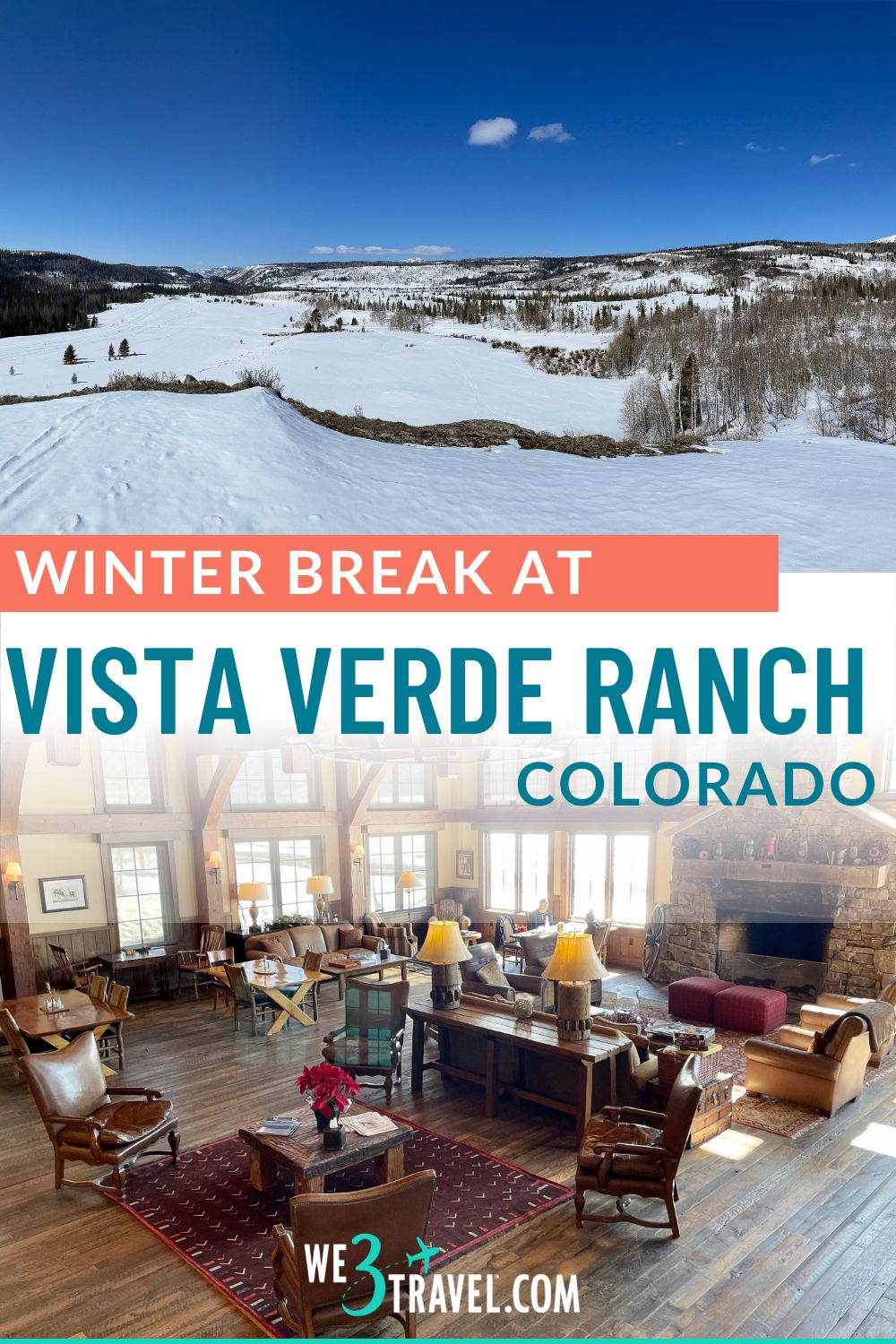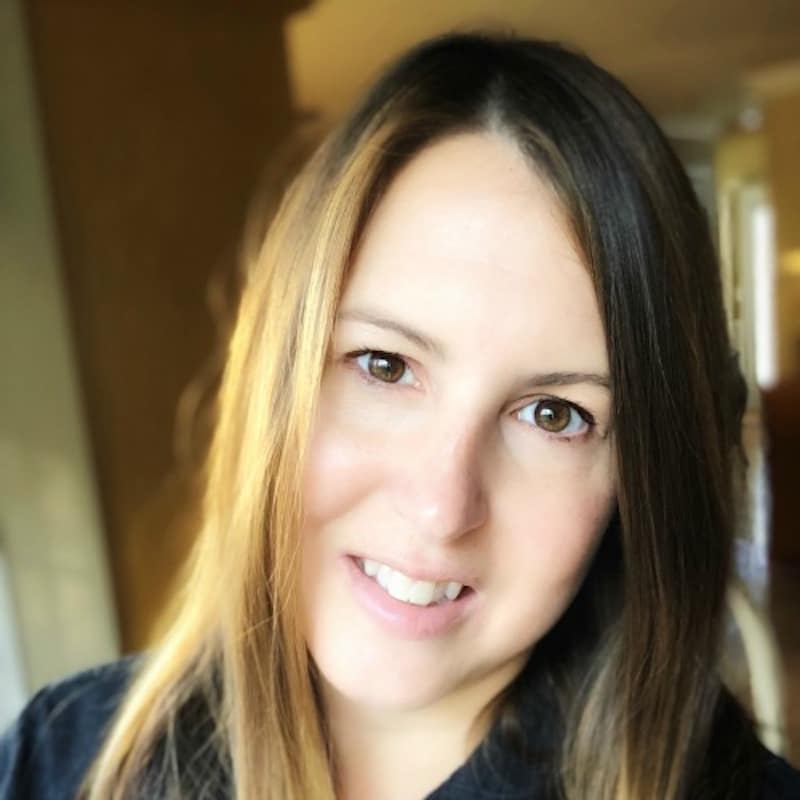 Tamara Gruber is the Founder and Publisher of We3Travel. A former marketing executive and travel advisor, Tamara is an award-winning travel writer and recognized expert in family travel. She is also the publisher of YourTimetoFly and the co-host of the Vacation Mavens travel podcast.