Can someone please tell me why they book flight connections with less than a two-hour layover at Charles de Gaulle airport in Paris? The airlines must be in a conspiracy with the Xanax manufacturers because the stress of running through an airport with the fear of missing your connecting flight and ruining the start of your vacation causes me anxiety for weeks. I was so relieved to discover a Charles de Gaulle airport VIP service that gave me an option to avoid that nightmare.
On our recent trip to Morocco, we found a great airfare deal on Air France from New York to Casablanca, with a connection in Paris' Charles de Gaulle airport. The only downside? There was an hour and a half connection on the way there, and even shorter, an hour and 10 minutes on the return.
After hearing horror stories from friends that have missed their flights because of CDG's notoriously long immigration and security lines, I was in a panic. If we missed our connection from Paris to Casablanca, we wouldn't get to Chefchaouen until a day later and it would screw up our whole itinerary.
I knew that Casablanca airport offered a VIP fast track service, so I started frantically Googling options in Paris. When I stumbled upon the VIP meet and greet service, I knew this was the answer. There were quite a few options available, but I chose to work with My Private Transfer.
Unfortunately, since that time the service is no longer offered unless it is booked through a travel agent. However, there are other options available including:
Note: We received a complimentary VIP meet and greet service from My Private Transfer in return for an honest review. All opinions are my own.
I also chose to hire a VIP transfer service because they offered a door-to-door service, complete with access to express / VIP security lines. They have a meet and greet service for clients that are just connecting in Paris, as well as a service with express emigration and driver transfer for those staying in Paris.
Of course, my nerves had me concerned that everything will go smoothly, but I was much more relaxed knowing that we had an expert to guide us through the airport and get us all the shortcuts we needed to make our next plane.
We were greeted on the jetway as soon as we deplaned, just as promised. It was such a relief to not have to figure out what terminal and gate we needed to get to. We just turned ourselves over to our greeter and followed his lead.
Since we were connecting outside of the Schengen region, we didn't have to go through passport control. However, we did need to switch halls within our terminal. This required both a train transfer and going through security.
The lines at security at CDG airport were long, but we were able to bypass those and use the SkyPriority lanes. On our return from Casablanca to Paris, we only had a one-hour and ten-minute connection. Because the connection was so tight, our greeter worked some magic so we could even jump to the front of the SkyPriority line.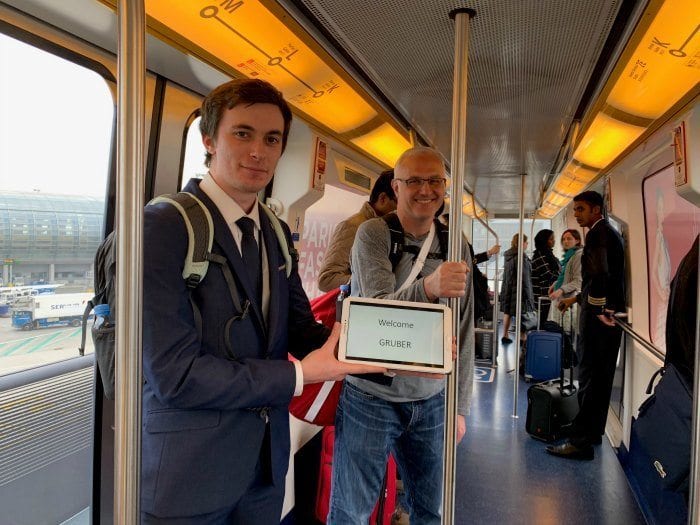 When we arrived at our gate, our greeter also worked with the gate agents so that we could board the plane between groups two and three, even though our boarding passes were for group five. Both greeters walked us down the jetway to the aircraft door, carrying at least one of our backpacks the whole way.
The peace of mind and stress relief made me such a fan of VIP airport services. And if we had more time, we could have also had lounge access to wait for our next flight.
Most VIP airport services offers a variety of options, depending on if you are transiting, arriving, or departing in Paris airports.
Meet and Greet plane-to-plane service: clients are met on the jetway upon arrival and escorted with shortcuts through the emigration process to their next plane. Our cost: 190 Euros per service up to 4 people with 4 suitcases, 380 Euros per service up to 8 people with 8 suitcases if you are transferring between the same airline. It was 155 euro per person if you are switching airlines.
Meet and Greet upon arrival service: client are met on the jetway upon arrival and escorted with shortcuts through emigration process and +/- 15′ max into the baggage claim. Cost: 135 Euros per service up to 4 people with 4 suitcases, 270 Euros per service up to 8 people with 8 suitcases.
Meet and Greet upon departure service: clients are met upon arrival at the airport and assisted throughout the checkin process with shortcuts. Cost: 135 Euros per service up to 4 people with 4 suitcases, 270 Euros per service up to 8 people with 8 suitcases.
This summer we are headed to the South of France, with a connection in Paris. I made sure to book a flight with a two-hour connection, especially given that we will have to go through Passport Control that time. However, if I find myself stuck with a short connection again, or if I want to bypass the long emigration lines and get into Paris quickly, I am going to book another VIP concierge service at Charles de Gaulle.
PIN THIS FOR LATER