What is it about lighthouses that is so appealing? It is hard to pass one by without taking a photo. I know as a girl I dreamed about what it would be like to live in a lighthouse. I'm not the only one as many lighthouses are now being repurposed as B&Bs where you can spend the night.
When the Cross Sound Ferry offered me a chance to take their Classic Lighthouse Cruise, I jumped at the chance to see nine lighthouses in one day! The Cross Sound Ferry offers service from New London, Connecticut to Orient Point, New York at the tip of Long Island, making it a great way for us New Englanders to visit the . Now, with its lighthouse cruises, it is also a fun excursion when visiting Mystic, Connecticut, Rhode Island or other destinations in Southern New England.
Cross Sound Ferry offers two Lighthouse Cruises, the Classic Lighthouse Cruise, which passes nine lighthouses, Fort Griswold and Fort Trumbull; and the new for 2016 Lights and Sights Cruise, which also passes nine lighthouses, as well as Rhode Island's Historic Ocean House hotel, Simmons Castle, Fort Trumbull, Fort Griswold and Fort Wright.
Getting to the ferry is very simple, as the ferry terminal is just five minutes off of Interstate 95 in New London, Connecticut, and offers a large parking lot at the terminal. You will still want to arrive 30 minutes before your tour to park, get your ticket and be ready to board.
As soon as you depart the dock, the tour begins. We were fortunate to have an expert lighthouse historian as our narrator that threw out interesting facts about the lighthouses faster than I could write. He made the tour fascinating but also kept it interesting enough to engage the kids on board.
New England Lighthouses
The first lighthouse, New London Harbor Light, is right in the harbor. This is the oldest lighthouse in Connecticut, and the original New London Harbor Light helped guide colonial privateers who sought shelter up the Thames River during the American Revolution.
The Vessel itself is a high-speed SEA JET catamaran, with airline-style seating on two enclosed air-conditioned passenger decks, as well as family-size tables near the snack bar. There are also spacious outdoor deck for viewing the scenery and getting those close up photos! The Cross Sound Ferry offers an assortment of snacks, beverages, and sandwiches on board and yes — there are bathrooms too! Since we were on board for a special media day, we even had a chance to go up to the bridge and take turns steering the boat.
One of the most picturesque lighthouses on the trip was the New London Ledge Lighthouse. It is hard to believe this little structure actually served as a lighthouse, as it has the look of a miniature dollhouse. This French Second Empire structure is definitely architecturally unique for a lighthouse. It is also reportedly haunted by the ghost of an early keeper who committed suicide by jumping from the lighthouse when his wife left him for the captain of the Block Island Ferry.
Another interesting one is the Race Rock Light. If it looks familiar to you, it is because it was featured on an episode of Ghost Hunters and is included in the show's opening credits, as it is reported to be haunted by previous lighthouse keepers. What is it about these lighthouse keepers that want to stick around even after they have passed?
As you approach Orient Point on the tip of Long Island, you will find the Orient Point Lighthouse, also known as the Coffee Pot Lighthouse for its shape.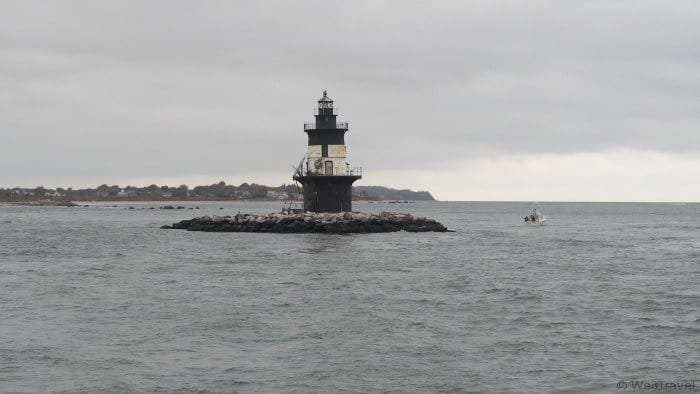 It was near here that we also saw some seals sunning themselves on the rocks in the water.
Our last couple of lighthouses were also out near the tip of Long Island. The first being Plum Island Lighthouse, also known as Plum Gut Light, which is a 1869 historic granite lighthouse that was decommissioned in 1978 in favor of an automated light.
Our last lighthouse was Little Gull Light, which dates back to 1858 (after the original was destroyed in a hurricane in 1815.)
The most interesting story we heard was about North Dumpling Light. During the Prohibition, its keeper was accused of signaling to liquor smugglers, but it is today's owner that is truly bizarre. It is now owned by Dean Kamen, inventor of the Segway Human Transporter. In a sort of protest for permission to erect a windmill on the island, he declared the island a sovereign nation and seceded from the United States, declaring the island the "North Dumpling Republic" and called himself Lord Dumpling II. He was setting up his own currency, national anthem and one-boat navy.
Our tour was both interesting and fun, and a nice day trip or excursion for families. Plus, I always love any excuse to take a boat ride!
Plan Your Trip
Tickets are $28 per adult and $14 for each child ages 2-11
Tours depart at 12:30 pm from the Cross Sound Ferry dock in New London, CT at 2 Ferry Street
Cruises run from early April to late November and reservations are strongly recommended
Parking is available at the ferry terminal
Bring a sweatshirt, even if it is warm out, because the air is always cooler on the water
You may want to bring binoculars or at least a zoom lens, in case there are seals sunning themselves on the rocks
If you are prone to seasickness, you may want to skip this tour but you generally don't feel a lot of rocking
PIN THIS FOR LATER
Note: My family and I were hosted by Cross Sound Ferry to facilitate this review. As always, opinions are 100 percent my own.