If you are planning a weekend getaway to a small city that is family-friendly, you should consider Providence, RI. Not only is Providence driving distance for most families in the Northeast, it offers historic charm, arts & culture, plentiful family activities, and amazing food. Providence has been named America's Favorite City by Travel & Leisure for 2014, was called a Top 10 Most Walkable City by the Huffington Post, and was named one of the best small cities in the world for restaurants and dining by Saveur Magazine. Plus, Providence is home to Brown University, Rhode Island School of Design, Johnson & Wales, and a number of James Beard Award-nominated chefs.
If you want to see Providence at its best, come on a Waterfire weekend, which happen from late May through October (be sure to check the schedule in advance.) Waterfire is an award-winning open-air art installation and sculpture created by Barnaby Evans and installed on the three rivers of downtown Providence. This powerful work of art features over eighty bonfires lining the rivers and river basin. What can't be captured in a photo is the fragrant scent of burning wood, the mysterious feel to the candlelit chandeliers under the arched bridges, the gondolas and boats traveling down the river, and the enchanting music from around the world. A bounty for the senses, Waterfire has enraptured millions from around the globe and is a must-see for Providence visitors.
Since I'm often asked for advice on what to do in Providence, I thought I'd put together my own version of "48 Hours in Providence" — family style! So when you are planning your family weekend getaway to Providence, here is a sample itinerary. Be sure to let me know if you find it helpful!
FRIDAY
4pm Check in at the Hampton Inn & Suites located at 58 Weybosset Street, right in the heart of downtown close to the river for Waterfire viewing, College Hill and "Downcity" (what Rhode Islander's call the financial/arts district.) The Hampton Inn offers 110 rooms, including some suites for families, along with free breakfast and Internet. We have friends that stay here every year and are quite happy with it.
Ask the hotel for a map and take a stroll down Weybosset and explore the shops along Westminster and Washington Streets. Along the way, you might want to pop into the recently reopened Arcade, the nation's oldest indoor shopping mall built in 1828 featuring Greek Revival columns, granite walls and classic facades.
6pm When you are done exploring Downcity, it is time for dinner. Providence is a food city with so many options to offer. In Downcity, if your family just wants to keep it casual, check out Providence Coal-Fired Pizza, or the Congress Tavern at 62 Orange Street for a glimpse into a historic pub (love the tin ceiling and the housemade potato chips!) or go across the street at the hip G Pub.
8pm If you have the energy for dessert and a little stroll, drive or walk over to Atwells Avenue to explore Providence's Federal Hill section. This area is well-known as Providence's Little Italy, but the neighborhood dynamic has changed in the recent years to be a mix of traditional "red sauce" Italian restaurants, newer, more upscale venues, and hookah bars that attract the younger crowd. Despite the changes in the neighborhood, there are still some gems to experience. There is something special about a warm summer evening in DePasquale Square, sitting by the fountain, people watching, and listening to music while enjoying a coffee or dessert at Cafe Dolce Vita. For a more intimate atmosphere, go around the corner to Pastiche Fine Desserts at 92 Spruce Street.
SATURDAY
9am After taking advantage of the Hampton Inn's free breakfast, head out to the Providence Children's Museum at 100 South Street. Your kids might enjoy playing on the outdoor climbing structure before heading inside to learn more about immigration in the Coming to Rhode Island exhibit upstairs. Toddlers will also like exploring the Littlewoods play area.
11:30 am If all that exploration has made the family hungry, head around the corner for brunch/lunch at Seven Stars (103 Point Street) for some delicious homemade breads, soups, salads and sandwiches.
1 pm Another Providence family-friendly outing is the Roger Williams Park Zoo. One of the nation's oldest zoos, it boasts of over 100 different species spread over 40 acres, including elephants, giraffes, zebras, harbor seals, kangaroos, camels, moon bears, snow leopards, bison, antelope, and our favorite…red pandas. A new attraction at the zoo geared toward the toddler and preschool set, is the Big Backyard exhibit. This section offers water features, a tree house and other areas of exploration.
After the zoo, take some time to enjoy the rest of Roger Williams Park. Stop for a frozen lemonade (another Rhode Island specialty made famous by Del's) to cool off, then head over to the boathouse for a ride on the carousel, enjoy the Hasbro playground (say hi to Mr. Potato Head), feed the ducks, wander through the Japanese gardens, or paddle out on the lake on a Swan Boat.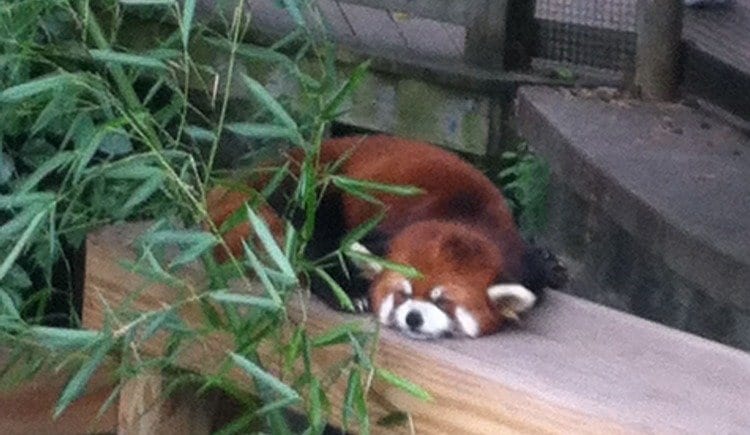 7pm If you are coming to town during Waterfire, be sure to book your Saturday evening dinner reservation well in advance, ideally somewhere within walking distance to the river. My favorite restaurant in Providence, Bacaro, offers something for everyone and is a perfect starting spot for enjoying Waterfire. Bacaro (262 South Water Street) is an Italian restaurant and salumeria, featuring a wonderful display of cured meats and cheeses. You can choose a selection of charcuterie, antipasti, pastas, or entrees but you absolutely MUST try the amazing grilled margherita pizza. Another good dining option is Jacky's Waterplace, which, as the name suggests, offers a wonderful view of the river basin in a beautiful space (Asian/Sushi, 200 Exchange Place.)
8:30 pm After dinner, stroll along the river to take in all the sights, sounds, and smells that Waterfire has to offer. You can enjoy mimes performing in Memorial Park, watch the Waterfire volunteers silently gliding up the river to replenish the wood for the fires, take in a jazz performance on Steeple Street, participate in ballroom dancing in front of the draped and uplit TD Bank building on Westminster St, or watch the street performers or the Big Nazo puppets performing by the basin in front of the Providence Place Mall. Be sure to walk under the Venetian-like arched bridges and see the candle-lit chandeliers, as well as check out the Wall of Hope in Waterplace Park, featuring tiles painted by RI schoolchildren after September 11th. If you really want to splurge, plan ahead and book a gondola ride with La Gondola for an experience to remember. Your heads will hit the pillow with the scent of wood smoke in the air and the enchanting music lingering in your ears.
SUNDAY
10 am After a busy day and a late night, you'll want to sleep in a bit before exploring the College Hill area of Providence. If you want a switch from breakfast at the hotel, try the Sunday brunch at Circe just next door to the Hampton Inn. This historic district is walkable from your hotel (if you don't mind hills) and home to Brown University and Rhode Island School of Design. Start off with a visit to the RISD Museum. Don't be fooled by thinking this is just some small college museum — they offer an extensive collection of fine art and many fascinating special exhibits. Check their schedule in advance since many Sundays they offer family "See and Sketch" programs.
12 pm Head over to Harry's Burger Bar (121 North Main Street) for lunch to chow down on some delicious mini burgers (think White Castle but much, much better) and salt and pepper fries. If you want to indulge, try either the bacon bloody mary (with bacon infused vodka) or the chocolate crack dessert, depending on your poison.
1:30 pm Take in a little of Providence's history with a walking tour from the RI Historical Society. You might want to explore Providence's historic and charming Benefit Street, check out H.P Lovecraft's house on a literary tour, see the First Baptist Church (the oldest Baptist church in America), walk through the Brown campus, or pay a visit to the historic Providence Athenaeum library.
On your way out of town, be sure to drive by the Rhode Island State House and have the kids look all the way up to the top of the world's fourth largest self-supported dome to see Independent Man, the 11-foot tall, gold-covered statue that represents freedom and independence — values on which Rhode Island was founded. [Fun fact: the RI state house is made of Georgia marble and the Georgia state house is made out of RI granite!]
If this post inspires you to visit Providence with your family and provides some ideas for planning your trip, please let me know in the comments below. Since this is just a taste of what Providence has to offer, if you have specific questions or want further recommendations, I'd be happy to try to help out. If you have spent time in Providence, as a resident or a visitor, I'd also love to hear your idea of the ideal family weekend in Providence in the comment section below!
Want to hear more about Providence? Listen in as I share my love for Providence on the Amateur Traveler podcast:
Amateur Traveler Episode 582 – Travel to Providence, Rhode Island

UPDATED: OCTOBER 2015
[Waterfire Photo Courtesy of Liz West via Flickr Creative Commons License]
SaveSave
SaveSave