In Spain, we traveled by just about every means of transportation possible…planes, trains, subways, busses, taxis, boat, and even hot air balloon. One mode of transportation I'm very glad we did was renting a car and driving through Andalucia. Andalucia, in Southern Spain, boasts a Mediterranean climate with extremely hot temperatures in summer. While many big cities are in Andalucia including Cordoba, Sevilla, and Granada, it is also home to mountain ranges, beaches, and the "white towns" of Spain. If you want to get out of the big cities and get a feel for the landscape and villages, I'd highly recommend driving through Spain and visiting a least a couple of the white towns.
As we drove south from Seville, we passed through field after field of sunflowers. After an hour or so, the sunflowers turned into mountain ranges and the road got narrower and curvier. We turned off the main highway and headed to the small white town of Zahara de la Sierra, not far off the route to Ronda, our next overnight destination.
We weren't sure what to expect, but wanted to see these legendary white towns. As we crossed a narrow bridge on the approach to Zahara de la Sierra, our breath was taken away by the view. Nestled into the hills were stark white, stucco buildings adorned with flower pots on wrought iron balconies. At the very top of the hill was an ancient muslim fortress, which you can climb up and visit if you have the time and energy.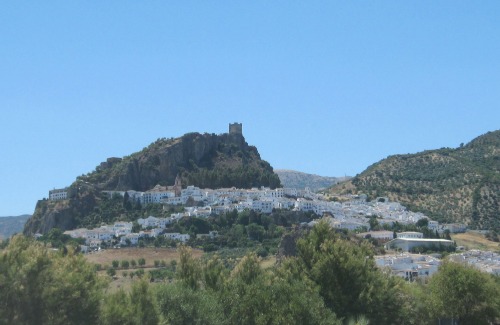 To your left is a gorgeous lake of beautiful blue water. It was such an unexpected surprise and felt like opening an oyster and finding a rare pearl.
The town was quiet, not a tourist in sight, which only added to the feeling that we discovered something no one else in the world knew about (not true of course, but it was a cool feeling.) We parked and walked through town, captivated by the quaint houses. Starving, we stopped at a small restaurant, which was our mistake. If we had gone a little further to the Plaza Mayor, we would have found something a bit more appetizing.
When we reached the top of the town, we were rewarded by an amazing view of the lake and over the hillside of Andalucia. The streets were also very narrow and steep and a bit nerve-wracking, especially driving a car with a manual transmission. We were thinking of heading to another white town, Arcos de la Frontera, after Zahara but after we started heading in that direction, the roads cut even narrower, with twists and turns and small bridges. Between my tendency for car sickness and my husband's fear of heights, we decided to turn back and head on to Ronda.
Getting through Ronda and into the old town was equally treacherous. When we arrived at the hotel, we were happy to turn the car over to the valet. Luckily, the drive the next day to Granada was much more straight forward. Driving through Andalucia between Ronda and Grenada, instead of sunflowers, we saw grove after grove of olive trees and enough wind turbines to power the country it would seem. Both were beautiful. Once in Granada it was time to turn in the car and go back to planes, trains, busses, metros and taxis. Looking back, I'm still so glad we had the opportunity to really see the countryside. Seeing cities are great, but driving through Andalucia we felt like we really saw Spain.