During our time on Maui we wanted to balance relaxing at the hotel with seeing a bit of the island, so we split our time between the beach and water sports and other activities. These were our favorites on Maui with kids.
What to Do on Maui with Kids:
1. Snorkeling by Molokini — while we could snorkel off the beach at our hotel, the waves were a little rough for a beginner so we decided to take a snorkel cruise out to Molokini. The boat ride was choppy and I felt pretty seasick (I guess we were there at a windy time), so by the time we arrived, I was ready to get into the water. The waters off Molokini were calmer and we were able to see many beautiful tropical fish. However, the water was also cold (I prefer snorkeling in the Caribbean) and crowded (typical of a snorkel cruise) so we didn't stay in the water long. It was a fun experience for the little one because she was able to "get her feet wet" (pun intended) by using a boogie board with a porthole and handles, letting her look through the window at the fish below while still keeping her body afloat. After a while, she ditched the prop and went right in.
2. Tour of the Stars at the Hyatt — since we didn't get to go to the top of Mauna Kea on the Big Island, I promised the little one a look at the stars. The Hyatt in Ka'anapali offers a Tour of the Stars rooftop astronomy program. We were able to get a close up look at the moon, as well as take a look at Mars and Saturn through their telescopes.
3. Sugar Cane Steam Train — this might be a bit boring for adults (I won't post the picture of the little one grinning with her dad checking his Blackberry), but if you have kids into trains, then it is worth spending an hour on an old-fashioned steam train.
4. Cliff Diving at Black Rock — if you are staying in Ka'anapali, take a walk up to Black Rock at sunset for the cliff diving ceremony at the Sheraton Maui.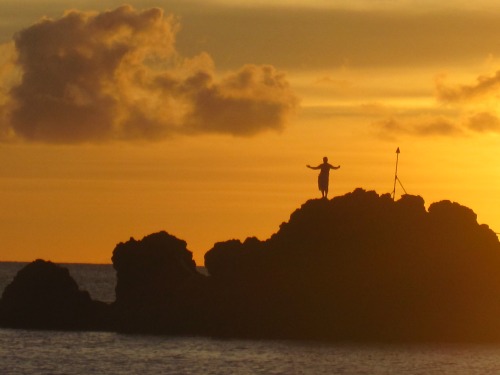 5. Driving the road to Hana — waterfalls, hikes, winding roads and beautiful views — read all about our adventures on the road to Hana (disclaimer: we didn't make it all the way to Hana.)
Places to Eat:
1. Lahaina Grill — According to their website, Lahaina Grill has been named the best restaurant in Maui for 20 years in a row by Honolulu Magazine and I believe it! This was definitely our favorite meal. Located in downtown Lahaina, the restaurant is something of a surprise. Inside the decor is decidedly upscale with a blend of quaintness (like the tin ceiling) and modern (black and white tile floor). The food is amazing and beautifully presented. What we appreciated most was their kids menu. Instead of the just the typical chicken fingers and french fries, they offered options like Grilled Mahi Mahi with rice and vegetables (our daughter was thrilled!)
2. Smoothies at Whaler's Village — we often walked up to Whaler's Village, a shopping area on Ka'anapali Beach, for breakfast and lunch to avoid the steep prices at the hotel. In addition to the fish tacos at the beachside restaurants, we loved getting tropical smoothies as breakfast or an afternoon snack. We also loved to poke around the shops, especially the Cinnamon Girl boutique.
3. Roy's Hawaiian — our first night in Maui we took a drive up to Roy's to try some of his famous Hawaiian cuisine. I fell in love with the guava martini!
4. Capische — we were in Hawaii to celebrate my 40th birthday and also our 10th wedding anniversary (the little one just got lucky and got to tag along 🙂 ). Since we were going to be in Maui for my actual birthday, we decided to try Capische, a very upscale Italian restaurant at the Hotel Wailea. I will say that the hotel is stunning and the view from the balcony table was terrific. The food was good but not amazing so unless you are staying down in Wailea, I would say it isn't worth the trip or the price.
5. Pacific'o on the Beach in Lahaina — as the name suggests, Pacific'o is located right on the beach in Lahaina and offers a relaxing atmosphere that is a step up from your typical beachside restaurant. We were able to try some freshly caught Ono fish and take a walk to dip our toes in the water between courses. After dinner we enjoyed a walk through the Shops at 505 Front Street and came very close to purchasing a painting at one of the art galleries (I somewhat regret not going through with it but the cost and carrying a very tired child pushed me toward the door.)
Need more suggestions on what to do on Maui? Want to know the best luaus on Maui? If you are headed to Hawaii, also check out our suggestions for what to do with kids on the Big Island! Also looking for things to do in Oahu? If you head to Oahu, be sure to check out the Disney Aulani.
SaveSave
SaveSave
SaveSave