Travel is hard on the body. After getting up at ungodly hours to stressfully sit through traffic in order to get to the airport on time, and haul heavy bags through the airport only to squeeze into cramped airline seats for hours, when we finally arrive at our destination all we want to do is crash. Yet getting a good night's sleep in hotel rooms can be so challenging.
I'm someone that has a hard time sleeping in my own bed, let alone an ever-changing array of hotel rooms. Throughout my travels I have developed some techniques for getting to sleep (and staying asleep) in hotels.
Here are my top tips for sleeping in hotels. You can also try some of these products to help you sleep.
Tips for Getting to Sleep in Hotel Rooms
Note: this post contains affiliate links. If you click a link and make a purchase, I may receive a small commission.
Request a high floor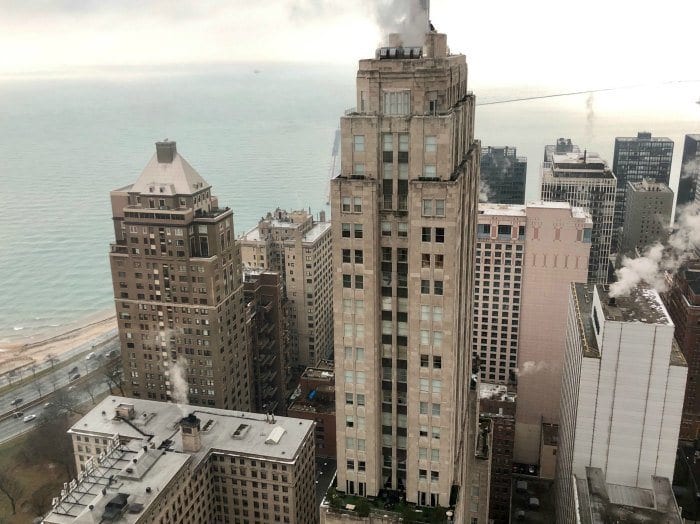 When you are making your room request, also request a higher floor, especially if you are overlooking the pool or an event space as these will often be noisy into the night.
The other nice thing about being on a high floor, especially in a hotel with slow elevators, is that you can get first dibs on the elevators down, before they fill up with people.
Request a room away from the elevator
When booking your hotel room, request a room away from the elevator. This will cut down on the foot traffic going past your room throughout the night, as well as noise from the elevators themselves. If you are booking online, see if there is a field to leave a note or make a booking request. Otherwise, call the actual property to see if they can leave a note on your reservation.
Since these requests can often get "lost", it helps to double check on the request at check with the friendly staff at the front desk. Just keep in mind that the later you check in, the less likely that you will get your requests met. It also helps to be a loyalty member for that particular hotel chain. Most loyalty programs will also allow you to specify your preferences in your member profile.
Do not disturb
When I walk down a hotel corridor, I take note of those doors that are adorned with "privacy please" and "do not disturb" signs hanging from the door knob and step lightly. My hope is that others will do the same.
This method is far from fool-proof, but certainly worth a try. Unless I am expecting turn-down service, I typically hang out my sign by early evening — sending a signal to those going to and from their rooms nearby that this room is occupied. Just be sure to take it off the next day before leaving so they clean the room.
Request a hypoallergenic room
When sleeping in a hotel room, I often wake up with a scratchy throat and stuffy nose. While I don't typically suffer from dust allergies, there is just something about hotels that causes this reaction. Fortunately, some hotel chains such as Westin, Doubletree, Hyatt, Residence Inn, and the Four Seasons, offer hypoallergenic rooms.
If you request a hypoallergenic room, they will typically use hypoallergenic bedding and may even place an air purifier in the room. This can make a huge difference! The side benefit of an air purifier is that the constant hum serves as a white noise machine, blocking out some of the noise from outside the room.
Choose your pillow
Even if your hotel doesn't offer full hypoallergenic bedding, many will honor your request regarding the type and quantity of pillows you prefer. So whether you enjoy one pillow or three, foam or feather, make your request upon booking and again at check in. Again, you can often set this preference in your loyalty member profile.
Turn the temperature down
Most of us sleep better when it is cooler. I know it can be tough to find the right temperature in a hotel room, even when there are thermostats for climate control. But before going to bed, bump that thermostat down to at least 68 degrees (66 might be even better.)
If that feels too cold to you, just call down to housekeeping to request an extra blanket or two. Just remember to turn it back up when you hit your snooze the next morning.
Bring your own pillowcase
If you suffer from sensitive skin like I do, you may be better off bringing your own pillowcase. While hotel laundry seems to be better than it used to be (or maybe I just stay in nicer hotels), my skin can still get irritated and I hate having red blotches on my face during business meetings and travel photos.
Just a word of caution if you do bring your own pillowcase — don't bring a white one! I can't tell you how many I have left behind on the hotel bed because I forgot about it. At least another color would give me a visual reminder.
Pack an essential oil diffuser
At home, I diffuse lavender oil every night and I have found that it helps me get to sleep faster and sleep more deeply. The combination of the white noise, moisture, and the calming aroma is a balm for the sleep deprived.
While it can take up some precious luggage space, I find that the oil diffuser also helps me sleep on the road. It is especially important in the winter when the forced hot air in many hotel rooms leaves you dry. While it isn't a full humidifier, the oil diffuser does add some moisture to the air, which helps ease the dryness.
Bring a sound machine or Sleep Buds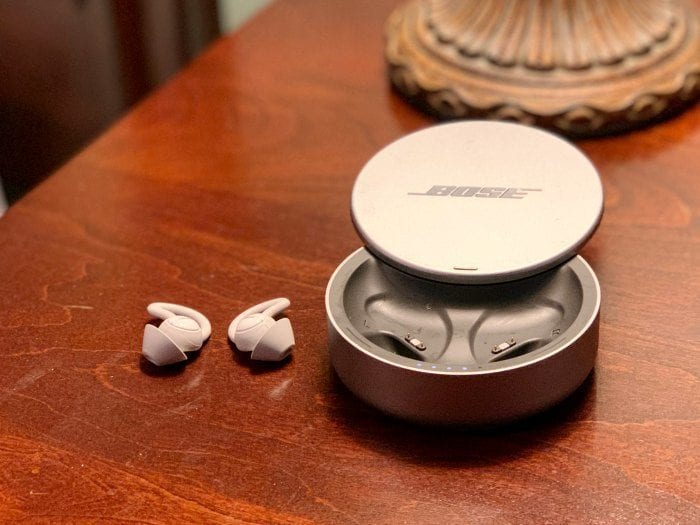 Despite hanging the do not disturb sign outside your room on the high floor, away from the elevator, sounds still creep in. Or sometimes, what can throw you off is the lack of the noises you are so used to at home. Why can't every hotel room just have a ceiling fan?
The answer to this is a travel sound machine. This helps out everyone in the room. However, if it is just you, or you need to block out a specific noise (like someone's snoring), I can't recommend the Bose Sleep Buds highly enough. These little guys are comfortable to sleep in and work in conjunction with a mobile app to play a selection of peaceful sounds right into your ears.
Wear a sleep mask
When you are staying in a hotel, light can often seep through the cracks in the curtains, especially when you are visiting a city or facing the street. Some hotels are better than others — it is unbelievable how well the W Times Square blocks out the lights of the Times Square marquees.
I usually travel with a sleep mask just in case my room is too bright. Of course, sometimes it can also be so dark that I stumble around trying to find my way to the bathroom in the middle of the night. This is why I often leave on one of the bathroom lights with the door closed to provide that little bit of light to find my way.
Find out the bathroom layout
I have a lot of pet peeves when it comes to hotel bathrooms, especially when I am staying with a friend or my family. If you are like me and often have to use the bathroom during the night, a frosted glass door (or worse, a glass-enclosed bathroom!) is very disruptive when the bright lights of the bathroom shine into the bedroom in the middle of the night.
Another issue that can disrupt your sleep (or the sleep of your travel mates) is when the sink is located outside of the bathroom. I understand that this set up may help when multiple people are getting ready in the morning but it stinks in the middle of the night.
I would recommend checking out the room layout before booking or giving a quick call to the hotel to confirm the bathroom set up.
Say no to double beds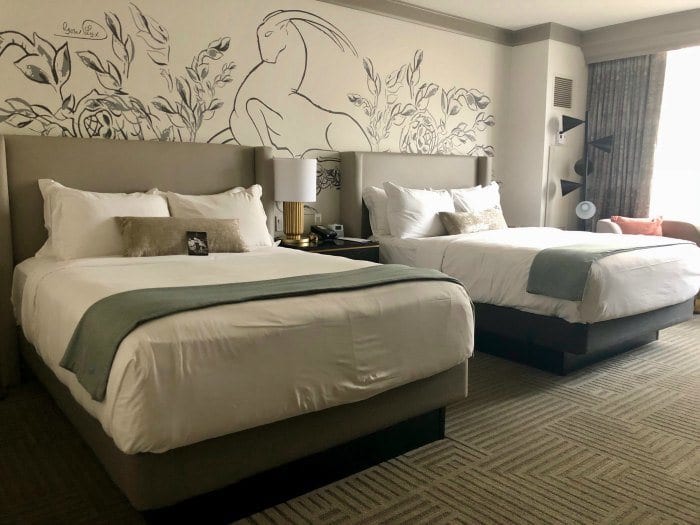 It amazes me that some hotels still offer two double beds instead of two queen beds but when the rooms are small, it does save some space. But when you are used to sleeping in a king, downsizing to a double can be hard — especially if you are sharing (even if it is with a kid.)
And don't forget that when the kids get older, sharing a double bed will result in a lot of kicking and fighting. So just don't do it! If traveling on your own, go for the king. When traveling with the family, search for a room with two queens if you can't swing a suite.
Choose a hotel brand known for comfort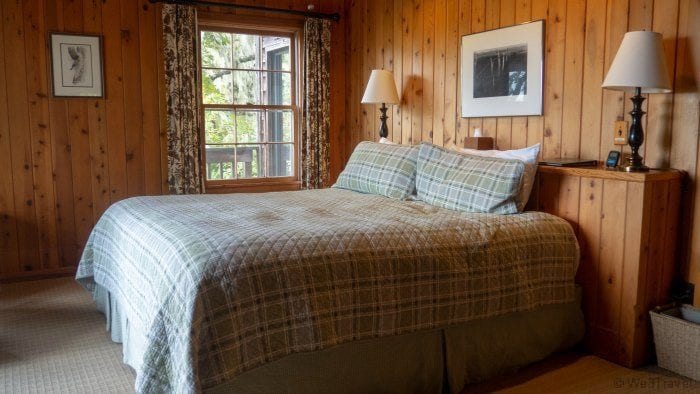 Let's face it. Not every hotel bed is created equal. If you have trouble sleeping in hotels, do yourself a favor and splurge on a hotel that is known for its comfort.
Westin has its "heavenly beds" and luxury brands like the Four Seasons and Ritz-Carlton have beds that feel like sinking into a cloud.I hope that these tips help and I wish you a very good night's sleep!
PIN THIS FOR LATER