If the bar in Cheers was a ski mountain, that mountain would be Lookout Pass. Full of colorful characters, it is a spot for locals to frequent and visitors to observe and enjoy. Located on the border of North Idaho and Montana at Exit 0 on Interstate 90, Lookout Pass ski area gives you that rare opportunity to ski in two different states (and two different time zones) in one day.
Lookout Pass Dominates in Fresh Snow
Note: My trip to Lookout Pass was hosted by Ski Idaho. I received complimentary lift tickets and rentals, as well as lodging at the Wallace Inn. All opinions are my own.
While Lookout Pass may not be well known outside of the North Idaho region, I thought it packed a good punch, making it an enjoyable day trip even for visitors spending time at the other resorts in the area. First up, Lookout Pass is known for getting the most snow of any ski resort in Idaho (check the current snow report.) In the 2017-2018 season, it received over 42 FEET of snow and as of early January 2019, 200 inches were already dumped on the mountain this season. With that amount of snowfall in the area, it is no wonder if it is the second oldest ski resort in Idaho.
Lookout Pass Makes Skiing Affordable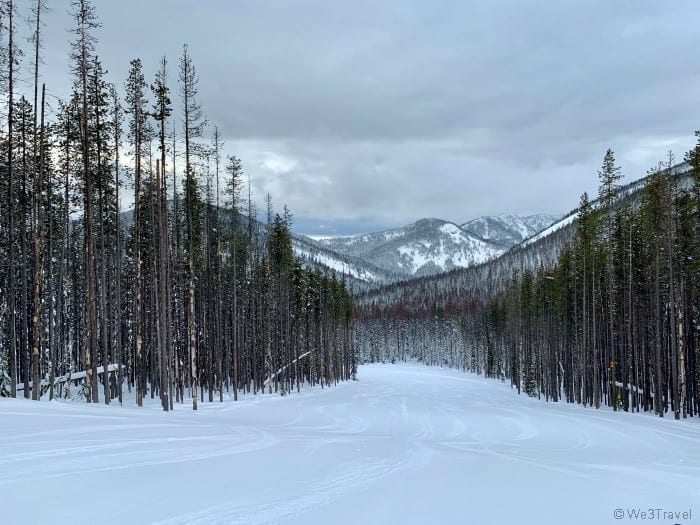 Next, skiing at Lookout Pass is shockingly affordable. Lift tickets range from $44 midweek to $49 on holidays for adults. Of course it is even cheaper for kids, especially those taking advantage of the Ski Idaho Passport. With the Ski Idaho Passport, for a one-time $18 processing fee, fifth graders get three free ski days at all 18 of the participating resorts and sixth graders can ski two days at 17 of the resorts. What a deal!
Lookout Pass also has the longest running FREE ski school and great deals on season passes ($239 for adults if purchased before October 31st.) There are so many deals, discounts, and special promotional days to take advantage of. Lookout is really busting the myth that family ski trips are just for the wealthy.
Great for Intermediate Skiers
If you are looking for super challenging terrain, you may be better off at another mountain. However, since I'm an "advanced beginner" to intermediate skier, I found Lookout Pass right up my alley. Of course, 30 percent of the mountain is rated black diamond or double black diamond and there are plenty of glades and places to scout out powder stashes (just follow one of those locals who know where to go.)
But the expert skiers I was with found the mountain a little mellow. Again, mellow makes me happy. Because then I can ski comfortably and confidently and actually work on my technique instead of focusing my mental energy just on staying in control.
Altogether, Lookout Pass offers 1,150 feet of vertical drop and 540 skiable acres. They are also working on an expansion that will add two more vertical lifts, 14 new trails, and an additional 485 skiable acres. I think this expansion will really put Lookout Pass on the map beyond the local region.
As an advanced beginner, I enjoyed the terrain on the Montana side a bit more. Tamarack and Rainbow Ridge were nice easy blue trails where I could let go and enjoy myself without stress. Especially since, when skiing midweek, I really had those trails to myself and didn't need to worry about people whizzing by me and throwing me off my game.
Cutting back over to the Idaho side on Quicksilver gave me some heart palpitations since it was a narrow cat track with a steep drop off on one unguarded side. There are also definitely some more challenging blues and blacks for those with a bit more skill and daredevil attitude. But for me, I would be happy skiing Tamarack all day long.
Navigating the time zones can be tricky. If you plan a time to meet the rest of your party, make sure you specify if you mean Mountain or Pacific, and know which side of the mountain you are on when you look at your phone as it will automatically switch between the two. Luckily the lodge offers clocks in both time zones to help keep it straight.
Summer Fun on the Route of the Hiawatha
Skiing doesn't end at Lookout Pass until the end of April, but in the summer the resort serves at the gateway for the Ride the Hiawatha Trail. Ride the Hiawatha is the crown jewel of America's rails-to-trails project.
This all downhill trail is 15 miles one way, with a return shuttle to Lookout Pass. Riders stop at Lookout Pass to pick up trail tickets ($11 for adults and $7 for children 6-13), as well as rent bikes, helmets, lights, and even trailers or tagalongs for younger kids.
The gentle 1.6% grade is perfect for families that don't want to struggle with hills, but also aren't looking for the thrill of mountain biking.
The Hiawatha trail travels along Loop Creek Canyon within the Bitterroot Mountains. Along the path, riders will go over 7 sky-high trestles and through 10 tunnels — so perhaps not the best for those with a strong fear of heights or of the dark. There is not any lighting in the tunnels (except that literal "light at the end of the tunnel"), so headlamps are required and are to be kept pointed at the ground to light the path.
The path uses the abandoned Milwaukee Railroad grade between the historic old town site of Taft, Montana and the North Fork of the St. Joe River near Avery, Idaho. It has been called one of the most scenic stretches of railroad in the country.
The path is open from May 25-September 23rd, 2019 from 8:30 am to 5pm PDT (check website for current hours and dates.)
Where to Stay
The best place to stay near Lookout Pass is the nearby town of Wallace, Idaho. This quirky but quaint little town is about 20-minutes (all Interstate) from Lookout Pass. Since this region has produced 25 percent of the world's silver supply, it has a colorful history as a mining town.
Apparently to keep the miners happy, the government looked the other way on many minor infractions to the point that bordellos and gambling were a going concern until 1988 (yup, that's not a typo!) These have earned Wallace the nickname of Lawless Wallace.
Today you can take a mine tour, visit the bordello museum (now there is one for the bucket list), or take your picture at the Center of the Universe. They have declared that since it can't be proven wrong, Wallace, Idaho is the Center of the Universe and there is a manhole cover commemorating this honor.
The town center is a quaint, lost in time sort of place, but you can also find all sorts of restaurants and brew pubs, including the City Limits Brew Pub, which supplies Lookout's home brew, the Loft Honey.
You won't find better hospitality than at the Wallace Inn. Located just off the highway and walkable to the center of town, the Wallace Inn offers an on-site cafe, plus an indoor pool and hot tub for a post ski or riding soak. Run by the self-appointed Prime Minister of Wallace (I told you it was quirky, right?), the Wallace Inn also offers shuttle service to and from the Hiawatha trail and some great ski-and-stay packages.
If you are heading to North Idaho for skiing or biking, make sure you add Lookout Pass to your plans. Even if you split your time between Schweitzer Mountain Resort or Silver Mountain Resort, plan a day at Lookout to enjoy all that fresh snow and the mom and pop, old-timey vibe. And keep your eyes peeled for Cramer, he is a local legend.
PIN THIS FOR LATER