When you think about big ski resorts, what comes to mind? Large crowds? Long lift lines? A sprawling village at the base? Perhaps multiple lodges and hotel options? When I heard we were heading to the largest Idaho ski resort as part of the recent Ski Idaho press trip I attended, I thought I was going to be overwhelmed with all of the above. But I found that while Schweitzer Mountain Resort is the largest ski area by acreage in Idaho, it is also very approachable and comfortable.
I enjoyed each of the three resorts that we visited on that trip for different reasons. Lookout Pass for its fun trails that were a great match for my abilities. Silver Mountain for the village amenities such as family suites and the indoor waterpark. But I have to admit that Schweitzer Mountain Resort was my overall favorite. The combination of people, trails, amenities, and the nearby town is just what I look for in a ski destination. And the lack of crowds didn't hurt either.
Schweitzer Mountain Resort by the Numbers
Note: My trip was hosted by Ski Idaho and Schweitzer Mountain, all opinions are my own.
Schweitzer Mountain Resort is located in North Idaho, about two hours from the Spokane International Airport. In fact, if you fly Alaska Airlines, you can ski for free on your arrival day when you show your boarding pass! With 17 direct flights from California, the Pacific Northwest, Denver, and more to Spokane, it is fairly easy to get to Schweitzer.
I was actually pretty surprised to learn that I'm not the only one from New England to ski Schweitzer. They actually get a good crowd from the Boston area and I can attest to seeing a couple of Bruins and Pats jerseys on the slopes (of course, not everyone sees that as a good thing – all you Pats haters!) I flew there from Boston through Seattle and returned via Denver, just one stop each time.
Altogether, Schweitzer has 2,900 acres of skiable terrain and more than 1,200 acres are tree skiing. The summit is at 6,400 feet and offers gorgeous views of Lake Pend Oreille. Actually, one of the nice things about Schweitzer is that you get those pretty views even from the top of the beginner hill, so you don't need to be an expert to experience the beauty of the area.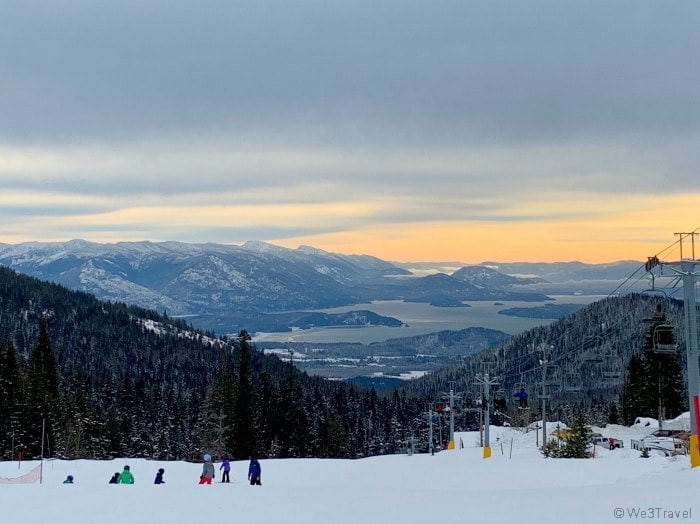 The only tough thing about the location is that you do need to make your way up to the village, which is at 4,700 feet, and is reached by a winding mountain road that can get pretty slippy when it snows. It is nice to have fairly easy access though to the town of Sandpoint on the lake if you are willing to make the drive.
Sandpoint is a cute mountain town with boutiques, restaurants, coffee shops, a couple of local breweries, and even a winery. And because of the lake, the town is actually busier in the summer than the winter so the businesses can really flourish with year-round visitors.
Schweitzer offers nine lifts covering two open bowls and 92 designated runs. There is everything from an old-fashioned T-bar, to comfortable and fast doubles, triples, quads, and even a 6-pack.
While only 10 percent of the mountain is beginner, 40 percent is intermediate and that gave me plenty of terrain to explore. I wasn't going near the 35 percent that was advanced and 15 percent that are expert.
Skiing at Schweitzer
While I haven't skied all the mountains in Idaho, I thought Schweitzer was the best of the three I tried in terms of the whole experience. I'm not the only one to think so. Ski Magazine voted Schweitzer "The Best Kept Secret in North America".
The people that work at Schweitzer, from the desk agent and housekeeping staff at the Selkirk Lodge, to the instructors, lift operators, restaurant staff, bartenders, and especially the management team, were all so friendly and beyond helpful.
Since it was my first stop in Idaho, and my first time skiing in the West, I knew it would take a little getting used to the differences in snow and elevation. I started off in the beginner area, which you actually ski down from the village and come back up on the Musical Chairs lift. It was a nice easy trail to get my ski legs back and enjoy the view. After a few runs, I was feeling good enough to bypass a lesson and really hit the mountain.
One thing that I really enjoy about a ski resort is when there are mid-mountain options for green and blue terrain so I don't need to go all the way to the top until I feel comfortable. That was the case at Schweitzer so I spent the morning skiing the front Schweitzer Bowl. Everything felt very approachable, not confusing or intimidating, and that really helped put me at ease.
As hard as it is to get out of my comfort zone, I did head up to the Sky House at the summit to meet my group for lunch. I'm glad I did because the views were even more breathtaking from the very top and the snow ghost trees were eerily beautiful. The Sky House is only a few years old and is a great place to warm up and have a meal and beverage. I was impressed with the views, decor, atmosphere, and the menu selections, which ranged from noodle soup to a chimichurri chicken sandwich or racelette potatoes.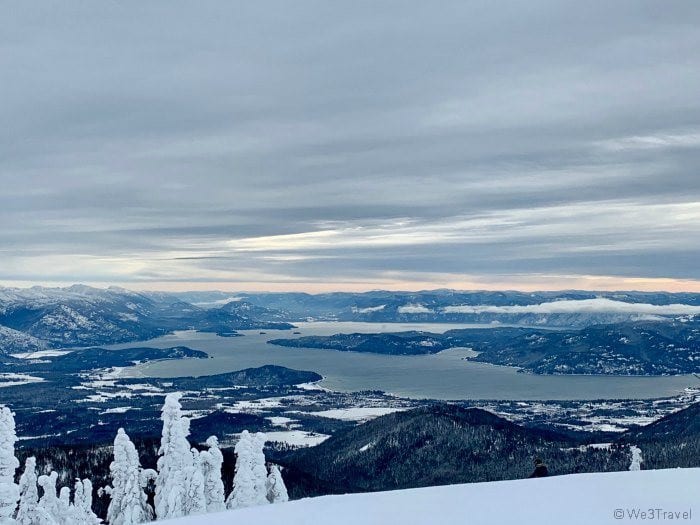 Getting down was a little harder. Luckily the connecting trails at Schweitzer were not nearly as narrow as the cat tracks that terrified me on the other mountains. I psyched myself out on one steep section and blew my confidence, then it is all down hill from there (literally.) Luckily I was able to take my time and make it through. Overall, I was pretty happy with how I did given it was my first time back on skis in over a year, and on a new mountain, different snow, with fellow skiers that were just a wee bit intimidating to me.
Given how much the other skiers in my group also enjoyed Schweitzer, I feel comfortable recommending it to all skill levels.
Where to Stay at Schweitzer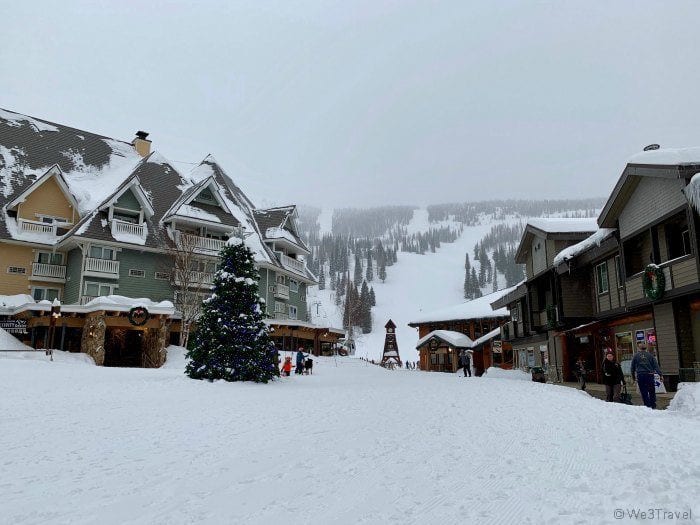 While Schweitzer isn't a sprawling mountain resort, there are still plenty of options for food and accommodations both down in the town of Sandpoint, and in the village. We stayed in the Selkirk Lodge, right at the base of the mountain in the village.
It isn't fancy, and has the feel of a ski in/ski out hotel, but it was comfortable, cute, and very convenient! The room types vary and have options for families, singles, couples, and groups. My double-queen room was quite large with a bit of an odd shape and bathroom configuration (sink and vanity on one side of the door to the room and a separate bathroom with toilet and tub on the other side.)
The lodge has all the amenities you could want though. A heated outdoor pool and two hot tubs in a Nordic Spa-like setting with views of the mountain, dining at the Chimney Rock Grill or Mojo Coyote Cafe, a workout room, a changing room with a shower for refreshing after skiing if you have already checked out, and even a mini-movie theater.
There are also other lodging options in the village including condos at White Pine Lodge and Red Cricket condos, as well as privately-owned mountain homes that you can find on VRBO.
There are certainly plenty of family activities at Schweitzer Mountain Resort too. There is snow tubing on Friday nights and weekends, village campfires, live music, special occasion fireworks, kid's crafts and activities, and even three movies daily in the Selkirk Theater.
For adults that want to unwind, there is a spa, wine tasting events, yoga, and "wind down Wednesdays" with free appetizers and live music from 4-10 pm.
Lake View Lodge is another option for those that want to enjoy a brown bag lunch or take advantage of the food court. Upstairs, you can try a local beer at Taps Lounge. Altogether, there are twelve food and beverage options on the mountain, just be sure to check what is open when.
As I mentioned before, Schweitzer Mountain Resort offers the whole package — lodging, lifts, trails, terrain, dining, and activities. It was my hands down overall favorite in North Idaho.
PIN THIS FOR LATER