Today's post is sponsored by the Grand Ole Opry.
When I was growing up my father loved country music. That was about all I needed to know to ensure that I adamantly disliked country music. At the time, I was pretty sure country music only consisted of songs about dead dogs and broken hearts. (Although I secretly liked Johnny Cash but didn't give my father the satisfaction of saying so.) Yes, Amy Grant may have been the first artist I listened to on repeat over and over, but this was when she was Christian — not Country. You know, back in the days of records and eight-tracks.
Later, I have grown to like some cross-over artists. I even sang a Shania Twain song at my wedding. But learning that my sister loves country music was like a betrayal to our united distaste for country that my eight-year old brain had built up in her mind. I was almost afraid to listen to country as I might like it too, and then what would that mean? Can I be a city-loving, Yankee liberal and still love country music?
But then came Nashville. Yes, I admit that I'm one of those many people who watched the show Nashville and came to be a bit fascinated by the town and the music scene. But I fast forwarded some of the music performances because, you know, I don't like country music. But when Deacon Claybourne plays at the Bluebird, that's ok because that is more singer-songwriter. Right? Right? All right maybe some country music is kind of good. Twist my arm, I'll admit it.
Well when you come to Nashville, you can't leave without listening to some live country music and I can't think of a better place to do it than the Grand Ole Opry. So when we decided to kick off our annual mother-daughter road trip in Nashville, I put the Grand Ole Opry at the top of my to-do list. It was time to test out what I really thought of country music and introduce Hannah to a genre of music that I have neglected.
A Night at the Grand Ole Opry
The Grand Ole Opry invited us to be guests at an evening performance, including a Grand Ole Opry backstage tour, to see it for ourselves. I really wasn't sure what to expect. It is safe to say that everything I know about the Grand Ole Opry is from early childhood osmosis and the show Nashville. What I did know is that there are little girls and boys across this country growing up with a dream of someday performing on that stage and that appearing in the same circle graced by the greats was a way of knowing you have "made it" in country music.
Beyond that, we were there to be schooled in the church of country music. We walked in to the Grand Ole Opryhouse out in Opryland with open eyes and hearts, ready to learn. So first, a few facts about attending the Grand Ole Opry that you may not know.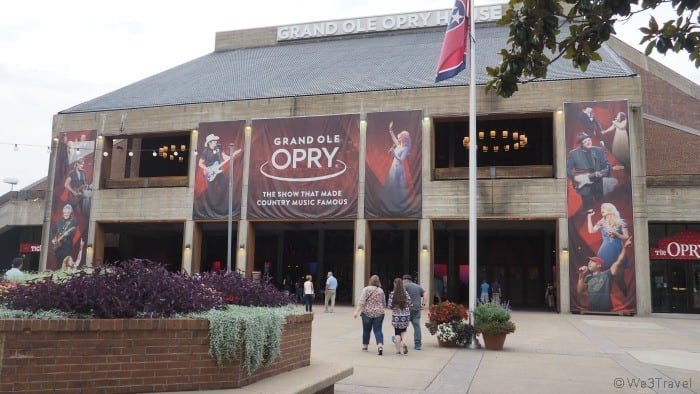 The Grand Ole Opry is actually a live radio show, the longest running radio show ever, with over 90 years of rich history. Each performance is actually a live broadcast that still goes out over the airwaves on 650 AM WSM in Nashville and now, also over the Internet, the Grand Ole Opry app, and Sirius XM radio.
The Grand Ole Opry has been at the Grand Ole Opry House in Opryland (not in downtown Nashville) since 1974. Before that, it was at the Ryman Auditorium for over 30 years (and winter performances still take place at the Ryman.)
Shows are scheduled for Tuesday, Friday, and Saturday evenings at 7pm, with Wednesday evening performances in the summer.
Each performance has from six to sixteen artists performing each night — but each artist only plays a few songs each.
Since the performances are broadcast live, there is also a live announcer before each set, complete with live read ads, giving it a very folksy feel. There may even be some comic relief or silly audience games, a lot like attending a minor league baseball game.
Since this is the church of country music (and the Ryman Auditorium actually was a tabernacle), the seats are pews, versus individual theater or stadium seats, so you may want to get up a move around a bit at intermission.
Oh yes, there is an intermission. Shows run between 2-2.5 hours (although I imagine even longer when there are more acts) and there is a 15-minute intermission halfway through.
There are 4,400 seats at the Grand Ole Opry so you should plan on arriving early if you want to catch the whole show. However, you can come in late but be prepared to climb across some legs.
Parking is free and if you are staying downtown without a car, it will be about $18 for a Lyft/Uber and $25 for a taxi and the ride will take 20-25 minutes.
You can make a whole weekend at Opryland with a stay at the Opryland Hotel.
What I loved about our night at the Grand Ole Opry was that is offered such a variety of musical acts. It started out with Riders in the Sky, a cowboy band with the humor and crowd favorites to warm up the audience. Then we moved on to Maggie Rose, who has the voice, talent, and energy to be a big star with a mix of upbeat songs and ballads.
The guy who really gripped me and put a lump in my throat was Mo Pitney. He's got that deep, rich voice that is tinged with some unspoken pain that makes him just perfect for country music. He definitely touched my heart with his humble talent.
As I was sitting there, I was really struck but the simplicity and purity of country music. There is a such a love of Country, family, hometowns, and music — without the cynicism, greed, and hate that seems to fester in so many other media. I'm sure it isn't all that way — after all, while Mo Pitney sung about being the Music Man and not looking for fame or glory, Chris Janson got right to singing about getting money to buy a boat.
But over and over again, I was really moved by the themes of love of country and family — nothing gets me like that. But luckily it wasn't all tear-inducing ballads, like when Trent Tomlinson sung about his father who has passed away.
The energy went back up when the Del McCoury Band came out to play a little Bluegrass. Boy do I love a good banjo solo and fiddle riff!
Linda Davis paid tribute to the classic ladies of country and channeled a little Rayna Jaymes.
And when the Martin Family Circus came out to do some harmonizing, the youngest of the family's four children got some spontaneous applause with her impressive set of pipes.
The show ended with a jumping performance by Chris Janson, who was admittedly pretty amped up on Mountain Dew and the joy of performing. The crowd definitely got into his energetic performances of his hits "Fix a Drink," "Buy me a Boat," and the new "Redneck Life."
On top of being touched by the music, being at the Opry really gave me an appreciation for the country music family. There was a camaraderie and a support, and a reverence for being on the Opry stage that was quite impressive. You expect artists to be all about themselves, but even stars seem humbled by being on the Opry stage.
Again and again, the announcer refers to artists as being part of the "Opry family." I think it is this sense of family, reverence of place and appreciation of the art that makes a night at the Grand Ole Opry special. You can see music in any old honky tonk on Broadway in Nashville. But being at the Opry and witnessing someone's dreams come true is something different indeed.
So did a night at the Grand Ole Opry soften my heart that I'd hardened to country music forty years ago? Maybe. I have always had a thing for singer-songwriters and crooners with deep, raspy voices (Jakob Dylan and Chris Isaak, I'm thinking of you!) I'll happily listen to good love song belted out by someone with real talent and not something produced in a studio only. So, if Darius Rucker can go country, so can I. But I still don't think you will find me belting out Red Solo Cup anytime soon.
Grand Ole Opry Backstage Tour Review
If you are a country music fan, it is worth it to also get a ticket to the Backstage Tour. You can do a daytime tour, which may be better if you have younger kids since the nighttime tours can go pretty late. Or, you can do what we did and take the Backstage Tour after the show. There are also some VIP tours that will get you behind the curtain at the very beginning of the show.
If you take a Backstage tour after the show, expect a crowd. First, they will wait for everyone else to leave and then separate the tour goers into groups of around 20+. As with any tour, the experience depends on the personality and energy of your tour guide and the other members in your group. Each group will take a different path and follow a different order, but you will see the same things.
You will see the artist's entrance, their lounge, the various dressing rooms, and Studio A (former home of HEE HAW.) Getting a peek inside the dressing rooms is pretty cool. Each is designed off a different theme or star, but most are surprisingly simple, with only one or two that even have bathrooms. I was also surprised that no alcohol is allowed backstage, even for artists.
The highlight of the tour is definitely getting a chance to go out onto stage and step into the legendary Grand Ole Opry circle. They have a professional photographer set up to take pictures so you can get a great shot of you on stage (for $25 that is for a few prints and a digital download.) Unfortunately they don't let you take your own photos, although you can take photos from the side of the stage looking out to the audience.
Our tour lasted over an hour so we didn't leave until nearly 11pm. It felt a little long but I can see how it is a really special experience for a country music fan. I also think it would be a tough experience for young kids, especially after sitting through a long performance.
For families, you may want to consider going to a Grand Ole Opry performance and then taking the Backstage Tour at the Ryman Auditorium. Because if you can only do one backstage tour, I preferred the one at the Ryman. Although country music superfans can buy a combo ticket and do both!
Ryman Auditorium Backstage Tour
The Ryman Auditorium, the former home of the Grand Ole Opry, has an interesting history as it was originally built as a tabernacle to host revivals and church meetings. Over the years, this legendary auditorium saw the likes of Orson Wells, Charlie Chaplin, Houdini, Katharine Hepburn, and others before the Grand Ole Opry moved in.
There is definitely a rich sense of history at the Ryman. A visit kicks off with a short film about the history of the Auditorium and then you can take a self-guided tour or the backstage tour. We did the backstage tour (no photos allowed) and really enjoyed seeing the dressing rooms at the Ryman. Unlike the tour at the Grand Ole Opry, you can step inside and see a short video about the performer whom the room is named for. It is a great introduction to country music for non-fans and a fun look back at country music history for fans.
I would highly recommend it! You also have a chance to step out on stage and get your photo taken at the Ryman for the complete experience.
Have you been to the Grand Ole Opry?
PIN THIS FOR LATER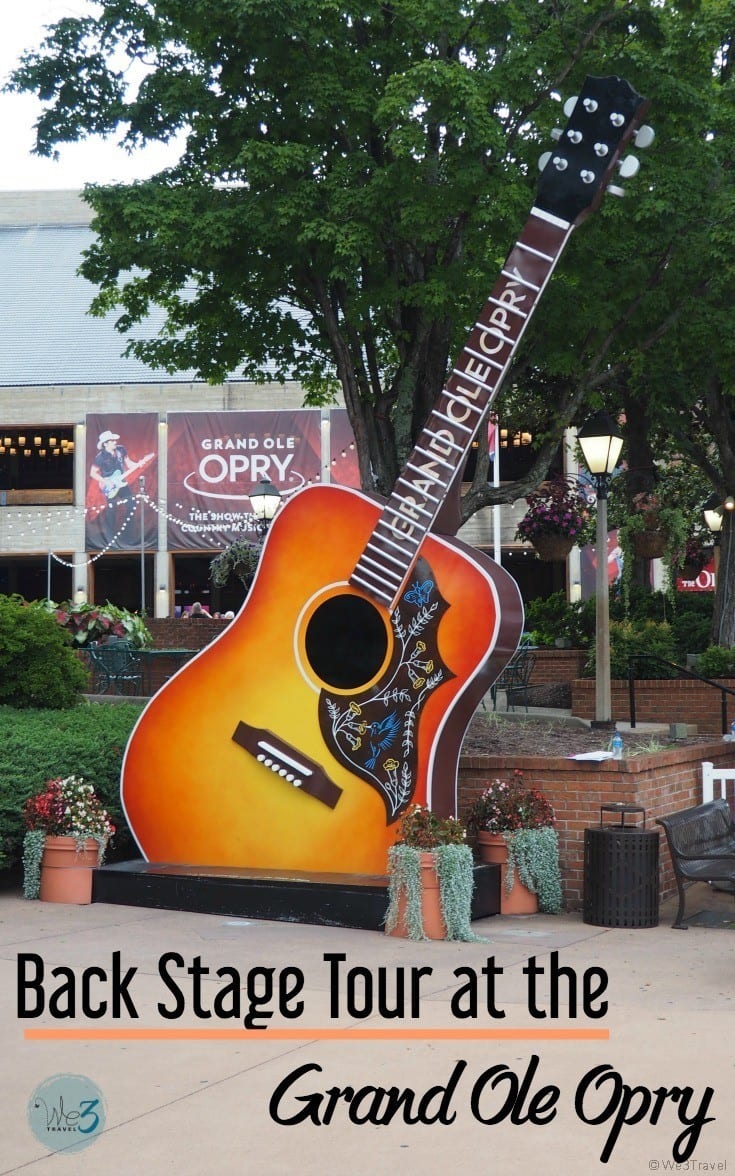 Note: We were guests of the Grand Ole Opry and Ryman Auditorium and this post is part of a paid influencer campaign. All opinions are my own.
SaveSave